Data enrichment explained (with examples)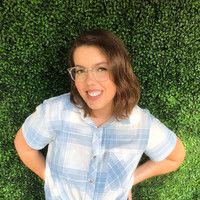 Alex Ross
October 18, 2022
---
Data is the foundation of businesses today. The better your data is, the more informed decisions you can make. This is why many companies rely on data enrichment to enhance their customer data and make it more actionable. Data enrichment can be a powerful tool in several industries, but it has particularly become a staple in B2B.  Here's a look at how data enrichment is used to drive efficient growth in B2B companies.
Jump ahead:
What is data enrichment?
Data enrichment is the process of enhancing, or appending, an existing data set with first-party data and third-party data from additional internal or external sources. When businesses go through the process of enriching their data, it increases the value of that data by making it more actionable.
Data enrichment is most commonly used to fill in the gaps in customer data, providing more context for customer-facing teams. Enriched customer data is used by marketing, sales, and customer success teams to improve audience segmentation, streamline the sales process, and better understand their customers.
Why is data enrichment important?
Data enrichment is an important process for any company collecting first-party customer data. Most consumer data is collected through forms. However, not every person who fills out a form will provide accurate information. With the growing rate of spam phone calls, emails, and other unwanted forms of communication it's not uncommon for people to withhold or falsify information when they fill out a form. Data enrichment helps to protect your data quality by filling in the gaps people may leave out.
Data enrichment can also help businesses provide a better customer experience to their prospects and customers alike. When support and sales teams have customer records with complete data they can build stronger customer relationships faster. Complete customer profiles make it easier for reps to get straight to customer needs or business needs instead of spending that time appending records manually.
The data enrichment process
One of the most common ways to implement the data enrichment process is to integrate it with your CRM. Real-time data enrichment tools like Clearbit's Data Activation Platform can be integrated into your CRM via native integration or API to automate the data enrichment process.

The automated data enrichment process looks like this:
A contact, lead, or account is added to your CRM.
Clearbit automatically enriches the raw data, pulling in over 100+ data attributes to round out the contact, lead, or account.

Common types of data enrichment attributes:
Location
Company size
Estimated annual revenue
Industry, sub-industry, or vertical
Technologies used
Social media accounts
Data enrichment can also be processed manually in the Clearbit dashboard. The first 50 real-time lookups are free. Try it for free here 👉

The benefits of data enrichment
The data enrichment process has many benefits for B2B businesses but the biggest impact can be seen in revenue operations, website conversions, and customer acquisition.
Revenue operations
With data enrichment as the foundation of your tech stack, your revenue operations programs will run more efficiently. For example, data enrichment can improve your lead scoring and routing process by providing additional contextual data to leads so they can be assigned accurately. Every new lead that enters your CRM now has the contextual information sellers need to deliver a superior buyer experience.
Website conversions
Data enrichment can help to drive increased website conversions by improving the user experience. Simple changes like leveraging enrichment to shorten your forms can improve your form conversion rate. Data enrichment can also power things like visitor insights or website personalization. When you know who your visitors are you can create customized experiences that make the decision-making process easier.
Customer acquisition
Data enrichment can also help to improve your customer acquisition efforts. Data enrichment improves your ability to create audience segments. The more attributes you have, the more granular you can get with your ad targeting. Creating hyper-specific segments based on common demographic and firmographic attributes allows you to craft personalized messaging with the confidence that your targeted marketing campaigns will reach the right audience.
Data enrichment use case examples
There are multiple use cases for data enrichment within B2B companies. Activating your data is an important next step for any company using data enrichment.
Data enrichment can improve lead scoring and routing
Manual lead validation and data lookup can be a time-consuming process for sales reps. Enrichment can help automate this process and improve the overall data quality of your database. This makes your lead scoring and routing process more efficient ensuring that the right leads are getting to the right reps.

Data enrichment can increase form conversions
The average form conversion rate for B2B brands is about 2%. Forms are still the most reliable way to collect lead information — such as emails, names, and phone numbers — helping marketers identify if a lead aligns with their ideal customer profile or not. Unfortunately, people have become so averse to filling out forms and often leave false information or skip it altogether.
Tools like Clearbit for Forms leverage data enrichment to improve conversion rates and ensure quality data with every form fill. Instead of filling out long forms, visitors simply need to fill in their email address and Clearbit's data enrichment services will provide the rest of the customer data on the backend.
Data enrichment can uncover your ideal customer profile
When companies use data enrichment they get the full picture of their customers. Knowing the common attributes between customers that consistently renew and upgrade can help you to identify, understand, and activate your ideal customer profile (ICP). Building a data-driven ICP can lead to deeper insights into your customers. Instead of wasting time and money on prospects outside your ICP that are likely to churn, sales and marketing teams can focus their investment on high-fit prospects that will make great customers.
Data enrichment can improve personalization
Data enrichment can help provide the context sales and marketing teams need to personalize the buyer experience.  Enriched data makes it easier for marketers to create audience segments based on commonalities such as industry, employee count, and other key attributes. These segments can be used to deliver more personalized advertising, web experiences, and lead nurturing.

Data enrichment can help you find new opportunities
Every day your website has hundreds or thousands of visitors. Some are just browsing, some are looking at content, and some are showing buyer intent. When you combine data enrichment with reverse IP lookup technology, you can capture best-fit companies on your website and create new opportunities. Using only an IP address, tools like Clearbit Capture can help identify the company a website visitor works for and leverage data enrichment to create new leads, contacts, and accounts in your CRM.
Capture relies on ICP data to identify the best decision-makers in a company for sales and marketing teams to initiate intent-based outreach — before they even fill out a form.
Data enrichment FAQs
What data points do data enrichment tools append?
Clearbit has over 100 firmographic and demographic attributes from a combination of first and third-party data sources we use to enrich company and contact data.

Firmographic data: company information, like size, type, industry, revenue, etc. indicating whether the company is a good fit for your product or service.
Demographic data: information about an employee who works at that company, such as their name, geographic data, role, and purchasing power, indicating whether they're the right person to be marketing and speaking to

See the full list of attributes here.
What's the difference between data enrichment and data cleansing?
Data cleansing is focused on finding and removing inaccurate or duplicate data. Unlike data cleansing, data enrichment does not remove data, instead, it appends missing data. The two are often used in tandem in order to ensure the highest quality data possible.
How often should a business enrich its customer data?
Data enrichment works best when it's automated and continuous. Company and people data is constantly changing. Every time a company adds a new software to its tech stack, takes on new investments, hires new employees, or goes through layoffs, its attributes change. Keeping this data up-to-date is a critical part of data management.
How does data enrichment software work?
Data enrichment software offers two primary capabilities: data sourcing and data enrichment. Data sourcing is the process of collecting, sorting, and verifying millions of third-party company and person data points via hundreds of public and private external data sources. Data enrichment is the process of instantly appending those rich third-party data points to a company's new or existing records.

Getting started with data enrichment
Data enrichment is essential for companies collecting customer data. It can help streamline revenue operations, increase website conversions, and optimize customer acquisition. With so many benefits to data enrichment, finding the right solution for your company's needs is important. See how Clearbit can help your company discover, engage, and win ideal customers by scheduling a time to speak with one of our experts.