A guide to building your website personalization strategy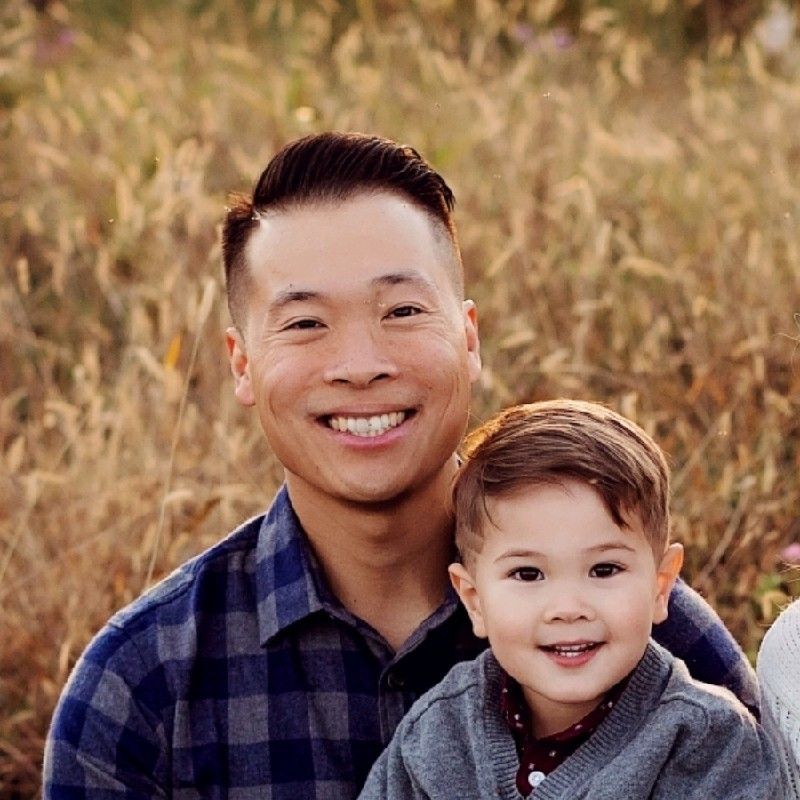 Justin Tsang
June 14, 2022
---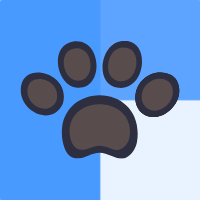 How Clearbit Uses Clearbit: This series shares how we use Clearbit products for acquisition, conversion, and operations.
A few weeks ago, my dad gave me one of the best gifts I've ever received in my life. A backpack sprayer for my lawn. I know what you're thinking, "Wow this guy must have a great lawn!" And yes, yes I do (see the picture below for reference).
Why am I bringing this up? Because this super thoughtful and personalized gift is the exact reason why we choose to personalize our website for visitors. Because showing your audience that you're listening and that you understand their problems goes a long way.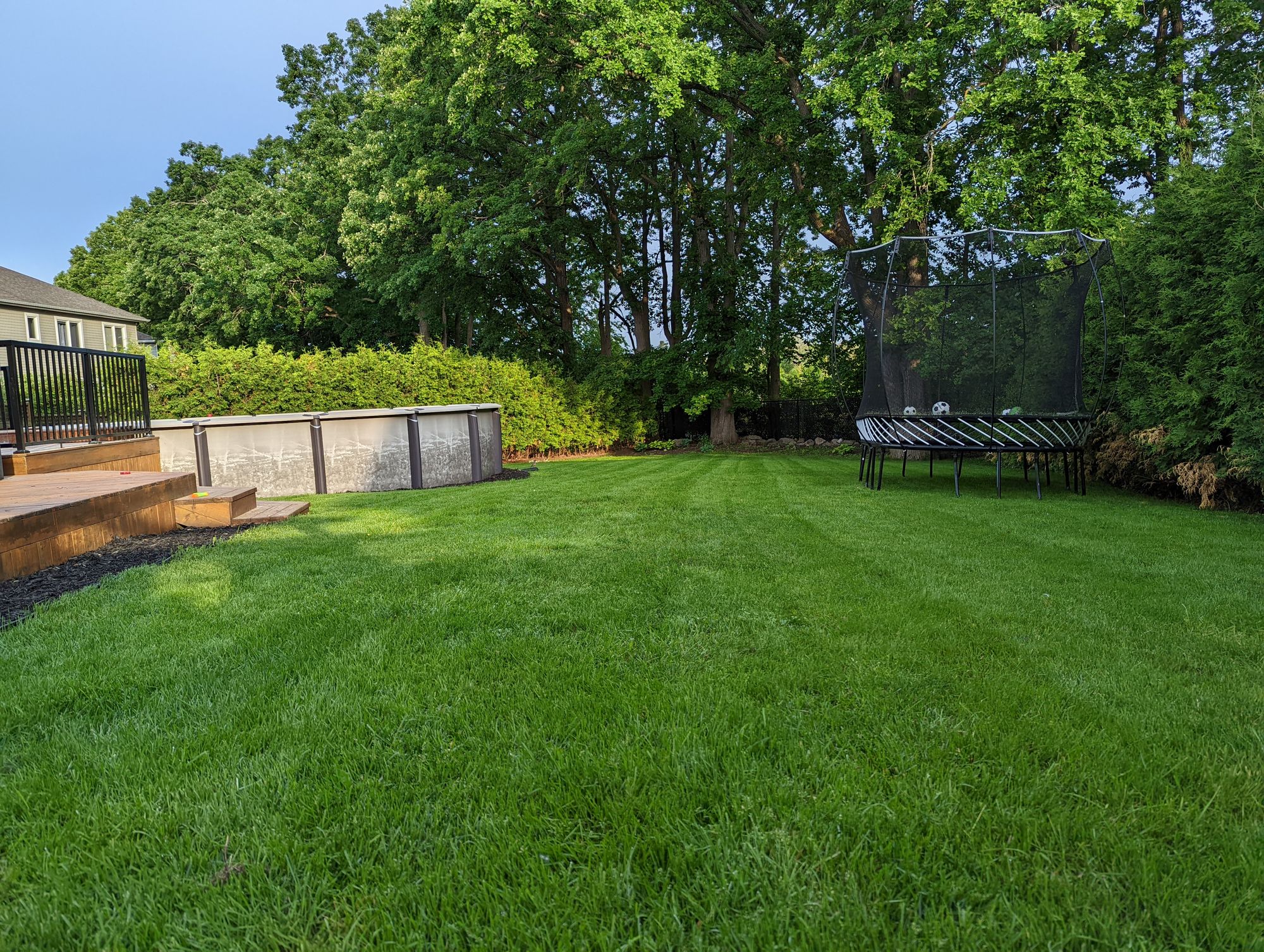 My backyard after breaking in the new sprayer!
As the Growth Product Manager at Clearbit, I focus on creating experiences that help drive pipeline for our sales team. So whether I'm working with our talented growth engineers to create free tools or working with our demand generation team to build personalized web experiences, it's all aimed at improving our go-to-market velocity. But like any revenue-driven marketing team, it's the strategy behind these programs that really make the difference. So as the title suggests, let's get into Cleabit's strategy behind website personalization.

Why should you implement website personalization?
There are a lot of reasons to create a personalized web experience but if I had to narrow it down to three high-level reasons to personalize it would be the following:
1. Delight the skimmer
Attention spans are short. Everyone skims and skips (you're probably doing it right now). Seeing your logo, company name, or copy that speaks to you makes you stop and pause. It helps the skimmers find focus and make sure visitors don't miss the most important information.
2. Build trust in small ways
Building off the first point, seeing your name or logo makes you feel good. If we were a physical store, it's our way of recognizing you as you walked in, we're simply saying hello — we see you. Adding little bits of personalization along the way helps to provide a better, more trustworthy experience as you explore the site.
3. Make it relevant
Lastly, and most importantly, personalization makes the content on our site relevant to each visitor. Beyond just your logo, we're giving you content and information that makes the most sense for your firmographics, demographics, and level of intent.

Personalization can be a powerful tool when utilized effectively. Take a look at some of the results our customers have experienced by implementing personalization:
Greenhouse increased enterprise demo requests by 15% by personalizing its website
Chargebee customized messaging on their website and personalized the journey for a new segment increasing demo conversions by 50%
Dropbox Docsend saw a 260% conversion lift on pages that personalized the "social proof" section to show logos based on company size
What goes into a personalization strategy?
It starts by knowing your Ideal Customer Profile (ICP). Sounds basic, but you have to ask yourself, "Do I know who is buying our product?" Once you have a clear and defined ICP you can then identify the types of segments you would like to personalize your site for. Perhaps it's industry verticals or employee count.

Next, you need to make sure you have the right attributes to target your segments. Of course, Clearbit helps to enrich your data by identifying these attributes but it's important you narrow them down to something that is not only accessible but contextualizes how to tailor the messaging.
For example, it's a lot easier to customize site content based on attributes like industry or employee count rather than something like the number of Twitter followers.
The second part of a personalization strategy comes down to analytics. You need to be able to test, track, and measure the success of your personalization efforts. For us, we're often looking at how personalization impacts our conversion rates. We always have a control to compare the effects of our changes against. This makes it easy for us to quickly see if our personalized experiences are improving conversion or not.
Personalization can be risky; don't assume every change you make is going to improve conversion. Run split tests. Don't send all of your traffic to a new experience right away, see if a small percentage responds to it first. I'll get into it a little later but start small, there's no need to take big risks by changing everything at the same time.

How does website personalization work?
We have a ton of really great content on this topic, like this one where Brian, our Head of Growth Engineering, breaks down how we capture intent with relevant web experiences. Or this helpful post where we share 5 ways to personalize your website content. But since you're already here, I'll give you a high-level overview of the mechanics behind website personalization.

You need to set up your site for personalization. You can either have a super savvy engineering team to hard code it or use a personalization platform. Or if you're like us, a combination of both. We use Mutiny, but there are a lot of other great tools out there like Optimizely, Google Optimize, or CustomFit.ai.

Next, you'll need to activate your ICP to enable the personalization. This can be done with  Clearbit Reveal, a capability of our Data Activation Platform that de-anonymizes companies that visit your site. Clearbit's open Reveal API, native integrations, and modern webhooks make it easy to integrate with the personalization platform of your choice.

Then, you'll want to build your audiences and their respective personalized experiences. This is where you'll set up the personalized elements either through custom code or your personalization platform.

When a visitor lands on your site, their IP is matched to a company record full of many targetable firmographic attributes.

If a newly identified visitor has attributes that meet the criteria of one of your audiences, that signals the personalization platform (or triggers your custom code) to display the appropriate personalized experience.*

Voila!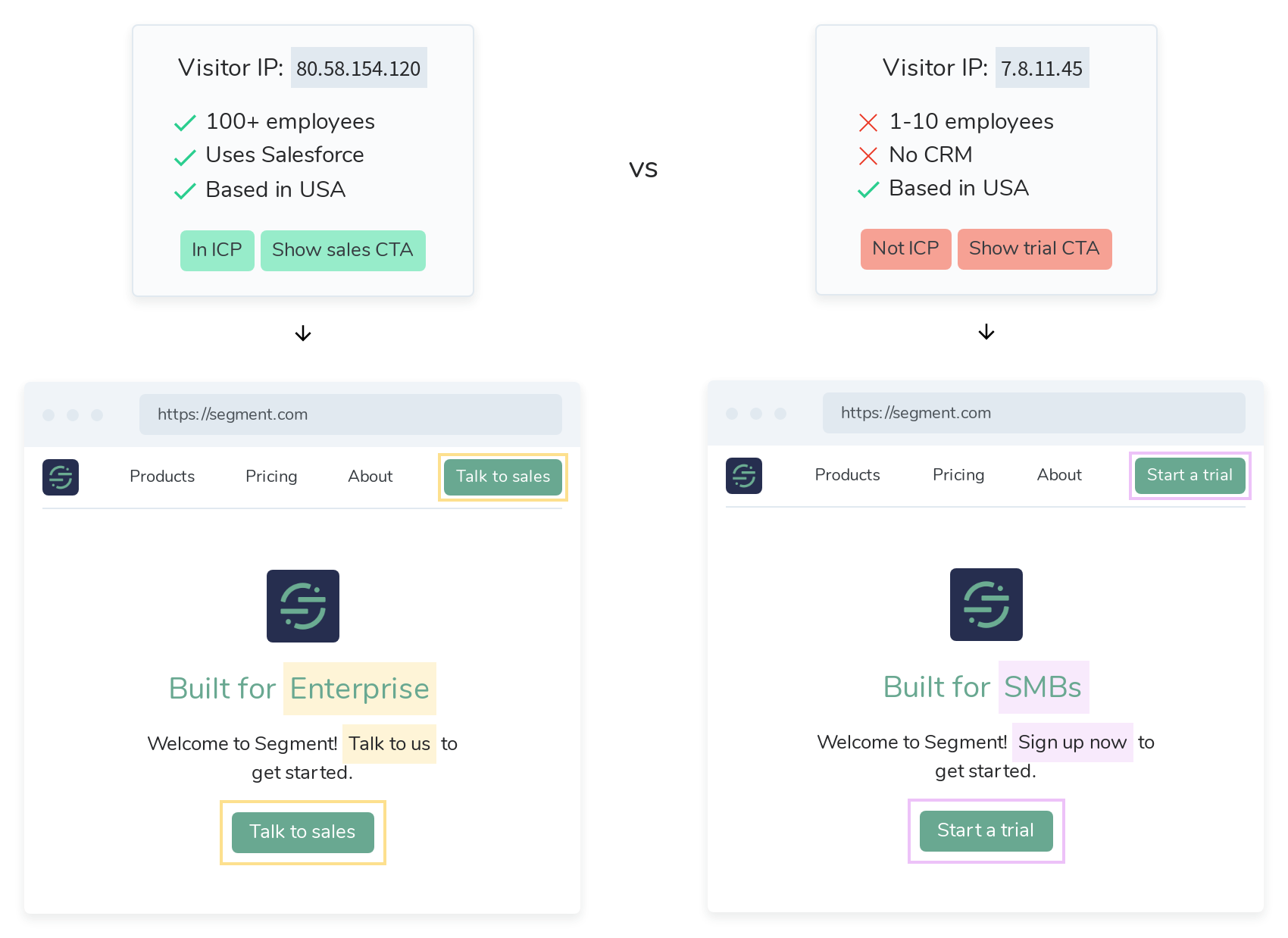 *It's important to note that not every user will receive a personalized experience. If you're unable to match a user's IP to a company record (let's say they're using IP-blocking software) or their attributes don't match one of your audiences, you'll need to serve them a fall-back experience. This is why it's always important to lock down standard brand messaging before you start personalizing for unique audiences.

Clearbit's web personalization strategy
If you've clicked around our site before you may have noticed some of the personalized components we implemented. We're big believers in "eating our own dog food" and we know there's no better way to show the power of Clearbit than experiencing it for yourself.
For us, we go above and beyond when it comes to personalization because we like to wow our customers. Most of our customizations will appear in headers, CTAs, and visuals or animations. To keep these visuals lightweight we create custom components that we can plug and play into the site.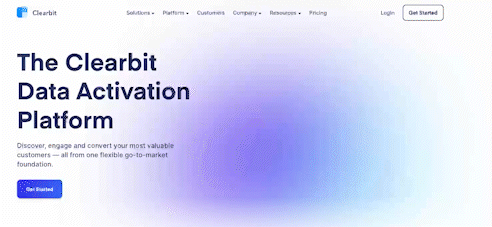 We also use a ton of personalization on our landing pages. Charlotte, our Performance Marketing Manager, uses Mutiny to test different headlines and copy. Mutiny allows us to personalize everything on our website to suit the individual visitor. Everything from headlines to images, call-to-action buttons, and even entire website sections. Mutiny makes full use of Clearbit data to create amazing customer journeys for our website visitors. And we're definitely seeing the impact of Charlotte's customization. (This is where having the right tools to test and analyze success really comes into play.)


Getting started with website personalization
Let's talk about implementing your personalization strategy. My best advice is to start small but surgical. Identify one area of your website that you'd like to optimize with personalization. It doesn't need to be an entire page, start with a single element.  Do your research and come up with a hypothesis for your personalized element then test it. Remember, small wins add up to big wins over time.
Website personalization quick wins:
Personalization doesn't have to be a heavy lift. It can be as simple as adding a visitor's logo to your site. Light personalization like this is not only easy to achieve quickly, but it's also free with Clearbit's Logo API.
Another great logo personalization tactic is to adjust your social proof logos based on the visitor's company size or industry. Social proof is shown to improve conversion rate but only if that social proof is relevant to the visitor. A startup may feel your product is too advanced or expensive if you're only showing enterprise logos on your site. We've seen great results by catering the customer logos to the visitor with over 150% lift in conversions on the pages with personalized social proof.
Personalization is also a great alternative to building new pages. For example, instead of building solution pages for every industry, personalize a few elements on your standard solution pages for different industries. This way visitors get relevant information and you're not stuck building multiple new pages.
It doesn't matter what type of personalization you decide to take on, as long as you start with a hypothesis that you can test and measure. Not every idea is going to be a winner so make sure you're tracking your personalization efforts closely.
Final thoughts
Website personalization can be a powerful marketing tool but don't personalize on a whim. Take the time to understand why you want to personalize your site and who you're personalizing it for. Lock down the KPIs that matter most and make sure you're accurately measuring the performance of your personalization efforts.
Overall, personalization is a great tool for increasing website conversion. If you can find the right mix of interesting, engaging, and relevant content for your ICPs the results will speak for themselves.