How we run targeted demand generation at Clearbit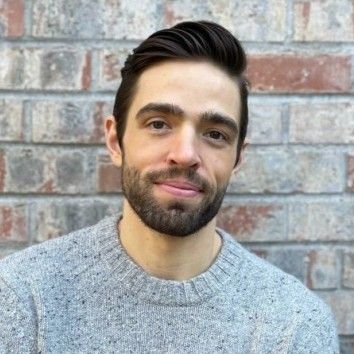 Nick Wentz
February 08, 2019
---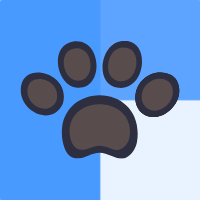 How Clearbit Uses Clearbit: This series shares how we use Clearbit products for acquisition, conversion, and operations.
We all know that one-size-fits-all marketing doesn't work. But having an ad platform do the segmentation for you can be equally disastrous for B2B demand gen campaigns. Native targeting options, like Facebook's interest-based targeting, tend to be too broad for B2B purposes, and data isn't usually accurate enough to be effective.
Here on Clearbit's growth team, we run targeted demand gen campaigns that use our own data and tools — such as Enrichment, Prospector, and Reveal — for segmentation, personalization, and low-friction signup. I'll use a Marketo campaign we designed to illustrate how we pull it off.
We run this campaign to drive demand for our Marketo integration and queue up conversations for sales. The ads and emails we use are specifically intended for marketing decision makers at companies that already use Marketo — and who also qualify as great Clearbit customers in general.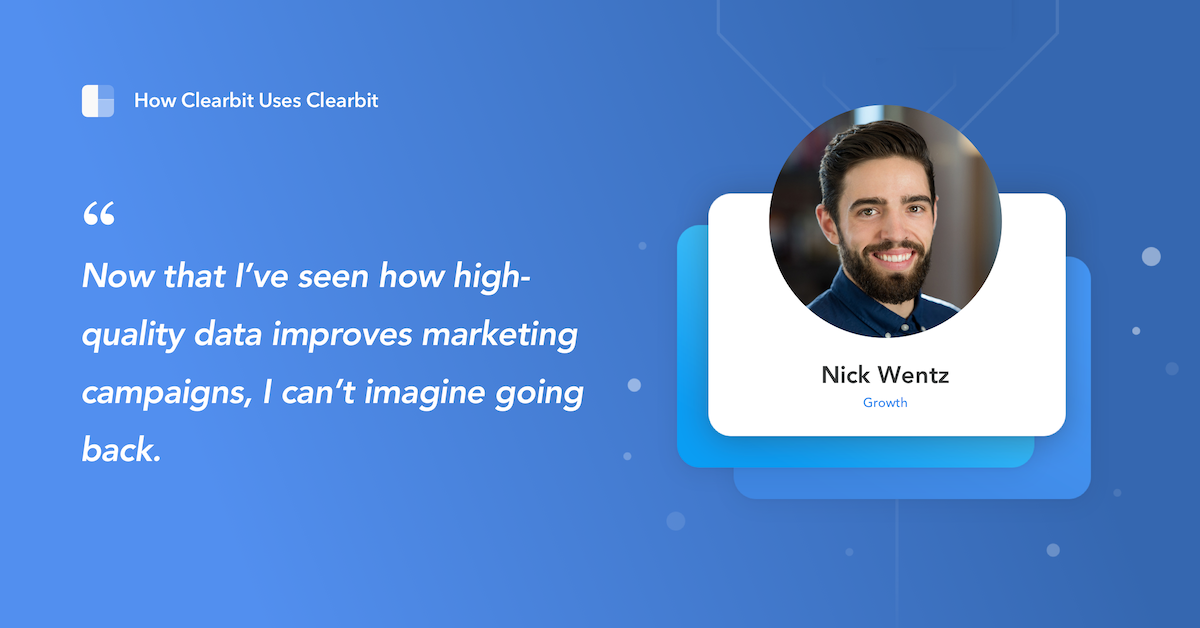 It starts with segmentation. We first build a closely targeted list of ideal prospects, then upload it to platforms like Facebook, LinkedIn, and other ad networks instead of using their default targeting options. Then, we reach out to them with a sequential marketing approach that follows the buyer's journey with a mix of creatives, content, and marketing channels tailored to specific stages.
The result is an effective and economical demand gen campaign that gives Clearbit's sales team a primed, qualified, and educated set of leads. These campaigns are part of a broader objective to test how we can leverage paid media to scale B2B demand gen, especially on social media.
Segmentation: Creating a target prospect list
Before kicking off a campaign, we generate a list of target contacts at companies that use Marketo and fit Clearbit's ideal customer profile.
Step 1: Create a Marketo-specific ICP for just this campaign
We do this based off of Clearbit's ideal customer profile, which we've modeled based on our closed/won opportunities. These records have been enhanced with Enrichment in Salesforce, so we can see their full data profile. For our Marketo demand gen campaign, we adjust the ICP slightly by culling down the closed/won list with a couple of additional data filters. For example, we filter with Clearbit Tech Tags to only show customers that already use Marketo.
The ICP model then generates a composite of those customers, and highlights the core attributes we should look for in our future prospects. For example, the composite might tell us that an ideal Marketo prospect's annual revenue range is $10M to $500M, that they probably have more than 20 employees, and that they're a B2B SaaS company.
Based on this information, we can narrow our campaign targeting to focus on the accounts most likely to become high-value customers.
Step 2: Generate a list of companies based on the campaign-specific ICP
Next, we create a batch audience. We plug the attributes of our campaign-specific ICP into Clearbit Prospector to get a list of domains that match our criteria — and then find the best contacts at those companies.
For the Marketo campaign, we look for folks with the following attributes:
Team: Marketing and Marketing Ops roles (If it were a campaign for Salesforce leads, we'd be more interested in Sales and Sales Ops roles.)
Seniority: Manager or above
This produces a list that we can upload to ad platforms like Facebook, Instagram, and LinkedIn in lieu of their native targeting options. Next, we're turn on ads, as well as various email campaigns, using a sequential marketing approach.
Sequential marketing with tailored creatives
Our demand gen campaigns are sequential, meaning that they use a mix of creatives and marketing channels to reflect different phases of the buyer's journey.
We demarcate each phase using "engagement actions" — that is, when a target contact reacts to our campaign (for example, with an ad click or a signup), they move to the next stage of the journey and start seeing new creatives designed to nudge them forward again.
Here is an overview of all six stages:
Stage
Description
Awareness
Who: Target contacts haven't yet engaged with Clearbit.
Goal: Increase awareness of the Clearbit brand and solicit engagement.
Consideration
Who: Target contact engages
Goal: Get an account signup and get a hand-raise.
Intent
Who: Shows specific interest in the product (e.g., a hand-raise, demo request, etc).
Goal: Get a request for a data test and otherwise facilitate sales conversation.
Evaluation
Who: Prospect in an active sales cycle.
Goal: Help nurture towards a purchase.
Decision
Prospect becomes a customer. Hooray!
Expansion
Who: Happy customer
Goal: If there are cross-sell opportunities, the loop begins again.
Here's a quick overview of the way we use marketing channels within those buyer's journey stages:
Now, let's take a closer look at what happens in each stage. I'll zoom in on how the creatives change in the first three steps ( Awareness, Consideration, and Intent) before a prospect is in the hands of our sales team.
1. Awareness
The journey begins with target contacts who haven't yet engaged with Clearbit. Our creatives for this audience intend to increase overall awareness of the Clearbit brand and point out the benefits of using our Marketo integration. Awareness campaigns include paid ads that run on display networks, including social platforms like Facebook, LinkedIn, and Instagram, and a simultaneous outbound email campaign.
The conversion goal of this stage is to elicit an engagement of any kind: clicking an ad, installing a free Clearbit Chrome extension, signing up for a free Clearbit account, or reading our gated content. The outbound email campaign and all email campaigns that follow have an adjunct goal to elicit a "hand raise" — which means that a contact requests a demo from our sales team and skips ahead in the process (like landing on a ladder in Chutes and Ladders).
Paid ads for awareness
These creatives increase awareness of the Marketo-Clearbit integration and how it solves common pain points for marketers. Messaging such as "Know everything about your leads" refers to the fact that B2B marketers often struggle with data gaps about their prospects.

Display ad to kick off Marketo demand gen campaign
"Shorten forms without losing data" in the following Facebook ad creative refers to the idea that marketers want to save prospects time and optimize for more conversions … but that there's an unfortunate tradeoff of having less data about leads. Clearbit with Marketo eliminates this tradeoff.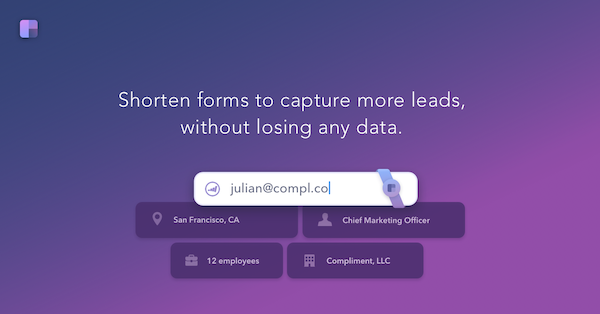 Facebook ads to kick off Marketo demand gen campaign
We also have content-driven Lead Ads on Facebook and LinkedIn. These ad formats tease a piece of content (such as a chapter we created for our Data-Driven Marketing book called "Account-Based Marketing", and they offer a built-in email capture form that allows the lead to skip the step of visiting the Clearbit site to enter their email.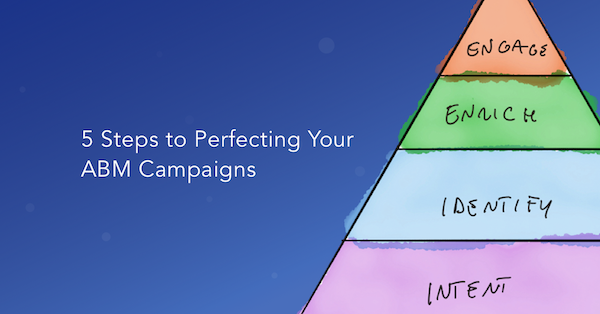 Ad creative for content-driven Facebook Lead Ad campaign
This increases conversion rates and helps with the notorious difficulty of lead capture on mobile. We deliver the content to the lead's inbox and add them to a nurture email campaign in the Consideration phase.
Outbound email for awareness
In addition to paid ads, our Awareness phase also includes an automated outbound sequence of four emails that look like they're coming from a Clearbit sales rep.
The emails feature a strong CTA to set up a demo call and highlight use cases in depth, using personalization and linking to content like a Clearbit for Marketo blog post that promotes four ways to use the integration.
One of the emails in this Marketo-specific sequence is among our most successful outbound emails, because we've made the creative very customized to the recipient. It highlights how Clearbit for Marketo shortens lead forms, so we've programmatically pulled a screenshot of the company's existing lead form and juxtaposed it with an image of how much shorter their lead form could be if they used the Clearbit-Marketo integration. In the example below, the number of form fields drops from six to three.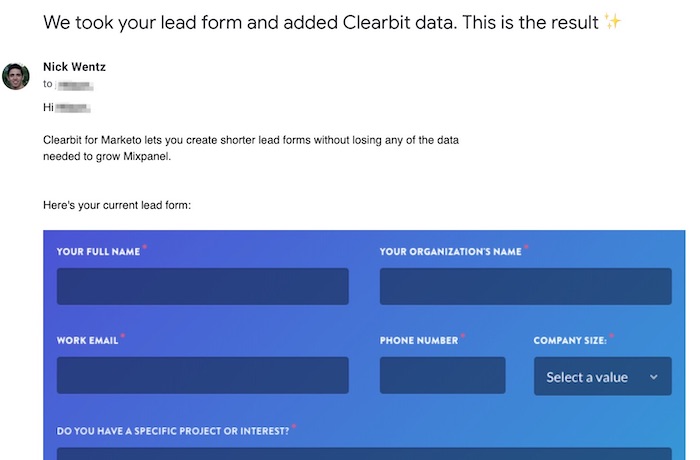 click here to see full email
2. Consideration
Once a contact engages, they move to the Consideration phase and start receiving slightly different ad creatives. These ads aim to capture an email address (if we haven't already) and explicitly encourage the contact to sign up and request a demo. Creatives will often reference the action that the contact just took, like thanking them for checking out a particular piece of content, or they'll show a friendly Clearbit customer success manager with a direct link to book a demo.
We continue to serve ads until we capture an email. For qualified signups and installs, we activate a nurture email sequence to encourage a demo request.
The conversion goals in this phase are to get the contact to sign up for an account so we can capture an email address, and to get them to raise their hand.
Campaigns for the consideration stage:
Once a target account has engaged (by installing a free product, clicking on an ad, signing up, etc), we change the display ads to encourage a sales demo request. The ad below thanks the lead for checking out the Marketo integration after they've clicked on an Awareness ad, and features a "Let's Chat" button so they can schedule a demo with sales team member Will Frey.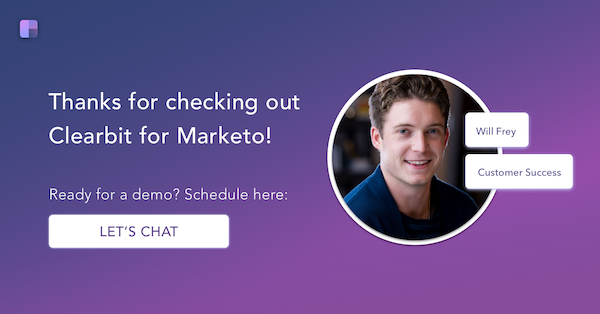 Ad creative for consideration stage
We also trigger a nurture campaign as soon as a lead submits their email address. For instance, if a lead has seen the content from a content-driven Lead Ad, the nurture email will reference it, recommend similar content, and close out with a hand raise CTA: "Clearbit for Marketo is one of our most popular products ... Do you want to jump on a quick call to discuss?"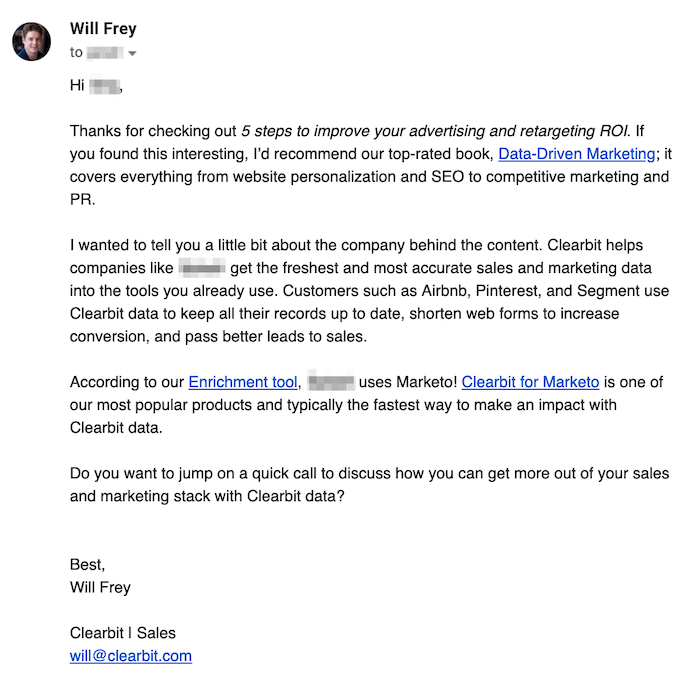 sample email from Marketo nurture campaign
3. Intent
In this phase, a prospect has shown additional interest by raising their hand and requesting a demo. Our creatives engage them further by:
offering a free data test where they upload their own data
showing relevant customer stories, and
highlighting a specific use case they could get started with.
Creatives might also reflect the viewpoints of certain roles, since a marketing leader and a growth ops analyst might think about the solution in different ways.
The goal here is to get them to request a data test and engage with our ads. The broader idea is that we can facilitate their upcoming conversation with sales through education, keep them hooked, and give them a preview of how Clearbit can solve problems with their own data.
Campaigns for the intent stage
The Intent creatives and email messaging pull contacts in even further while they gear up for a sales convo. Instead of calls-to-action like getting on a quick intro call, they offer a data test to measure the quality of their data, or showcase Clearbit customer stories for social proof.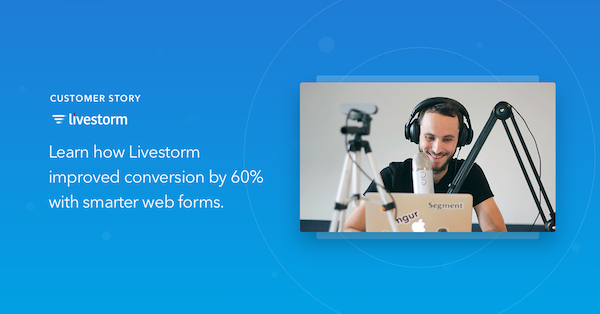 ad creative for intent stage
4. Evaluation
Once an account has spoken to a rep and has been converted into an Opportunity, they're considered to be in an active sales cycle. On the demand gen team, we change our focus to nurturing those accounts, and our ad and email creatives change to sales enablement material and social proof.
This stage has the ultimate conversion goal: a purchase.
5. Decision
A decision event happens when a prospect purchases Clearbit and becomes a Won Opportunity.
6. Expansion
Once the customer is happy with their Marketo-Clearbit integration and has shown positive product adoption, our team begins to think about how to cross-sell them to other Clearbit products they may not be aware they're a fit for, such as Reveal. The sequential marketing loop begins again.
Ongoing: Retargeting
Retargeting gets a special mention because it runs throughout the buyer's journey. We simultaneously use social and traditional display ads to retarget Clearbit website visitors if they've filled out one of our forms but haven't communicated with us through our follow-up outreach. We do the same for folks who've visited the Clearbit site but haven't submitted their email to any lead form.
We use Clearbit Reveal to pull this one off. When someone visits our website, the tool runs a reverse IP lookup to identify them. If they come from a company that's on our target audience list, we'll double down on retargeting. Companies that aren't on our target list but fulfill our criteria get added to the target lists dynamically and looped through the same campaign process.
This helps us make the most of our retargeting budget, and also makes sure we show them a relevant, Marketo-specific creative rather than a generic Clearbit one.
A smoother marketing to sales handoff
Through this demand gen approach, Clearbit's Sales team ends up seeing leads in Salesforce that:
came from a targeted list and are eligible to hear about the Marketo integration
have submitted a lead form expressing interest in related content or products
have raised their hand to talk to sales
Following up with them is an excellent use of the sales team's time because data and automation did all the heavy lifting.
Insights
Life as a marketer at Clearbit can be pretty eye-opening. Before I joined, I ran marketing campaigns that looked just fine, but now I know how blind I was. Our campaigns are now more effective because they target the right people at the right time, which helps our demand gen budget go farther.
To recap, we use Clearbit data and tools to:
Segment and target a list just for a specific demand gen campaign's objective.
Take prospects through a buyer's journey with tailored creatives that are relevant to their stage of the decision-making process.
With this structure, social ads become cost-effective for B2B and Enterprise audiences. The price of an ad may be higher, but our audience is well defined and specific enough to warrant it in comparison to relying on native targeting options.
Data is the best thing to happen to demand gen. It lets us know exactly who our target customers are, it matches our messaging to their level of interest, role, and technology, and it removes many of the barriers between them and our sales team. Now that I've seen the power of intentional marketing campaigns based on high-quality data, I can't imagine going back.