How to Transition from Data.com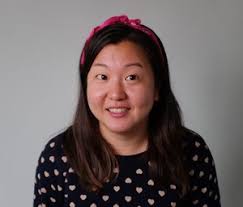 Janet Choi
November 14, 2018
---
Data.com is shutting down, and for customers who haven't prepared for a transition, it's time to find a Data.com alternative to prevent delays to your business.
Earlier this year, Salesforce announced the shutdown of Data.com's services, citing customer demand for more native third-party data integration sources. Data.com stopped accepting new customers back in May, and over the coming months, we'll see a phased sun-setting of all of Data.com's products.
Here's the official timeline shared by Salesforce for the coming new year:
May 4th, 2019: Data.com Connect
Customers are no longer able to log into Connect. Customers must make sure to export any contact records before this date, noting that only 50,000 records may be exported at a time.
July 31st, 2019: Data.com Clean and Prospector
Customers can no longer renew Clean and Prospector subscriptions.
July 31st, 2020: Data.com Clean and Prospector
Customers are no longer able to use Clean or Prospector.
Aside from its eventual shutdown, current Data.com customers also face declining data quality. As a crowd-sourced database, Data.com already had bad data contributions joining the pool. It also relies on contributions for new customer data by its customers in exchange for "points," which function as an in-platform currency. There's no longer an incentive to contribute data, adding to a diminishing data quality even before the scheduled service closure.
This Data.com client neatly summarizes the issue:
Wow, well now what to do with over 518,000 points? Now that this announcement has been made I am sure the data quality will nosedive. I am proud I have maintained a 98% rating for years as a rainmaker. Certainly no one will be adding new contacts.
If you're looking to replace Data.com, combat data decay and bad data quality, and get the best chance to successfully reach the people you need, read on for how Clearbit products can step in.
Making the Transition for Uninterrupted Data Service
First, prepare to switch data providers by stepping back and thinking about how to evaluate your options.
Confirm what types of data points are most important in driving your revenue goals. If you're planning on moving up-market and into larger companies, it could be crucial to have information about company size and company hierarchy.
Consider the provider's quality of coverage, depth, and accuracy of that data. Is it important for your market that the contact coverage is just as strong in Brazil as it is for the United States?
Check how that data will integrate into tools your sales team is already using, such as Salesforce, so that dealing with data doesn't require context-switching.
Head here for our guide on how to evaluate data quality.
Data.com provides three main services — Connect, Prospector and Clean — designed to natively integrate with Salesforce. By switching to Clearbit, you can find alternatives for all three data services, each designed to integrate seamlessly into your workflow, whether you're prospecting in Salesforce or even sending emails in Gmail. (Clearbit's products are all built on a core, proprietary foundation of real-time, accurate data, sourced and processed with machine learning.)
1. For Data.com Connect
Data.com Connect provides a crowd-sourced contact database, with customer records supplied by the service's users. The contact information on offer typically includes name, title, company, a direct dial phone number, and work email.
Your Clearbit Alternatives include Clearbit Enrichment and Clearbit Connect.
Clearbit Enrichment
Clearbit Enrichment fills in lead and account data, including contact information and beyond. Enrichment data includes over 100 company and person attributes, like company sector, employee size, estimated company revenue, job title and role.
Clearbit Enrichment integrates with Salesforce, so that you get complete data where you need it to fuel actionable account segmentation, smart lead qualification and lead routing, productive sales conversations, and gain useful insights without requiring time-wasting, manual research and data entry.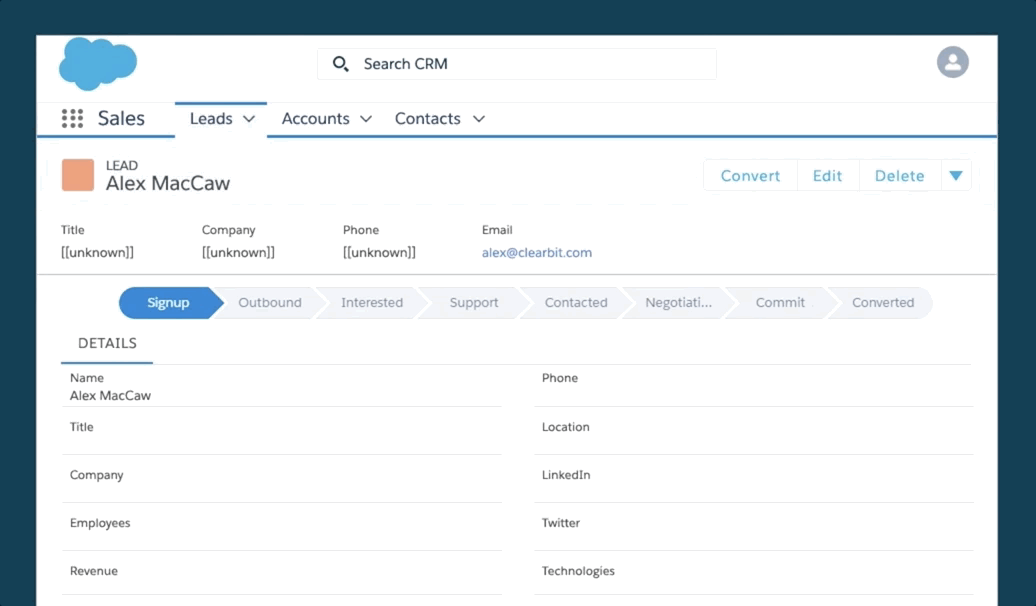 Clearbit Connect
Clearbit Connect is a free tool that connects you to Clearbit's entire contact database directly from your inbox. Search for companies, people, email, and other details.
2. For Data.com Prospector
Data.com Prospector customers can search the community database for target accounts to import into Salesforce and build their pipeline.
Your Clearbit Alternatives include Clearbit Prospector and Clearbit Reveal.
Clearbit Prospector
Clearbit Prospector provides access to over 200 million contacts at 20 million companies. You can find high-quality contacts for your pipeline by generating highly-targeted account and lead lists right in Salesforce.
Use our advanced search filters — including by company headquarters location, company size, industry tags, and even tech stack — to search for new ideal accounts and discover new markets. Is your ideal customer profile a SaaS company from Canada, the United Kingdom, or India with over 1,000 employees that uses Google Analytics, because you have a great integration? Simple as throwing that in the Prospector search: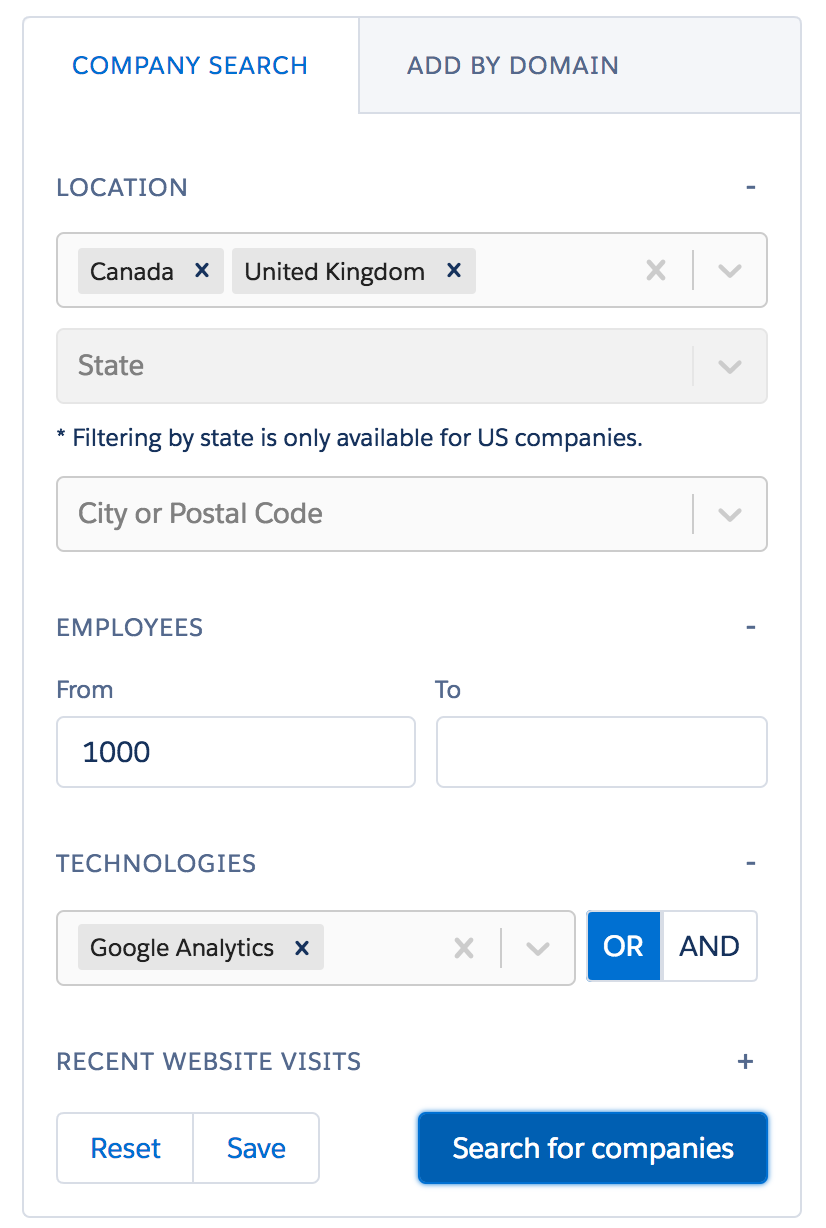 Then you can dedupe accounts, choose to create lead or contact records in Salesforce, or export a CSV contact file. Clearbit's strict quality assurance process means your prospecting data is accurate and up-to-date—translating into an email delivery rate of 94%.
Clearbit Reveal
Clearbit Reveal turns anonymous website visitors into full company profiles based on a visitor's IP address. You'll see key information like company, company size and company revenue.
When you pair Reveal with Clearbit Prospector, you can source accounts and leads based on recent website visits. For example, you can reach out to target Accounts exactly at the right moment as they show active buying intent. For example, you might narrow down your search for leads at companies only in San Francisco with 50 or more employees who have visited your site in the last two days.
3. For Data.com Clean
Data.com Clean is a data management tool designed to compare your CRM records to Data.com's own data set and automatically update old and missing customer information. Clearbit handles this automatically with data refreshes and backfills.
With Clearbit...there's no need for an add-on service. Our approach to business data is that it can't just serve the short-term. Rich, real-time data powers richer customer lifecycles.
Clearbit records automatically refresh every 30 days, so you'll never need to manually clean your Salesforce lead, contact, or account records again. We'll even show you when we detect that someone is no longer at a company, so you can be up-to-date on important stakeholders on deals and accounts.
Fuel Your Sales Process with Clearbit
Clearbit isn't just an intelligent replacement for Data.com: it adds a wealth of extra functionality, providing all the data you need to run your business. Equip your sales team with great data, and you get a deeper understanding of how to work smart and foster great customer relationships.
Ready to make the switch from Data.com?
Check out our Clearbit and Data.com comparison page.