TAM, ICP, and Personas: What's the difference?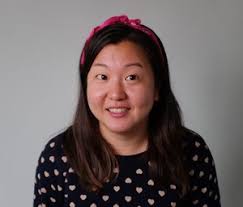 Janet Choi
January 28, 2022
---
Successful marketing and sales turns on whether you're focusing on the right people — from who's seeing your ads to which prospects your sales reps pull to the top of the pile every day. So in order to scale growth, B2B businesses have to systematically identify who to go after — specific markets, target accounts, and relevant stakeholders — with their best shot. Evolving past talking and selling to anybody and everybody requires getting more strategic about who you talk to (and how you talk to them).
Sharpening your aim starts with defining your total addressable market (TAM), ideal customer profile (ICP), and buyer personas. These terms are sometimes confused, used interchangeably or with meanings that bleed into each other in daily work conversation. So let's run through this quick primer (or refresher!) on what TAM, ICP, and personas are — and the differences between them.
What is Total Addressable Market (TAM)?
Total addressable market, or TAM, refers to the total market possible for a product or service, indicated by an estimate of a specific market's revenue potential. This is typically an ideal number (let's assume that you aren't becoming a monopoly) that allows you to gauge the amount of opportunity out there for you and your competitors.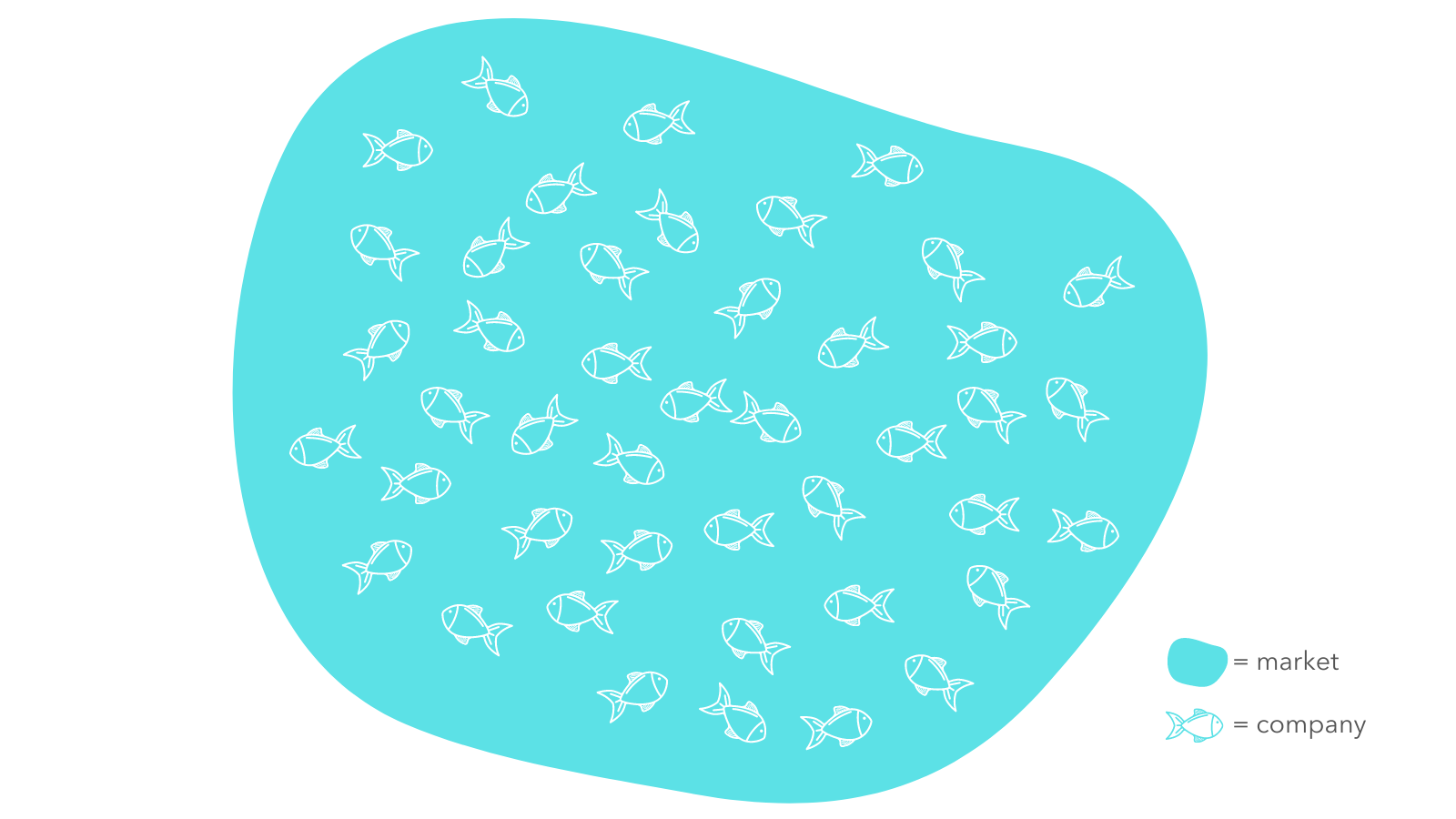 TAM = what's your market size? how much can you make from this set of companies?
Basically, TAM gives you an objective sense of market size. (How big is the pond and how much money can all those fish bring in?) Without going through this exercise of how many consumers or companies might purchase the product, a product's revenue, growth, or usage can be difficult to assess.
You can calculate TAM via a top-down approach, harnessing outside research, market reports, and analyst data. Or you can base your calculation on previous sales data — typically with a formula like:
TAM = total # of potential customers x annual contract value (ACV)
For instance, if a market's average contract value is $20,000 with 1,500 potential customers, the market opportunity would be approximately $30 million.
How do you arrive at the number of potential customers? Again, you can rely on third-party research and information, including business databases.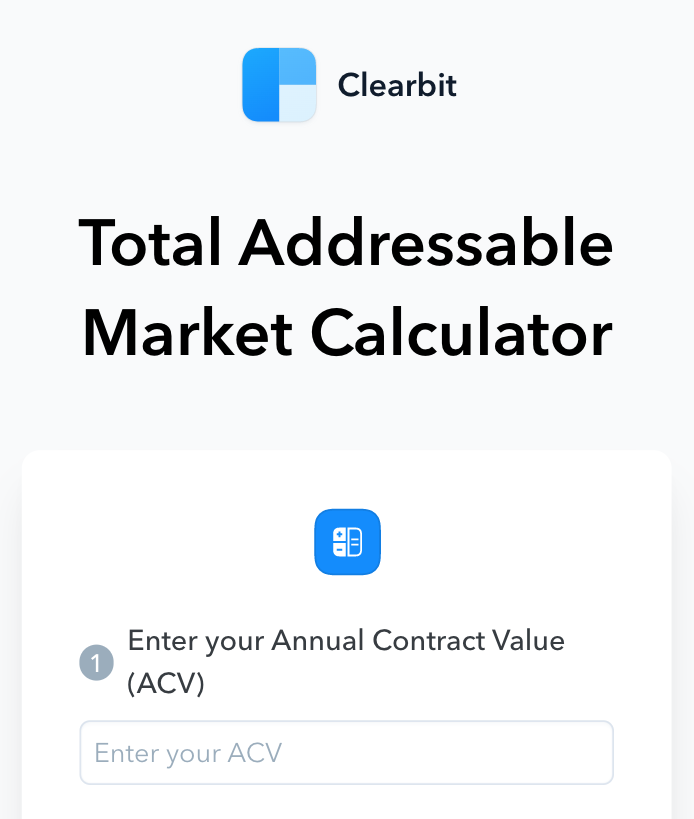 Use Clearbit's database of 42M+ companies to generate your Total Addressable Market (TAM) — for free.
Calculating TAM can help companies decide where to invest time and money, or discard plans if the TAM isn't good enough. Your total addressable market size may also shrink or grow due to demographic changes, technology adoption, industry shifts, and other factors, including whether you want to expand. So revisiting and redoing this calculation at strategic inflection points of your company's long-term journey can be helpful to stay up to date with both your business goals and external forces.
What's an Ideal Customer Profile (ICP)?
An ideal customer profile (or ICP) is a description — or archetype — of the companies that would realize the most value from your product or solution, and in turn, generate repeatable, scalable business. If TAM tells you how big the pond full of potential fish is — ICP helps you identify which are the best fish for you to catch.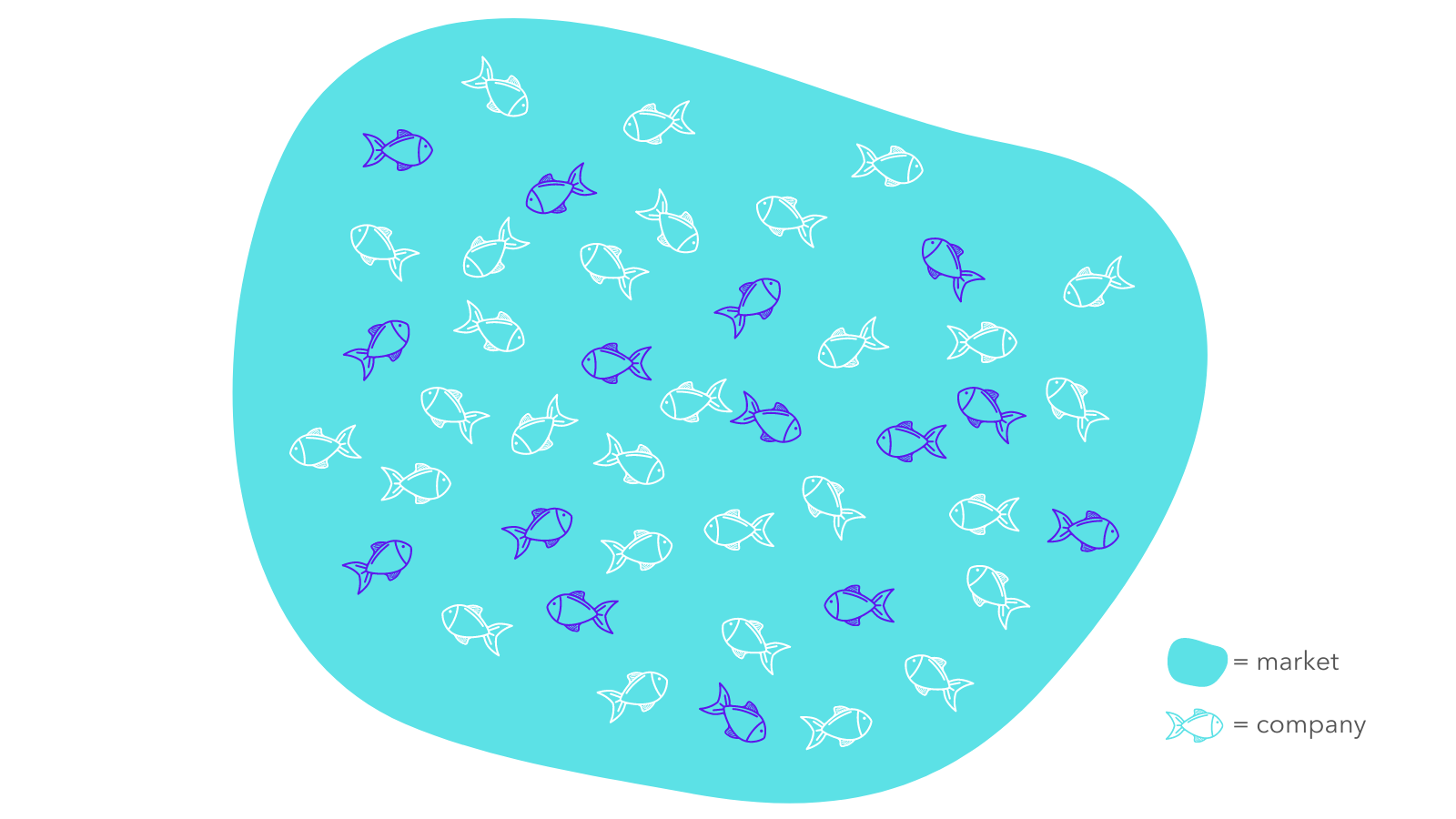 ICP - your ideal customers, the best companies to sell to
In representing the perfect-fit customer, a data-driven ideal customer profile is defined using a combination of company attributes, such as:
Industry
Geographic location (country or region)
Company size (a.k.a. number of employees)
Business model (SaaS, B2B vs. B2C, etc.)
Estimated annual revenue
Alexa rank
Technology used
For example, a standard ICP might look something like: "agencies in Europe with 100+ employees grossing $50 million and above in annual revenue" or "e-commerce companies headquartered in the U.S. and Canada who use Shopify, Magento, or BigCommerce."
A well-defined ICP is a game changer. When you can focus on the prospects that match that profile, your sales and marketing effort (and budget) focus on activities that are more likely to have a high ROI — including strategies and processes like lead qualification, advertising, outbound efforts, account-based marketing, personalized marketing. The result, as Gartner finds: "faster sales cycles, higher conversion rates and greater lifetime values."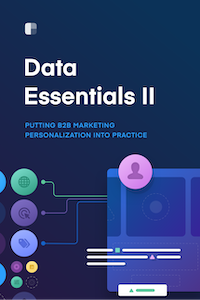 Dive deeper into ideal customer profiles and how to personalize your marketing for your ICP in Data Essentials II: Putting B2B marketing personalization into practice
What are Buyer Personas?
Buyer personas dive deeper into the individuals behind the purchase: their motivations, their pain points, buying habits, online activities, and so much more.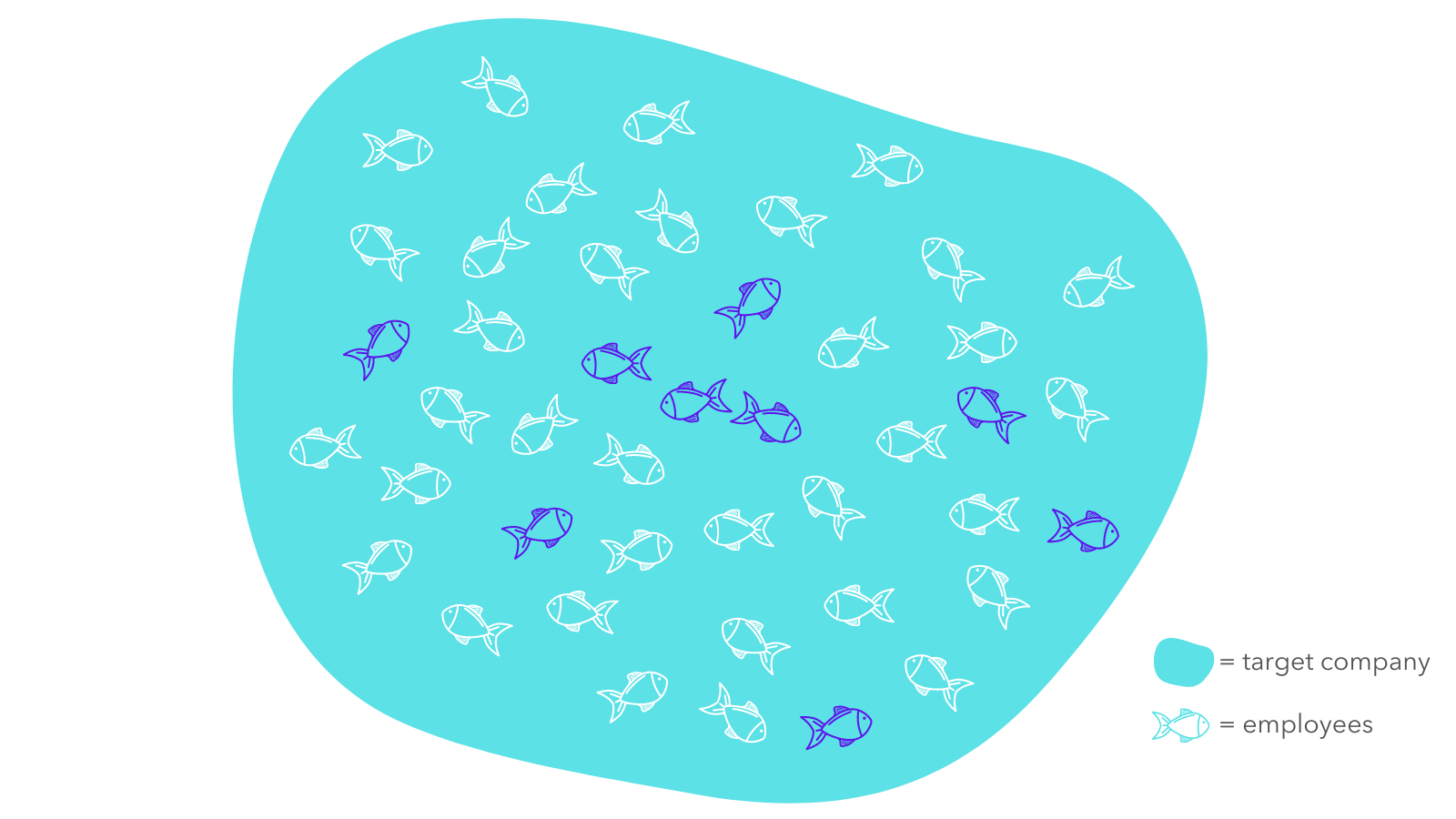 buyer personas = the best people to build relationships within ICP companies/target accounts
Like ideal customer profiles, buyer personas are archetypes: model examples of people within those ICP accounts who most understand and realize the value from your product/solution, and in turn, help generate repeatable, scalable business. So, by defining your buyer personas, you can improve audience targeting and resonance of messages, campaigns, and content to repeatedly help close and renew deals.
Personas have been around for awhile and in many corners, have earned a bit of a bad rap for being unusable, hard-to-apply, too theoretical, or hollow. (In the B2B/SaaS space, think Marketer Mark and Developer Daisy slides with irrelevant —often personal demographic — information or overbroad pain descriptions.)
Our recommendation is to use quantitative and qualitative data (including actually talking to your customers) to form profiles of individuals that provide context about their jobs-to-be-done and motivation to buy a solution.
When defining a buyer persona, consider articulating the following (after some research, of course!):
What are common job-related demographic trends — like role, title, or seniority level?
What's their role in buying and implementation? Do they have purchase authority?
What are their core responsibilities, and what does success look like for them?
What are their top pains and challenges?
What are their KPIs and job goals?
Who do they report to, and how is their promotion measured?
It's common to have more than one buyer persona for many reasons. Key differences in motivations, product or feature set relevance, go-to-market motions, or buying journey roles may call for delineating different archetypes. In the product-led growth space, for example, you might have one persona that represents product champions who make self-serve purchases or influence (but not make) enterprise deals, and another for the buyer who can make the large purchasing decision. Understanding the difference will affect how you market and sell to them.
We've only just scratched the surface of personas here. There are all types of personas — for marketing, sales, GTM teams, user personas for product and design — and it's valuable to have them inform each other. But let's move on, for now, to why you'll sometimes see persona-level information in ICPs.
What's the difference between ICP & personas?
In the B2B world, especially to scale growth and/or move upmarket, you are selling at two different levels of audience: the company and the people inside that company. Technically, ideal customer profiles are meant to describe target companies and personas, the target stakeholders or buyers at those target company accounts.
In reality, when someone says "ideal customer" or "ICP", they may refer to a combination of firmographic (and technographic) information and job demographic information (like role, title, seniority). This combined view of your ideal customer (great fit company and great fit stakeholder) can be a useful touchstone across your go-to-market teams — the shorthand serves as a common definition to rally around and consistently use in targeting, content, communications, reporting, workflows, and more.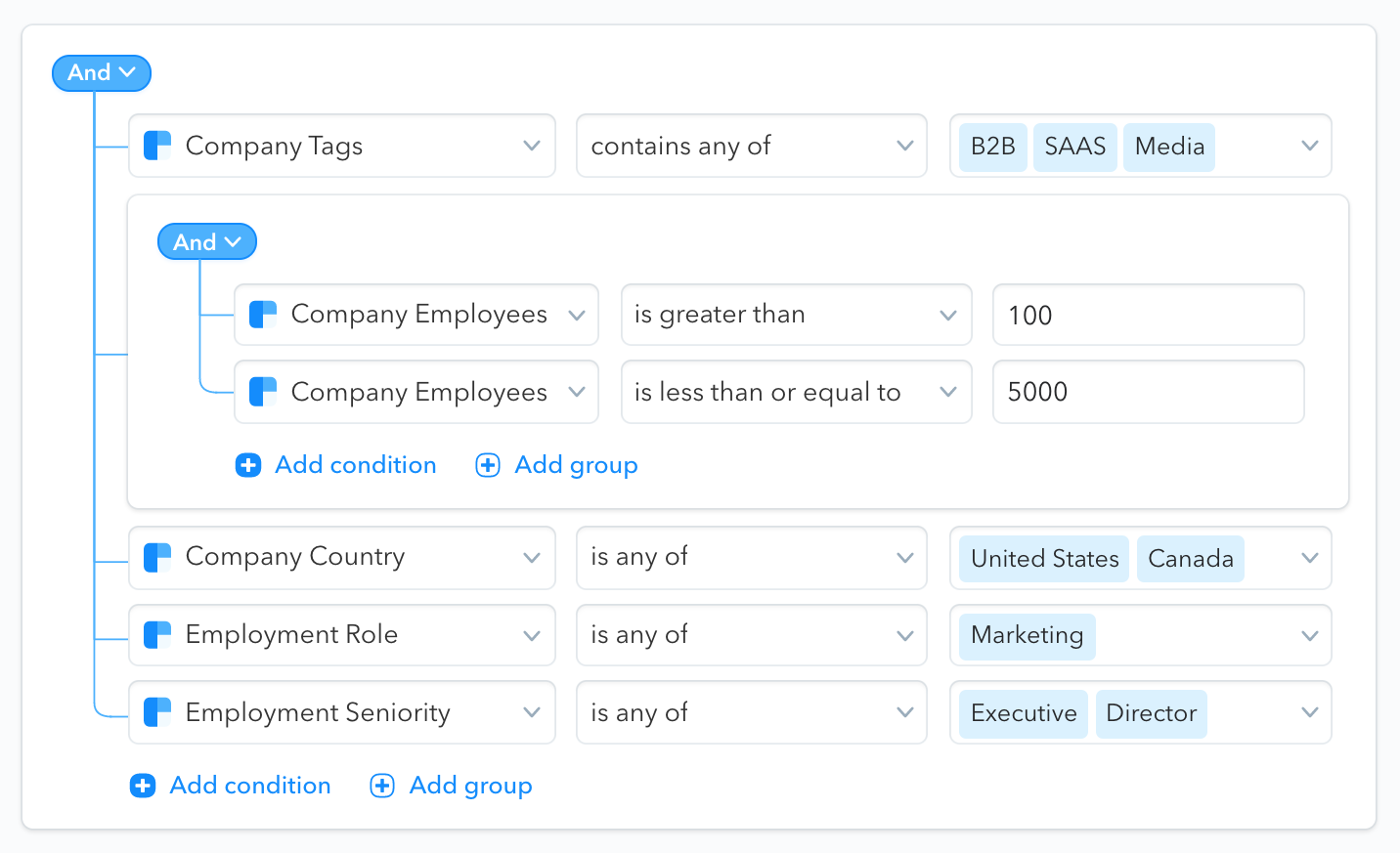 example: ideal customer audience used for marketing, combining firmographic and demographic attributes
There's no one formula for "ideal"
Your ICP does not have to follow a template or another company's — nor is it set in stone. Who you define as "ideal customers" is meant to help your company meet its goals more than other segmentations do. What you call an "ICP" in your company can include persona-level attributes to help data-driven processes and targeting, as described above. Or you might want multiple ICPs for smaller subdivisions of focus, like when there are different product lines or geographic markets, for example.
For most companies, the goals you're trying to meet are revenue-related. So your definitions of "ideal customer" will take into account factors like high MRR, high LTV, high annual contract value, large upsell potential, etc. But there are other reasons for defining an ICP (and personas) in ways that match your business goals that aren't mentioned above.
Whatever your reasons, it's important to know who you'd love to serve and how those customers buy — and then operationalize that knowledge to spend your time and resources wisely.
TAM + ICP + Personas = A B2B Marketing Arsenal
To put it simply, TAM is the total accounts that could buy your product, ICP is the portion of your TAM you should be convincing to buy, and personas are your best type of contacts within ICP accounts.
Harnessed to their fullest, these definitions are also living, breathing guidelines. Not every single paying customer will fall into your ICP. Not every prospect will hit all the ICP or persona characteristics. And on the flipside, you'll update and evolve how you define 'best fit' with changes in priorities, conditions (like your position in the market, marketing and sales efficiency metrics, unit economics), and what you learn about your customers along the way.
Well-defined and usable TAM, ICPs, and personas equip your teams to attract, convert, and win the right customers through repeatable, scalable processes — instead of operating on whims, instincts, and inconsistent goals. You need the combination of all three to be strategic about your growth.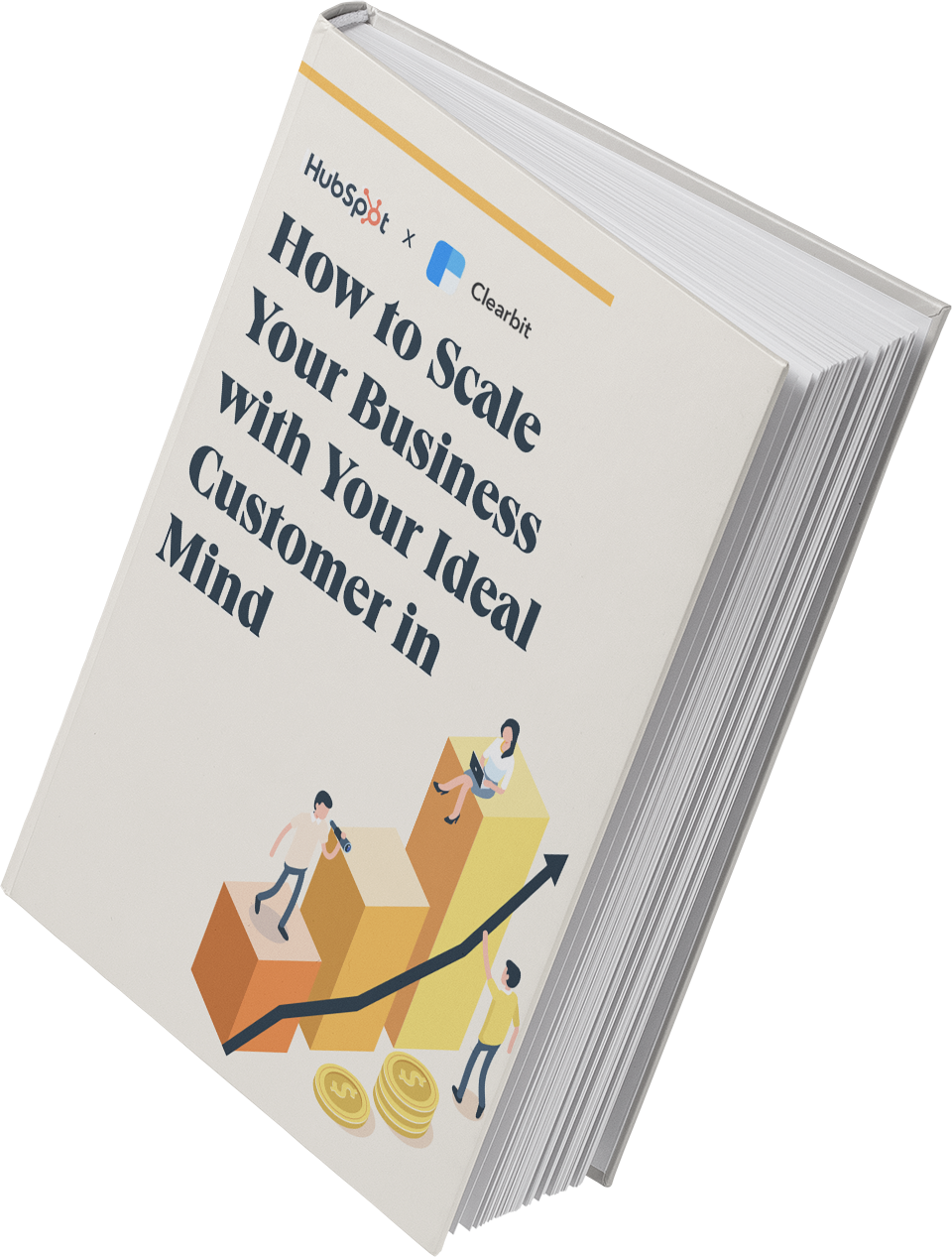 Learn how to define your Ideal Customer Profile and activate your ICP throughout the funnel in our latest book with HubSpot, How to Scale Your Business with Your Ideal Customer in Mind