3 top challenges of marketing to e-commerce companies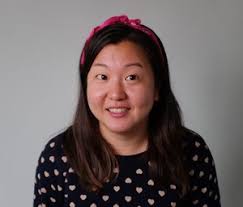 Janet Choi
September 10, 2021
---
It's no surprise that online shopping has been growing in popularity. But with the pandemic, e-commerce growth surged, shifting consumer habits for the foreseeable future.
If you're marketing SaaS tools that help e-commerce stores and brands with their customer journey (maybe your product plugs into or works alongside e-commerce platforms like Shopify or WooCommerce), you're capitalizing on this unprecedented growth while having to fend off more competition in this space.
Without the right data, your advantage weakens because you can't cut through the noise to effectively target relevant audiences and focus on the best leads.
In this post, we'll look at three common challenges that arise out of this inability to target e-commerce businesses — and how Clearbit can help with its dataset on 4M+ e-commerce merchants and DTC brands.
Facebook (and Instagram) ads are bringing in bad leads
E-commerce businesses blanket Facebook and Instagram on the regular with ads, but as a B2B marketer, you can't seem to reach the right audiences.
That's because Facebook's native targeting is suited for advertising consumer goods. Since it's difficult to reliably reach your ideal customer profile, ads that are supposed to acquire e-commerce prospects are flopping or bringing in poor-fit leads.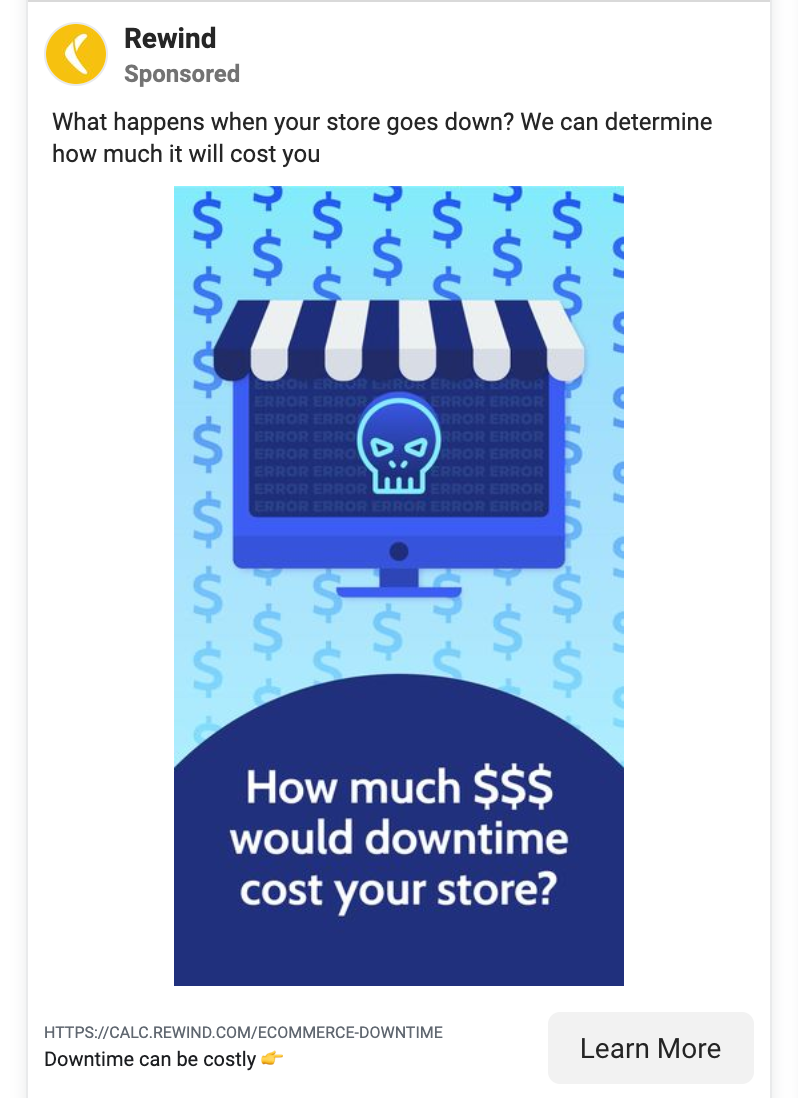 Ads like this one from Rewind need to reach a targeted e-commerce audience
That doesn't mean you have to give up on Facebook and its huge audience! Chances are, the decision-makers at e-commerce companies are among the platform's nearly 3 billion users. With Clearbit Advertising, you can reach them.
Clearbit provides B2B-specific segmentation options, including the ability to target e-commerce and retail businesses, to create dynamic audiences that sync in real-time to Facebook.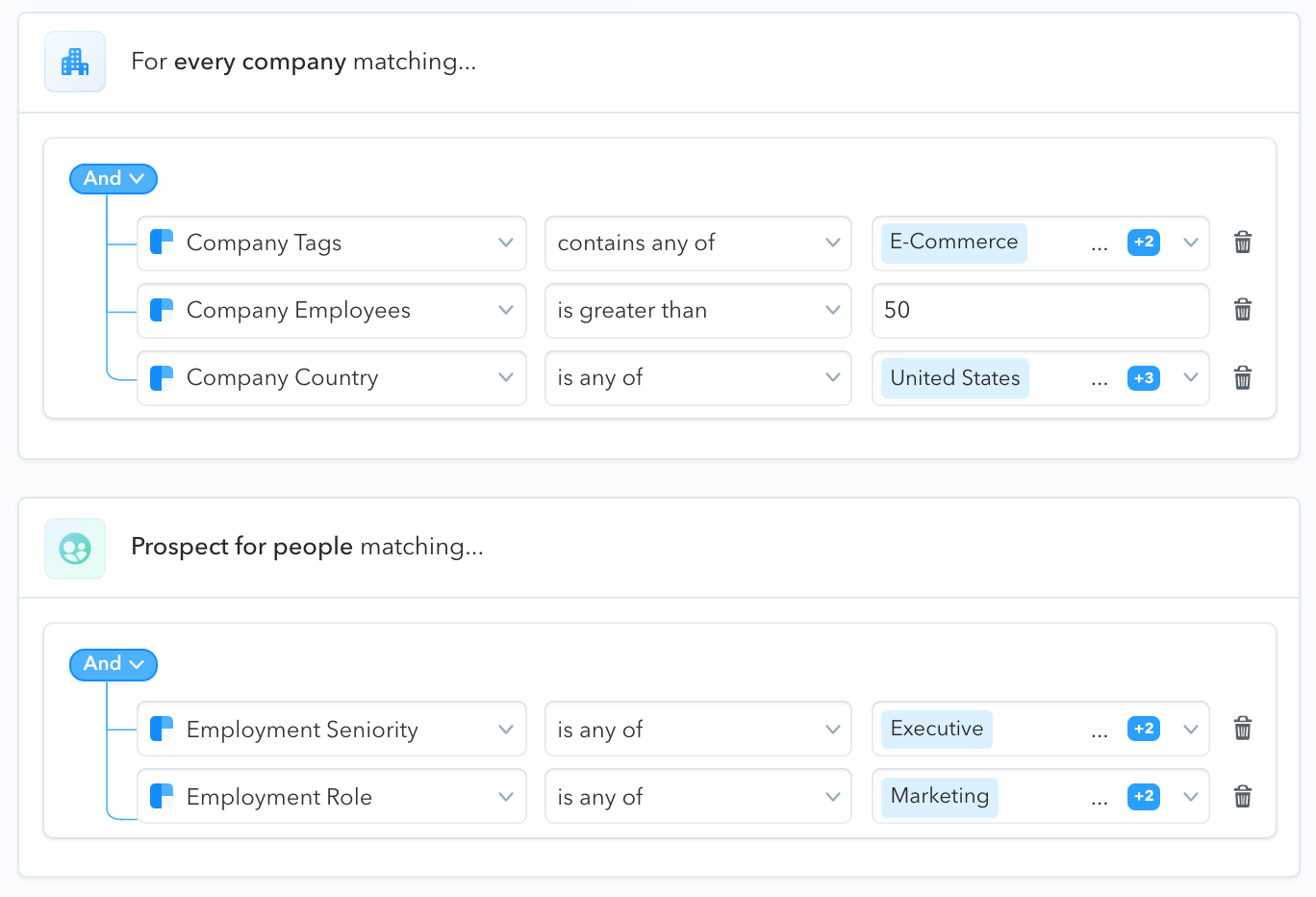 sample segmentation for e-commerce ad audience
With the ability to reach more relevant audience, your social ad campaigns on Facebook and Instagram will bring in qualified leads and better ROI.
Lead qualification is slow and inefficient
When leads do come in the door, you need to detect who is a good fit to follow up effectively. But when you don't have the right context on inbound leads, it's a heavy chore to constantly figure out who they are. This manual process involves lots of research and data entry, obstructing your ability to prioritize your best leads and slowing down your sales considerably.
Automated lead qualification solves this problem — but requires consistent, relevant B2B data to run. Here's why this remains a challenge if you're only relying on first-party data provided by leads:
Messy, wrong data: People don't provide complete, accurate, or consistently-formatted details when they fill out forms.

Qualification data gaps: Like many SaaS products, e-commerce solutions ask for different amounts of information depending on the form — leading to gaps in your data.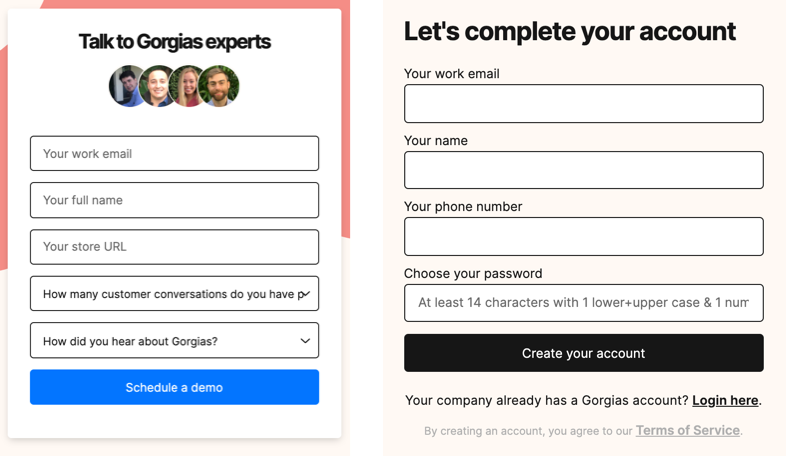 left: Gorgias demo request form, right: Gorgias product signup form
For example, a product signup form usually has a minimal amount of fields for a friction-free user experience, whereas a sales contact or demo request form will have a number of additional qualification questions — leaving a big group of leads without helpful context.
Need more information: E-commerce solutions often have to choose between asking for qualification information specific to e-commerce businesses (like your business model, shipments per month) and more typical firmographic information (like company size, location, or job title). The problem is all of these details are helpful for scoring and routing — but you don't want to your form field numbers to go into the double digits.
Clearbit Enrichment instantly fills in the blanks behind the scenes with firmographic and demographic data on your inbound leads, so that you can automatically recognize and prioritize the best fits. No more inconsistent data or qualification context gaps.
Clearbit provides information on over 100 data points, including
technology used, including ecommerce tools
Alexa rank (useful traffic volume signal)
company size
industry
company tag
company description (great for picking up keywords)
revenue
With enrichment filling in the blanks, your forms have room to ask for more specific e-commerce business details while remaining short for conversion — and you can qualify and segment leads at a deeper level of detail.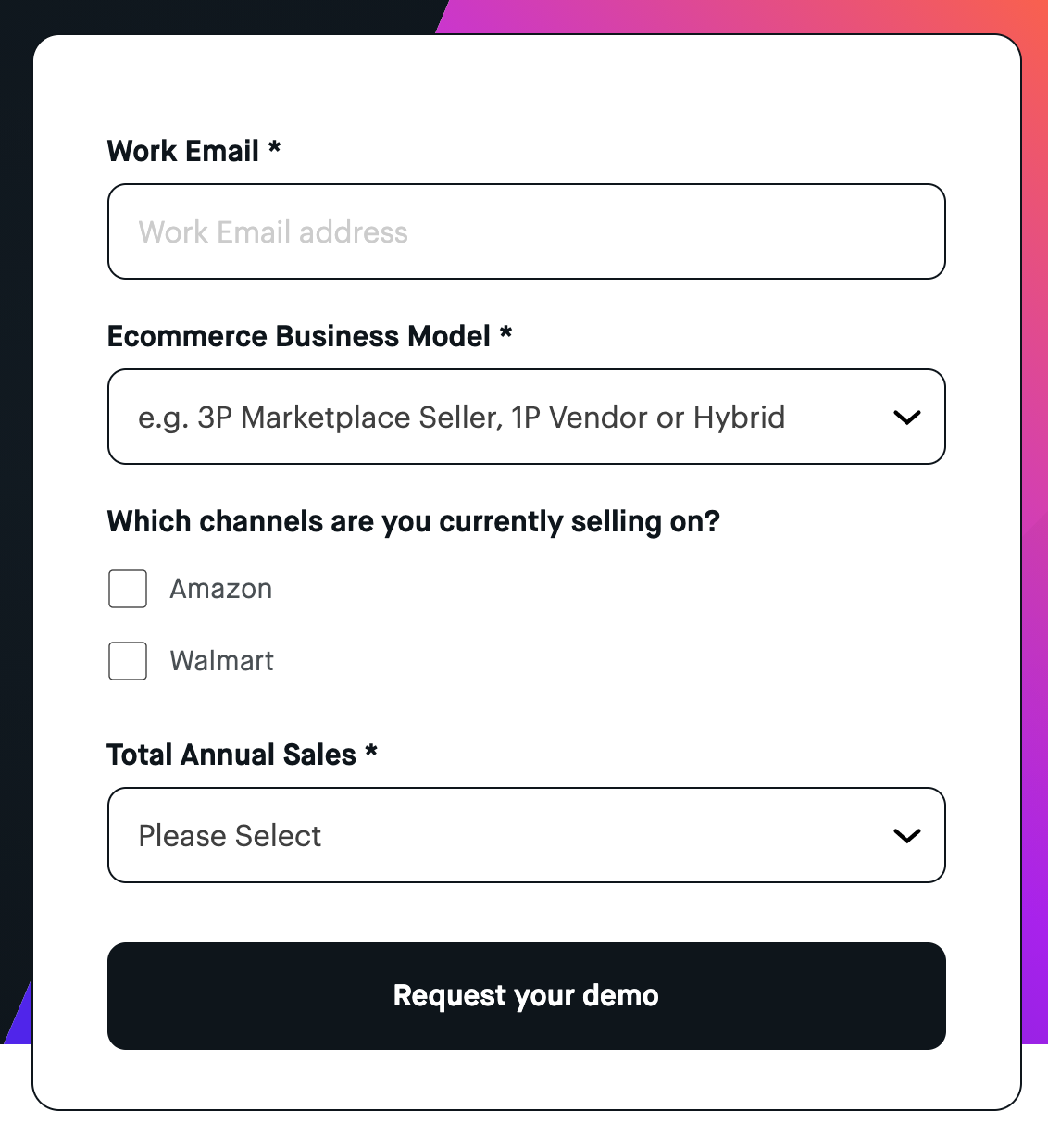 Example sales form from Teikametrics
Sales reps aren't getting to high-value leads fast enough
If your lead qualification process is slow, that means your sales team isn't talking to the best leads right away. They might be jumping on demos with low-value leads or running in a hamster wheel of talking to everyone who requests a meeting to go through a qualifying conversation. As high-value leads wait for a team member to contact them, they may cool off and pass on the opportunity to work with your brand.
The lack of a good qualification system results in lost opportunities, missed at-bats, and less revenue.
With Clearbit's enrichment data powering real-time scoring, you boost your speed to lead. That's not only getting to qualified hand-raisers more quickly but also accelerating sales through additional means — including live chat, email outreach, and other automated workflows that ensure your reps are focusing on the best leads and providing the best experience.
Attract e-commerce brands with accurate customer data
With more e-commerce brands rising up in response to the pandemic, SaaS companies targeting these businesses need strategic marketing. Otherwise, you risk wasting time and resources trying to get your company in front of the wrong people.
Clearbit gives you the leg up on your competition — providing instant, accurate lead data for advertising audiences, inbound qualification, and helping to close more e-commerce business sales.