How we use social media ads to capture leads at Clearbit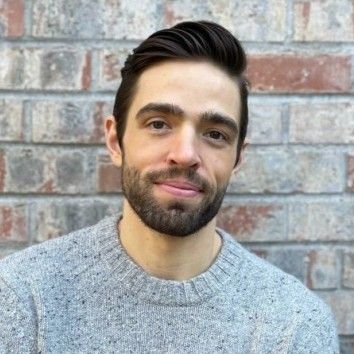 Nick Wentz
March 06, 2019
---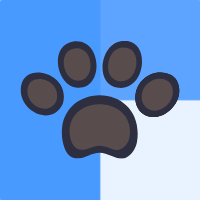 How Clearbit Uses Clearbit: This series shares how we use Clearbit products for acquisition, conversion, and operations.
When you think about social media, I'll bet the last thing that comes to mind is, "B2B demand gen powerhouse." But at Clearbit, we've found that Facebook, Instagram, and LinkedIn can be high-ROI sources of leads — especially when used in combination with thoughtful targeting.
Facebook's Lead Ads, for example, are a mobile-optimized, low-friction way of capturing email addresses. People don't need to leave their News Feeds to see them or to interact with Clearbit. The only issue with these ads is that they typically capture a user's personal email, which we need to link back to a company that we can turn into a prospect. After all, if you have a Facebook account, did you sign up with your work email address? Probably not.
So we've stitched together tools using Zapier and Segment to make those email addresses a bit more actionable. This workflow uses Clearbit data to flesh out the lead's company information, which then pipes to our email platform, as well as to Salesforce, Slack, and more for marketing and sales outreach. As a result, new leads automatically receive personalized nurture emails until our sales team can reach out to them.
Let's take a look at how this works. For simplicity, we'll use Facebook as our example, but we also do the same thing with Instagram and LinkedIn (Lead Ads on Instagram and LinkedIn Lead Gen Forms).
How we lower signup friction with social ads
Our Lead Ads typically offer helpful content to our target audience, such as "Automated Outbound Sales," a chapter from our book, Data-Driven Sales.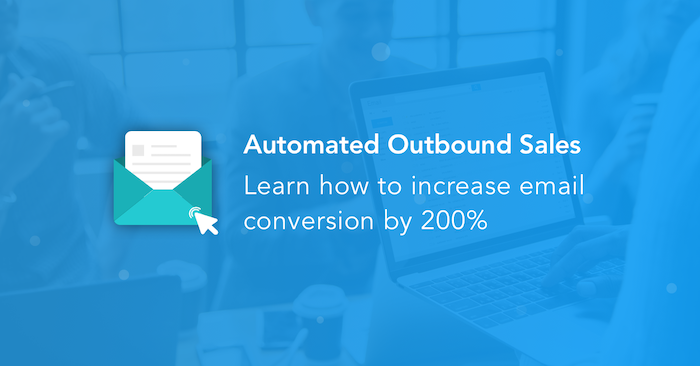 This is an example of what might appear in a user's News Feed: an offer for educational content
If someone is curious about this chapter and clicks the ad, they see a built-in email capture form right in the Facebook app to access the content.
We can choose how many fields the form shows, so we do what's best for conversion: use as few fields as possible. In fact, we often only show the field for email address, which gets pre-populated by Facebook into the form automatically. The user can edit it, but really, all they need to do is click Submit.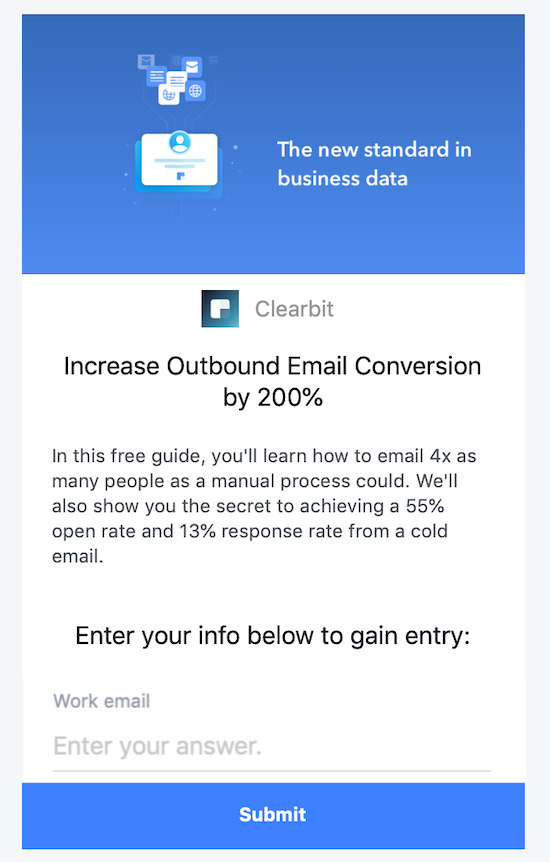 A preview of a lead ad — the email address would get pre-populated
Leads get instant access to the content through a link. All of this increases conversion rates: there's a pre-filled email address, a super-short form to begin with, and it allows the lead to stay on the Facebook app and skip the step of visiting the Clearbit site altogether. Plus, it's mobile-optimized, which helps us get around the typical B2B challenges of capturing leads while they're on their phones. It's super low-friction compared to most B2B lead forms.
Our Zapier workflow
What we end up with on the Clearbit side is an email address, but we don't yet have the other info fields that might typically show up in a B2B lead form, like Company Name, Role, or Industry.
However, we can "backfill" that information using Clearbit Enrichment. Here's the data workflow we use to do that, and then automate sales and marketing outreach.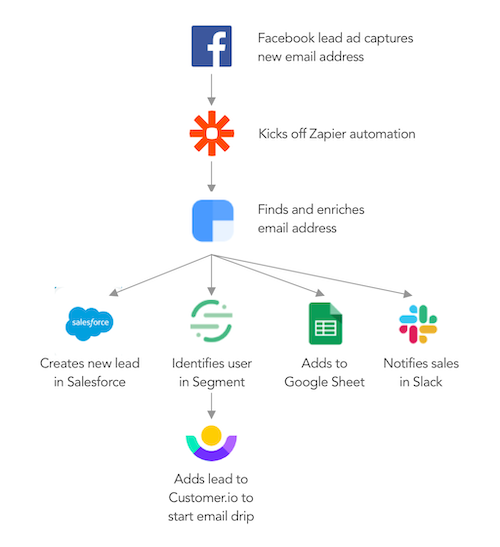 A new Facebook lead submission kicks off our Zapier flow. Within the flow, Clearbit finds a related work email, if that data is available, and pulls in role and company information, such as Company Name, Industry, Location, and Phone Number.
Next, Zapier sends that information to Salesforce, creating a new lead, and then to Segment, which pipes it to other outreach platforms.
All told, here's where the enriched lead ends up:
Salesforce: A new lead in Salesforce, enriched with Clearbit data.
Slack: A special lead channel in Slack, where the new lead's information is automatically posted. Clearbit sales reps can get a notification, or simply monitor the channel for qualified leads.
Google Sheets: A new row in a spreadsheet for our social leads. This gives us an easy, ad-hoc way to monitor success for specific paid campaigns and calculate acquisition costs.
Email drip sequence: A new contact in our email platform, which starts a drip sequence. Clearbit data plugs into the emails for personalization, using Liquid templating. We also add an extra little data field that notes what campaign or Lead Ad the user came from (passing this data through via Segment). That way, we can reference the content in our nurture emails.
The email nurture sequence triggers and begins to prime the lead, until a sales rep can take action.
Nurture emails that reference the social ad
Over the next few weeks, the prospect gets a sequence of four emails that introduces them to a well-suited Clearbit product. If they clicked on a Facebook Lead Ad featuring our "Automated Outbound Sales" chapter, our email platform pulls in this fact in the first message.
Here's the first email in the nurture sequence, so you can see some of the personalization we use: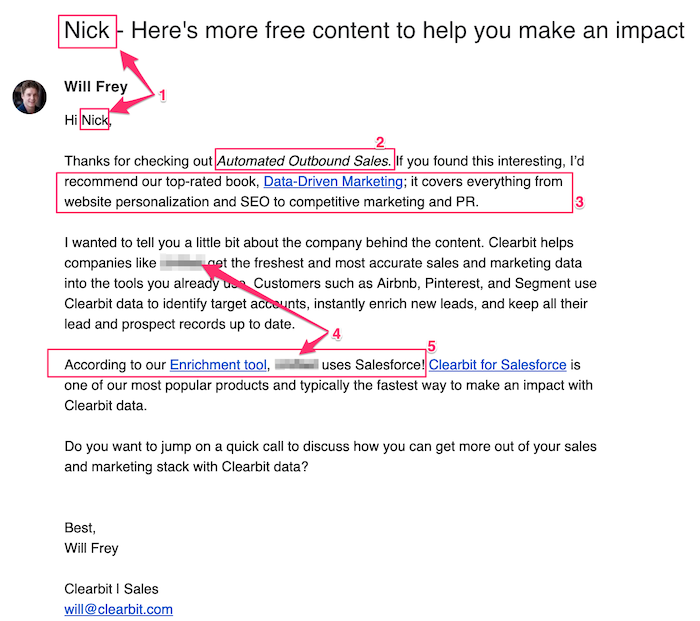 Personalization spots include:
Name of the contact
The content they've accessed: "Automated Outbound Sales"
Recommended reading based on role
Name of their company
Relevant tool in their tech stack based on company tech tag
The fun one is company tech tags. It's a data type in Clearbit Enrichment that shows which technology a company is using. Based on that information, we recommend one of our products that matches in the emails. In the example above, we've detected that the lead's company uses Salesforce, so the message recommends and links to Clearbit for Salesforce.
Typically, we'll look for, and then stack-rank, software tags like Salesforce, Marketo, and Pardot so that our emails can talk about the corresponding Clearbit integration. We also look for Adobe, Drift, Intercom, and the company's Alexa rank, because those are indicators that they'd be a good fit for our Reveal product.
(For more tailored-email inspiration, check out The data & personalization behind Clearbit's onboarding emails.)
Social ads actually work for B2B lead generation
To recap, when we want to capture B2B leads from social channels, we like using Lead Ads because of their mobile-friendly, integrated lead forms. They're so low-friction that our leads don't even need to visit the Clearbit website, which obviously improves conversion rates.
The way we have it set up, we only get an email address, but we backfill any other information we need through Clearbit Enrichment, via a Zapier loop that pipes the new lead through Clearbit and routes it to Segment, Salesforce, Slack, our email platform, and Google Sheets. This flow kicks off a personalized nurture email sequence and fills our sales reps' queues with clean inbound leads.
And our prospects? They don't even have to stop scrolling through cat memes on their News Feed.