Clearbit for HubSpot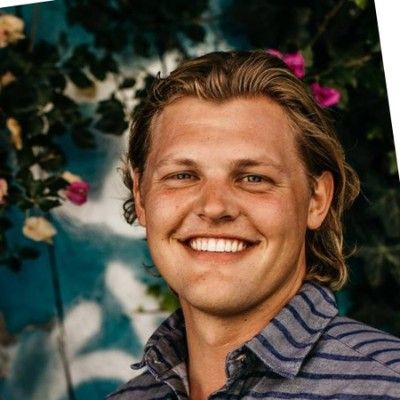 Matt Sornson
August 25, 2020
---
Dealing with incomplete, incorrect, or out-of-date data when you're bringing in a high volume of leads is a huge blocker to growth. It's too hard to focus your lead generation, prioritize the right accounts, automate workflows, and personalize experiences when you don't know enough about your leads.
But if you're using HubSpot, Clearbit's integration opens up multiple doors to generate more qualified leads, deals, and happy customers. Over the past few months, we've added the abilities to enrich your HubSpot database and create data-driven segments for alerting and ads.
Use the Clearbit for HubSpot suite to: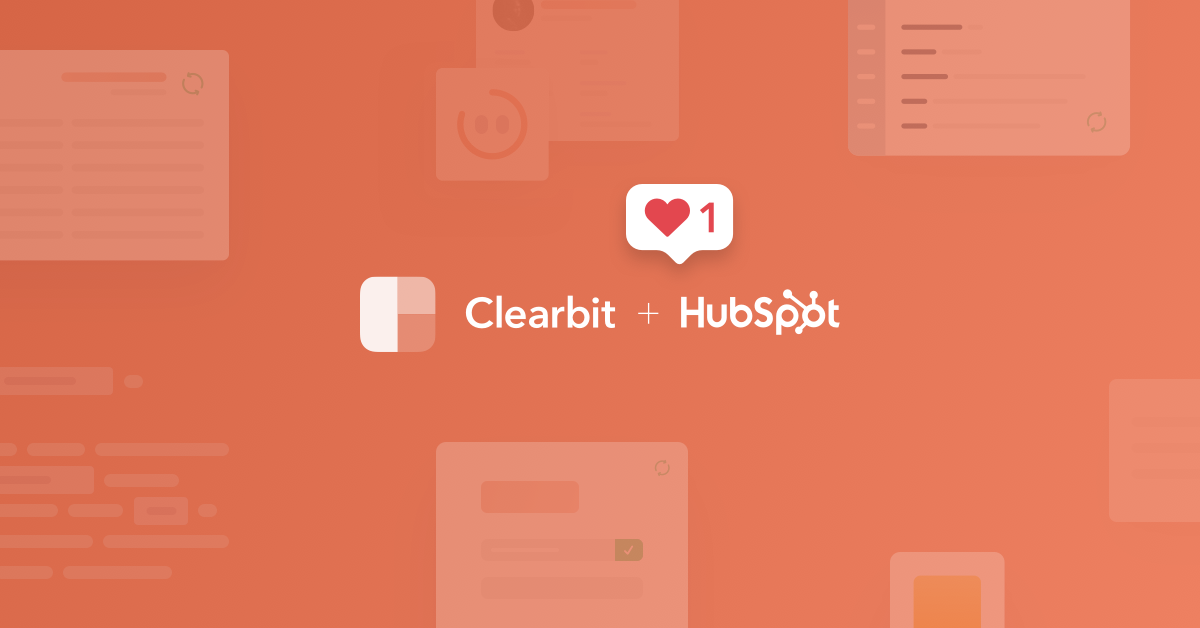 How does the Clearbit for HubSpot integration work?
The Clearbit for HubSpot integration operates in two main ways:
With Enrichment, append accurate and easily-mappable data on Companies and Contacts. Use this automatically-refreshed full set of over 100+ B2B data points to:

optimize lead capture with dynamic, shorter forms
analyze and understand your leads and customers for actionable insights and segmentation
instantly score and route leads for more effective nurture and sales tracks
personalize your email marketing, landing pages, and chat for better conversion

HubSpot is also a new data connector, integrating with our Alerts and Ads products. You can build sophisticated audience segments to do things like notify your sales reps when high-value leads are on your website. They'll get intel on companies who are visiting and what they're browsing, even before they fill out any forms.
The segmentation power comes from the ability to harness multiple data sources — mixing and matching rules based on data from:
Company and Deal objects in HubSpot
Clearbit's enrichment set of 100+ B2B attributes
Salesforce accounts and opportunities
pageview data (including that of previously anonymous traffic)
other first-party data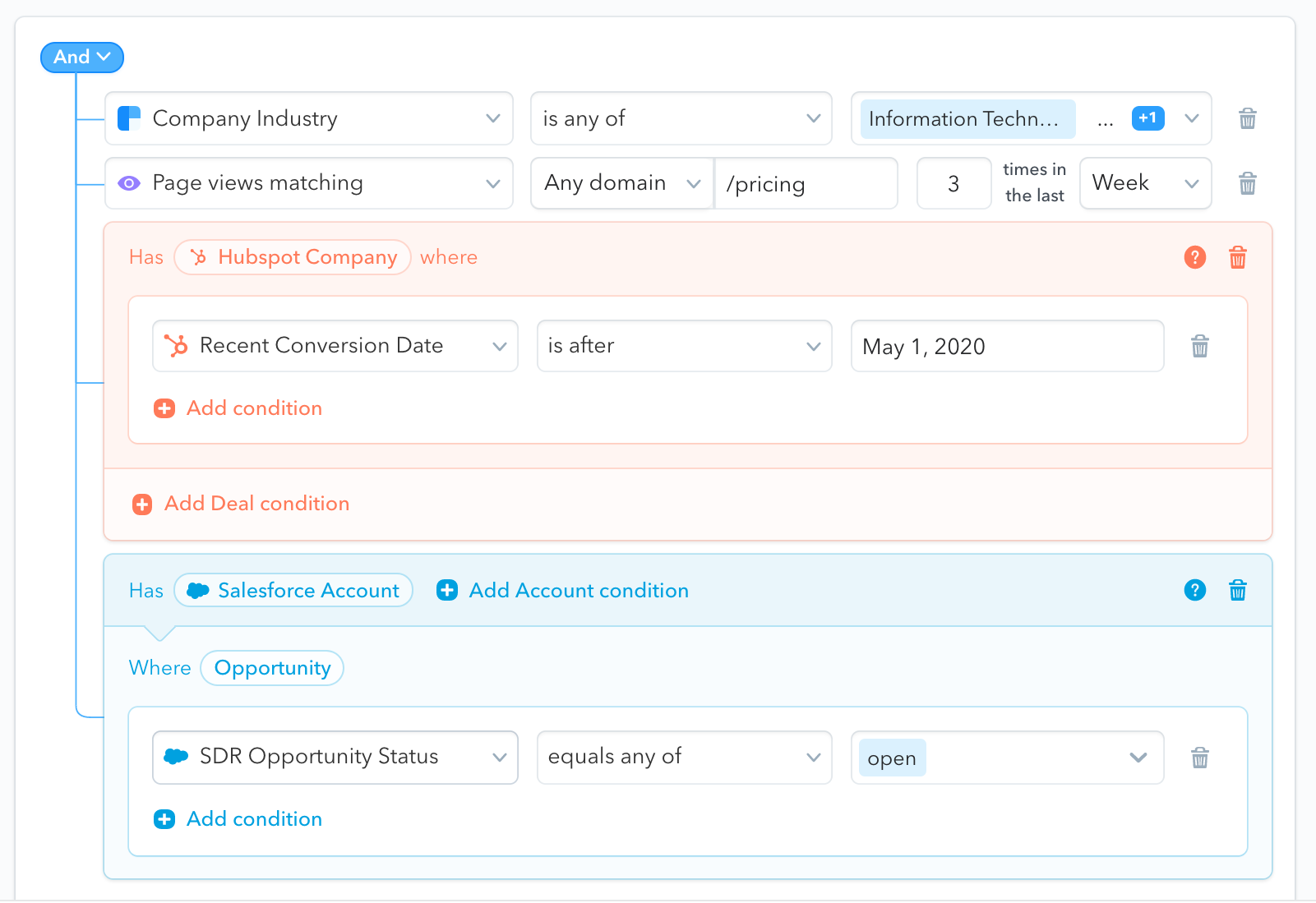 example segment based on multiple data sources
How to grow with Clearbit for HubSpot
There are many things you can do to boost marketing and sales with our HubSpot integration. Let's take a closer look at a few use-cases.
Increase form conversion to get more from your inbound
Your lead forms are the entry-point for your inbound funnel — and it's one of the most valuable places to optimize.
Clearbit kicks in when a lead enters their email. From there, you can choose to have your HubSpot forms either:
Autofill form fields when Clearbit finds data, lowering friction and allowing your customers to see and change the data they submit
Shorten forms by hiding fields unless Clearbit can't find the relevant data point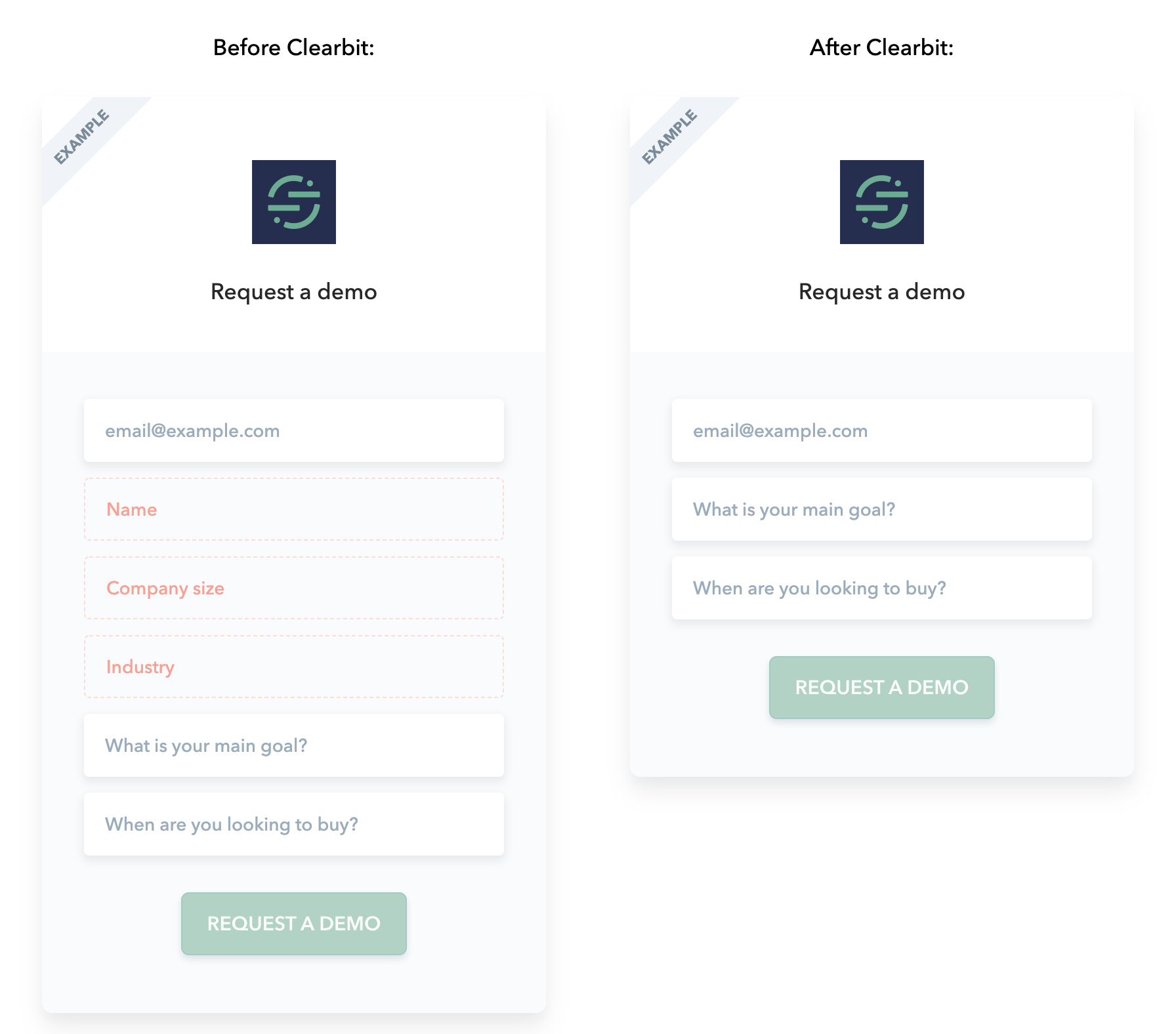 With Clearbit for HubSpot, you get the best of both worlds — just enough fields for the best conversion rates while still collecting the key data you need down-funnel for nurturing, scoring, and routing. See how Gong improved their form conversion by 70% with a one-field form while getting data to fast-track their ideal leads to sales.
Close deals faster with automated lead processing
Few things are worse than having sales tell you that the leads that your marketing team worked so hard to generate are bad — or finding out that marketing successfully generated great leads that ended up going cold because sales took too long to get to them.
Accuracy and speed are everything when it comes to prioritizing and following up with leads. Scoring and routing rely on having actionable data on every incoming and existing contact in your HubSpot database.
When you use Clearbit for HubSpot, you'll be able to:
Instantly score every lead based on 100+ firmographic, technographic, and employee attributes, including title, seniority and industry
Automatically route the best leads straight to sales — and to the right salespeople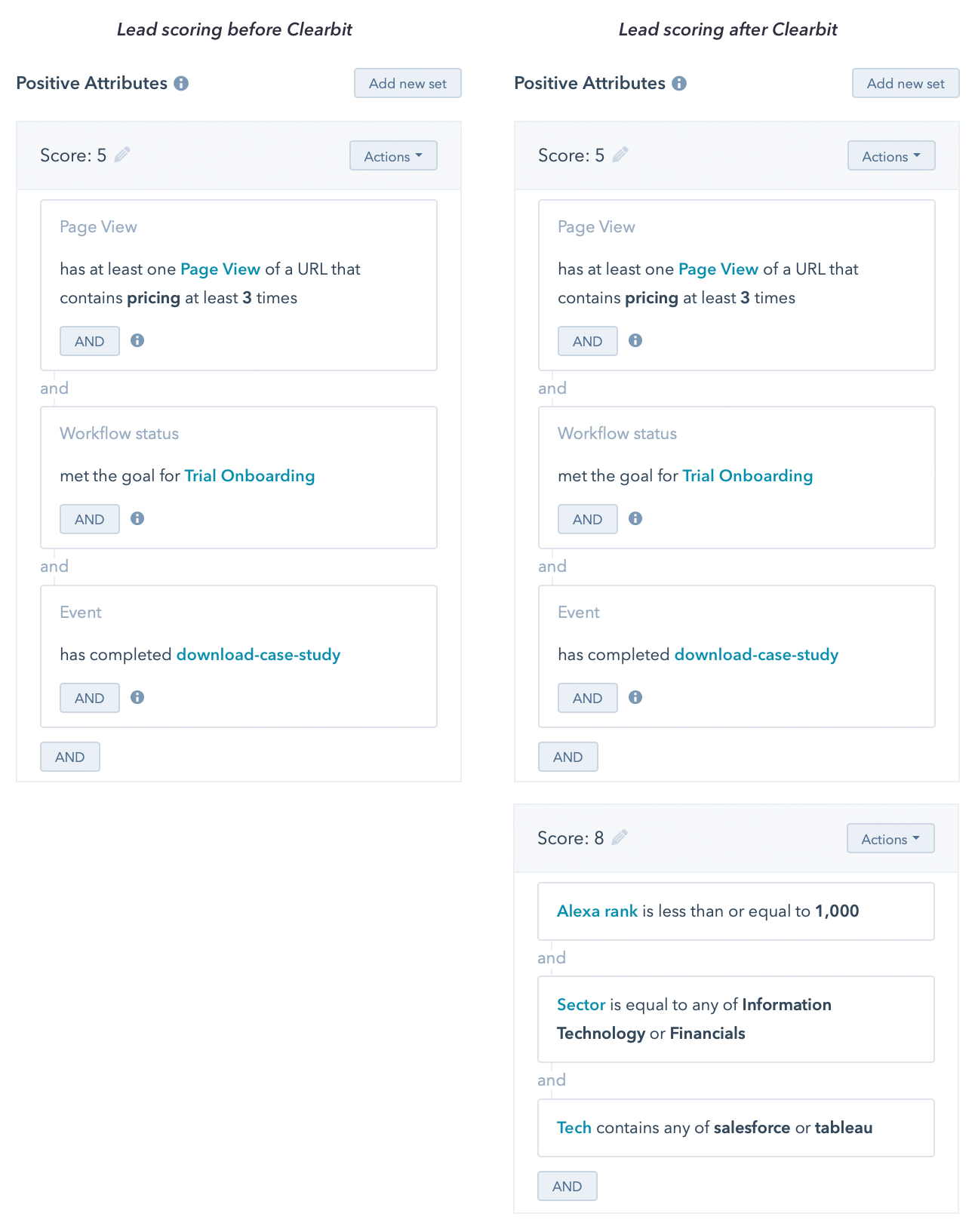 Add immediate fit criteria to your scoring with Clearbit
Notify sales reps about new leads visiting your site
Add Clearbit Alerts to surface ideal fit companies visiting your site out from otherwise anonymous traffic.

sample sales alert segment
So when all your marketing efforts bring in hard-earned target accounts, you can notify your reps on who's showing interest — especially on high-intent pages — even if they don't fill out a lead form.
Clearbit for HubSpot is now one of our most powerful, premium integrations. Make more out of your inbound marketing and sales efforts to generate, convert, and close more of those higher quality leads, quicker.