The who, when, and where of customer testimonials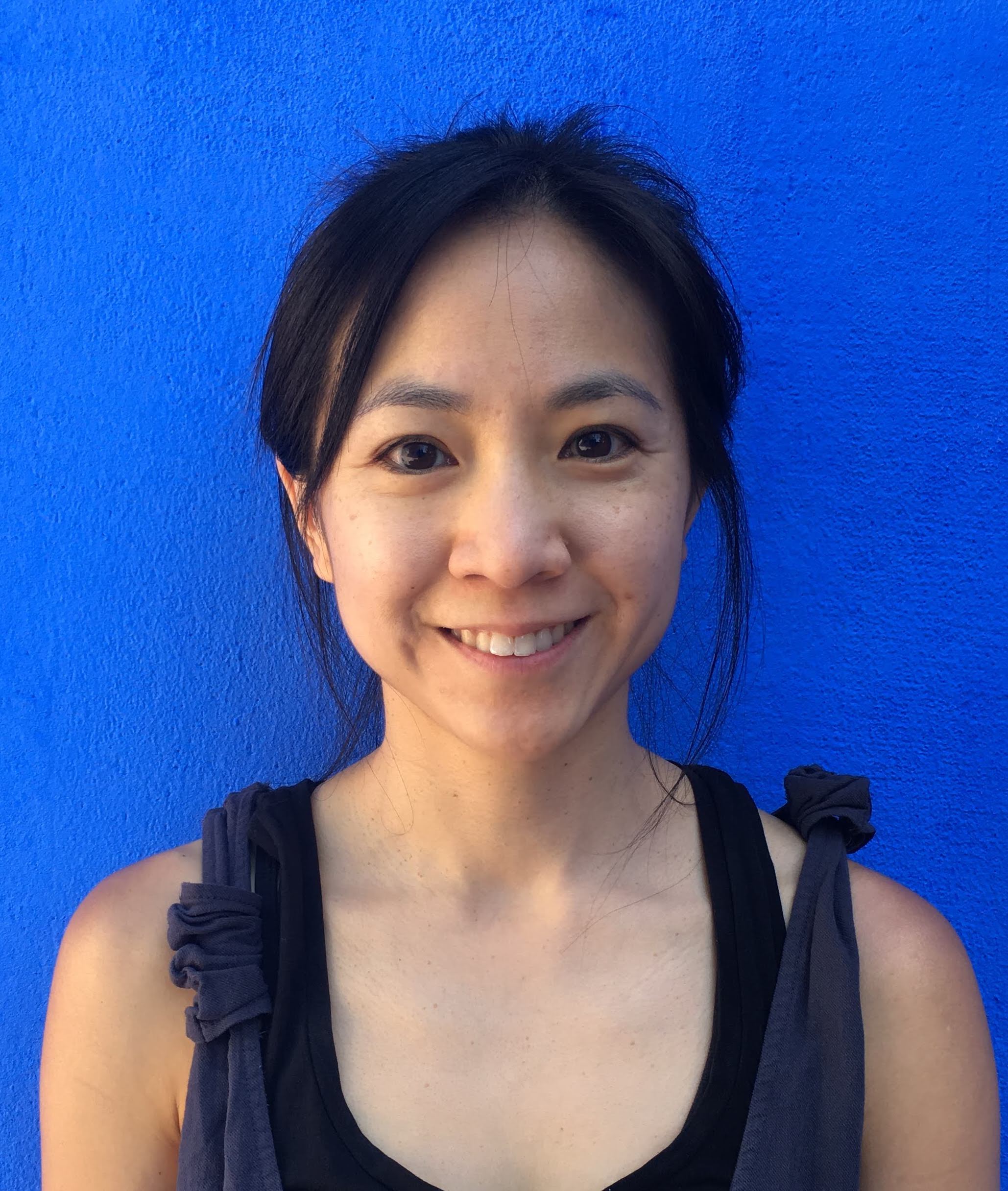 Sara Yin
July 07, 2020
---
Ask anyone on your sales team what type of content they need, and most (if not all) will shout: MOAR CASE STUDIES!
The power of customer stories and social proof is undeniable, but they can be expensive to acquire. There's usually a lot of upfront work that goes into shipping case studies and testimonials — from wrangling up the right customer to interview, to the story approval process that can take even longer than the sales cycle itself.
So it's important to get the most mileage out of every one of your hard-won stories by thoughtfully leveraging and surfacing them to your target audience. And if all you're doing is writing 1,000-word long case studies and publishing them on yoursite.com/customers ... then you are throwing some expensive spaghetti at the wall.
Start with a content strategy
If you can, map out all your potential assets before you start sourcing customer stories and asking for sign-off; a single customer interview can easily yield a dozen different assets (eg. logos, quotes for Facebook ads, etc.) and it's always better if you can ask your customer to approve all of them at once.
In other words, start with a content strategy. And if you're going back to repurpose existing stories, apply one.
A good content strategy considers three things:
Intent (the When): When will your audience see your social proof? We're not talking about time, but the stage of your buyer's journey. What type of social proof will your prospect be most receptive to at this point?  
Channels (the Where): What channels do you currently have to surface your customer stories?
Fit (the Who): Who are you targeting? What firmographic and demographic attributes do they share? Which industries, teams, segments, etc.?
Let's break this down.
The when and the where of social proof
I balk at funnels, but it's probably the simplest way to map out social proof against your goals. Let's look at a simplified B2B funnel with some of the ways you can produce a customer story: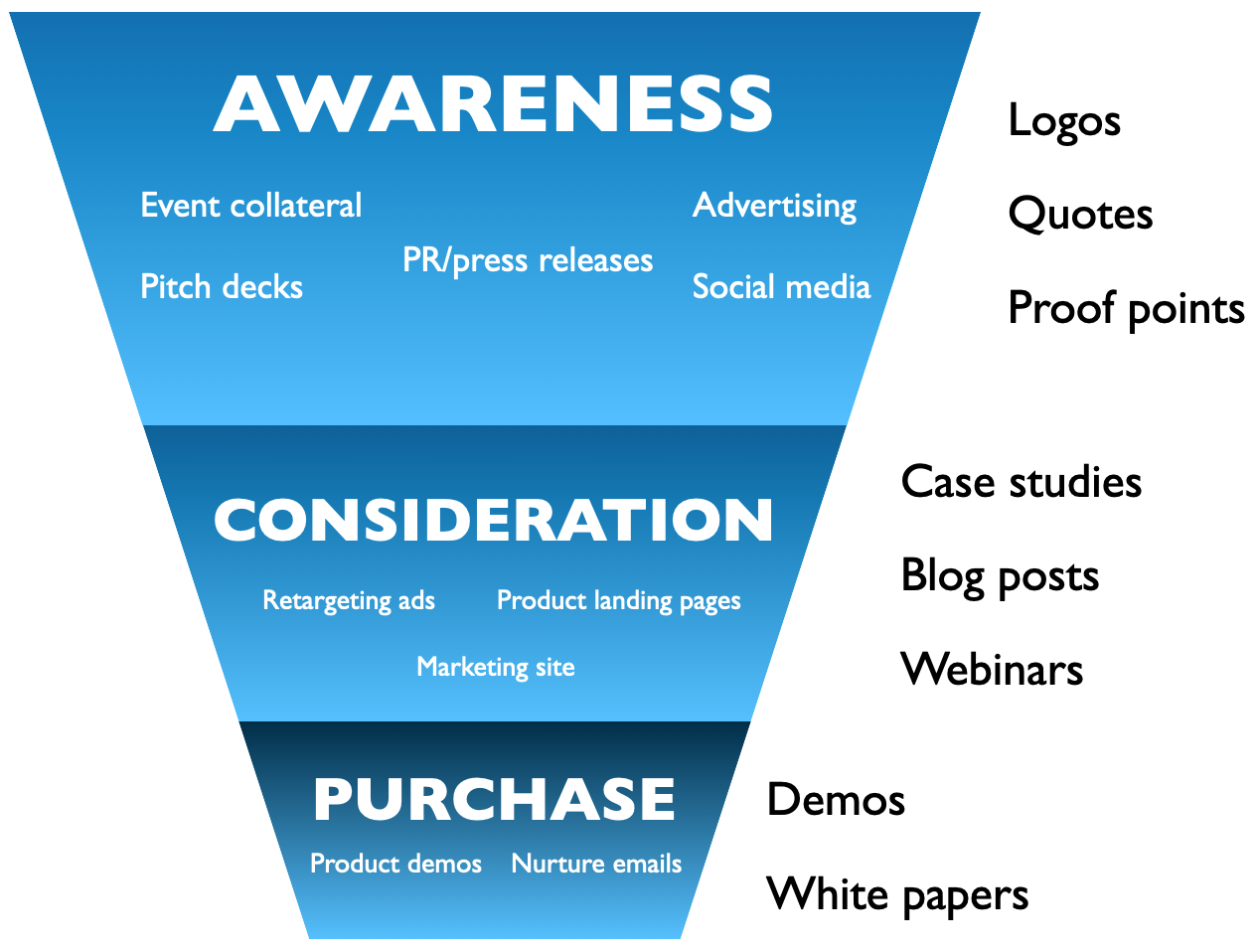 Surface customer testimonials throughout the buyer's journey
So if your goal is pure awareness – your ideal customer hasn't even heard of you – you might attract their attention by exposing them to your biggest logos and boldest quotes in all the right places: ads, event collateral, and owned content channels.
Once a prospect has seen your website and is aware of who you are, it's time to surface richer use cases and best practices through more targeted channels, like retargeting ads or solution-specific pages. Typically when they're in this higher-intent stage, they have more time to consume your content, like case studies and webinars.
Finally, when your prospect shows a high intent to buy OR has just bought your product, you might walk them through a similar customer's implementation in a webinar, product demo, or nurture email campaign.
Customer stories can live anywhere and fulfill numerous purposes, and mapping out all desired assets before you even talk to a customer will streamline the entire process.
At least ... this is how a lot of successful software companies with vast resources, time, and money think about their customer testimonials. To drive higher returns for each asset, you need to add one more layer to your content strategy: targeting and personalizing by fit.
Find the right fit for your social proof
We're huge proponents of using data to send the right content to the right audiences. This level of relevance helps you connect with your audience by demonstrating that you understand who they are and what they care about.
Look no further than your sales team to see how customer testimonials are personalized in 1:1 settings. For instance, they'll show edtech case studies to edtech prospects, finance to finance, and so on. They might drop some big logos early on and gradually share stats, use cases, and other proof points as their lead gets warm.
The challenge is: how do you do this at scale?
Answer: Use fit data to target your best prospects and automatically show them the customer stories that most "look like them" via email, site, chat ads, etc. In B2B settings, that typically means using firmographic data such as industry, company size, tech stack, as well as demographic data like job title, team, and seniority.
3 ways to personalize customer stories – at scale

1. Dynamic logos on your marketing site  
By some accounts, 99% of website visitors aren't ready to buy when they land on your site for the first time. Social proof is really important for these people –  they're more likely to recognize another company's logo before they fully understand what your product does.
Relevance is crucial here. Take, for example, a customer support manager working at the Dunder-Mifflin paper company. She checks out Zendesk's website and sees lots of hard-won logos: Airbnb, Uber, Tesla. Impressive as they are, these logos probably aren't enough to persuade her that Zendesk is the perfect product for her needs. A P&G logo might, though.
We recently tested this out with experiment personalizing the logos around a signup form on our website footer. Using Clearbit Reveal to identify and personalize for the company visiting — we dynamically showed a customer quote and set of logos.
For example, our "B2B Media" segment sees a quote by Kyle Gesuelli from Frame.io and logos from companies such as Adweek and Segment:
This type of responsiveness allows us to demonstrate industry empathy: an understanding that each industry has unique needs and challenges.
It also performs well: we saw an 82% lift in conversions from the footer!
2. Build awareness and nurture with online ads
Showing your ideal audiences a relevant customer testimonial or story is a great way to bring them to your site and further down the funnel. That includes introducing your brand with top-of-funnel messaging — or bringing qualified visitors back for further engagement, as ad retargeting is an effective (the most effective, according to some) way to increase conversions.
Let's look at one example from Unbounce. First, notice from their homepage that they want to speak mainly to three different industry or business models: ecommerce, SaaS, and agencies: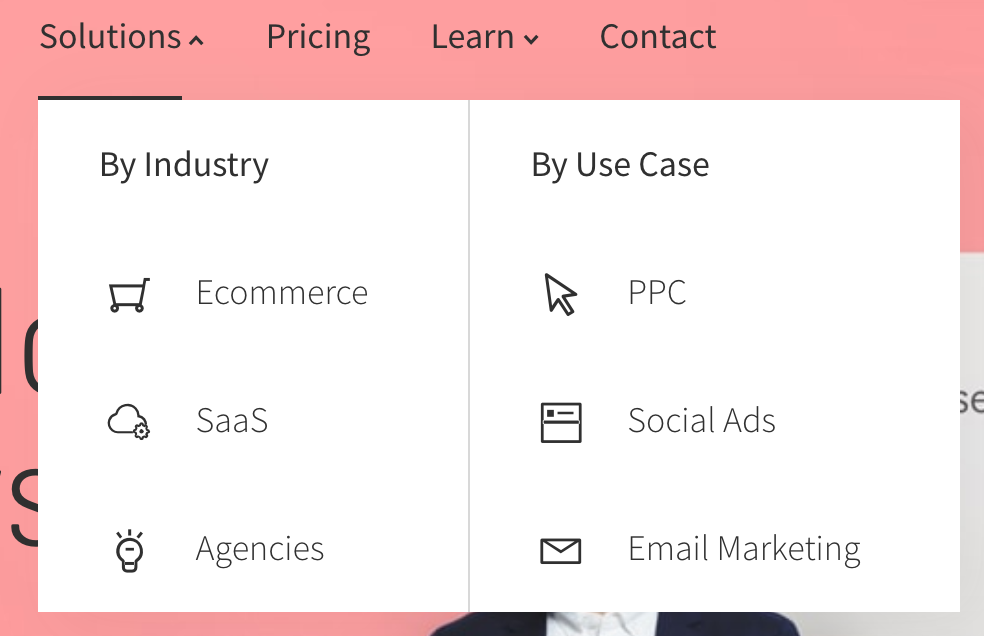 And here's an ad tailored to build awareness with ecommerce businesses by showing how one retailer uses Unbounce to create effective landing pages.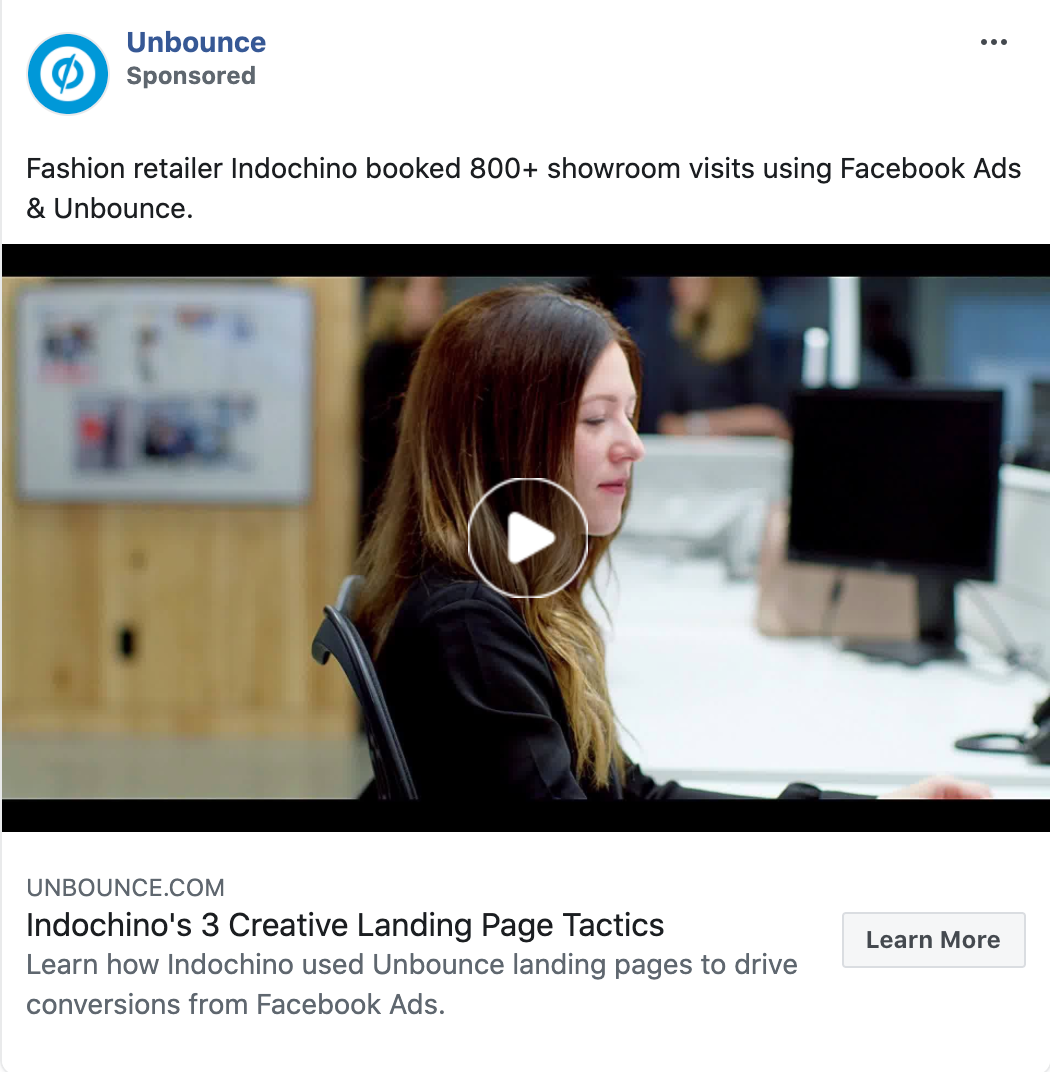 example awareness ad
One tricky thing about Facebook advertising for B2B marketers is targeting. My colleague Brad recently covered the four major limitations of Facebook advertising, but in short, you can't do basic things like narrow audiences down reliably by job title, industry, seniority, etc. LinkedIn does a much better job of it, but sometimes you just want to tap into the 1.5 billion people who log into Facebook (and Instagram) every day. That's why we built Clearbit Advertising to help marketers reach new audiences or retarget website visitors with 80+ firmographic, technographic, and employee attributes, and more.
3. Motivate leads with email
When you're at the point of nurturing leads and customers through email, either as part of a self-serve or onboarding flow, customer testimonials are effective fodder. Showing relevant social proof to leads at the interest/consideration stage will answer the most pressing question in their mind: "So what does this product actually look like in practice?"
Here's an onboarding email example from Zapier where a recipient self-selects their use case in order to receive a relevant case study: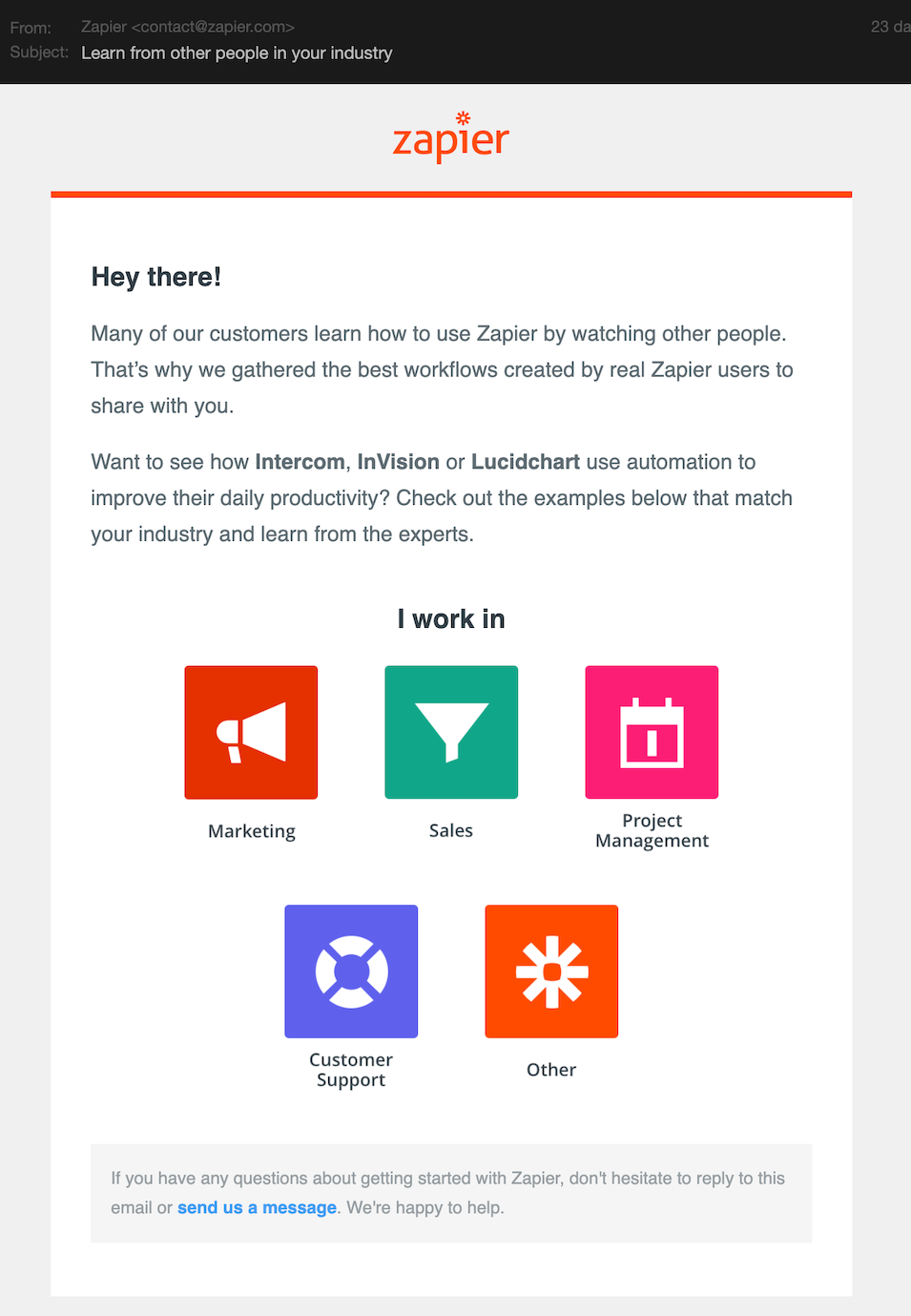 Zapier's email asks you to self-select a use case for a relevant case study.
It's a good, helpful email, but getting to the relevant story still requires some effort from the recipient.
You can automate this selection by pairing Clearbit with your email provider of choice — like Marketo, Hubspot, Pardot, and more. Clearbit enriches your email leads with data points like name, job title, industry, vertical, company size, etc., enabling you to send case studies to the segments of your choice.
Here's a recent example within a welcome series from the sales team at Clearbit, which was meant to elicit a hand raise. Recipients were segmented by job title (marketer or sales) and sent a relevant case study. Note the dynamic fields in red: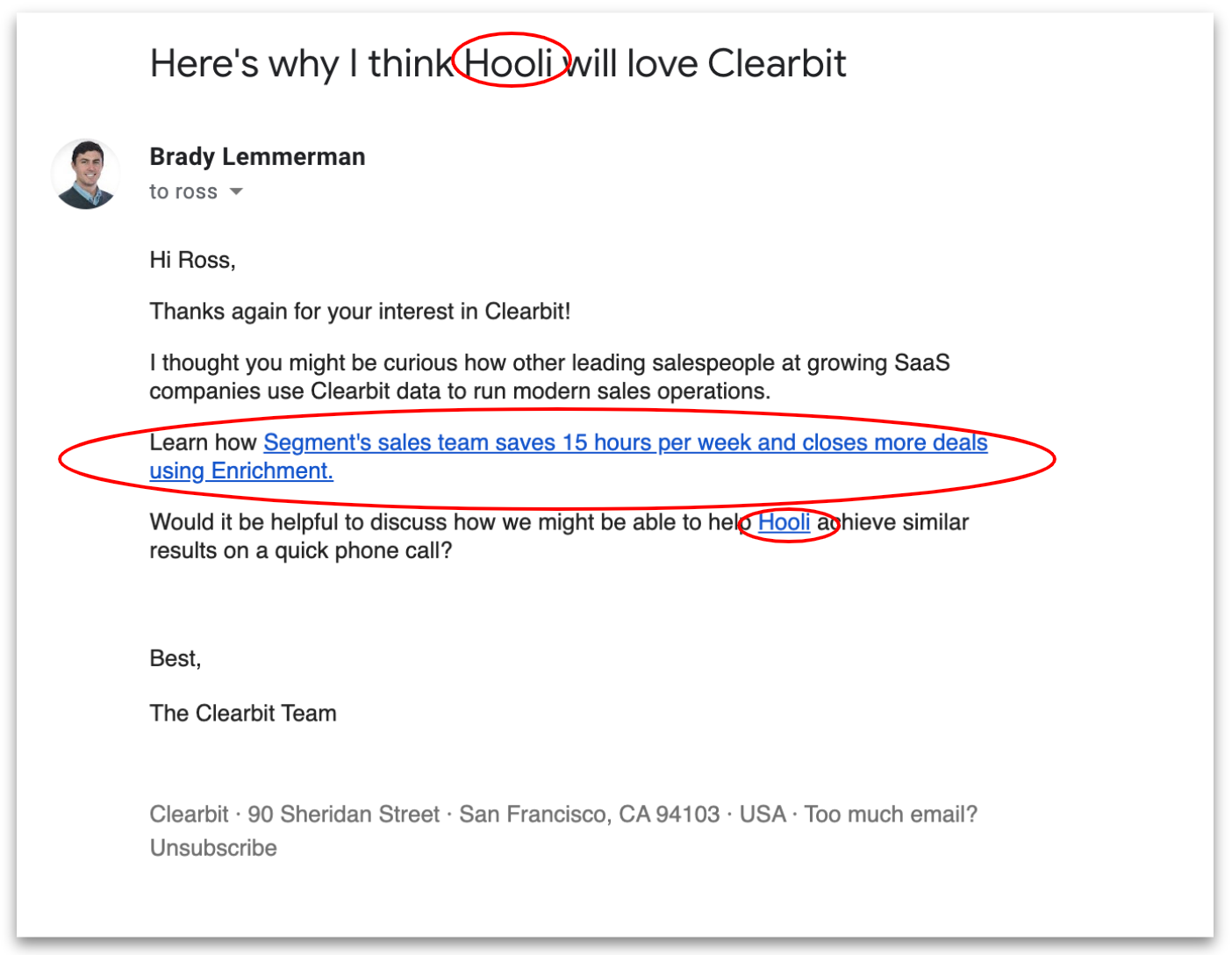 An onboarding email created with Clearbit data. Dynamic fields in red.
The second line immediately hits home by demonstrating empathy with my biggest pain points. Then we're led to a relevant case study showing how a similar company benefitted from Clearbit. Even with my allergic reaction to sales emails, this one would leave an impression.
Scale customer stories in a whole new way
When surfaced strategically, customer stories are incredibly effective ways to bring prospects through your funnel. To make the most of your hard-won social proof, it's vital to have a strategy and governance in place: a dynamic, scalable way to match relevant stories to prospects and customers, prioritizing those that look most like your ideal customer.