Personalized lanes drive supersized conversions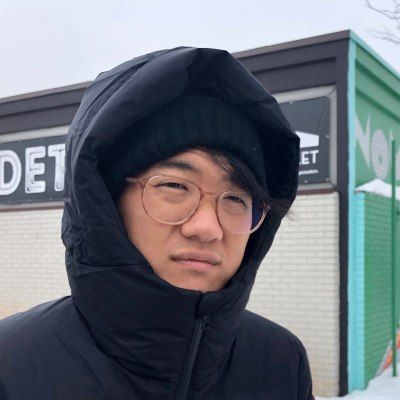 Bradley Gula
November 23, 2022
---
[Updated] Originally posted on November 7, 2019
Peanut butter and jelly, Tina Fey and Amy Poehler, shoes and socks on an airplane — some things are just better together.
Some of the fastest-growing product-led companies start out with a freemium offering. Think Dropbox, circa 2010. Eventually, they move upmarket and start focusing on larger deals too — and their model breaks out into two tiers: self-serve and dedicated sales for enterprise.
Freemium and enterprise can work together in PB&J harmony to maximize revenue. But that original self-serve experience can't serve both audiences.
Personalize the lead experience for self-serve and enterprise by creating two distinct tracks and automatically serving up the right one. Each track can be optimized for best-performing CTAs, headlines, chats, and more to boost conversions all along the way. By routing strategic leads over to sales — your self-serve funnel can hum along while enterprise deals don't slip through the cracks.
Why is personalization so important for the customer experience?
It's critical to treat a B2B buyer from a huge Fortune 500 company differently from someone at a tiny company or an individual consumer. Not only do you want your sales team to talk to them, but these leads are also looking for solutions to specific enterprise needs, like enhanced security, collaboration features, and dedicated support.
Studies confirm it: people prefer personalized experiences (PDF alert!) and buy more from the companies that provide those experiences. In fact, when brands fail to offer personalized interactions, 45% of consumers surveyed report abandoning the business in favor of competition.

What happens to customers' brains when personalization occurs?
If we dig deeper into why personalization works so well, it also comes down to the shortest distance from your message to the visitor's feeling that "this is for me!" When a consumer is presented with too many choices, they're less likely to make a purchase (see: The Paradox of Choice).

Plus, studies have shown that "increased choice decreases satisfaction with matters as trivial as ice cream flavors and as significant as jobs."

Honey lavender matcha? You lost me at rocky road.

Personalized marketing works because you're connecting directly with a specific audience about their needs. Of course, self-serve and freemium companies already know this. It's standard practice to add dedicated enterprise landing pages to your homepage with this business model.
Personalization examples: How Droplr and RingCentral personalize their homepages

One example of personalization from Droplr does a great job of demonstrating key values for both tracks.

The company's homepage runs through a list of features and provides a product animation that showcases Droplr's speed. Linked from the top navigation, an enterprise landing page begins with security and includes use cases from existing customers like Intercom and TED.

Droplr's homepage and enterprise landing page
From the homepage, enterprise content is one click away. But wouldn't it be great if the right version got served up automatically?
Or there might be a "choose your own adventure" experience like RingCentral. From one homepage, you can self-select the right path.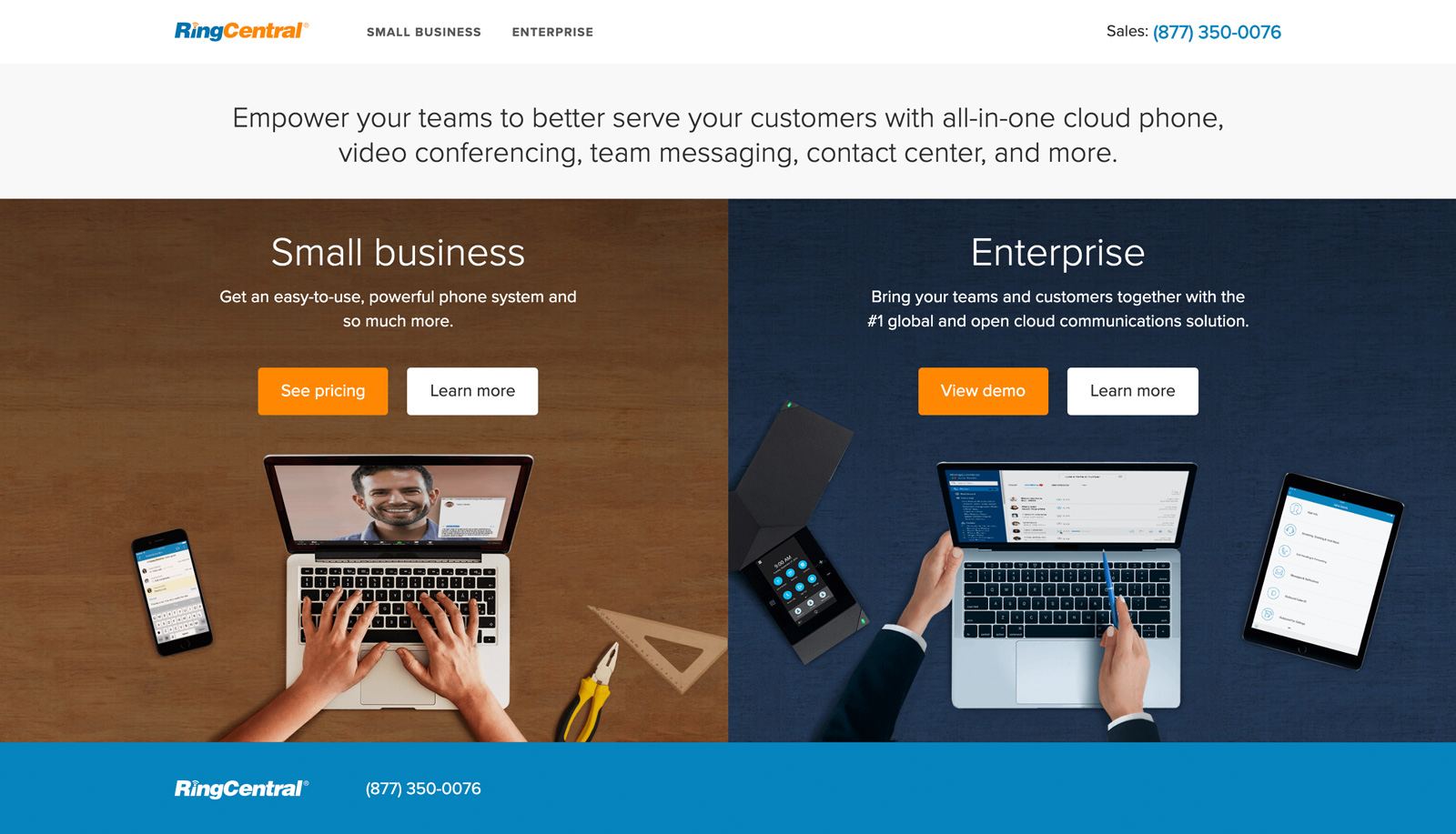 One emphasizes ease of use, and the other highlights the connection of internal teams. The small business section has a blue-collar vibe, while the person on the right is wearing a suit and using some sort of next-gen, tri-fold smartphone.

This method is simple, but it limits information about each path. What if a user doesn't know which plan would work best for them? With a decision still required, that uncertainty can result in the wrong choice.
When you incorporate personalization tools that automatically serve up the "right" choice and get leads into the right service path, you take out the guesswork for your ideal leads, optimize the efforts of your sales team, and improve your chances of conversion.
How to create an automatic personalization strategy track for self-serve and enterprise
In order to personalize your website for enterprise and freemium leads, you need to be able to recognize firmographic information about your website visitors — most importantly: How big is the company the visitor works for?
Once you decide on a target threshold that defines enterprise for your product, say 500 employees or more, you can customize accordingly. Visitors from companies above that number see enterprise-specific messaging, while those below the threshold are nudged toward self-serve options. Couple firmographic data with location data and tech stack data to create even more robust targeting.
This targeting isn't rocket science, not even nuclear physics. Start by adding Clearbit Reveal to identify which companies are visiting your site. Then a personalization platform like Mutiny, Optimizely, or Google Optimize puts you well on your way to bespoke messaging and increased conversions.
3 ways to personalize for self-serve vs. enterprise leads
After your company size filter is set, you're ready to build the rest of your marketing personalization strategy.

Here's how:
#1. Personalize headlines & CTAs
A personalized headline is a great way to keep users on-site, engaged, and on a tailored user journey. We live in a world where bounce rates are high and attention spans are short. The best converting businesses write headlines and calls to action that speak directly to either self-serve or enterprise visitors.
Self-serve headlines are often purposefully general, casting a wide net and targeting a product's most universally valued features. Enterprise headlines regularly focus on issues specific to large companies, like sharing, security, and centralization.
The text on a call-to-action (CTA) button is used to direct visitors into their appropriate lanes and makes it obvious what track they will enter. Use "try for free" or "sign up now" for self-serve users who will try your product immediately. Present "talk to sales" or "get a demo" to funnel enterprise visitors to the sales team.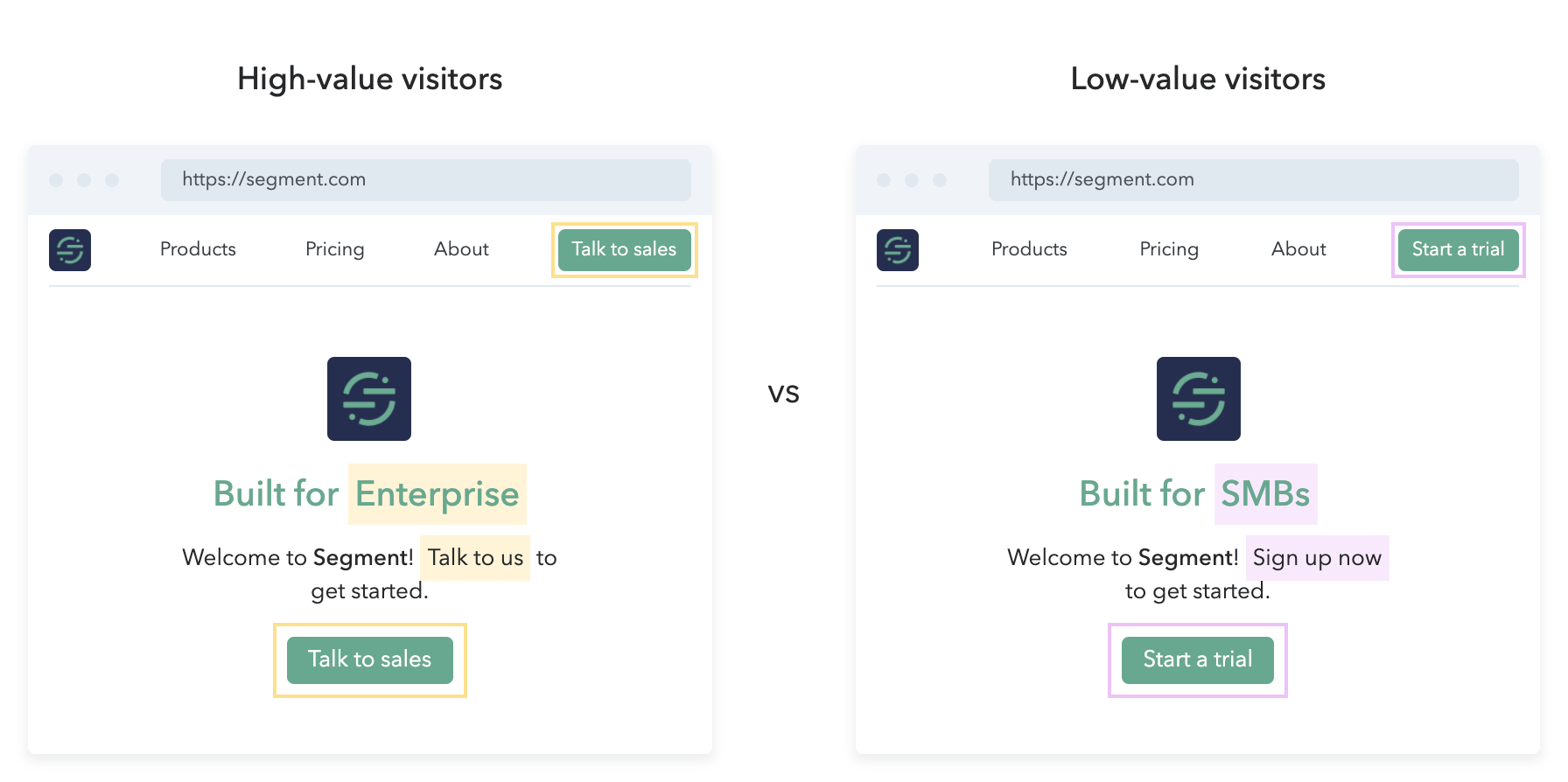 From the first click, self-serve prospects are directed down one lane and are now less likely to take time away from enterprise prospects who need your sales team's guidance. Those targeted prospects are directed down another lane, and they don't have to wonder what their next step should be.
Webinar software Livestorm tripled enterprise signups and increased deal size with personalized content that's based on a visitor's company. Using a combination of Clearbit and Mutiny, enterprise visitors saw a targeted headline, CTA, and value prop messaging. The navigation was also customized to make sure potential enterprise customers were led to sales instead of a live demo.

#2. Activate live chat for your ideal customers
The rise of live chat services presents another opportunity to personalize the user journey. For instance, if your sales team's bandwidth is limited, you can choose to activate live chat only when an enterprise prospect is on site and route target leads to the right sales rep.
If a visitor fits better with self-serve options, a chatbot that answers common questions might do the trick with only a one-time setup. Or build a basic bot that collects key info and routes it to your sales team for a later follow-up.
Learn more in our guide to personalizing B2B SaaS journeys with chat
#3. Enrich your prospect experience behind the scenes
The prospect experience isn't limited to what's displayed on the screen. When you enrich all your signups — no matter what CTA was clicked or form was submitted — you can instantly personalize your sales and marketing response to their interest, from qualifying and routing the right enterprise leads to sales to personalized drip email sequences.
With improved data, Gong customized its qualification and routing rules to present its best leads with a calendar of available demo times.
Now there's less work for top enterprise visitors to request a demo, and they experience a level of control in the sales process. As explained by Russell Banzon, Gong's VP of Marketing (formerly Director of Demand Generation), "Our best fit prospects now get a frictionless buyer experience and a fast-track to become raving fans."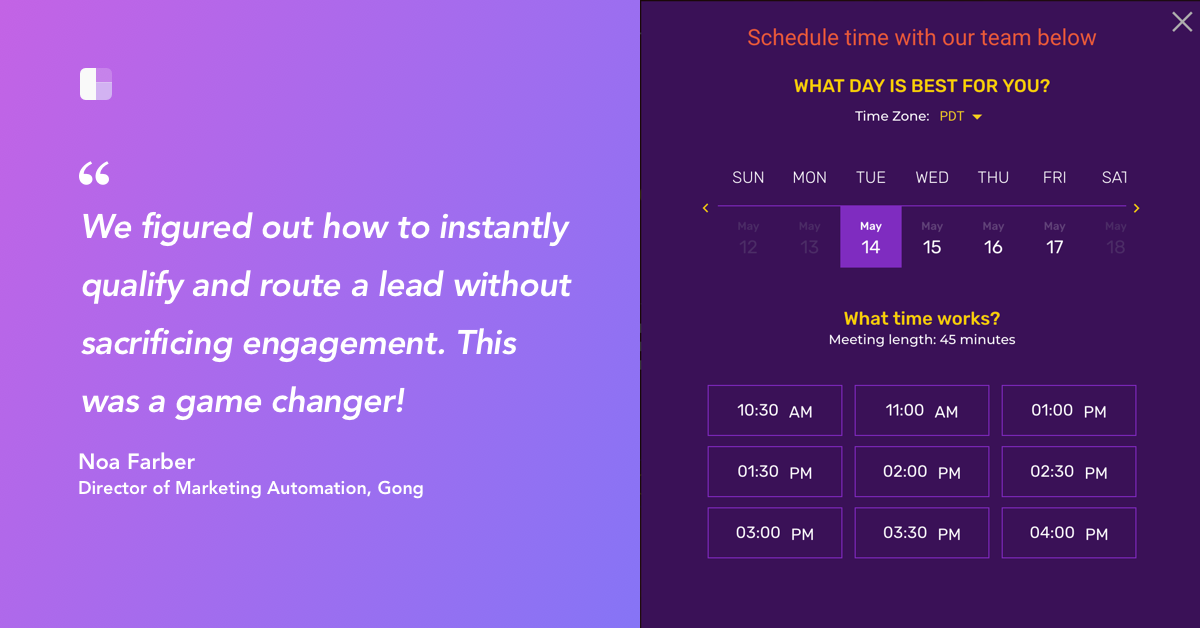 Giving each customer a personalized journey
A tailored user journey doesn't have to be complicated; a little personalization can go a long way. Start with a few small changes and follow the early results. You'll probably find most people are just vanilla or chocolate anyway.

But chances are if you're already separating self-serve and enterprise, you've got existing personalization strategies for each. Here's the thing: Businesses think they're delivering far more advanced personalization experiences than customers think they're getting: 85% of businesses report they're providing personalized experiences, but only 60% think so.

If you're already personalizing your customer experiences and not seeing the desired results, check out Clearbit's Advanced Personalization solution.