Guide to personalizing B2B SaaS website journeys with chat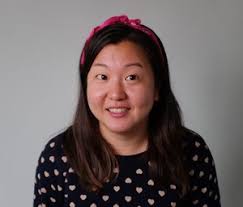 Janet Choi
September 01, 2021
---
You've probably heard it all before — marketers should be personalizing, that most consumers not only want but expect a tailored experience.
But let's talk about why some B2B SaaS businesses actually need to be personalizing the buying experience.
If you have multiple go-to-market motions, funnels, or target audiences — especially with a high volume of inbound or web traffic — a one-size-fits-all approach just doesn't make sense. You're dealing with different needs and goals. You won't have the resources to provide a great 1:1 experience for everyone, nor can you optimize for each key track or segment at scale.
Start personalizing these journeys by leveraging chat on your website to encourage interaction, conversions, and positive brand association from the very first visit. "You can customize to the needs of your visitors ... and it signals that you care about your customers," as Tara Larson, Global Senior Manager of Partnerships at Intercom says.
Recently, we joined MadKudu, Intercom, and MongoDB to walk through how to build differentiated website experiences, using chat:
Head here to watch the full video or read on to learn how to personalize chat at scale to remove friction for your visitors while accelerating the sales cycle. You'll find out how to:
1. identify the needs of your visitors
2. classify visitors to determine their best path (and the tools you need)
3. build differentiated journeys in chat
We'll wrap up with an example of how MongoDB carried out these steps to create personalized chat journeys that serve multiple segments while generating more sales conversations.
Understand how can you help different types of visitors
The first step to personalizing B2B website experiences is to understand why your visitors are there. What are they looking to do?
Often, people come to your website with one of these three intentions:
Learn: Visitors want to learn about a topic — maybe through a how-to article or whitepaper that's relevant to their job.

Evaluate or buy: Visitors research your product to evaluate whether to make a purchase — browsing product pages, pricing, and customer stories. Maybe they put down a credit card for a self-serve purchase, sign up for a trial account, or fill out a sales form.

Get support: Existing customers looking for help browse FAQ pages, documentation, and ways to get in touch with support to resolve issues.
Understanding your main groups of visitors enables you to start designing their journeys, tailoring how you: greet them, help navigate to the information they need, and serve different offers. As Tara from Intercom puts it, "People come to your website for different reasons at different times during their customer lifecycle. The ability to have technology help interact and guide them through that experience is really powerful."
That's precisely where tools to help identify, segment and qualify, and engage your visitors will come in handy.
Segment and qualify your visitors (and the tools you need)
While you have context clues on visitors' intent based on what pages they view, you'll need some more information about who they are.
In a typical B2B journey, that starts when visitors fill out a lead form or sign up for an account. Then, based on how qualified that lead is — based on firmographic information (like company size, industry, location), job information (like role, title, or seniority), and other details (like customer status), you can start tailoring their path.
By using tools for conversational marketing like Intercom, along with predictive intelligence like MadKudu, and reverse-IP intelligence like Clearbit — you get a head start on this whole process.
Classify and qualify leads through chat
Use automated chatbots to learn more about your visitors quickly, asking them:
What they're looking to do or how you can help
Qualifying questions (and email addresses)
Whether they're already a customer or not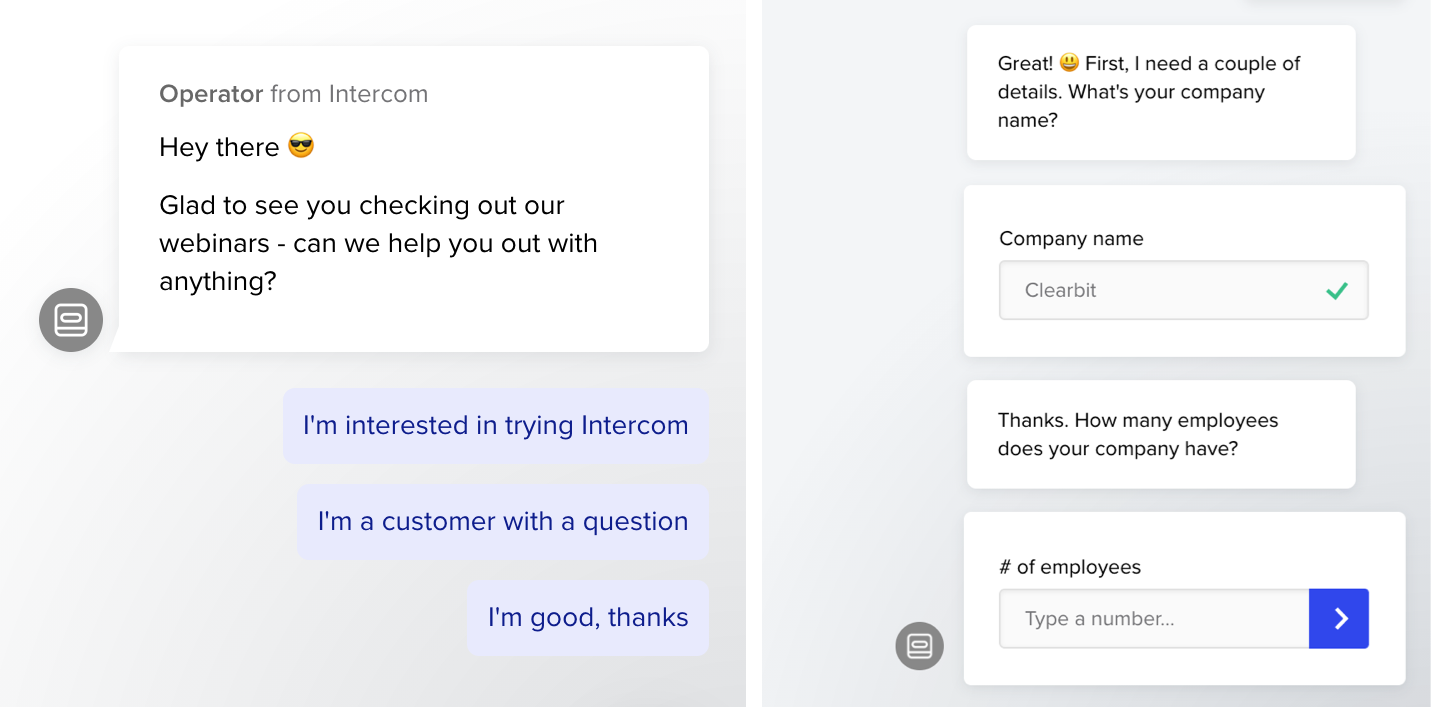 Left: questions to learn the visitor's intent; Right: a qualification bot automates data collection
Based on the answers, send the visitors to the best next step.
Skip ahead to provide an even smoother experience
You can automate the qualification process — skipping the qualification questions — to get visitors wherever they need to go faster, by using tools like MadKudu's Fastlane and Clearbit Reveal with chat.
MadKudu's Fastlane qualifies site visitors in real-time, based on an email address entered into a chat (or a form), so you can assign a rep and offer to schedule a demo right away.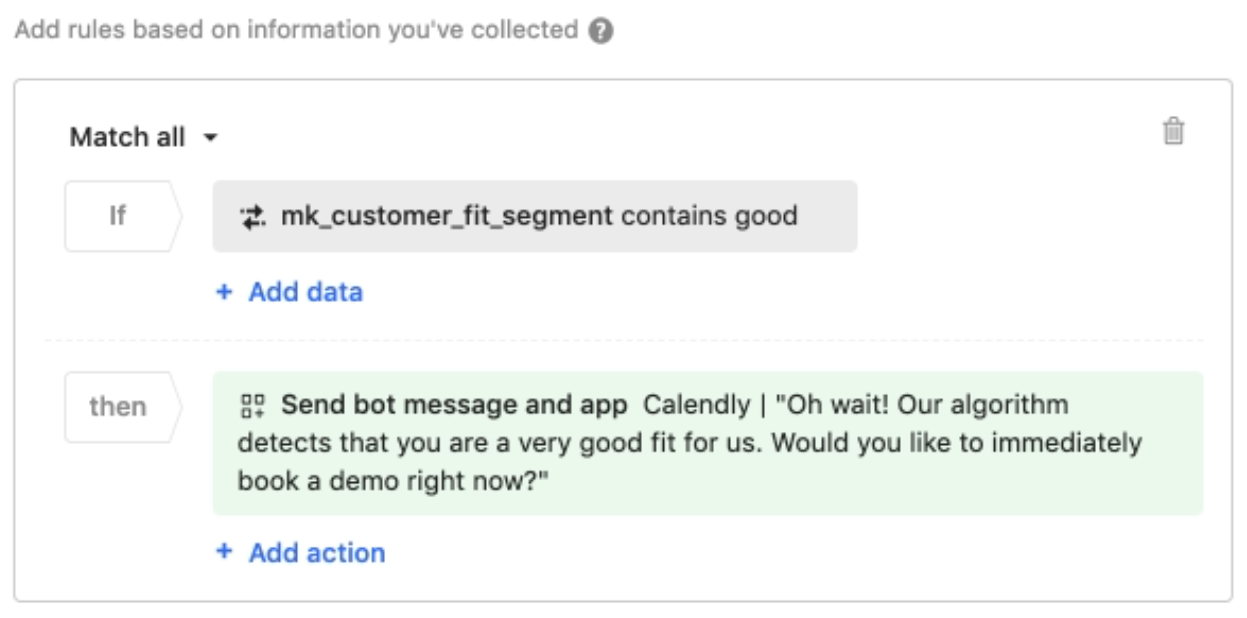 Guide leads through the right chat journey
Based on the qualification level or company-level fit, create the buying journey that will be most effective and helpful for your site visitor and most efficient for your sales and customer support teams (based on their capacity and the level of support you want to provide for particular segments).
For instance, dial in how much 1:1 interactions the chats create — or where to even offer chat interactions at all, depending on how busy and resourced your sales, success, and support teams are. This can involve one or a mix of:
building an entirely automated experience, that may not even accept replies
leveraging a qualification bot or some other type of automated triaging interaction
popping up a proactive chatbot that gives instant access to actions like booking a meeting to talking to a live rep
Here are some ideas for what these paths may look like:
Marketing:
Low-score visitor sees a completely automated experience, leading them to helpful information, like a search bar. Or they don't see the chat at all!
Qualified lead or target accounts get meeting offers or connected to a live rep.
Qualified but "just browsing" visitors can see an invite to a webinar instead of connecting right away with sales.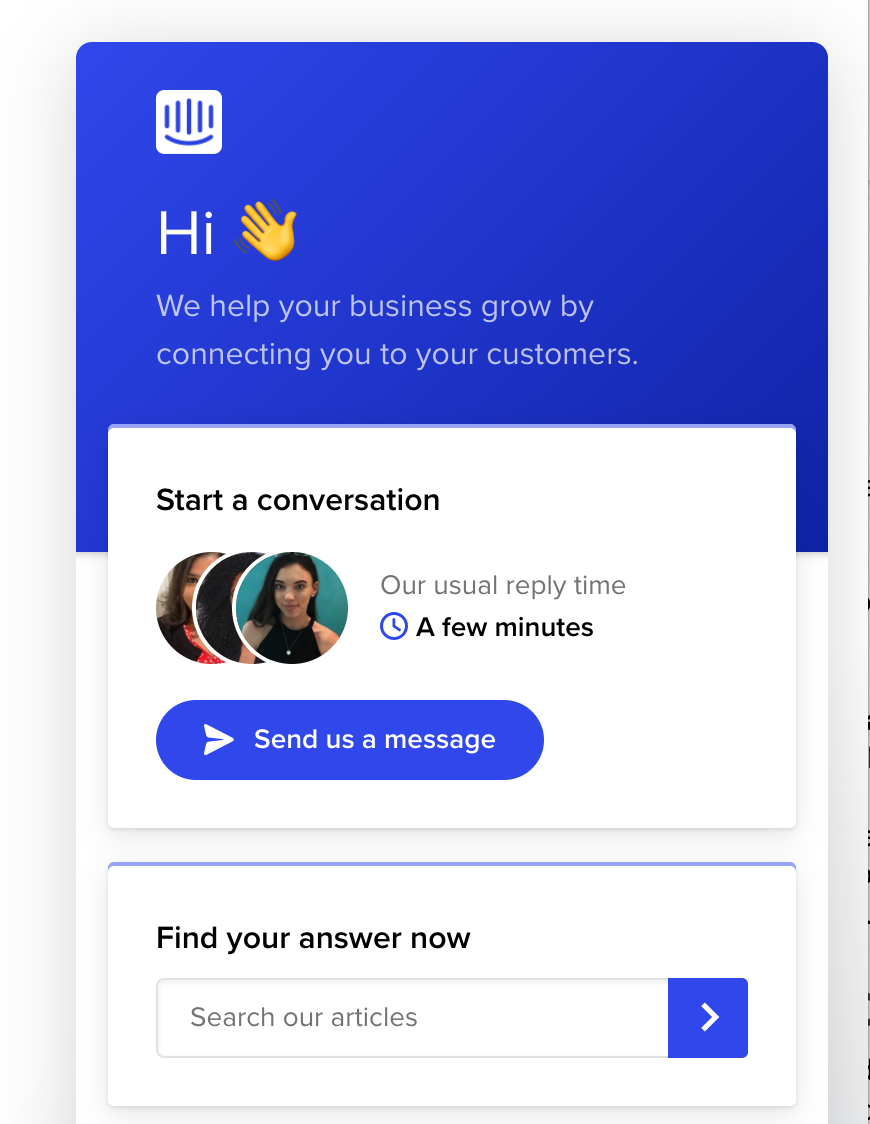 Example: search option for people to self-serve
Support:
Help self-serve customers navigate to relevant documentation.
Offer higher-priority customers to open a support ticket or chat with a support rep.
Sales:
Send self-serve or low-score prospects to helpful content or a recorded demo.
Set up qualification bots on high-intent pages like your pricing page. Or use FastLane and/or Reveal to skip the qualification steps.
Offer high-score prospects the ability to schedule a call right away.
Send medium-fit leads to the (more scalable) weekly live demo and Q&A sessions.
Offer medium-fit or non-enterprise leads a product-led journey or a 1-to-many demo
It may take some testing and collaboration across teams to figure out optimal journeys, especially on who gets assigned a conversation.
For instance, try sending lower-intent leads to support instead of sales reps. Tara reports that at Intercom, "We send things back and forth between our sales and support reps regularly. It's a really powerful dynamic that helps us support the user needs at those different stages in their life cycle."
Now let's examine a real-life example of how all these elements come together.
Chat personalization in action
In the webinar, Gabriel Madureira, VP of GTM Operations at the database platform MongoDB, shared how they use chat to provide site visitors with the best experience.
Segmenting and scoring
MongoDB's website offers many products and a ton of helpful content. Their visitors including developers and decision-makers (who may or may not be technical). Developers look at docs and try the free products — maybe someone working on a side project will use the Community server, whereas a developer evaluating a paid plan of Atlas for their team will sign up for an account. A CIO might not engage in any products and instead look for security and scalability features.
First, they implemented a system that scores leads multiple times to continuously optimize the journey.
| Lead data | Scoring |
| --- | --- |
| Unknown | no data available |
| Known company | Clearbit Reveal domain matching |
| New email entered | MadKudu Fastlane (email based) |
| Known email | MadKudu lead and account scoring (Full CRM & data warehouse) |
Based on how much they knew about a visitor at different points in time, they could design their best path.
4 personalized chat journeys
Based on qualification and visitor needs, MongoDB implemented different tracks in Intercom. They guide:
people interested in learning to the MongoDB Atlas free product, the community, and MongoDB University
lower-value prospects (or unknown prospects with no data) to the standard self-serve purchase experience or to find out more information about them
high-value prospects to custom sales-assisted experiences
Including customer support interactions, this results in four different tracks: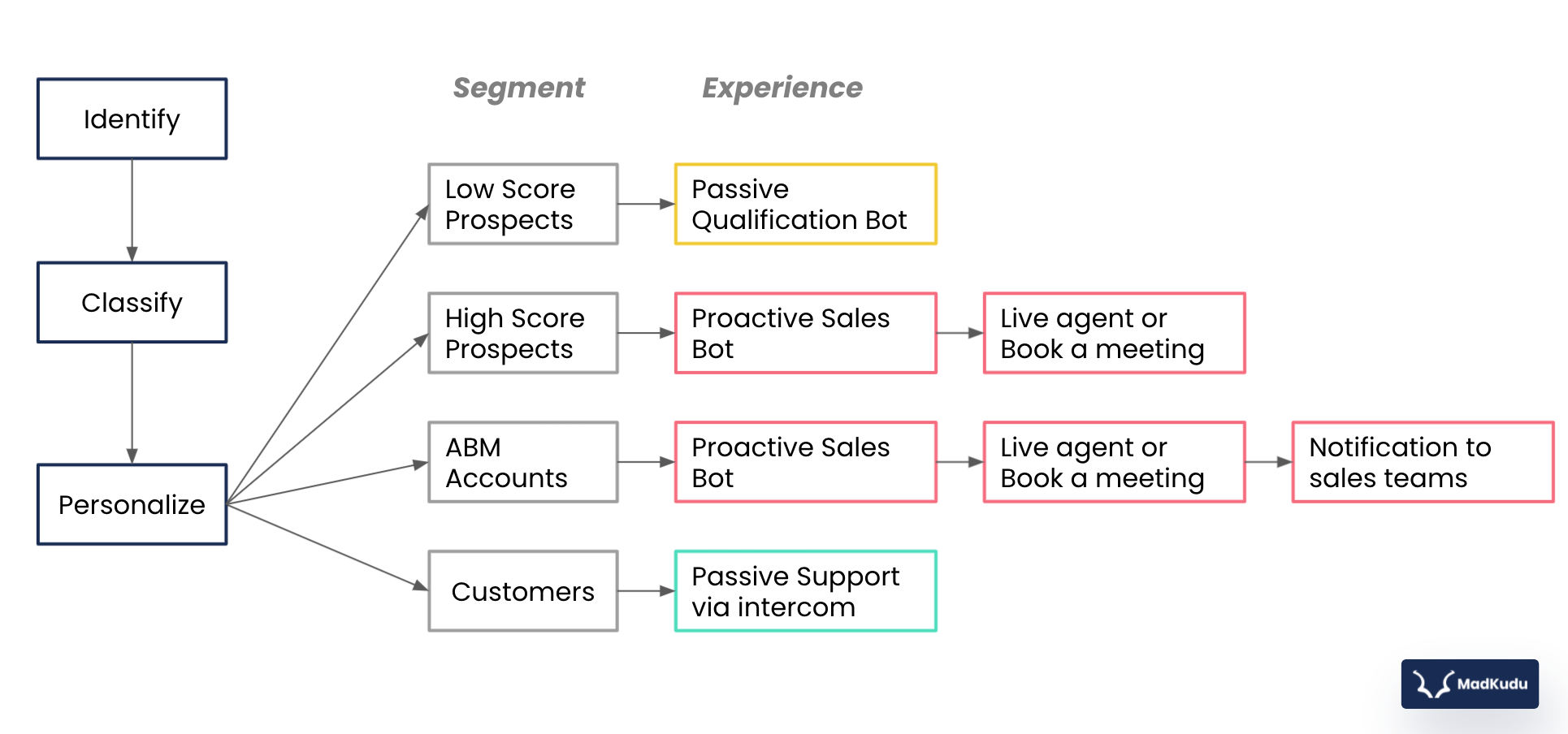 It was important for the MongoDB team to get the proactive/passive balance right for their target audiences. Developers have a reputation for preferring self-serve experiences, but procurement processes can be complex (and sometimes, even developers need help getting up and running). So the journeys provides options for visitors to talk to sales or self-serve.
According to Gabriel, "It's critical to understand what the user needs and fulfill that need — and not be noisy or salesy and lose the customer simply because we are entering their journey in the wrong moment."
That keeps the sales team happy too. It would be frustrating and counterproductive to allow every visitor into a conversation — perhaps even quality leads who aren't sales-ready.
With all this work to differentiate the experience for visitors using chat — MongoDB saw 3x more conversations with the sales team and time to book shaved down from days to seconds. The contact form on the MongoDB website had historically been the primary driver for sales conversations — but chat has since emerged as the main source of hand-raisers!
B2B personalization is a process
Personalizing for multiple segments can get complex but you can always start with whatever data you already have while aiming for impact.
As Gabriel recommends, "Start simple. Start with popping up on your pricing page for everyone. See what that happens to understand the conversations that are valuable. Then, start applying filters from a firmographic standpoint and from a page standpoint to manage volume and optimize conversion rates."
Work with your sales team to make sure you're sending them high-value prospects as you start implementing, collecting data, and validating your results so you can start scaling the programs out together.
As Tara notes, this collaborative approach changes the sales game: "It opens up new possibilities for sales efficiency. Those realizations start to filter into how managers and executives design teams, how much head count they need. It can be a growth lever as well as a cost control lever, so you can build out the business case with those two tracks in mind." MongoDB, for example, created a dedicated SDR team based on the success of their chat program.
Finally, personalizing B2B journeys is a process — not some static, one-channel project. MongoDB's successful approach is a result of testing, checking in with sales, learning from data and feedback, and iteration. Not only will you learn how to improve chat personalization as you go, you'll gain insights to apply to building journeys and workflows across other channels.
Personalization isn't just about sprinkling a few names here and there. A good strategy is holistic and designs for impact — to give your customers the best experience possible wherever they interact with you and optimize through all your funnels.
---
For more insights about chat personalization, check out the full recording of "How to Build a Differentiated Website Experience".