Meet the women of Clearbit's data team: Emily, Iva, and Kayla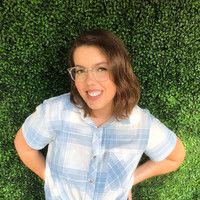 Alex Ross
July 26, 2022
---
How can companies advocate for women in STEM? Hire them.
At Clearbit, we're dedicated to building a diverse, equal, and inclusive workforce where everyone can be their best, authentic selves. It's this mindset that has helped us to build one of the best teams in the industry.

With data at the center of so many of Clearbit's tools and capabilities, you might say our most valuable asset is our data. The breadth and quality of our data doesn't just happen by itself, however. The people on our data team play such a big role in the success of Clearbit's product. That's why we're excited to spotlight the stories of the women on this team: engineers Emily Brown, Iva Ivanova, and Kayla Webb.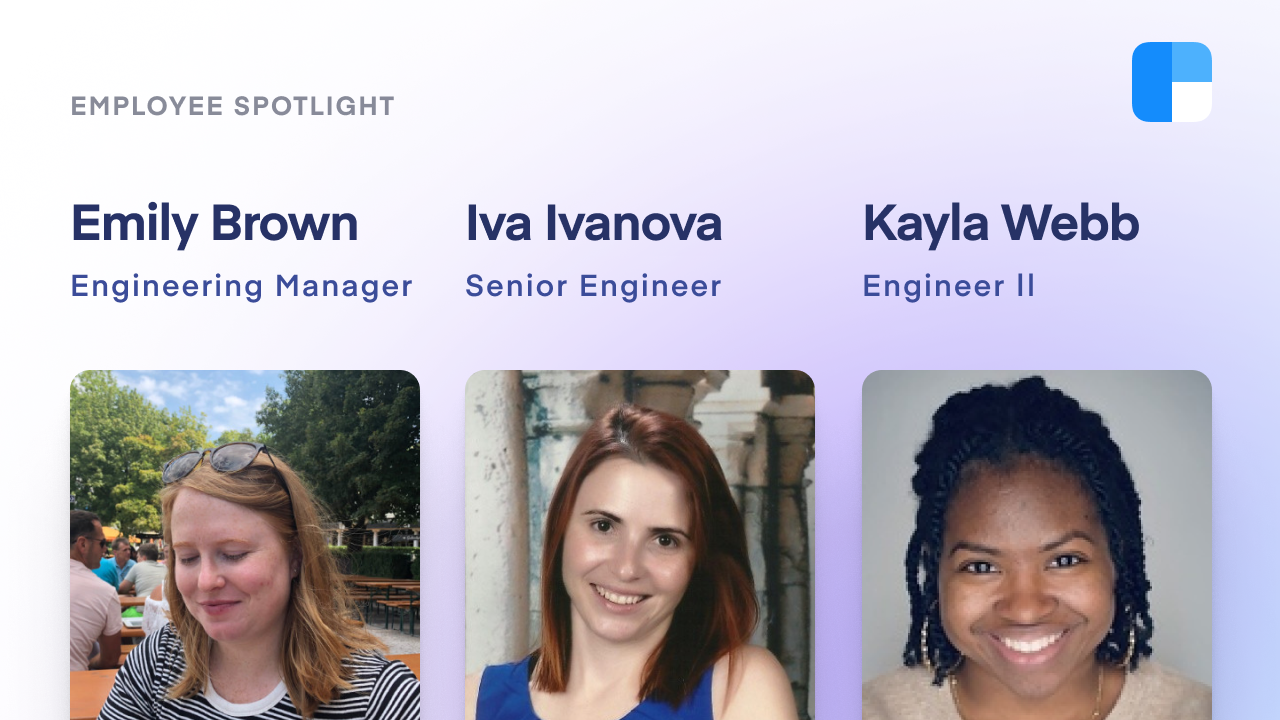 We're honored to share how Emily, Iva, and Kayla have made an impact at Clearbit. If you'd like to be a part of a team where you can make an impact, check out our open roles!
Ensuring better data quality
Made up of data scientists and engineers, Clearbit's data team works tirelessly to ensure we're able to provide the highest quality data for our customers.
"We focus on data quality, integrating new data sources, ensuring our infrastructure pipeline is running well, and investigating data anomalies," says engineering manager, Emily.
Their team focuses on expanding, maintaining, and improving the quality of person and company data — the foundation of Clearbit's product.
The team is currently wrapping up a new data monitoring tool designed to make it easier to diagnose data quality issues.
"Our data is the foundation for everything we do at Clearbit," shares senior engineer, Iva. "Everything we create is built on top of it so if we don't have good data, the quality of everything else we build will be affected too."
The data monitoring tool will allow the team to proactively detect data problems in our system. It will make diagnosing issues much easier with the goal of helping the team become less reactive and more proactive when it comes to protecting data quality.
"Having a tool to detect changes in our data and being able to investigate it proactively before it impacts customers is huge," adds Clearbit engineer, Kayla.
Emily thinks this new data quality dashboard will be a "game-changer" for the team. This type of tool will not only ensure our data is reliable but it will also free up some of the team's bandwidth to take on some new and exciting projects.
Carving their own paths
Emily, Iva, and Kayla may have all found themselves working in the same field, but their journeys didn't take the same paths.
Emily studied physics at Reed College in Portland, Oregon, and when she graduated she took a job at a particle accelerator in Chicago. After working with graduate students in the same field, she decided a career in research wasn't the best fit, so she left Chicago and a career in physics. It was when Emily moved back to Portland that she started teaching herself how to code by taking online classes on Coursera. From there, Emily took a job as a data analyst at a PR firm before she found her sweet spot working for startups.
Iva's non-traditional path to data science started in political science. Iva studied international relations at Berkeley but soon realized politics wasn't her cup of tea after taking an internship at her local State Senator's office. Living in the East Bay in California at the time, Iva was able to quickly find a role at Tesla as a sales finance analyst. It was a few years later that her friend introduced her to a coding boot camp. Iva took on the boot camp part-time so she didn't have to leave her job and after 3-months she was convinced data science was for her. From there, she got her masters in business analytics and found a role in data science shortly after.
Kayla, similar to Iva, also started her career in political science after getting her degree from Howard University. After a few internships on the Hill, she found a role at CQ Roll Call covering news from the House and Senate floors. That eventually led her to a position at Bloomberg as a data analyst. Kayla quickly took interest in the level of automation Bloomberg was working with and became interested in the process behind it all. Kayla was able to get started in engineering by picking up low-level tickets and learning on the job. This initiative led to a sponsored coding boot camp after a manager took notice and advocated for her. Kayla joined the engineering team at Bloomberg six months later.
Emily, Iva, and Kayla each created their own paths to engineering through self-guided learning. And today, they're the minds protectors of Clearbit's dataset of 100+ B2B attributes distilled from 250+ sources and millions of data points.

Finding a home at Clearbit
Like many members of our team, Emily, Iva, and Kayla were all referred by other Clearbit employees. The people and the collaborative work environment, despite being a fully remote company, are some of the biggest reasons Emily, Iva, and Kayla enjoy working at Clearbit.
"Clearbit has a great engineering culture. There's so much documentation and tools, and people are more than willing to hop on a Zoom call to help you out… you never feel ignored at Clearbit," shares Kayla.
This type of culture has made it really easy for people to push themselves in their careers and take on new challenges.
For Kayla, she was looking to prove herself as an engineer. At Bloomberg, Kayla worked her way up from a data analyst to engineer. Although she was doing well at Bloomberg, she felt a little bit of imposter syndrome not knowing if she was doing well for an analyst-turned-engineer or simply for being a good engineer. When she joined Clearbit, the imposter syndrome dissipated quickly as she dove into new projects and was able to immediately add value.
For Iva, Clearbit was an opportunity to establish systems and processes as the primary data scientist. Iva joined the company over a year ago to help build out an analytics function within the engineering team. Without other data scientists to collaborate with, Iva is taking on a lot of responsibility in laying the groundwork for the future of the data team.

"I wanted to be that first person, even though it's tough," says Iva. "The good thing is, I'm learning a lot and I get to have a big impact on the company."
Emily has been at Clearbit for four years and was recently promoted to engineering manager. This new challenge has proven exciting for Emily as she's been working to find and hire new team members to help build out her team.
"Our team already comes up with so many creative solutions to level up our data quality. So, I'm really excited to see what new engineers will contribute," shares Emily.

The state of women in STEM today
Even with companies like Clearbit focusing on diversity, equality, and inclusion initiatives, the path for women in STEM is still not easy. Emily, Iva, and Kayla all admit that working in STEM is an "uphill battle" for many women, but having a community really helps.
"I see more women supporting each other in forums, groups, and events so we can close the gap," comments Iva.
One thing all three of them can agree on is that having a mentor or advocate can help you go a long way in this field. In September of 2021, Clearbit welcomed Rebecca Yang as VP of Engineering. Seeing more women in leadership roles, especially in engineering is something that everyone at Clearbit is excited about.
"This is the first time I've been at an organization with a female VP of Engineering and I'm grateful for the opportunity to be on a team and at a company that values diversity at the top. It gives me hope that although there's still a lot of room for improvement, things are different here," says Iva.
In our conversation, Emily pointed out how much remote work has helped to level the playing field for women in technology.
"Remote work has helped us to step back and reset and become more inclusive," shares Emily. "It's such a small detail but when we're all on virtual calls, everyone is at eye-level, making it a lot easier to talk to people… it lowers the barriers for communication."
Kayla shared this sentiment: "When you're remote you can't talk over people, you have to wait for them to finish. And no one's at the head of the table because there is no table. I definitely think remote work has helped to level the playing field for all."
Although Emily, Iva, and Kayla only make up part of our data team and belong to an even larger engineering department, all three have made a big impact during their time here. We're excited to see how they continue to build on Clearbit's growth and success.
Want to join a team where you can make an impact? Check out our open roles.