How Gong improved form conversion by 70% and fast-tracks ideal leads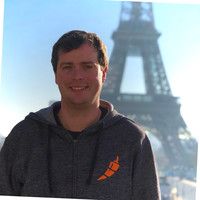 Gaines Murfee
May 30, 2019
---
Gong was doing what most SaaS companies do: they made prospects who wanted a demo fill out a long form and wait for an SDR to contact them in order to move forward. As the Director of Marketing Automation at Gong, Noa Farber knew she could improve that experience.
Gong is a conversation intelligence platform that helps sales organizations with the three pillars of revenue success:
People Success (skill improvement; personalized, AI-driven sales coaching)
Deal Success (deal and pipeline management; alerting before deals go South)
Strategy Success (rolling out go-to-market motions and capturing the customer voice)
Gong captures and analyzes all of your customer-facing conversations, from phone calls, through emails and web conferences, to face-to-face meetings. Relying on reps to update CRMs not only introduces subjectivity but also covers only 5% of what's really happening in conversations. Gong covers the other 95%.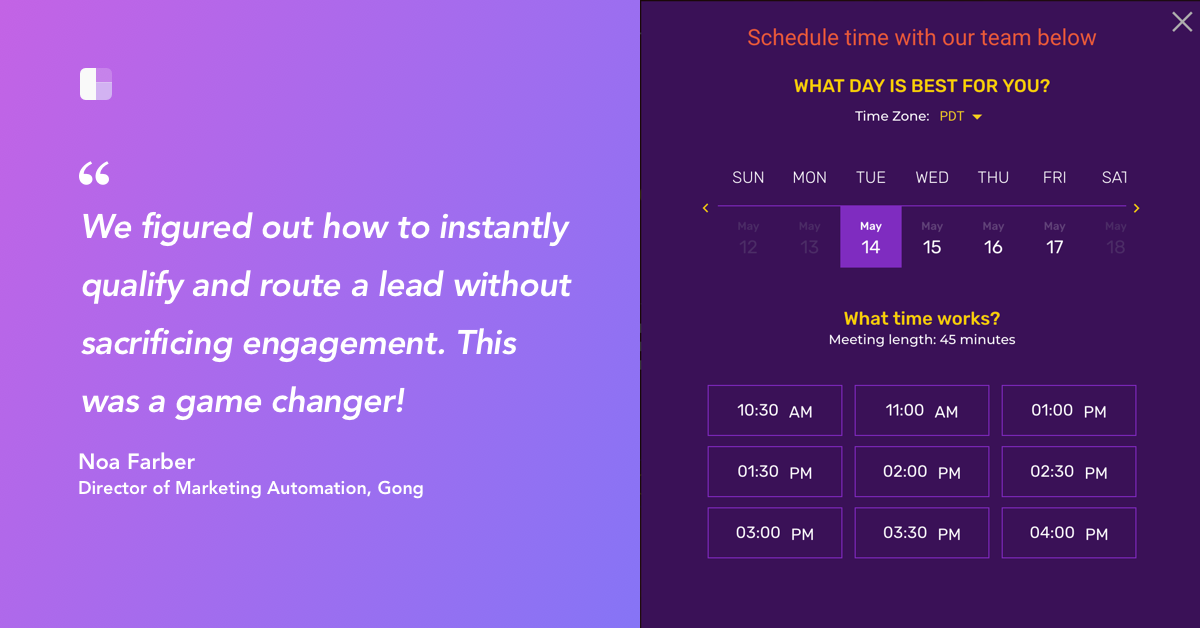 Noa made it her number one goal to increase the number and quality of demo requests. At the time, the homepage had a "Demo Request" button, which led to a long form with five or six fields asking all the information they needed to qualify a lead. The SDR team would reach out to leads to continue qualification, and then pass along qualified leads to the appropriate AE for that customer segment.
It was a very typical SaaS product demo request flow, but Noa saw how this key, first interaction for a Gong prospect had room for improvement:
The length of the form held back conversion rates.
Leads had to wait for the SDR to reach out, which took hours or days depending on when the request was submitted — and that's when an SDR could make contact at all.
The lead has high interest when submitting a form, but even after a day or two, may move forward with another tool or forget altogether.
This friction meant that buyers weren't getting a great experience, which ran counter to how Gong wanted to operate. As Russell Banzon, Director of Demand Generation, explains "Our number one operating principle as a business is to create raving fans."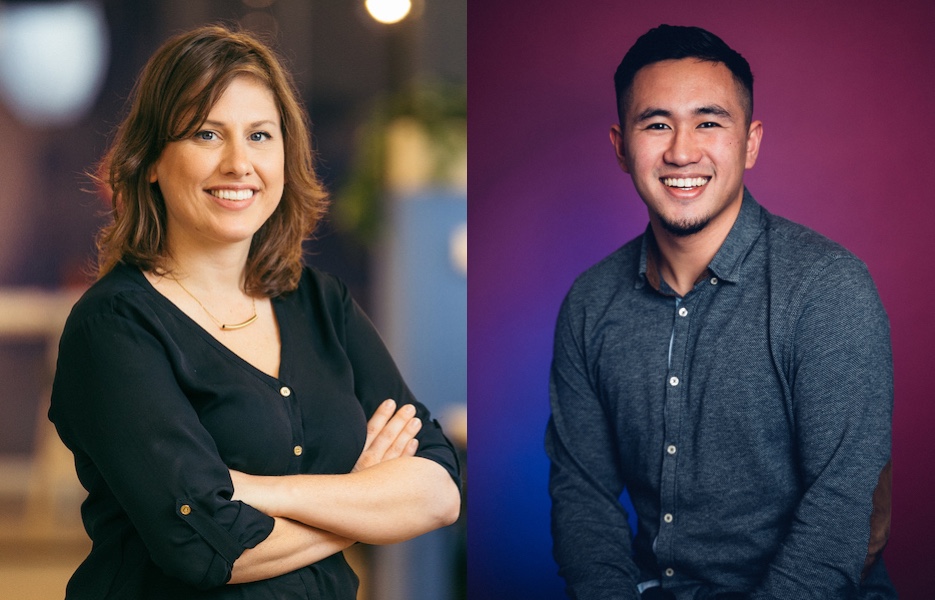 Noa Farber (left); Russell Banzon (right)
New automation for a seamless first experience
So Noa had to figure out how to make it delightfully easy for leads to head straight into scheduling a demo — without opening that door for bad leads.
First, Gong turned to Clearbit's dynamic enrichment for their Marketo signup form. With just one field — email address — it was much easier for leads to submit a form and Gong was able to enrich every field used to qualify leads behind the scenes and in real-time.
Then Gong learned about Chili Piper Concierge, a tool that plugs in to forms to enable qualified leads to automatically book a meeting or start a phone call right after they hit submit. Gong saw how they could use Chili Piper to qualify and route leads based on the data that Clearbit was enriching.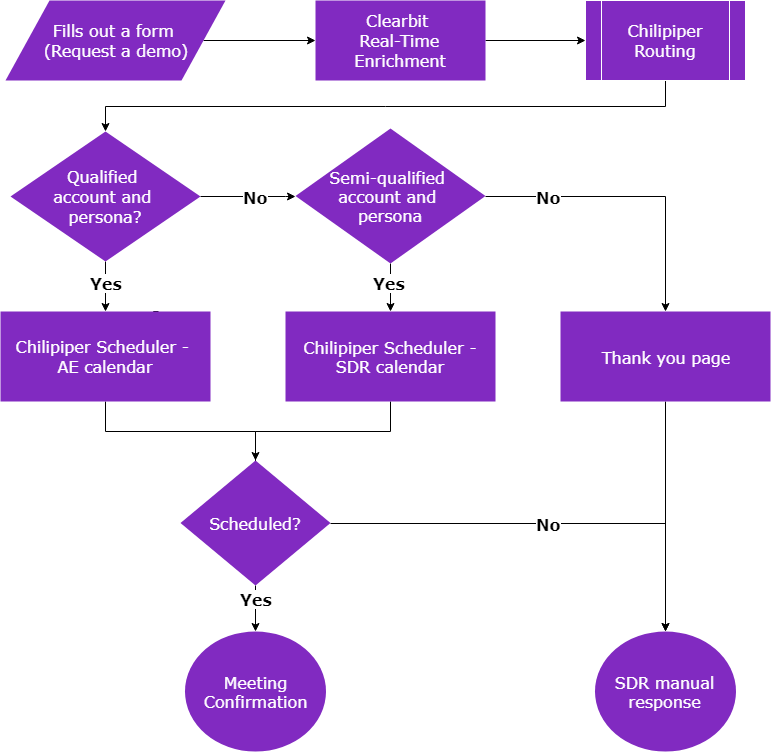 self-schedule demo request flow
Once Gong customized their qualification and routing rules, they were able to immediately show only their best leads a calendar with available demo times as part of the simple signup process.
Now, it doesn't matter what time of day the lead filled in the form or how busy the SDR team was at that moment, the best-fit prospects could schedule their own demos without having to wait for a rep. Once the meeting is scheduled, opportunities are automatically created in Salesforce without any heavy lifting on the rep's part.
Here's what the improved experience for Gong's prospects looks like:
"We figured out how to instantly qualify and route a lead without sacrificing engagement. This was a game changer," Noa comments.
"My number one goal is hitting qualified opportunities," Russell adds. "I don't have to lose sleep at night worrying if our best fit customers are being followed up with or if they're getting the level of service that we need to provide them. The Noa-bot is working around the clock, 24/7."
Results: a lift in conversions, deal acceleration, and raving fans
Gong saw a 70% lift in demo request form conversions when they shortened their signup form and turned on Clearbit's dynamic enrichment — all while gaining the quality data they required for automated lead processing.
The new process also generated hundreds of qualified opportunities and contributed to the increase in the number of demo requests by 5X since September 2018.
Thanks to Gong creating smarter automation to process leads, using Clearbit's data enrichment and Chili Piper's form flow, they've been able to scale their sales team efficiently and accelerate their entire deal velocity. SDRs use their talents more wisely without having to chase down leads reactively. With Chili Piper's smart scheduling putting Gong's best prospects on the fast-track, they can focus their time on the leads who need their attention and work cases that require more one-on-one follow-up.
Most importantly, the Clearbit and Chili Piper integration makes it less work for Gong's buyers to request a demo and experience a level of control in the sales process. Chili Piper calls this strategy buyer enablement, helping to make customers' lives easier throughout their entire journey. Falling right in line with Gong's operating principle, buyer enablement is traditionally hard to scale — but as Russell explains, "Our best fit prospects now get a frictionless buyer experience and a fast-track to become raving fans."
Since Gong keeps all their own sales conversations in their platform's database, Noa and Russell frequently hear feedback on the process. Prospects are thrilled with the experience of filling out one field and booking automatically, to the point that they'll ask AEs questions like, "Can I go back to record this process?" and "How can I replicate this to make the experience easier for my own buyers?"
The Gong sales team has become raving fans too. AEs have passed along feedback like "Whatever you are doing, it is clearly working. People are stoked!" and requests for Noa to be their dedicated SDR.

Gaines Murfee is Product Manager at Chili Piper.