Frame.io unlocked B2B advertising on Facebook — and tripled match rates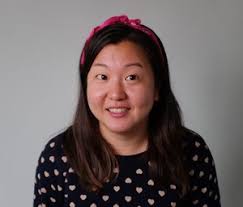 Janet Choi
September 17, 2019
---
Frame.io is changing how over one million video professionals — from one-man bands to agencies and content powerhouses like BuzzFeed and Vice — collaborate on video projects today.
After launching as a self-serve product in 2015, the company grew quickly, adding an enterprise product for larger teams. As they continue to move up-market, Frame.io's growth team has one familiar paid media challenge on their mind: how to get in touch with the right people.
They turned to Clearbit X, a data-first marketing platform that allows you leverage context on every visitor, lead, and customer — including the ability to natively combine all your customer data with the entire Clearbit universe.
Kyle Gesuelli (VP of Growth and Analytics) and Emily Kalen (Senior Manager of Growth Marketing) share how they use Clearbit X's Custom Audiences feature to defeat the traditionally dismal match rates for B2B advertising on Facebook.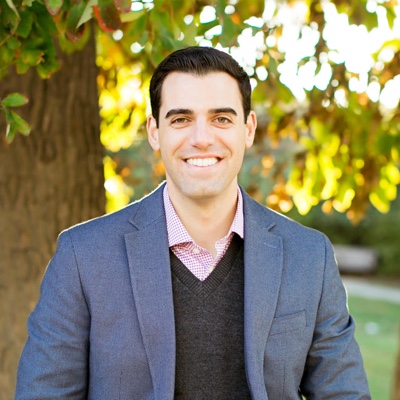 Kyle Gesuelli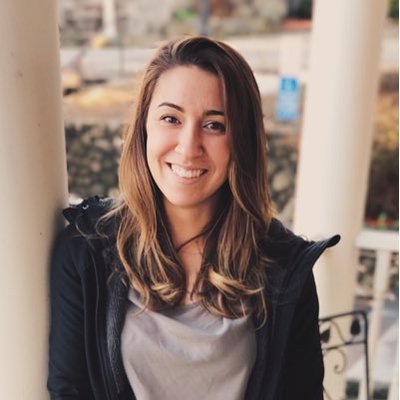 Emily Kalen
Now, they can get in front of more relevant people in high-value audiences — without it costing an arm and a leg or involving the all-too-common CSV hokey-pokey of imports and exports.
Trying to reach B2B audiences on Facebook
Traditionally, B2B businesses have trouble harnessing Facebook as an effective paid channel because it's so challenging to target the right people. Trying to find people on the popular social media platform using work emails (rather than the personal emails they signed up with) usually surfaces a fraction of the intended audience. Plus you're dealing with static data, which means constant manual updating and cleanup — all to end up with poor match results anyway.
Frame.io's team felt that pain as a matter of course. They tried manually pulling email addresses from their CRM to create the right target and exclusion audiences. "Even when I was exporting things and enriching the data as much as I could, we were still only able to get this super low match rate," Emily recounts.
Attempts to target using events via Segment only proved helpful as long as the Facebook pixel existed on the user — which meant that they still had to deal with CSVs to try to keep everything up to date. "Whatever we tried, we wouldn't get good match rates, or we wouldn't even see the size of the audiences after the sync," Kyle adds.
Finding more matches with Clearbit Custom Audiences
With Clearbit X, Emily found a new kind of segmentation power. "Clearbit Audiences is an easy-to-understand, very seamless way to create segments and automatically push them over into Facebook," she explains.
Audiences in Clearbit X can draw on all of your first-party data (from sources like your user table, CRM, marketing automation, and more) as well as Clearbit-enriched person and company data. Thanks to Clearbit's rich data network with multiple identifiers for B2B buyers (including non-professional email addresses), match rates improve with X's Audiences feature.

segment built for Facebook Custom Audiences
Marketers like Emily can now quickly create dynamic segments with higher match rates to continually target the right Facebook custom audiences — and never deal with CSVs in the process.
Creating the right Custom Audiences also means keeping out specific segments, like when you only need to reach net-new people for acquisition efforts. "If you can't exclude people who are showing the most high-intent indicators, whether they're purchasing or they've recently signed up, then it's impossible to scale your paid efforts.
Otherwise, those campaigns are always going to favor the people who are continually visiting your site, working within the app, or continuing to make payments," Emily explains. "Now we could focus our efforts on true prospecting, where those exclusion audiences are key."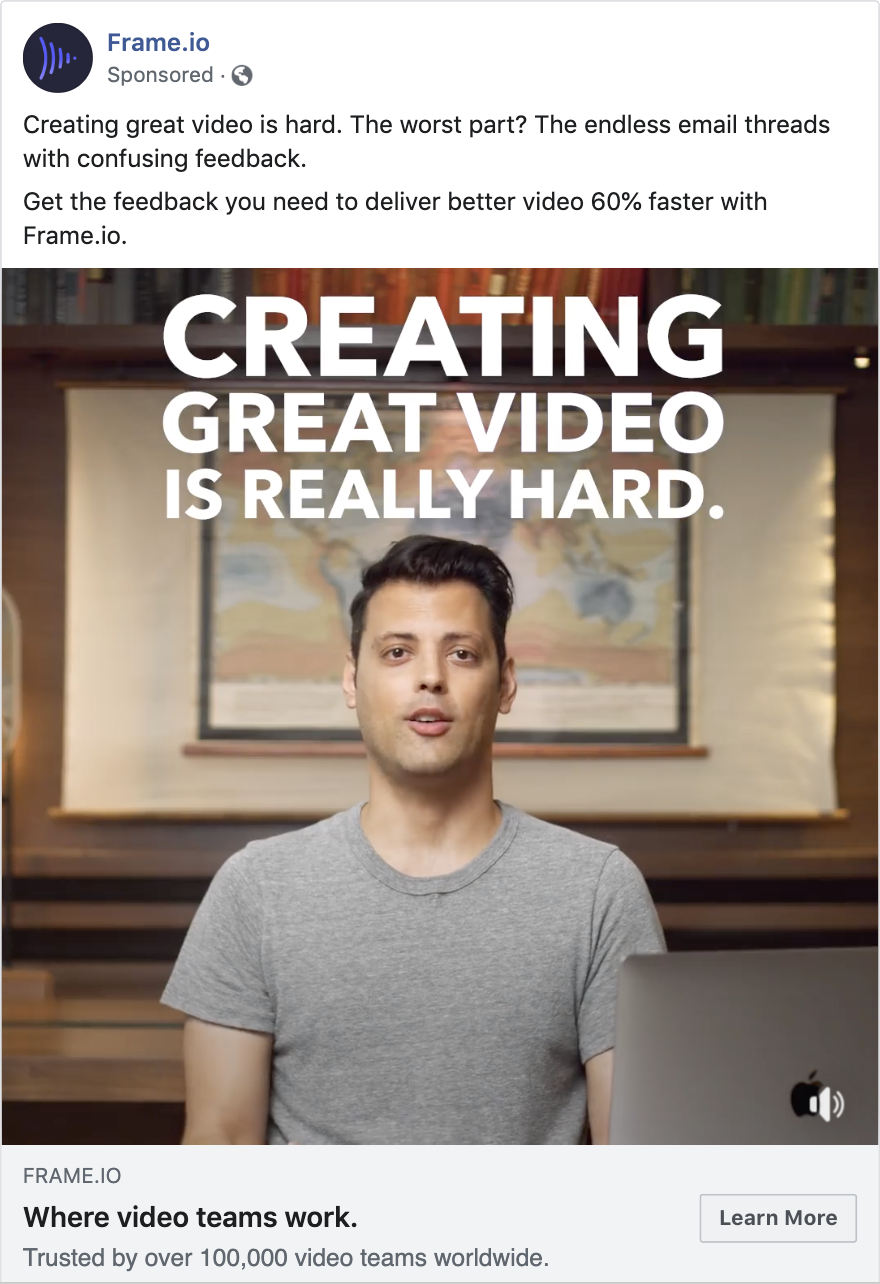 example of Frame.io Facebook ad
Custom Audiences also helps you target better to re-engage users, win back churned accounts, or upsell to existing customers. For instance, Frame.io doesn't have to rely solely on email for important product launches since they can connect with the right people later on in their lifecycle on Facebook. "Our ability to connect with our customers in a non-email channel is pretty incredible," Kyle comments.
"Just being able to get in touch with past customers who have unsubscribed from our email list with our launch content — that is also where a massive return will come."
The result — more than triple the match rates
"The scale that Facebook unlocks is the whole appeal of the entire platform. But it's been super, super hard to use Facebook's native parameters to find the right people," Emily recalls.
Using Clearbit X Audiences, Frame.io saw their match rates go up more than triple, from 15% to 50%. The B2B business could target with the precision of LinkedIn and get the lower costs and greater ROI of Facebook advertising that consumer brands typically see.
For Emily, the wins are two-fold. "The most impressive piece was that match rate and being able to properly exclude audiences from our prospecting campaigns."
Keeping up with the growth team
The power to target the right people is becoming even more important as the team digs into their account-based marketing (ABM) strategy and continues to move up-market. Pursuing a target account that's a huge media company, for example, doesn't require talking to all its employees — just the relevant individuals. For Frame.io's approach of building intent over time, with multiple touch points before even trying to connect, it's crucial to be able to target individuals with precision and in the right channels.
As Kyle explains, "Clearbit X is playing a huge role in us getting more and more unique impressions across multiple channels with those people, ahead of trying to engage them in booking a meeting with us. The marketing team is supporting a much larger sales team, so we have to have all these new views on relationships with users, prospects, companies and domains. And it's critical for us to have this layer where we can target them properly."
Clearbit has also freed up Emily and Kyle to move quickly to take an idea and make it happen without obstacles. As Emily says, "If I had an initiative or some needle that I'm trying to move, I can be both in the moment or very planned. I can be very thoughtful and also nimble in a fast-paced environment." Just recently, Emily was able to jump into Clearbit X to create a Custom Audience and deploy a marketing campaign for an upcoming event in Europe — reaching people who might miss the email.
"That helped increase our meetings booked," reports Kyle. "We can instantaneously go and craft these experiences or these communications without having to wrangle data or CSVs.
"It's the way that the software world is moving. It's all about moving data around in efficient ways without requiring engineers. So how do you empower growth marketers to craft segmentation and experiences, leveraging all the insights that we have about a user, an account, a domain, without heavy lifting? There are progressive companies like Clearbit that continuously remove those obstacles for us and make that possible."