Demand generation vs. lead generation: How to enhance your B2B marketing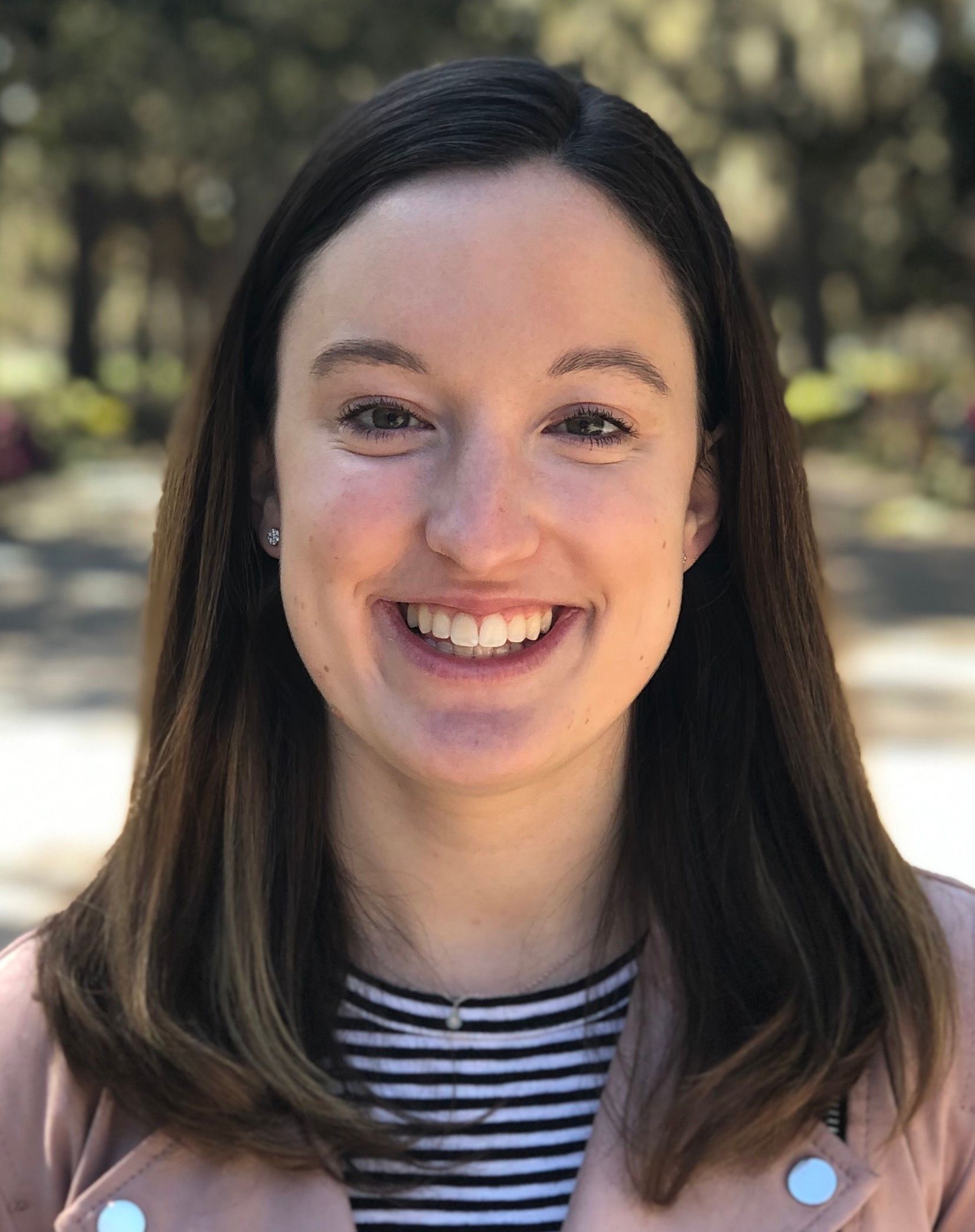 Jess Cody
March 02, 2023
---
Demand generation vs. lead generation—these B2B marketing concepts are often mistaken to be contradictory, but in reality, an effective sales funnel requires them both to work in harmony.
Both demand and lead generation are marketing methods that involve getting the attention of consumers and transitioning them into paying customers. More specifically, demand gen creates awareness for the brand while lead gen transforms the brand-aware audience into customers.
For B2B marketers that want to create a sustainable pipeline of workable high-quality leads, there's the need for a paradigm shift—from demand generation vs. lead generation to demand generation AND lead generation. The reason is simple: for lead generation to be effective, it must be preceded by demand generation.In this article we will detail demand generation and lead generation, highlight their differences, key techniques for each, and how you can use marketing tools to create an enhanced customer acquisition pipeline.
In this article, we discuss
What is demand generation?
Demand generation is a mix of marketing activities specifically designed to stimulate attention and interest in a brand.
This includes any number of methods such as content, advertising, webinars or events  to provide an audience with useful information. The end goal of demand generation is to introduce consumers to the brand and move them through the sales funnel.
Key components of a demand generation strategy
Demand generation feeds into the Attention and Interest parts of the AIDA model (Attention, Interest, Desire, and Action). Therefore, your demand generation strategy is mostly focused on name recognition and creating buzz around your brand.
Five key components of a demand strategy are:
1. Employ tools focused on amplification and analysis
A smart tech stack can help you scale your activities, amplify your efforts, expand your reach, and enhance the efficiency, effectiveness, and performance of your demand generation campaigns. Solutions like Clearbit's B2B ad targeting tools can help to supercharge demand generation efforts.
2. Set focused goals
For an effective demand generation campaign, your goals should focus on increasing the visibility of your brand. Specifically, you should consider goals such as brand lift, visibility, traffic, and share of voice.
3. Build awareness
The marketing space is incredibly competitive, and maintaining brand awareness is how you ensure that new leads flow into your funnel. For brand awareness to be effective, you need to leave a positive lingering impression of your brand on your audience.
4. Explore brand-appropriate alternative marketing strategies
The goal is to grab attention, so strategies like influencer marketing, experiential marketing, product placement, guerilla marketing, lifestyle marketing, and branded entertainment can help to enhance brand awareness.
5. Create informative and useful free content
This includes social media, blogs, webinars, podcasts, videos, eBooks, case studies, infographics, and market reports. These types of content help you build a stronger brand voice and authority in your industry.
Important demand generation strategy metrics
There are quite a few marketing metrics that can track demand generation efforts. Below are some important variables to track when you're focused on creating demand for your product.
Website traffic
Cost per acquisition (CPA)
Customer acquisition cost (CAC) per channel
Pipeline growth
Social engagement
Content performance
Brand sentiment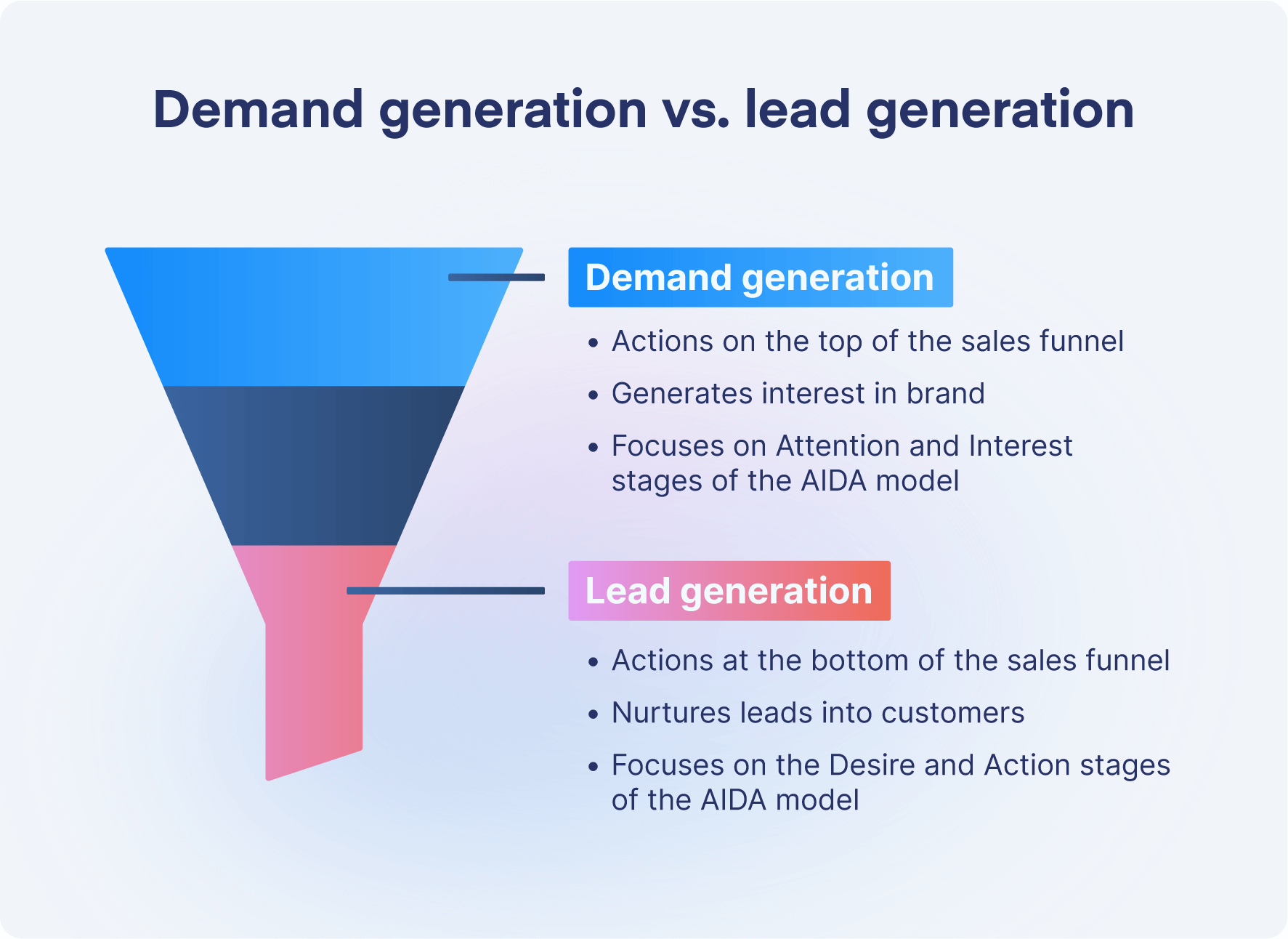 What is lead generation?
Lead generation is a mix of marketing activities designed to continuously increase a consumer's interest in a brand, nurturing them until they convert into customers. The main focus is to foster and capture prospects as early as possible in the buyer's journey.
Lead generation marketing campaigns often collect information from the audience and pass it on to the sales team to close. They can also use this information to build an ideal customer profile (ICP), a framework for identifying similar leads that are likely to purchase.
Key components of a lead generation strategy
Lead generation is focused on the Desire and Action parts of the AIDA model. Therefore, a lead generation strategy focuses on turning someone's interest in your product into a desire for the solution it provides—and eventually a sale.
Seven key components of a lead generation strategy are:
1. Establish a lead capture model
Without a strategic lead capture plan, you'll find it difficult to move your prospects into a sales funnel. A lead capture plan will rely heavily on web forms through which you collect data from the visitors on your landing page. You can improve the efficiency of your lead capture model by leveraging solutions that can dramatically shorten the number of fields on the form.
2. Develop your lead magnets
A lead magnet refers to an offer that a brand provides to its audience in exchange for collecting their email, phone number, or contact information. Your offer—typically a downloadable resource or digital tool—is a gift to your prospects. Lead magnets include product trials, gated content like whitepapers or books, coupons, discounts, or other exclusive or time-sensitive deals. Lead magnets permit you to reach out to potential leads who have shown interest in your brand.
3. Optimize landing pages
Landing pages are key to the success of your lead magnets. They function as a destination for ad ctas, a tool to keep leads focused by reducing distractions, and provide a clear and incentivized call to action.
4. Leverage social media
Social media is an important part of lead generation by using paid and organic channels. Sites like Twitter, Facebook, and LinkedIn provide you with tools to promote your offerings or thought leadership, and should include a call to action within your posts and ads.
5. Use marketing automation workflows
Marketing automation workflows help you create systems and processes to expand your reach. They also help to monitor and evaluate the effectiveness and performance of your lead generation campaigns.
6. Develop a lead scoring system
Lead scoring systems help you prioritize your inbound leads based on the depth and quality of their engagement.
7. Double down on remarketing
Remarketing enables you to stay in touch with your site visitors and bring your brand to their attention across other parts of the internet. For instance, targeting customers who have visited your site through social media ads. Remarketing is a great way to recapture the attention of interested prospects, provide them with an irresistible offer, and collect their information to transform them into workable leads.
Important lead generation strategy metrics
Lead generation strategies differ across companies, and, as such, the KPIs by which they measure success vary. However, some general lead generation metrics help you evaluate the effectiveness of your lead generation activities.
Number of quality leads
Conversion rate
Total lead value
Customer acquisition cost (CAC)
Sales closure rate
Average lead response time
Click-through rate (CTR)
The ratio of MQL to SQL
Types of leads
You can group leads into different categories based on the actions they took in their engagement with your brand, and where they are in the buyer's journey.
Marketing Qualified Lead (MQL): These contacts engage with your marketing materials but are still at the top of the sales funnel and aren't quite ready to talk with sales. They might still need lead nurturing until they're ready to buy.
Sales Qualified Lead (SQL): These contacts who take actions that indicate their interest to try or buy your product or service. Such actions include signing up for a demo or looking at a pricing page.
Product Qualified Lead (PQL): These contacts have experience with your product through a free trial or a low-feature version of your products. They are product qualified when they take actions showing their interest to pay for the product. These actions vary for different products/services, but they are often related to usage patterns that align with your current customers.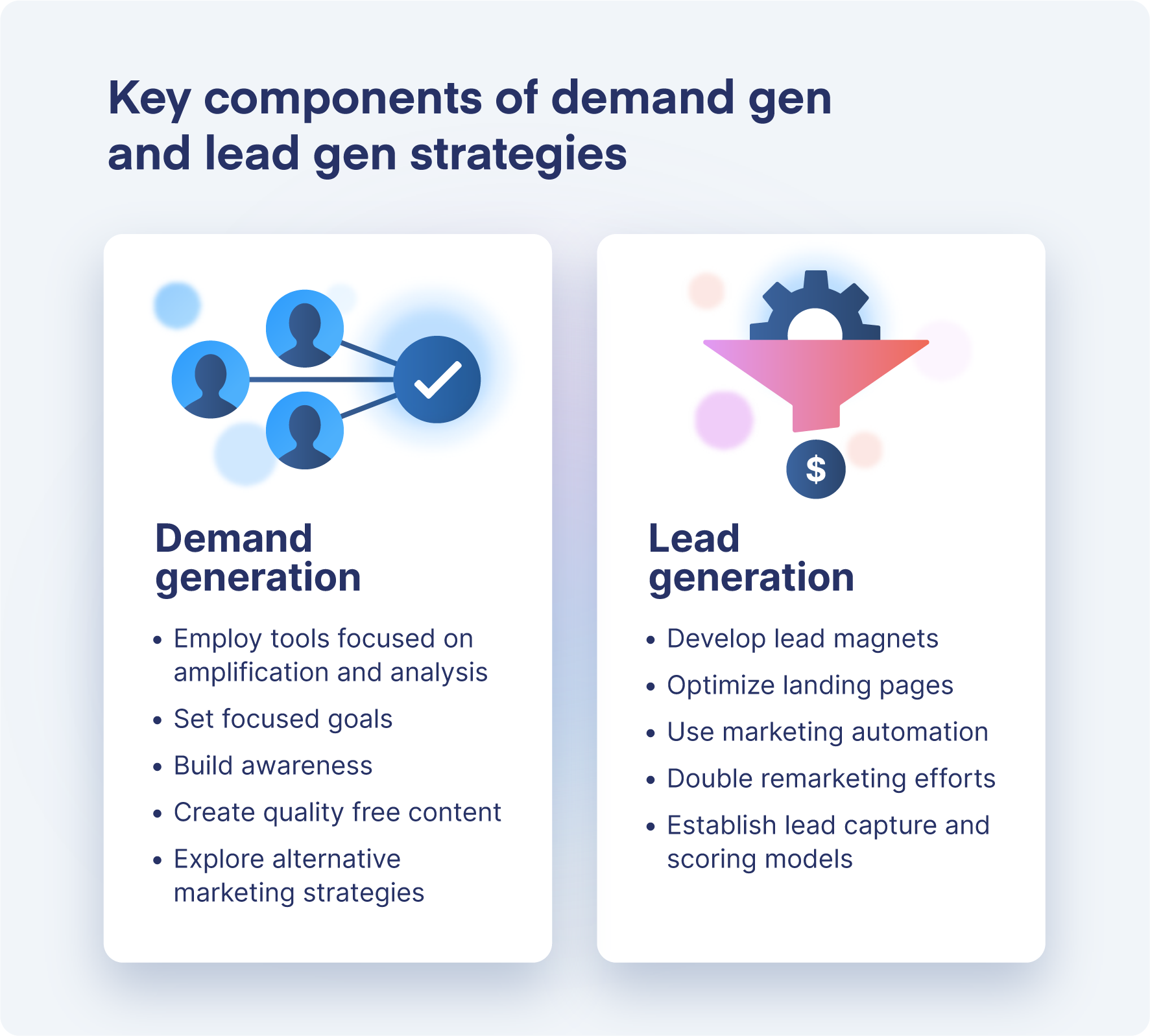 What is the main difference between demand generation and lead generation?
The key difference between demand generation and lead generation is that demand generation creates awareness about your brand and lead generation helps turn the brand-aware audience into potential customers.
It's the difference between creating demand for your brand or product and turning that interest into actual leads—demand generation vs. lead generation.
Demand happens at the top of the sales funnel when you're creating awareness to get your audience's attention and generating interest in your products or services. Conversely, lead generation focuses on collecting information from interested prospects to convert them to customers.
When you use demand generation and lead generation marketing efforts in tandem, they are a key driver of pipeline growth.
How demand generation and lead generation combine into a business strategy
For a business, it's not a question of which method to focus on first, but how can demand generation and lead generation work together to create a seamless customer acquisition strategy.
Even though these generation methods are two distinct processes, they should work in tandem to create a harmonious system that turns consumers into interested prospects, and interested prospects into customers.
For example, a business could decide that they want to produce some informative and useful free content, such as an eBook. This demand generation strategy works well to produce interest in a brand, and it would be prudent to pair it with a lead generation strategy to make the most of the marketing efforts. In this situation, it may be wise to give away the eBook through an email link, thereby capturing the email address of an interested consumer in the process.
Overall, establishing successful strategies is a process of trial and error. Constant experimentation and growth are key for a business to succeed with its demand and lead generation methods.
Clearbit for demand and lead generation
Demand generation and lead generation are complementary digital marketing strategies that create a pipeline of qualified leads for a brand.
Clearbit supports marketing teams in their demand and lead generation activities by providing the insights you need to turn traffic into prospects and prospects into paying customers.
Clearbit's precise B2B ad targeting solution improves the precision of ads targeted at B2B audiences by building audiences based on your ICP firmographic and technographic data like title, employee count, and more.
Clearbit also helps deliver tailored email campaigns using hyper-personalization features that improve your open rates, clickthroughs, and conversions.
Clearbit's intent-based outreach solution helps you curate a list of high-intent prospects. Through our Reveal technology, you can identify anonymous prospects, get alerts when key prospects engage with your site, and retarget prospects with personalized ad campaigns.
Demand generation and lead generation are both vital components of any revenue-driven marketing strategy. Demand generation drives brand awareness while lead generation transforms their interest in your brand into a desire for your products and services. Both demand generation and lead generation strategies help build a sustainable pipeline of qualified leads.