How we level up operations to accelerate revenue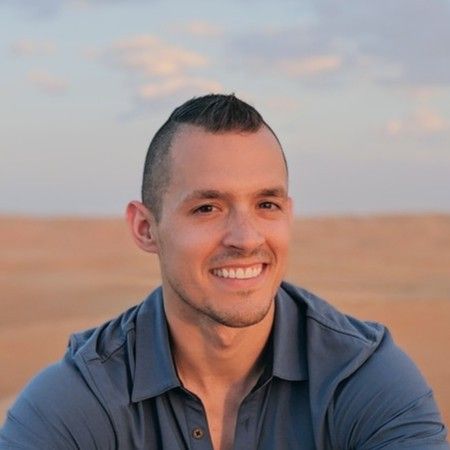 Jonathan Delich
March 15, 2022
---
As the Head of Revenue Operations at Clearbit, I want our team to be more than an internal ticket-solver.
RevOps is like the power company, fueling go-to-market systems that drive predictable revenue. And momentum can plateau if you're fixing plumbing issues and fighting fires to keep the lights on before you can guide and implement more impactful structural change.
With the right setup, RevOps can level up beyond reacting to day-to-day tasks. For us, that setup includes Clearbit, which enables us to be more than just an operations team and serve as a strategic thought partner for the business.
By enriching our analyses, segmentation approaches, lead management, and other processes, we can provide both best-in-class efficiency and valuable insights to move the business's needles. Let me show you how the Clearbit platform makes RevOps smarter.
Optimizing pipeline with our data activation platform
The foundation of our operations is Clearbit's Data Activation Platform, which provides B2B context such as:
100+ firmographic, person, and technographic attributes on 44 million+ companies and 360 million+ business contacts
revealed company identities for what would otherwise be anonymous website visitors
real-time website engagement data for both identified and revealed visitors
This data enriches records in Salesforce, which is the sun of our go-to-market (GTM) solar system, and flows into other tools across our GTM stack.
Without this context, we'd have to research tens of thousands of profiles and in the meantime not know who to pay attention to and act on. When I was in consulting, we'd hire an army of temps to do research on accounts and contacts, which would take multiple weeks. By the time they finish and you've spent thousands of dollars, the data they've collected are immediately stale. Companies change: they grow, they shrink, they try out new tech, they move locations. All profiles evolve over time.
Clearbit does this research for us (all the time!) and helps us make patches so much more quickly, easily, and in an automated fashion, so the business is always at-the-ready. We can identify our ideal customers at any point in their journey and we're ready to implement scalable strategies to win them.
Insights that upgrade how you drive revenue
Good strategies start with analysis instead of guesses. Start by enriching the data in your CRM, get a test data set going, and then you get improved revenue insight!
It's so simple, it sounds a little funny. But this is the process that drives many of our outcomes, how we're thinking about evolving and tracking the business. Without Clearbit data, we wouldn't have known how to segment our business, who our ideal customer profile (ICP) is, or which industries we're doing best with.
With access to so much data from Clearbit, we also provide answers to impactful questions, from the very high-level (What segments are we winning with most? How should we segment our team? ) to the granular (What do target accounts that are SaaS companies in the US with 500+ employees using Marketo look like? ).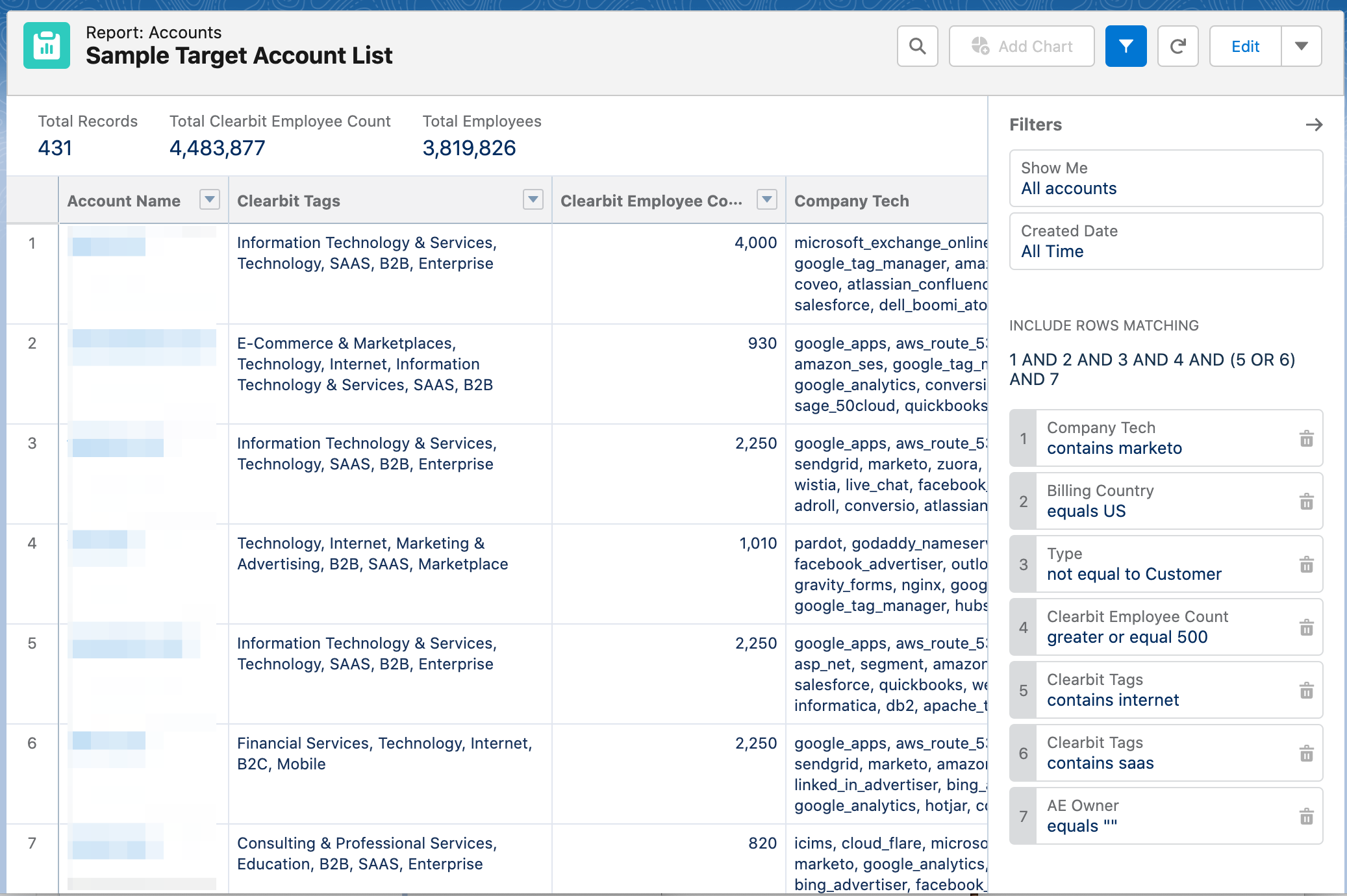 Providing visibility into the company's performance is elemental to how the company runs the business, with our team having a seat at the GTM table to help create clarity and momentum.
For ad hoc asks from the exec team, we can run reports and reply in minutes, instead of getting back to someone in a couple days, at which point the question isn't top of mind any more.
analysis like distribution of marketing qualified leads based on key segments is easy
With answers at our fingertips, we help build up our rev ops function and reputation. We're not just an operations team — we're also bringing strategic thinking and insight to the table.
Actionable segments across the revops stack
Here's a pretty basic but critical example of how such insights turned into a strategic element of our GTM playbook.
In the early days, we used to have one kind of customer that the sales team dealt with. While we analyzed different cuts of data behind the scenes to answer questions about performance and better understand our customer base — we weren't actually acting on that analysis in real time.
Now, everything runs in segments. The BDRs, AEs, and CSMs work in market segments, determined by company size (a.k.a. employee count) — and they can all operate in a more focused way because we have the B2B data (like geographic location, tech tag, and sub-industry and more) to categorize everyone coming in.
Because we're treating an enriched Salesforce a bit like a data lake and Clearbit integrates so easily with other tools, we can push data on contacts and accounts to wherever we need — including tools like Outreach, Chili Piper, LeanData, Gainsight, and into SaaSOptics, where we do all of our financial analysis.
This ability to categorize audiences throughout our GTM ecosystem enables more automation and intelligence across the system — fueling processes from planning territories and creating target lists to what I'll show you next: lead scoring and lead routing.
Intelligent lead management
Clearbit's intelligence allows us to filter out bad leads and prioritize the best prospects.
For many companies — particularly in the product-led growth space — personal emails can create too much noise. While these leads may be desirable for self-service tracks and building general engagement, for passing leads to sales, we always try to separate the wheat from the chaff.
The Clearbit attribute called "email provider" indicates when an email address is associated with a free email provider (like Gmail or Outlook). It's then easy to filter for work versus personal emails without having to create any additional logic. So we use this as a "do not pass go" type of checkpoint to block personal emails from getting qualified and routed.
Clearbit also has a broad data set that includes information on more nascent companies, startups, and younger domains — so we're able to properly qualify people from smaller companies and not let potentially valuable leads slip under the radar due to missing intel. This is especially important as we roll out segment specific solutions like Clearbit for Startups where understanding that long tail of the market is very important.
Workflows like these help us pass through more signals and less noise. We can work every lead we care about, and sales will get all the right context.
These are just a few aspects of our lead scoring system, which can get complicated because it involves many different inputs to determine the quality of a contact. Thanks to MadKudu, we use a machine learning approach to scoring, with Clearbit providing the data points that flow into the model's calculation, such as email provider, industry, job title, company size, relevant technology usage, and country.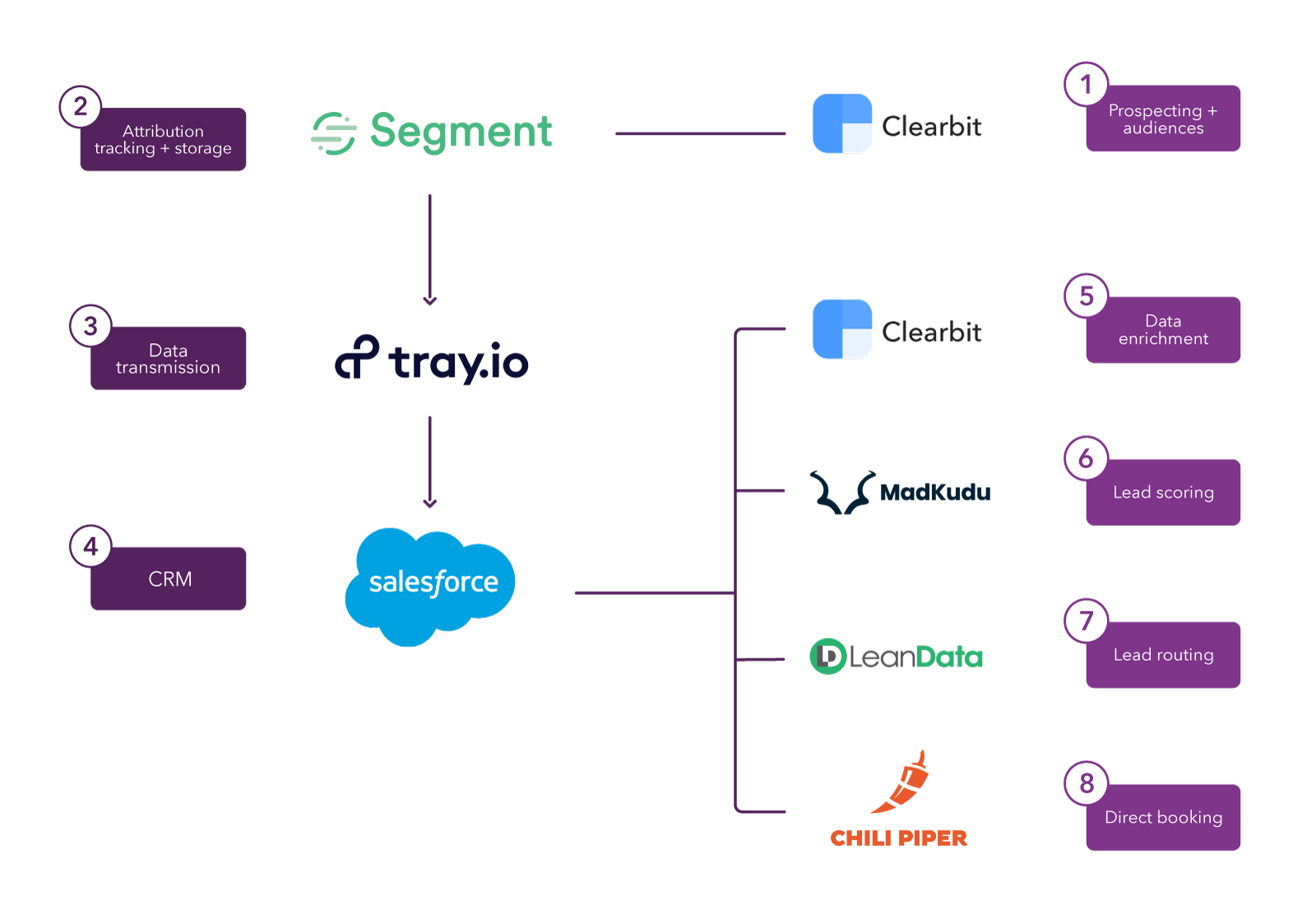 Clearbit's lead qualification stack
Lead routing relies on our data-driven business segmentation to determine where to send a lead in real-time. Records are created in Salesforce and routed to the right team within minutes of a lead engaging with us, so we can really manage our speed to lead and get in front of potential customers very quickly.
The immediate wins of a Clearbit-powered system
Since ops work is largely about efficiency and intelligence, the results can feel a bit removed. But one aspect I really love about the job is assisting sales ICs (individual contributors) find more business. It's very easy to create great target lists on the fly.
Through the platform's Reveal technology, we're automatically feeding accounts that visit our website into Salesforce, including those that haven't submitted any forms yet. So we can surface target accounts before they MQL with their actions or in case they bounce, and prioritize them for warmer outbound efforts.

overview of new traffic from Clearbit Data Activation Platform
When an AE requests an outreach list, I can run a Salesforce report in minutes to find net-new accounts in our ICP that were recently created in our system. With a few quick additional filters, I can deliver a list of 100 qualified SaaS companies that have recently engaged with Clearbit that are in the right market segment for this rep to prospect to right away.

It's so much more efficient when the rep's not spending days and days trying to identify good-fit accounts and trawling LinkedIn just to come up with a few prospects. Thanks to the always-on system Clearbit power, target lists are a way to hit value on day one.
* * *
Real-time enrichment and constant refreshment help us stay on top of things, update segments as needed, and deepen our understanding — from how our customer base is evolving to how funnels are shaping out.
We simultaneously get much more intelligence about the state of the business, the state of our funnel, and the ability to generate answers to those questions so much faster than it would be absent a data activation platform.
With Clearbit, it's much easier for us to make sure everything's moving in the right direction to help it grow faster and smarter.