Introducing the Weekly Visitor Report: see which companies visit your site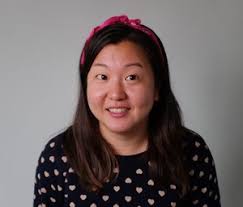 Janet Choi
August 10, 2021
---
We're excited to introduce Clearbit's Weekly Visitor Report, a free tool that gives you a dash of x-ray vision into which companies are visiting your website every week.
Read on to learn why we created a free site visitor tracking tool, how to get started in just a few minutes, and a peek at what kind of intel you'll get in every report.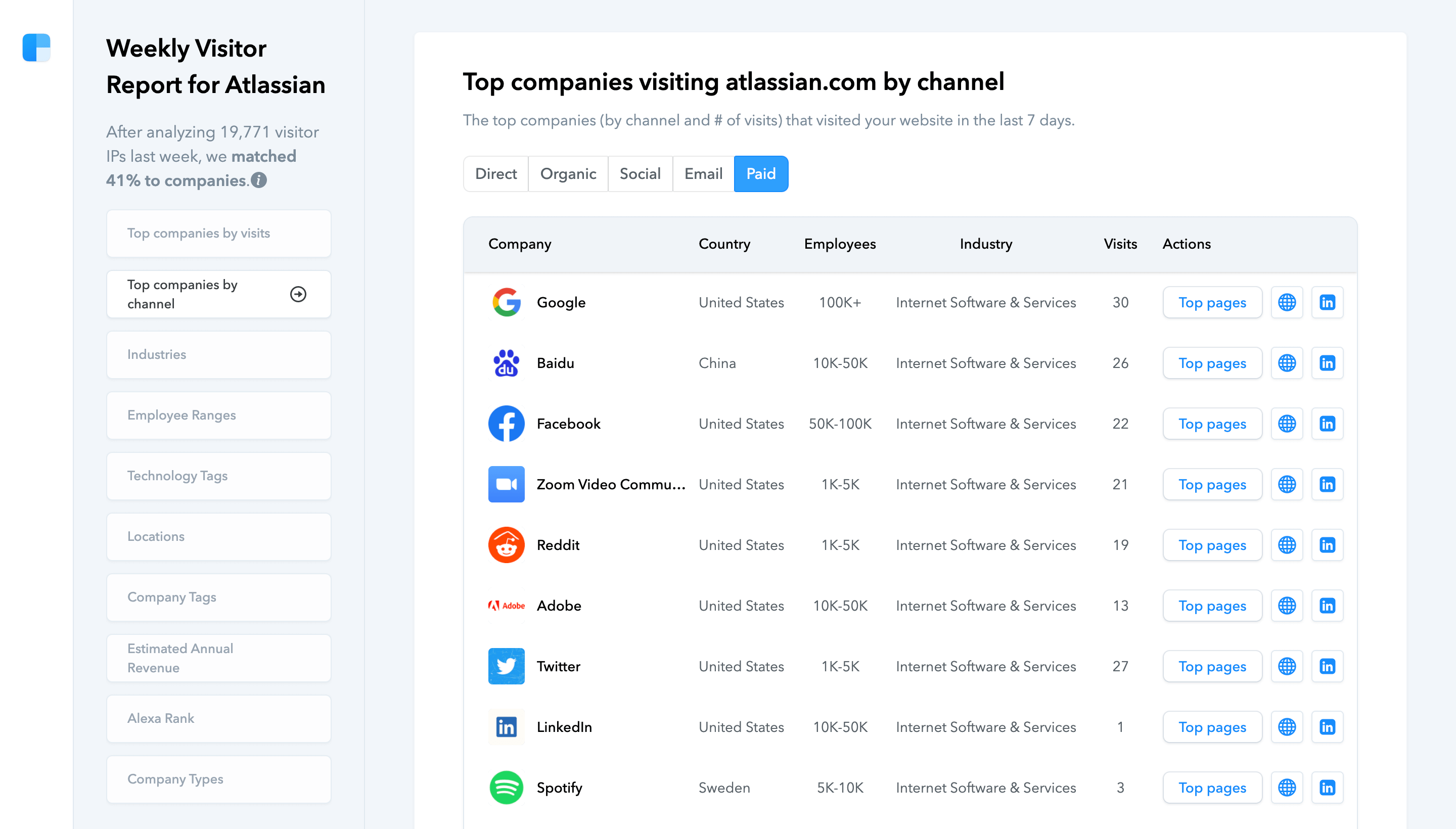 Who is abandoning your B2B cart?
You're already investing a lot of time and money into driving traffic to your site.
And for good reason! More and more of the B2B buying journey is taking place online. Research from Gartner shows that prospects are spending less time — "17% of the purchase journey" — with sales reps and increasingly relying on a business's website.
But unless visitors fill out a lead or signup form, you have no idea who's been browsing. That means that even with amazing conversion rates, over 90% of visitors float away without you ever knowing. (Plus, even when they're looking to buy, they're proceeding in a non-linear, unpredictable fashion so there's no guarantee if or when they'll return.)
Sure, Google Analytics will show you some interesting trends, like what browsers people are using or what country they're in. But the intel that's especially powerful in the B2B context is first-party intent data — how people are indicating interest based on behavior on your digital properties, including which companies are visiting your site and what content they're viewing.
First-party intent data is especially valuable when there are strong signals of interest in making a purchase, such as a target account company visiting your pricing page and case studies multiple times in the past week.
This information gives you the ability to see who is abandoning their B2B cart.
Introducing the Weekly Visitor Report
Our customers are already using Clearbit Reveal to access this first-party intent data. They can detect which companies are visiting in order to do proactive outreach, personalize their site experience, and more — even when visitors haven't filled out any forms.
We wanted to bring this special x-ray vision to uncover what businesses are visiting your site to more marketers, so we created a free tool to experience this superpower quickly and easily for yourself.
The Visitor Report shows you what companies are visiting your website every week. It's free and takes less than 10 minutes to set up. Use the Weekly Visitor Report to notify sales owners about target accounts, inform outbound efforts, and validate the kinds of companies you're attracting to your site — and what they're engaging with.
"Clearbit's Weekly Visitor Report helps me identify high-priority companies for my Sales team to follow up with, all for free."

— Henry Brown, Digital Marketing Manager at Rewind
How to set up the Weekly Visitor Report
Getting started just takes two steps:
Sign up with your email address so we know where to send the report.

Install the script. The script can go sitewide (to get the broadest view of who's visiting), on higher-intent pages like your pricing and demo page, or wherever you want that extra boost of insight.
That's it! Head to the Weekly Visitor Report to get started now.
What's in Clearbit's Weekly Visitor Report
After you install the script, you'll get your first report on the Friday of that week.
Here's a peek at the kind of details you'll see:
Top companies by visit frequency and the top 3 pages viewed, including basic firmographic details — country, company size, industry — and easy access to their site and LinkedIn company page: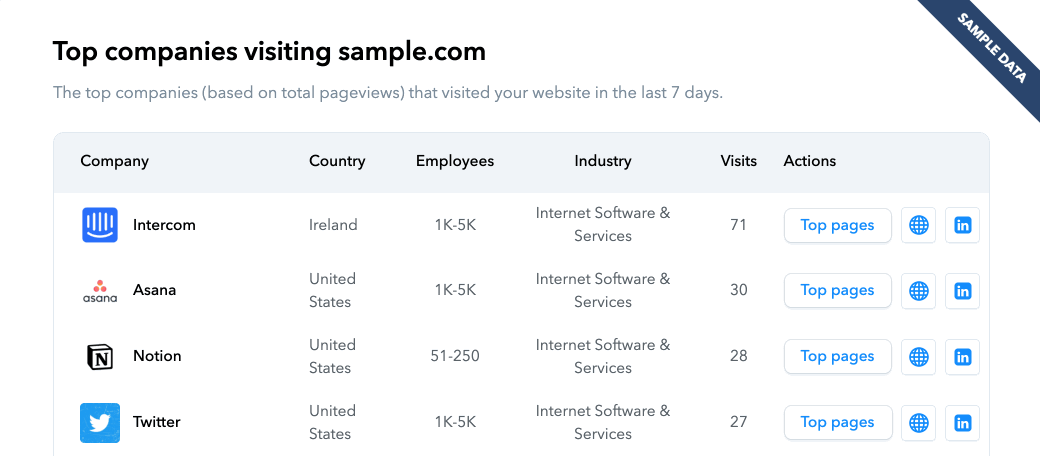 Top companies by channel. Channel sources are based on and grouped by UTM parameters and referral information (similar to how Google Analytics works):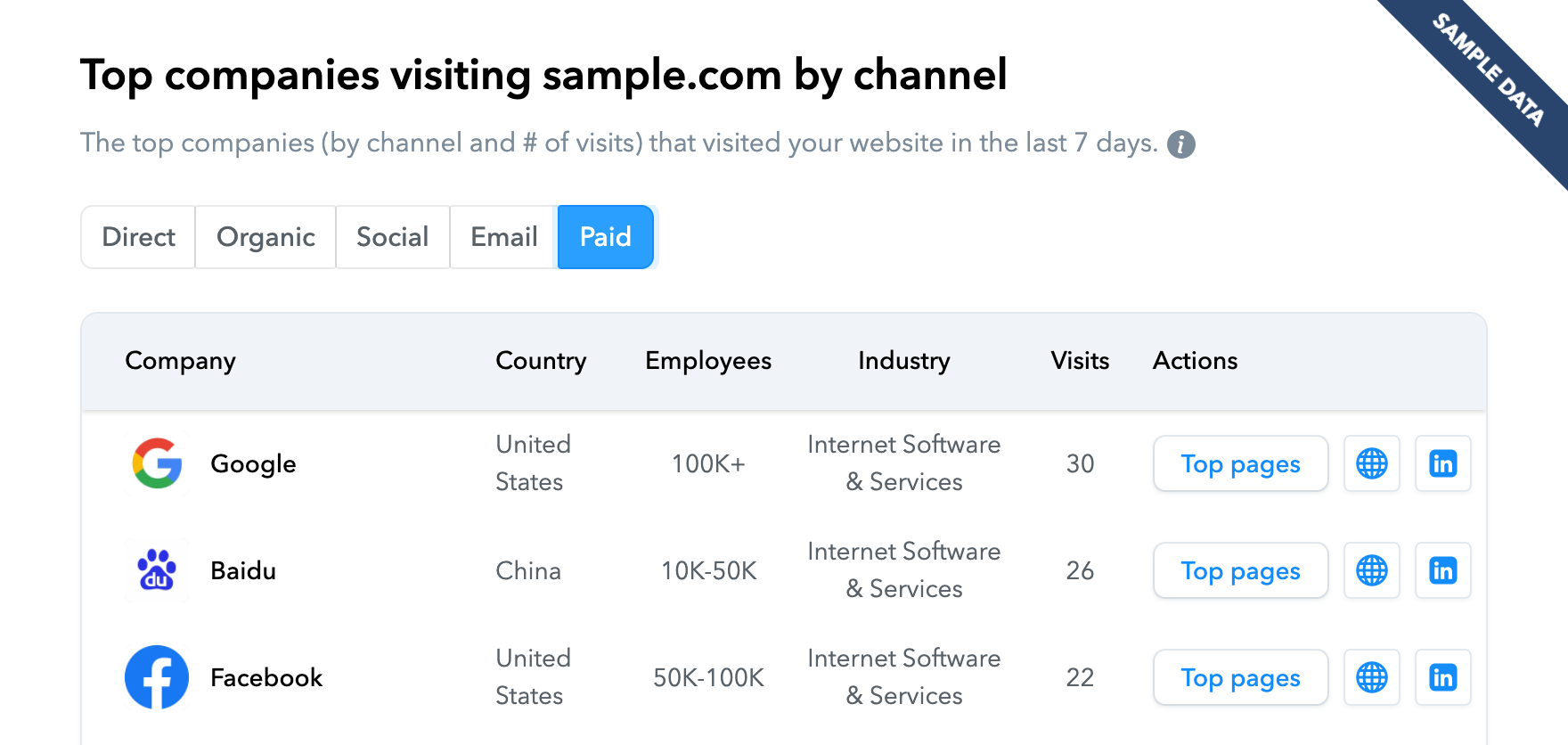 Traffic breakdowns by key firmographic attributes, like industry, employee range, technology tag, location, company tag, estimated annual revenue, Alexa rank, and company type: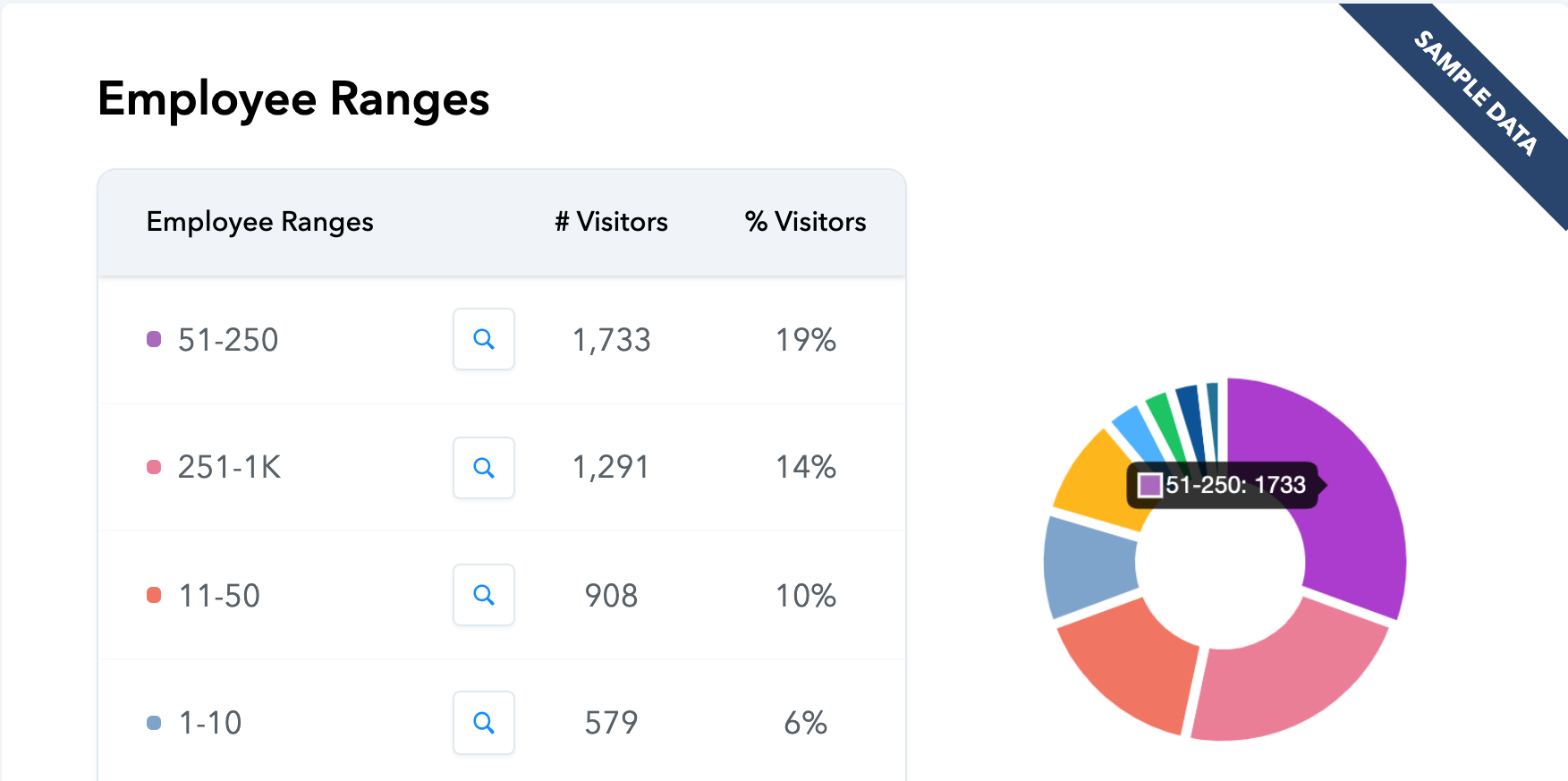 See all the pieces together in this full sample report.
* * *
We're so excited to share this free tool with you. Head to the Visitor Report page to sign up, copy the script, and learn more about how the report works.