How to select your ABM accounts using data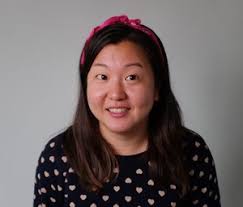 Janet Choi
March 28, 2019
---
You've chosen 500 target accounts for account-based marketing (ABM) and in six months your average contract value has more than doubled, and your employees are more focused than ever. What's the secret sauce?
It starts with data. You need a system for predicting which accounts are worth spending your time on and most likely to buy and grow. Selection committees, which usually are made up of representatives from marketing, sales, and executives, can count on third-party data tools as another integral committee member.
So how do you use data to select target accounts?
Chorus.ai, a conversation intelligence tool for sales team, sought to answer this question when creating their upmarket strategy with account-based methods. Chorus.ai's marketing and sales leaders wanted to exclusively target sales execs at large, high-growth tech companies. And as a result, Chorus.ai was able to derive their profit through enterprise clients.
Here's a look at how they built and fine-tuned their data-driven selection process.
Step 1: Build your Ideal Customer Profile (ICP)
An Ideal Customer Profile (ICP) clearly defines what companies are ideal for your product. Accounts that fit this profile are a subset of your target addressable market.
Your ICP will use key data points, including:
Firmographic data: Information such as company industry and sub-industry, company size, location, age and maturity of the organization, size of the department, revenue numbers, and growth.
Technographic data: Existing technology a company is using, which can help your sales team recommend integrations and gauge their willingness to adopt new tech.
To find your ICP, you can reverse-engineer your most successful accounts. There's also the interesting tactic of reverse-engineering your competitors' most successful accounts. Compile data about these accounts and determine what factors are most predictive of success.
You can use Clearbit Enrichment to fill in any gaps for existing customers and creating complete profiles for net new accounts and your competitors' customers. With Clearbit for Salesforce, you'll automatically have this data in your CRM, where you can slice and dice the data to find trends that will point to your own ICP.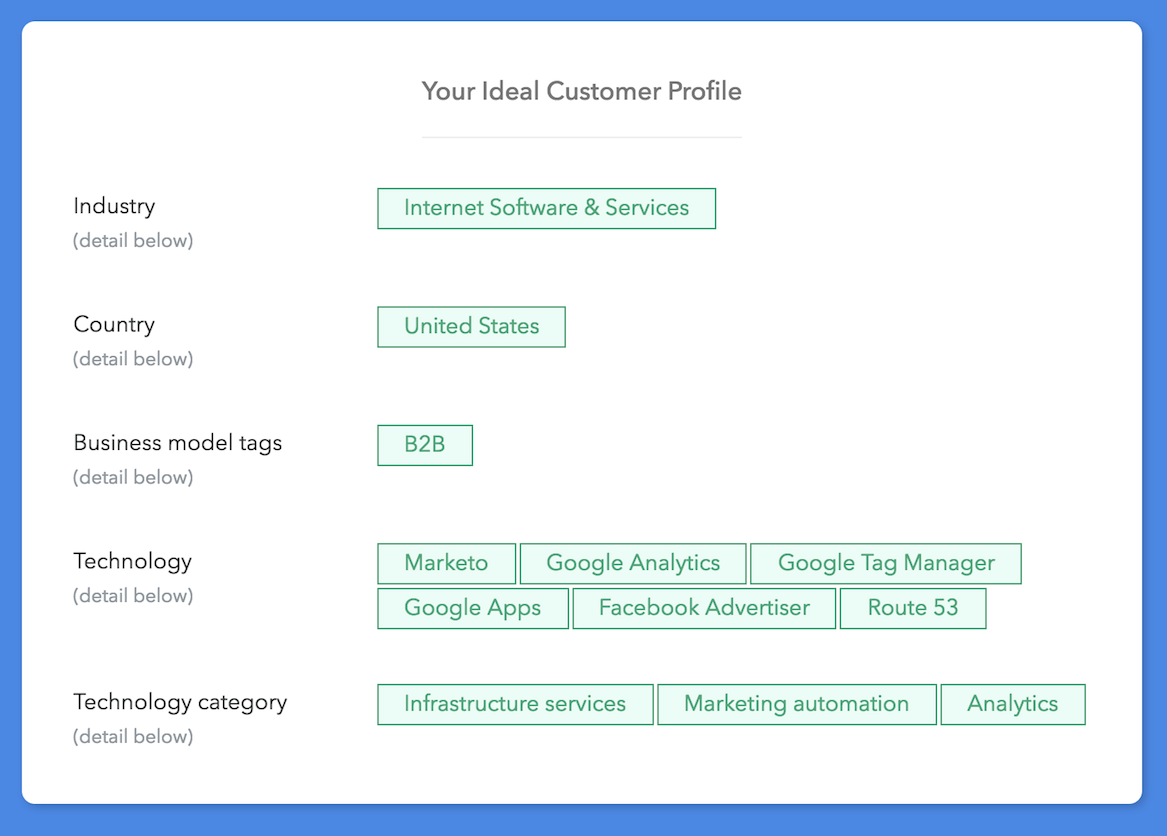 ICP example
Parsing through their internal data, Chorus.ai determined the attributes of their ICP:
a larger-size tech company
located in the U.S.
using a tech stack indicating tech-savviness and compatibility with Chorus.ai's product
a built-out sales team.
Looking for accounts that match your ICP manually can be unnecessarily time-consuming. Use a tool that lets you search by the criteria used to define your ICP, like Clearbit Prospector, which enables you to filter and find accounts by both firmographic and technographic data.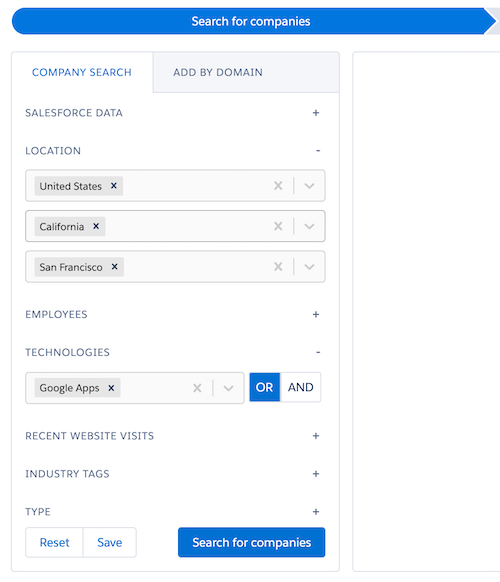 Step 2: Create a shortlist of Accounts to pursue
Even within a list of target accounts, some are more valuable than others. Chorus.ai decided to carve up their list of accounts into three tiers:
Sample target account tiers
Tier 1
Tier 2
Everything else
Accounts per tier
50
200
N/A
Company size
N/A
N/A
N/A
Evidence of Inside Sales Team
Yes
Yes
N/A
Sales Enablement Role
Required
Maybe
N/A
Web conferencing
Zoom, GoToMeeting
Uberconference, Bluejeans, Join.me
N/A
CRM
Salesforce
Salesforce
Salesforce and other
Location
USA
USA
USA
Industry
X, Y, Z
All of the above, plus A, B, C
All of the above, plus D, E, F
This helped the Chorus.ai team prioritize which accounts needed the most personal attention.
Breaking out accounts like this can help prioritize and customize your ABM efforts. Here's how the experts at Engagio break it down:
Tier 1 (5-50 accounts): These are the best-fit accounts. Every account is treated as "a market of one" so that your tactics are 1:1 campaigns. Content and outreach is totally personalized, based on a deep understanding of the account, its specific problems, its organization structure, and other context.

Tier 2 (50-1000 accounts): Accounts in this tier require less individual attention, but marketing should still be customized to segments with one-to-few campaigns. With larger numbers of accounts, you can be more efficient by personalizing on group attributes like specific types of accounts.

Tier 3 (1000+ accounts): The rest of your accounts fall into this category, and the approach may be similar to traditional demand generation with a focus on account-level (versus individual lead-level) engagement.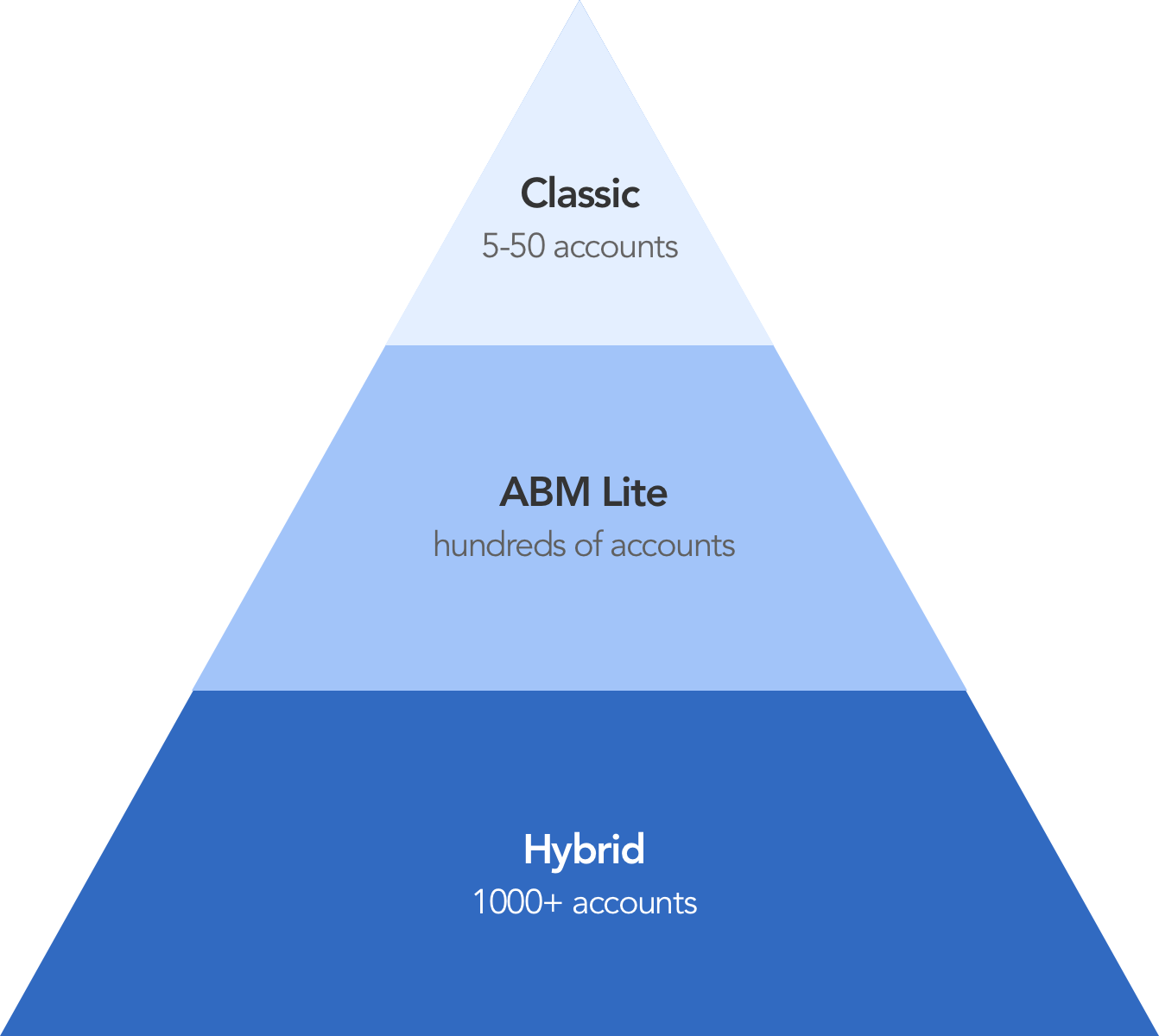 True ABM is the top tier, where only a handful of accounts are taken on each year. Most businesses, however, will mix ABM with traditional marketing approaches — which is closer to what you see in tier 3. Since you're already creating campaigns, you can leverage content for more customized campaigns.
Phase 3: Vet and Improve
Once you have your tiered shortlist, put it through reviews with your marketers, sales, and the executive team. This is chance to check against other contextual knowledge in your organization, historical data, or identifying already-existing contacts, for example, that may shift the prioritization or selection of certain accounts.
While executives typically don't get involved with individual leads in traditional marketing, with an ABM approach, each account has significantly more weight. Deciding on an ICP and choosing accounts will determine the direction that the company is going in.
By the end of each round of account selection, you'll be left with a more fine-tuned, highly-targeted list than the previous round. That, combined with the data on how many of these accounts converted and what kind of customers they became will inform how you approach researching future leads.
*
There's little point to carrying out an ABM approach without selecting the right accounts. We've moved beyond the days of less systematic, manual research and decision-making to have a greater chance of those "right" selections. Use data and tools to understand and define an ideal customer profile, prioritize target accounts, and reach the right people.
Find out how other B2B SaaS companies use data to do ABM in Account Based Marketing: Using data to target, scale, and measure ABM programs.