The best plan for replacing Data.com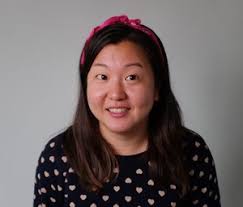 Janet Choi
April 24, 2019
---
What should you be doing to replace Data.com right now? First of all, think bigger than a simple solution swap.
That's the advice of expert Greg Poirier. As the President of CloudKettle — a consultancy that optimizes revenue operations for B2B SaaS companies — Greg and his team have extensive experience specializing in the sales and marketing stack, including Salesforce and its ecosystem.
And as he sees it, Salesforce's shuttering of Data.com opens a new door for businesses to work in a more impactful way. This transition period is a prime opportunity for you to expand the value your business gets from a data provider.
We talked to Greg about how to best transition from Data.com (or look for an enrichment tool replacement). Read on for why it's time to get more value from your enrichment solution, the steps to make that transition, and how leveraging enrichment across the customer journey builds systems for increasing revenue beyond simply filling in contact data in a CRM.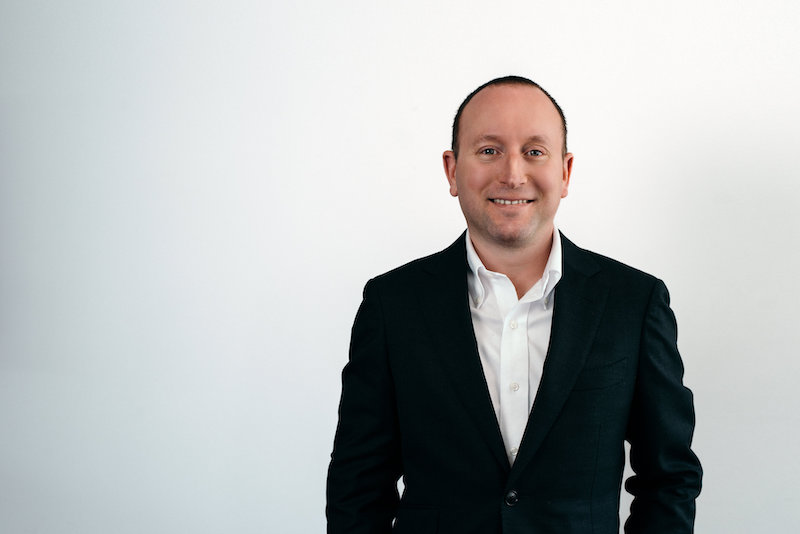 Greg Poirier, CloudKettle
Enrich more than your CRM
Historically, data enrichment was something you did in your CRM. "Most service implementers are very specifically focused on Salesforce or on Marketo or Marketing Cloud," Greg explains. "As a result, they view enrichment as a point solution that can solve a problem in one specific platform."
Focusing only on a single point solution produces a kind of tunnel vision, narrowing your view to what you can do within those platform limits rather than aiming for larger, needle-moving goals like consistently closing more sales. "The old saying is very true — if you have a hammer, everything looks like a nail," Greg notes.
Instead there's a more modern way to approach enrichment, looking beyond only your CRM: "Focus on the customer journey from lead through analysis of data post-sale, and then you'll see enrichment as something that should occur across the entire customer journey."
Greg's recommendation? Leverage enrichment across multiple platforms, including your:
CRM
Marketing automation
Analytics
Data warehouse
This end-to-end journey enrichment is only possible thanks to an evolution in business data enrichment. In the sunset days of Data.com, we see a rosy landscape that's changed in two key ways.
"Data has become a lot more sophisticated in the newer platforms," explains Greg. "Most of the older platforms really leaned on what I'd call the publicly available Dun & Bradstreet style data — buying this massive amount of information, which doesn't update very often." And with such rare updates, the best practice then was not to allow an enrichment platform to overwrite data that someone had manually entered. It used to be safer to assume the team member's information was fresher and more accurate.
Now, modern platforms are refreshing data closer to real-time. Coincidentally, workers are embarking on much more fluid career paths, with frequent job changes. "If we look at the average lifespan of one role, the importance of having data that is very fluid and updating in a real time basis is much more important. Now enrichment platforms — Clearbit as an example — are updating their own data so frequently that they are often a step ahead of the salesperson."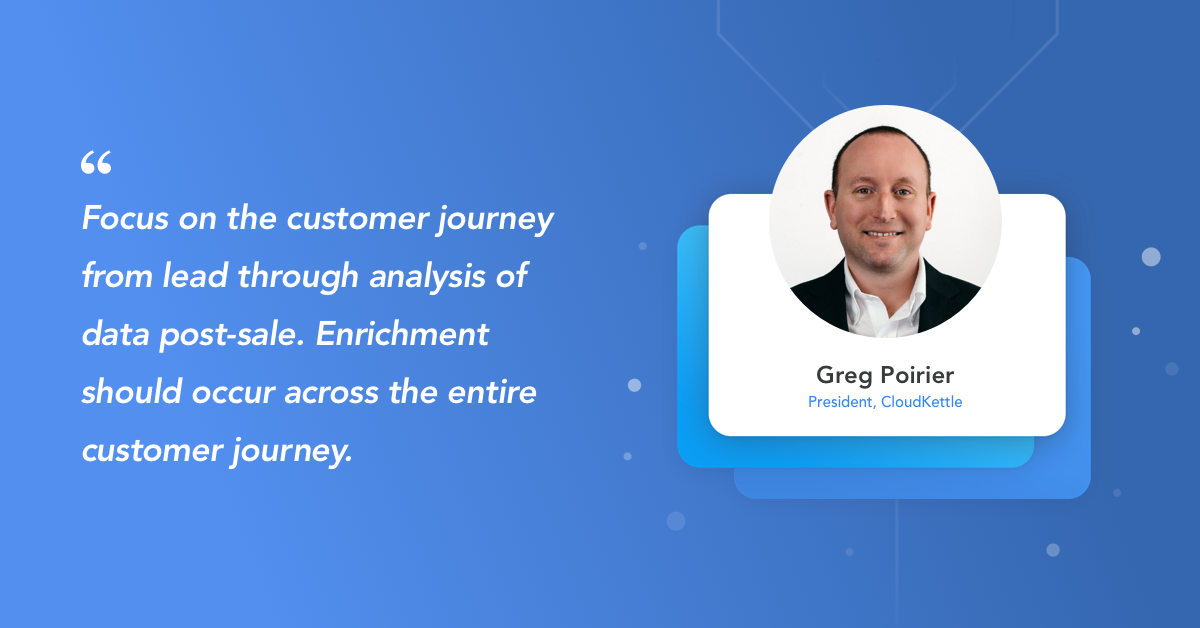 The value of modern, holistic enrichment
Leveraging enrichment across the stack means that your business gets reliable data across the funnel. Having clean, consistent, and automatically refreshed third-party data enables you to do more than pull up context during sales calls. You can automate smarter sales and marketing processes as well as discover more actionable insights.
Improving speed to lead
Automated lead routing is faster and more efficient, and with comprehensive data, very robust. "What has impacted sales more than anything is how much better enrichment has gotten in its ability to help power lead scoring and lead routing," Greg notes.
Getting those great-quality leads into sales conversations depends on the reliability and speed of Salesforce data, and modern enrichment practices have even changed performance expectations. "In the old world, maybe we could take three hours to enrich a record, because we didn't really care if our sales people talked to them today or tomorrow," Greg recounts. "Now we have sales teams that are measuring their time to first touch — their speed to lead. They want to keep it under a fifteen-minute mark. Speed to lead has become a mainstream metric."
For a qualified lead to get to a salesperson for their first interaction in under fifteen minutes — enrichment, scoring, and routing has to take place in minutes. With this kind of time frame, it makes sense to start looking at exactly where you're enriching data and how that data is flowing within your organization.
If you're only enriching Salesforce, for example, but also using Marketo — even with data syncing, you lose precious time with a lead's data going back and forth between platforms to score and get marketing-qualified before being routed to a sales rep. "Generally, we like to see enrichment occurring both in the marketing automation platform and in Sales Cloud," says Greg. "If it is enriched in the marketing automation platform first, it can also be scored there and marked as MQL'd and immediately routed when it enters Salesforce."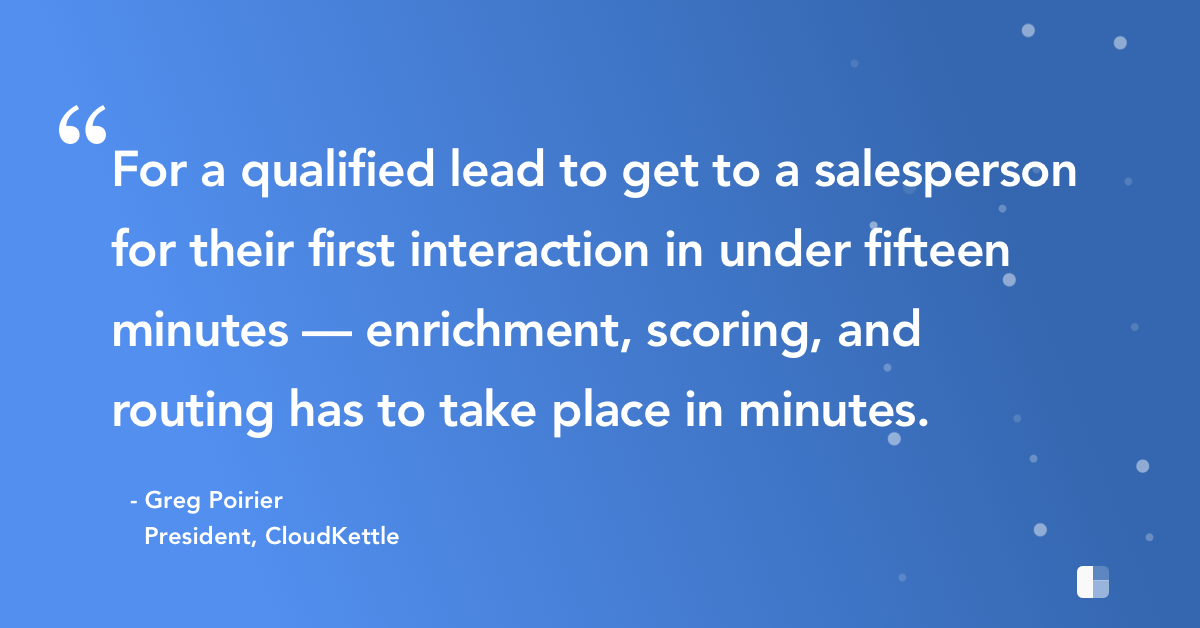 Insights to increase leads
A holistic enrichment approach also provides more powerful, granular insights to better inform your strategy. This is particularly important for B2B SaaS businesses, as they deal with different customer segments. So instead of looking at typical business metrics like LTV, churn, or CAC at an all-inclusive level — with comprehensive enrichment, you can measure by industry or company size or whatever key attributes characterize your ideal customer profiles.
Segmenting your analysis of sales and marketing performance saves you from optimizing for the less-than-ideal majority. Take the challenge of improving conversion on your website, for example. You'd look at your Google Analytics data to uncover your "happy path" of how people behave on your pricing page and optimize for that. It seems like a pretty smart move.
But, as Greg observes, "That's actually not a very good way to do things. Let's say you're focused on optimizing for enterprise sales but 90% of the people who go to your pricing page are SMBs. So if you just look at how people behave on that pricing page and try to optimize for it in general, you will optimize for an SMB experience, because they're 90% of your traffic.
"If you can enrich Google Analytics with attributes like industry, or size of organization, or revenue, et cetera. Then you can look at the data on how people behaved on your pricing page and start to determine how to optimize it for enterprise size organizations or specific industry, which is very powerful."
Learn more about how Clearbit steps in replace all three of Data.com's services — Connect, Prospector, and Clean.
How to make the switch from Data.com
CloudKettle has transitioned many of their clients off of Data.com and onto new solutions. Here's Greg with his top five points of advice for anyone who hasn't yet started the move:
Start now! Don't wait any longer to plan your Data.com transition. Replacing a data solution is almost always more complex than deploying a net new one. There needs to be considerations around lost data, deprecated custom fields, updates to automation. In the meantime, Data.com isn't getting improvements. So you're falling behind until you deploy something like Clearbit that is actively growing and well-supported.

Budget enough time to understand data complexities and to train end users. This won't be a quick rip and replace. Most people underestimate the amount of work that goes into a transition like this. Doing a needs assessment and meeting with stakeholders to understand everyone's needs takes time, and you probably have to budget two weeks just to get those people at the table and pull all the information that you need out of their heads. Then you have to schedule training.

If you want to do this right, this is probably more like a six to eight week process. And most of that time is actually stakeholder conversations, teeing up those meetings, getting the training done, not actual in-platform work.

Make a comprehensive data plan on what's happening to all the data you'll be removing, updating, and maintaining. This is complex and key in today's post-GDPR world. This documentation is something a service implementer can put together for you, as replacing an existing solution requires a very extensive amount of research into:

what is occurring currently
how the legacy solution is deployed
how many workflows and other integrations it touches
how you're going to map all that over and deploy it
how you're going to maintain the provenance of data.

Consider how you can leverage a new enrichment solution to do more than just act as a point enrichment solution for Sales Cloud and expand the value you get. Now that you're having to do the work of replacing Data.com, this is your opportunity to expand how you do enrichment for an incremental additional investment of time — from being a point solution to covering that whole end-to-end customer journey.

The rough outline of steps to take:

Review your existing solution and what data it provides for your organization.
Do a needs assessment to understand stakeholders' goals, usage, and dependencies.
Consider opportunities for platform extension when researching Data.com alternatives.
Address impacted processes, workflows and integrations.
Check for any legal implications.
---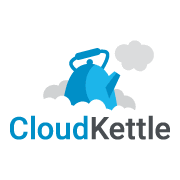 Greg Poirier is the Founder and President of CloudKettle: a consultancy that specializes in improving revenue operations by optimizing Salesforce and the tools it integrates with like Marketing Automation, the Google Marketing Platform, and Customer Support and Success solutions. He has been a part of the Salesforce ecosystem for a decade and is also Salesforce alumni. A three-time Dreamforce speaker, Greg is a sought-after presenter and advisor on the topic of B2B SaaS.