3 chat personalization tactics to engage target accounts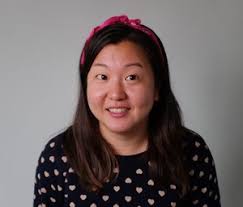 Janet Choi
May 07, 2019
---
When you've got an account-based marketing plan in place, you already know who you want to talk to. You've already spent a lot of energy, money, and time trying to attract the attention of these specific target companies — from outbound emails, paid ads, events, direct mail, and other demand gen initiatives. Live chat is the logical next step.
Chat is an effective engagement tool because it offers a communication channel at the right time — exactly when prospects are browsing your site. Data from Intercom even shows that visitors who chat with businesses are 82% more likely to convert.
So when target accounts actually do end up on your site, responding to their "knock knock" with a "who's there?" falls short. Instead, you want to open the door for guests (who you've been expecting) with a warm welcome and jump right into a personal conversation. But first, you need a peephole to be able to see who's at the door.
Integrating Clearbit with chat solutions gives you that visibility to recognize who's there — transforming a mess of anonymous traffic data into intelligence on whether target accounts or highly-qualified leads are currently browsing. Reveal returns company information about site visitors based on their IP address, including firmographic data that you can use to chat more strategically with target accounts — from filtering and prioritizing who you decide to engage to personalizing how you talk to them.
Once you've got Reveal technology providing data on who's visiting, use these three tactics for personalizing chat to engage and convert high-value accounts.
How to personalize chat for ABM
Greeting every visitor in the same way with chat is the equivalent of email marketing's batch-and-blast. This blanket approach dilutes the power of this communication channel to have productive conversations. Instead, craft messaging for specific segments or individual target accounts.
Articulate who you're talking to
A simple tactic is to dynamically insert firmographic data, such as a company name, into your greeting. Here's how Replate welcomes visitors from a specific company with an invitation to chat, framed through the value of the service it offers: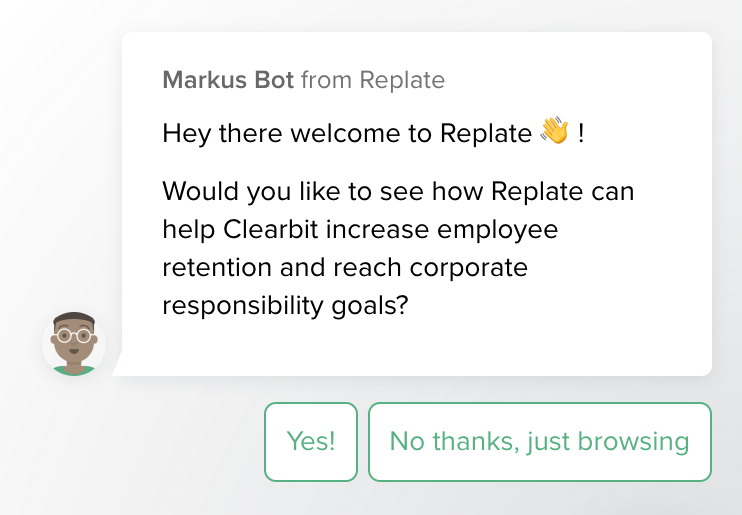 Some audiences may find the use of a specific company name unsettling. Instead, you can name a type of company or industry and introduce relevant benefits for that segment. This helps reinforce who your product serves best and offers an opportunity for your target account to feel a connection. Chargebee, for example, has messaging on its homepage about its subscription management capabilities but it's this chat greeting that connects the dots between a visitor's "I work for a SaaS company" identity with an unambiguous description of who Chargebee serves.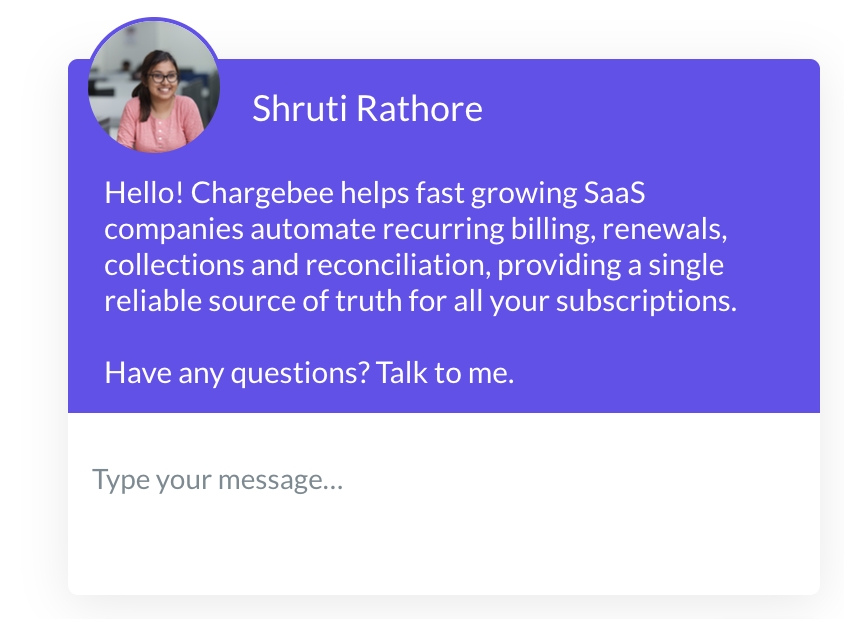 Another method is to provide social proof based on company data like size or industry. Here's a chat message from Front, expressing how Clearbit seems like a good fit for its product and backing that up by naming four well-known tech companies.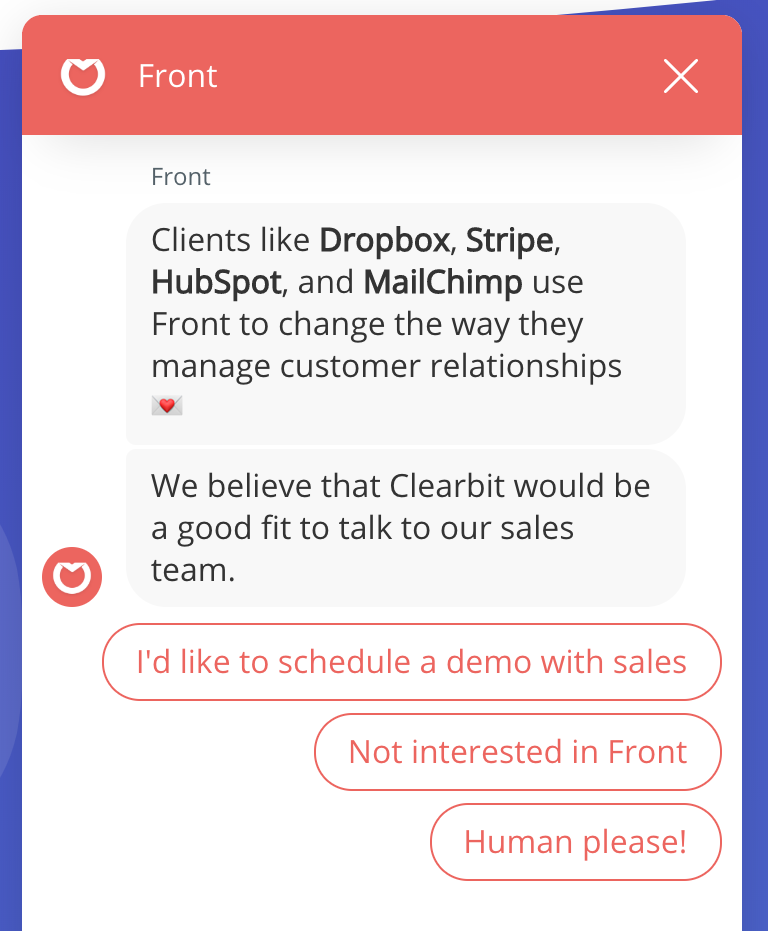 Adding a personal touch to your copy can help engage your site visitor into an interaction or guide them to your call to action.
Dynamically show chat or high-touch CTAs
Chat tools are useful for engaging site visitors in the moment — unpersonalized chat strategies have serious drawbacks. First, the task of managing conversations with the masses gets unwieldy at the expense of paying attention to your VIPs. Second, both visitors and your sales team lose out when a chat interaction requires jumping through hoops of tedious discovery questions — the same ones that add friction to sales forms (what's your company's name? how many employees work there?, etc.).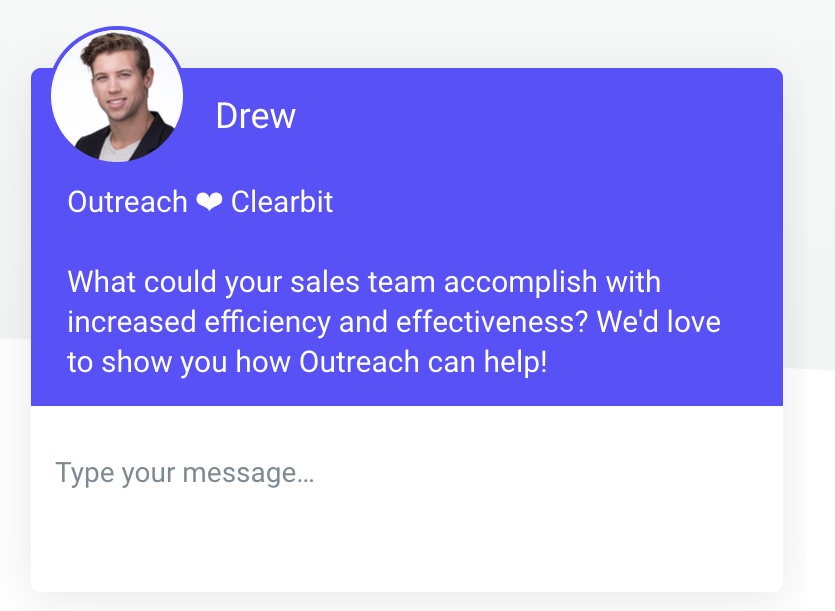 For instance, Outreach uses live chat to engage website visitors and leads them down a path to a demo without having to fill out any sales forms. This secures the company at least one additional meeting a day.
With Clearbit Reveal identifying your target accounts for you — you can be more deliberate about who even sees a chat interaction or particular offer in the first place. With this proactive chat approach, you can selectively show live chat overall or CTAs that require expensive 1:1 time to qualified prospects and specific target accounts.
An alternative method is to personalize the interactions and CTAs based on qualification level. For instance, you can show target accounts direct links to schedule a call or 1:1 demo with a sales rep: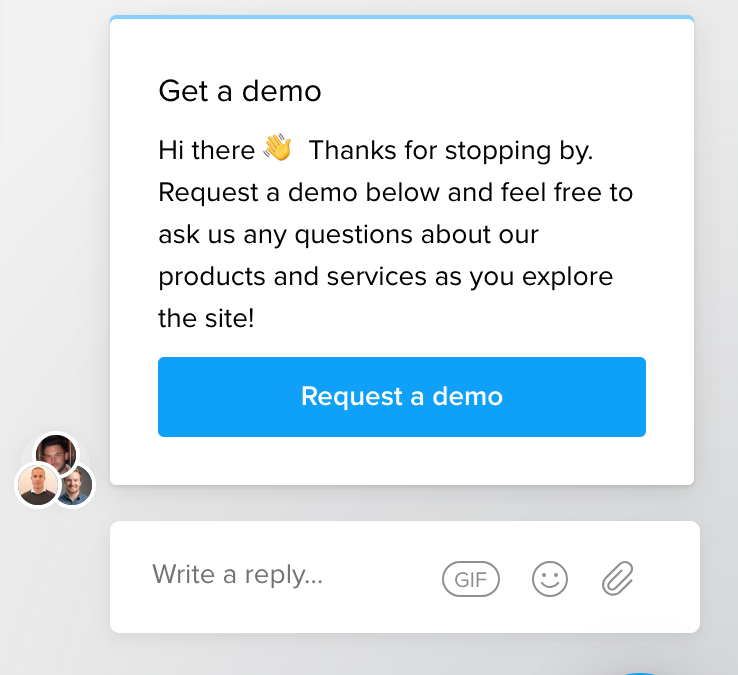 Chat offering demo from Tradeshift
Meanwhile, you can provide an alternate CTAs for non-target accounts, like an email capture, general offer to help, or more automated interactions to everybody else.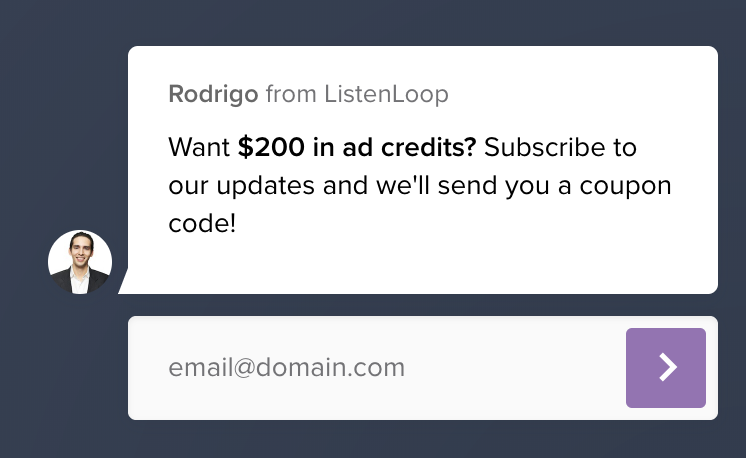 ListenLoop's chat message has an offer and CTA to submit email
Create a contextual 1:1 experience
One of the main benefits of ABM is that with such focused targeting, it's easier to create a personal approach for your accounts and provide that one-on-one experience throughout every interaction.
Start by introducing a dedicated account manager who owns that relationship, from first visit through demo and sale, and beyond to personalized cross-sell, up-sells, and other retention campaigns.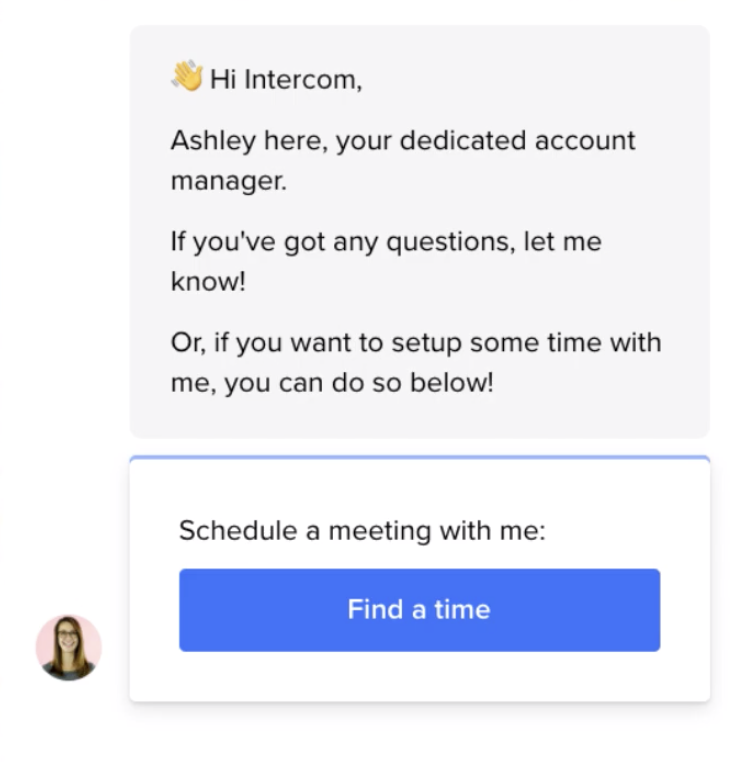 Introduce a dedicated account owner and offer 1:1 scheduling
Targeted messaging can get a conversation started, and routing that conversation to the right account owner can keep it going through the buyer's journey. Your most important leads get a direct connection to a consistent contact, who can speak to their particular needs and context, including communication history that has already happened.
For instance, this chat contains a greeting and introduction but doesn't start the conversation from scratch.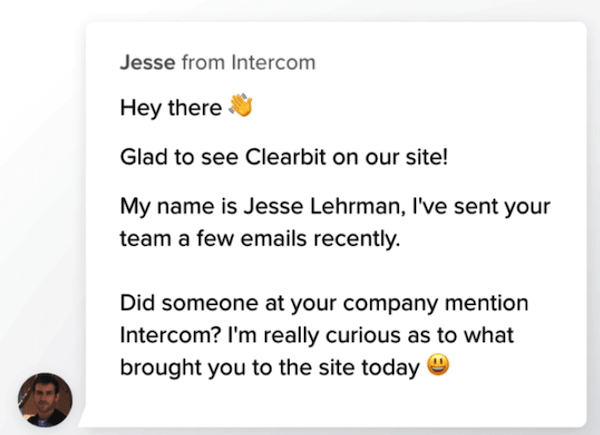 First, the chat is based on recognizing who is visiting — and then with the mention of some emails sent, acknowledges we might already be in active conversation before asking for more context. Even if you haven't incorporated other communication channel data to point out this kind of detail, you can use return visits as another data point to capitalize on a natural sales opportunity: the decision to return to your website gives you more reason to assume a strong interest or purchase intent than mere curiosity.
This is a much more personalized approach that a blanket "How can we help?".
Engage your target audiences in a user-friendly way
ABM approach is built to target high-value prospects — and you know who they are because you've selected the list and its parameters. Sales cycles are slowed down by having to wait until someone from a target account submits a sales form or otherwise provides an email address. Proactive personalized chat not only provides a powerfully targeted booster — it's a great place to start customizing the website experience as spinning up a chat tool may be easier to implement than a website personalization project.
And for your users, it means going through positive, real-time interactions to address their needs in the personalized way they want. Even in our digital-driven world, people want to connect with businesses when that intent and need is present — and not every engagement tool is equally received. Nielsen found that 53% of people would rather engage with businesses via chat rather than through other mediums, like outbound emails or sales calls.
Remember, the performance of your sales team is largely dependent on whether they are talking to the right people at the right time. Throwing every prospect at your sales reps at various levels of qualification hinders their productivity and distracts them from the leads you care about most. Instead, set up your team for success and deliver an exceptional user experience by targeting specific audiences at a critical moment of intent.