Personalized live chat for B2B SaaS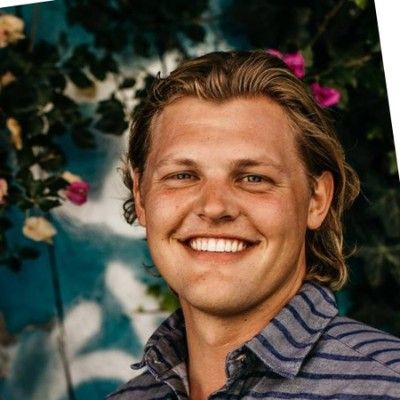 Matt Sornson
June 20, 2018
---
How to give your sales team more at bats with high-value site visitors
Greeters welcome over one million customers per day at Apple Store doors around the world. The first touch is such an important part of the well-oiled Apple Store machine—which makes double the revenue per square foot than any other US retailer—that it inspired AT&T Wireless stores to adopt the practice. In fact, AT&T's research found that they have 10 feet or 10 seconds to greet a customer. After that, experience satisfaction drops off a cliff.
Live chat on your website serves the same purpose: give your customers a friendly, immediate touchpoint and let them ask for what they want so they don't have to fill out a form and wait.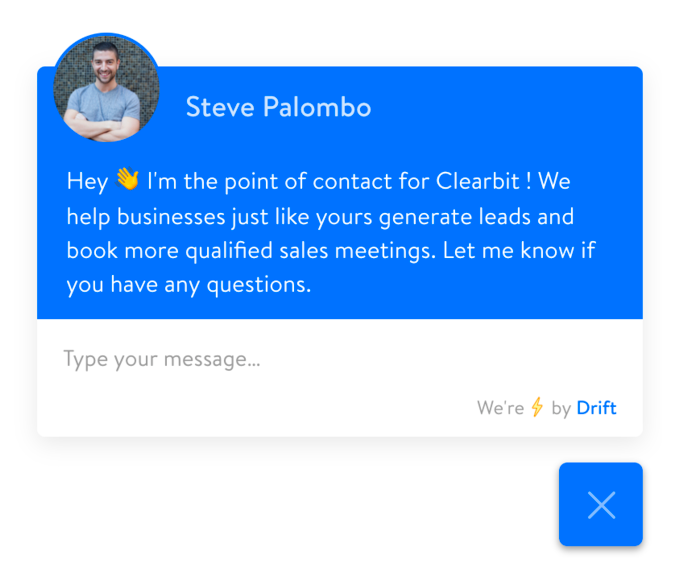 But chat tends to open the floodgates to people from all corners of the internet. You probably don't employ as many sales reps as Apple employs greeters, so your sales team will be spinning their wheels to keep up with conversations, while damaging your brand with poor support for existing customers. We see it often for B2B sales teams. Lead metrics skyrocket, then the VP of Sales sours to the idea of live chat—but they're stuck, because shutting it down would leave high-value prospects on the site with no warm welcome.
This is common for teams that target midsize-to-enterprise companies for their core revenue, but attract lots of site traffic for free products or popular consumer products. Think of Slack, Outreach, or even Clearbit (we have a popular free Gmail add-on).
The solution? Qualify chats so the sales team can tell who is a high-value prospect. Clearbit gives you intel on new chats, starting with Reveal, which looks up anonymous site visitors by IP address. Once Reveal identifies the company they work for, Clearbit pulls in firmographic attributes to help you filter and prioritize.
Let's take a look at how Perfecto Mobile qualifies chat conversations with Clearbit, and how Outreach personalizes chats to make them engaging.
Only chat with high-value prospects
Perfecto Mobile qualifies their chat leads with Clearbit, then sends those conversations to SDRs for immediate attention.
CMO Chris Willis initially decided to implement Drift chat to squeeze more leads out of their existing web traffic, but he didn't want to overload sales reps with noise, because at the time about 70% of Perfecto's website visitors were out of target. Willis says, "With web chat, I feel like the legacy products allow anybody to chat with our SDRs, and that isn't productive for us."
The solution? Qualify chats before letting sales see them—even from anonymous visitors.
Clearbit Reveal looks up the IP address of a Perfecto visitor to identify the company they work for. Once Clearbit has the company name, it offers Perfecto over 45 data points about the company. Perfecto uses the number of employees as a qualifying criterion; if it's in the right range, the chat is qualified and gets routed to a sales rep.
The availability of website chat, along with smart filters, has boosted lead generation significantly. Perfecto started with a 6% visitor-to-lead conversion rate, which was standard for their industry. Within three months of using Drift, that increased to 10%, and after six months the conversion rate was 20%—a threefold increase.
Filtered chat has helped the Perfecto sales team shorten the sales cycle, because they can detect and solve a prospect's problems faster than they can with a lead form. Willis relates one example when an SDR quickly qualified an anonymous Drift chat as a major sports brand. The SDR called the right sales rep during the chat conversation to fill them in, and two days later, the sales rep was standing in the prospect's New York offices.
"It moved much more quickly than we would normally see with a web lead," Willis says, "because it was a conversation that led to an action that led to a meeting. Anything we can do to shrink that time is a win for us."
For Perfecto, filtered chat generates more leads and high-velocity sales conversations, without slowing the team down.
Personalization makes chat greetings more engaging
Another way to optimize website chat is to personalize the greeting and make it more attention-grabbing.
This works even if the website visitor is anonymous. Using Clearbit Reveal, you can greet the visitor with their company name and logo, show the friendly face of their sales rep, automatically share a case study from a peer in their industry, and much more.
Outreach personalizes their welcome messages by inserting the name of the visitor's company.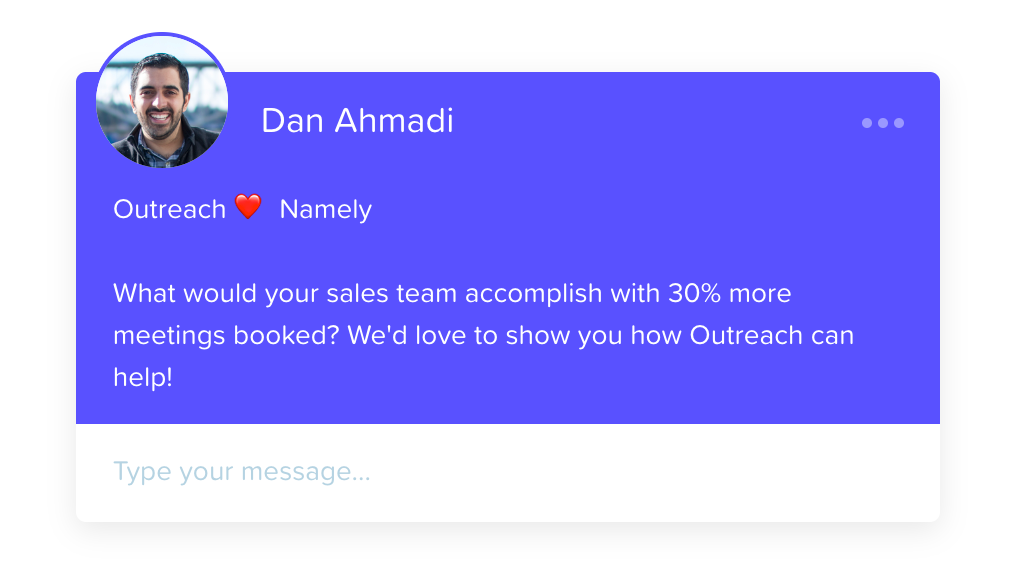 Outreach greets website visitors with a friendly personalized chat.
For example, if Eventbrite visited the Outreach website, they'd see this Drift pop-up saying, "Outreach ❤️Eventbrite."
This personalized chat gets a 3% response rate, says Dan Ahmadi, Director of Demand Gen. "We think that mentioning the company name is what is helping us get at least one additional meeting per day."
When their chats are engaging, Outreach's sales team gets to start a conversation sooner than if they'd just waited for a customer to submit a form.

It's all about increasing the numbers—hiring teams want plenty of job applicants, and casting calls try to attract as many actors as possible. In the same way, B2B sales requires you to invite as many leads as you can, and then get selective. Chat with Clearbit brings more people to your door and helps you filter the ones that'll lead to a sale.
Want to get started with personalized onsite chat? Talk to Clearbit.