What is sales automation? 5 ways to boost revenue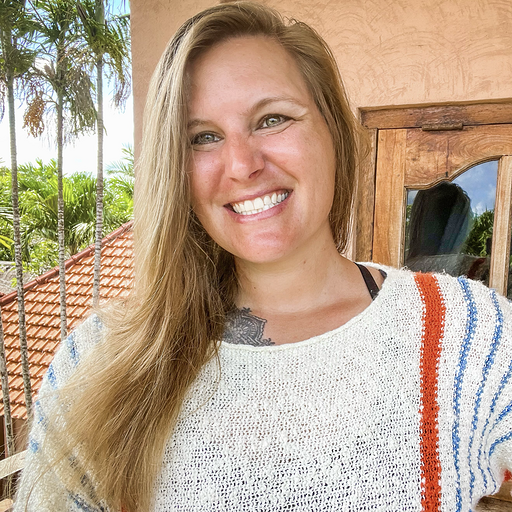 Emily Pick
May 31, 2023
---
As your business grows, you must provide your sales team with tools that'll allow them to handle a higher volume of sales while also forming long-term relationships with customers. Sales automation is a great way to relieve your team of repetitive tasks so they can spend more time converting leads and hitting sales goals.
In this post, we'll guide you through how sales automation functions and the advantages of implementing automation in your sales process.
What is sales automation?
Sales automation refers to using software to organize the sales process, from lead generation to closing a sale. With sales automation, sales teams can increase productivity by reducing the time typically spent completing routine tasks.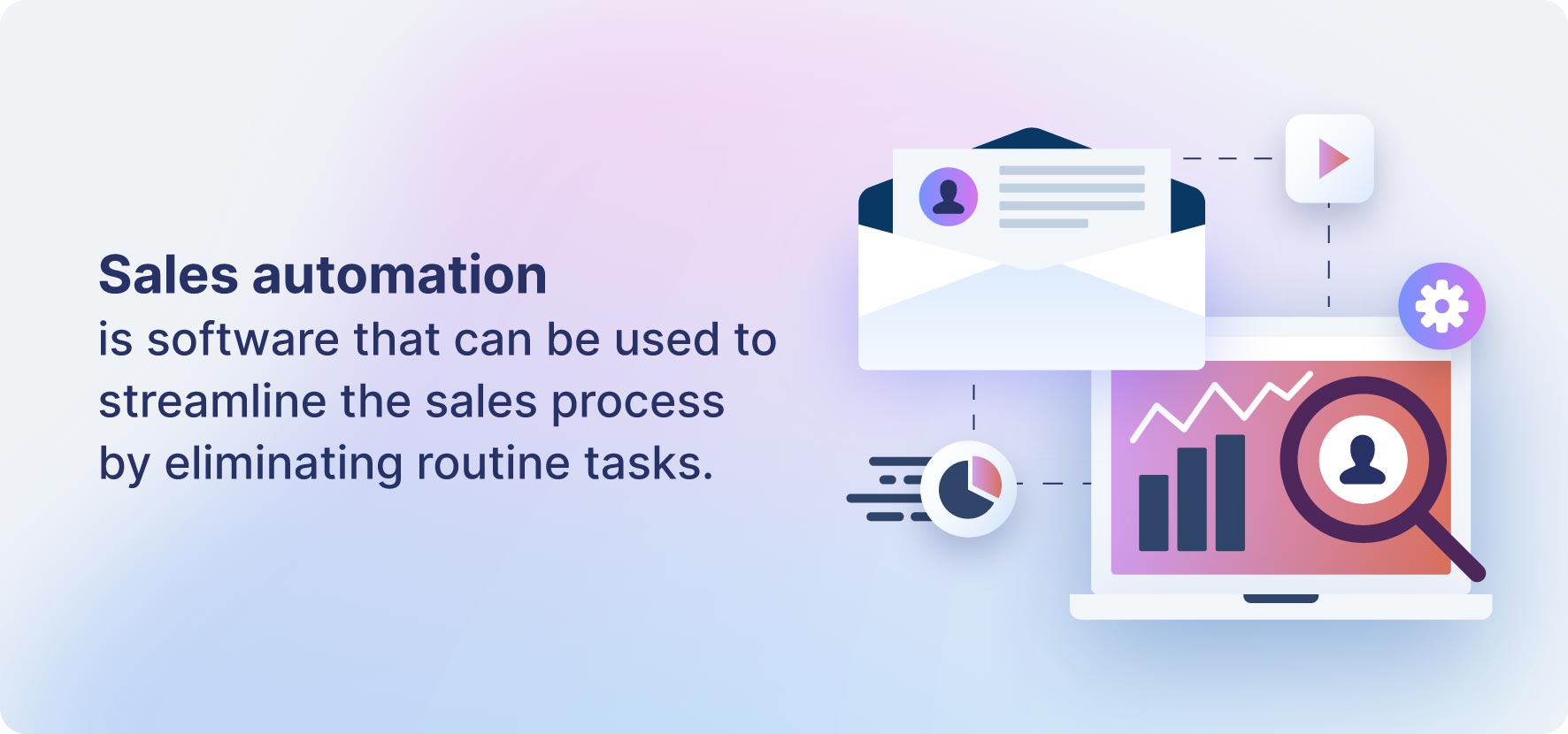 Why do you need a sales automation system?
A sales automation system can be helpful for businesses experiencing growth and needing a way to organize the sales process to help balance their sales teams' workload.
Sales automation software allows businesses to provide a better buyer experience by reducing the time typically spent on routine tasks. Instead, salespeople can spend more time building stronger client relationships.
A sales automation system may also provide tools to track and analyze data on revenue, lead generation, and sales performance.
How does the sales automation process work?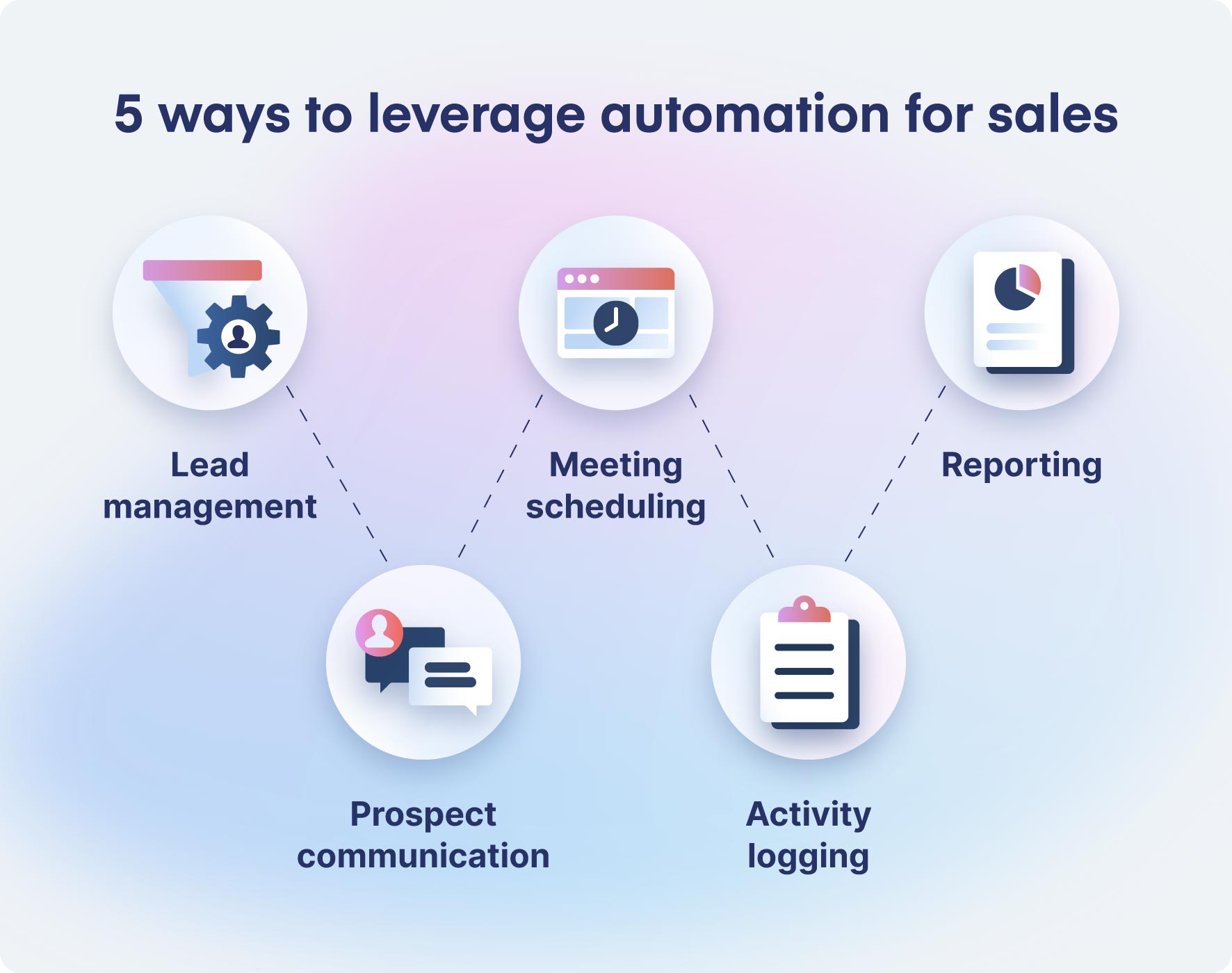 Sales automation software can be used to organize almost every component of the sales process, including the following:
1. Lead management
Sales automation software can be used to collect lead data. It can then be used to prioritize leads that fit better with your target consumer, which can be delegated to certain salespeople who have the best qualifications for closing the sale.
Without sales automation, it would take a lot of time for salespeople to sift through leads and ensure they haven't been contacted before or to find leads that show promise.
HubSpot, Salesforce, and Zendesk are examples of software in this category.
2. Prospect communication
Sales automation systems are incredibly helpful for streamlining communication with clients. Email templates, customer service chat tools, and appointment bookings can all be handled using the software. A sales team has many responsibilities, so eliminating mundane tasks allows team members to spend more time where it's needed, like finding new leads or closing sales.
Drift, Outreach, and Proposify are a few tools that shine with prospect communication.
3. Meeting scheduling
A key part of the sales process is one-on-one meetings with potential clients, but with busy schedules, it's not always easy making these appointments happen.
However, automated scheduling tools can be used to make appointments. The tool knows exactly what the salesperson's calendar looks like, and can provide the prospect with multiple dates and times that might work for both parties.
Calendly, Chili Piper, and Doodle are just a few of the tools that help with meeting scheduling.
4. Activity logging
One of the best benefits of using a sales automation tool is that all lead progress can be tracked. Salespeople can track emails between themselves and a client, appointment bookings, and the stage of the sales process they're in.
Gone are the days of salespeople manually tracking their sales progress—now, software can do it for them. Sales managers can also view team sales progress to track each team member's performance.  
Gong, Pega, and Workato are a few options on the market for activity logging.
5. Reporting
Finally, you can use automated sales software to compile data for managers into one nice little data package.  
With sales automation software, managers can use updated data in reports to provide insights on performance, revenue, and lead conversions. If it's a sales report, automation can reduce the risk of manual input errors and may even be able to provide visualizations like charts and graphs to showcase the data.
Coefficient, Databox, and Pipedrive are platforms that excel with sales reporting.
5 advantages of sales automation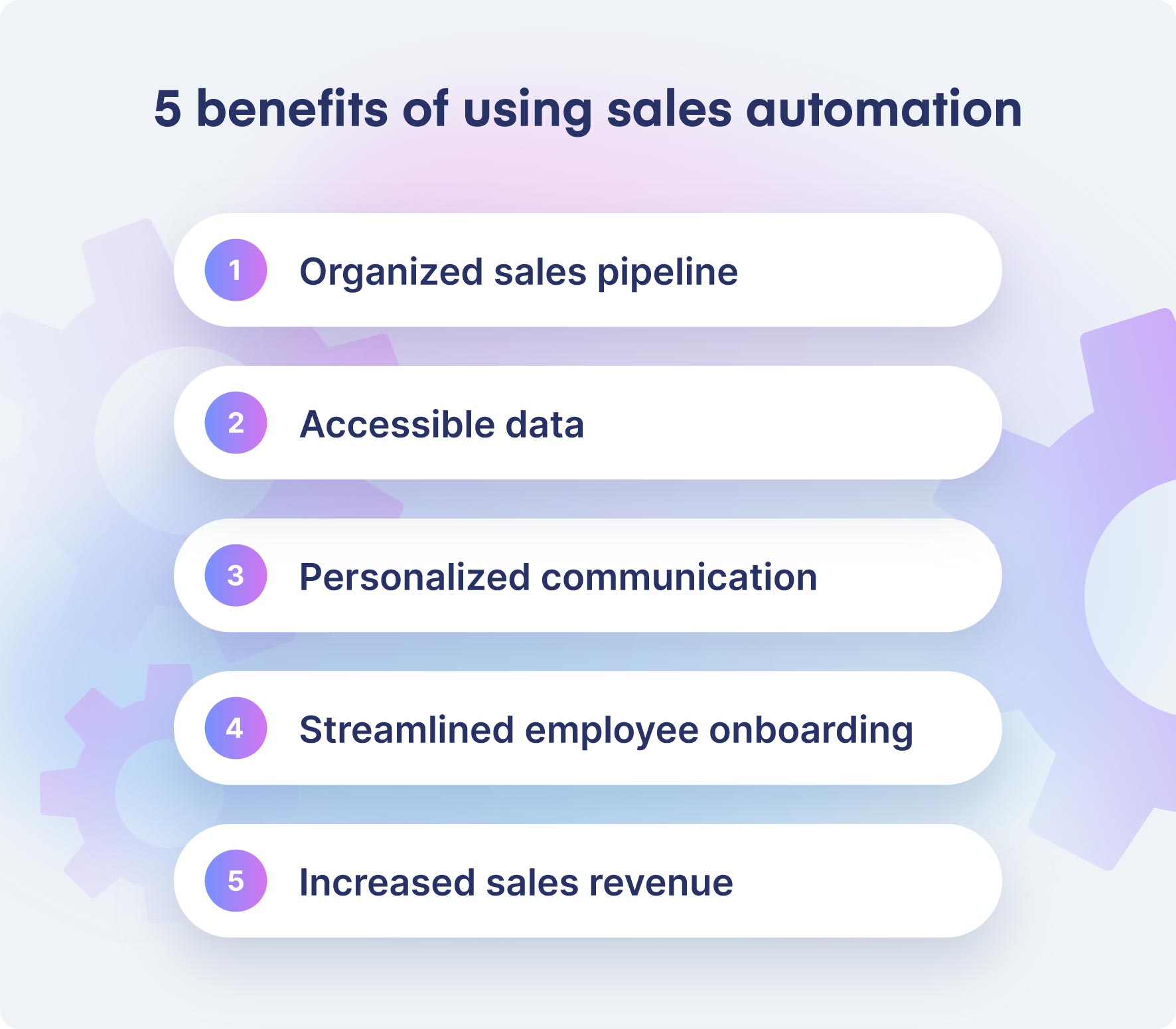 There are many advantages to implementing sales automation software into your sales process. Learn more about the top five benefits below.
1. Organized sales pipeline
With sales automation, you can create an efficient and organized sales process that leans more toward developing client relationships versus completing repetitive tasks. You can cut certain steps in the sales process and close the gap between a potential lead and a closed sale.
2. Accessible data
Sales automation software will allow the entire sales team to access sales data in one place, making it much easier for them to find and analyze current sales data, which can be used to modify the sales process.
Plus, with sales automation, you can decrease the amount of information a sales rep needs to input, and the software can take care of filling out the rest.
3. Personalized communication
Using templates can help keep lead communication consistent across the sales team. When salespeople don't need to create the templates themselves, they have more time to add personal touches to their emails to potential customers.
For example, do some of your sales team members have trouble remembering to send follow-up emails to prospects? With software automation, you can create an email template and schedule follow-ups to be sent on a set time and date.
Sales automation can give team members the time they need to research prospects' backgrounds and gather the information that could help them win a customer over and close a sale.
Without the need to complete routine tasks, your sales team can lean into their people skills and use their time for more client-facing actions, like one-on-one meetings.
4. Streamlined employee onboarding
With an organized sales structure in place, growing your sales team and onboarding new members will be a much smoother process. The majority of what a new salesperson needs to know can be found in the automated sales system, including processes, shareable templates, and prospect contact information.
New employees don't need to spend time creating things from scratch, either—instead, they can spend more time understanding the company's offerings, mission, and outlined goals.
5. Increased sales
Salespeople only have so many hours in the day, and if a chunk of their time is being spent on tasks that can be automated, their productivity suffers.
Automating mundane tasks like activity logging and reporting will allow sales reps to focus on what they do best: building relationships and closing deals. With automation, your sales team may see a higher success rate of closed sales, thereby increasing sales revenue.
FAQ
Below are answers to some commonly asked questions about sales automation.
How do marketing automation and sales automation differ?
Both marketing and sales automation tools are helpful for business growth and productivity. However, there are slight differences between the two software.
Marketing automation is used for running marketing campaigns, whereas sales automation is used to optimize the sales pipeline.
While both marketing and sales automation assist with gathering leads, sales automation is used to close deals, whereas marketing automation is used to create more leads.
However, both marketing and sales automation can use similar resources, such as lead tracking and personalized email communication.
Are there disadvantages to using sales automation?
The biggest risk of using sales automation is over-automation. Automating too many tasks may decrease the personal connection sales representatives can bring to developing prospect relationships.
What gets leads through the sales process is the relationship between the salesperson and the prospect. Potential clients want to feel valued by the company and want their concerns and needs heard and met. If they feel otherwise due to lack of attention, they may look to another company that can provide a customer-first relationship.
To avoid this, only automate what is necessary. For example, sales email templates are great for including certain information you want the client to know. However, manually inputting personal touches in the email will help make it feel more genuine, potentially creating a better connection with the prospect.
Harness the power of Clearbit for sales automation
Sales automation tools can streamline your sales process and support your revenue goals. But sales automation tools are only as good as the data you use to power them. That's why data-driven sales organizations trust Clearbit. With Clearbit as the data foundation of your tech stack, your team will have everything they need to close deals quickly and efficiently.
📢 Learn more about how Clearbit can power your sales automation tools.