How to Build a Competitive Marketing Email Campaign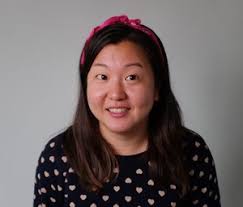 Janet Choi
October 26, 2018
---
Dealing with your competitors by focusing on customers may sound like a paradox — but that's what Zendesk did when they decided to embark on a competitive marketing strategy for the first time.
They knew they had the highest customer satisfaction score in the industry and saw how lost opportunities boomeranged back to Zendesk when they needed to scale. It came down to what's better for the consumer. As former head of growth marketing Brianne Kimmel explains, since their competitive marketing strategy centered on equipping potential customers up front, Zendesk realized they had to "be better communicators ... so that people are informed to make a smart decision sooner rather than later."
One way they executed this strategy was sending outbound emails to new contacts, reaching out to companies searching for a customer service solution or who already had one (not the right one in Zendesk's eyes, of course) — sooner rather than later.
Here's a quick overview of how Zendesk did that, along with some tactics you can use in your own competitive outbound campaigns.
Putting together your competitive outbound campaign
As with any outbound campaign, you have to figure out who you want to talk to and what to say to them. Zendesk chose a data-driven approach over untargeted cold email tactics to send what they called "personalized first touches".
But how do you personalize messages to people you've never met? Zendesk turned to third-party data sources to identify who was using or looking for competing products. Then based on that data, they sent personalized, automated messages.
1. Find target companies
How you determine your list of companies will depend on your criteria for targeting. Zendesk decided to use multiple data sources to build their list, based on indications of readiness to purchase and competitor usage.
For intent data, they relied on:
Real-time search data: G2Crowd provides businesses searching for solutions in the Zendesk category and their page visit frequency.
Intent data: Bombora delivers an intent score based on who's in active research mode for customer support software or reading about topics relevant to Zendesk, such as "customer experience" and "customer relationships."
Here's a snapshot from a Bombora search a few months ago for which companies have been looking for marketing automation.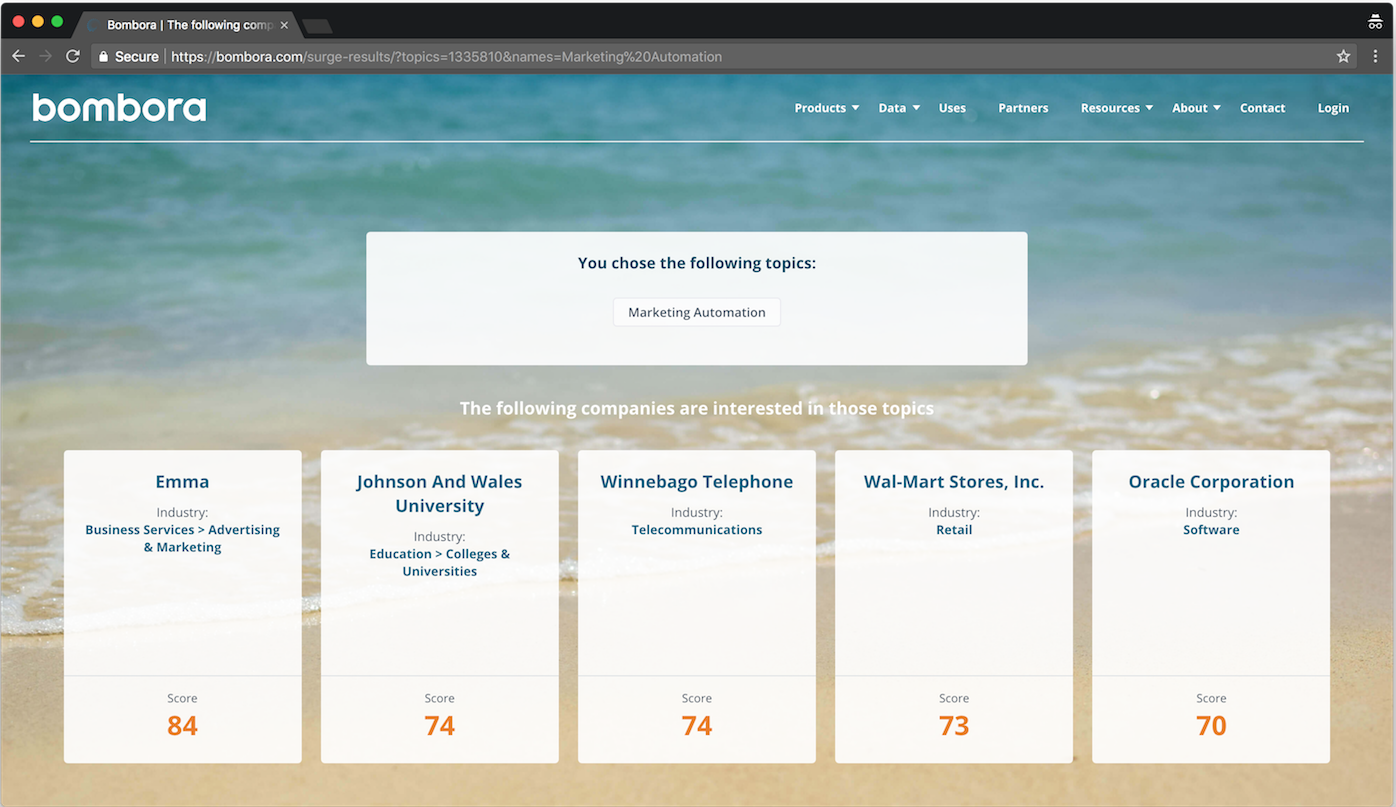 Brianne and the team also looked at a third data source to identify companies using competitors.
For instance, with Clearbit enrichment, you can see who's using competitors based on tech tags, which give you a glimpse into companies' tech stacks. Check out the tech tools detected for Evernote: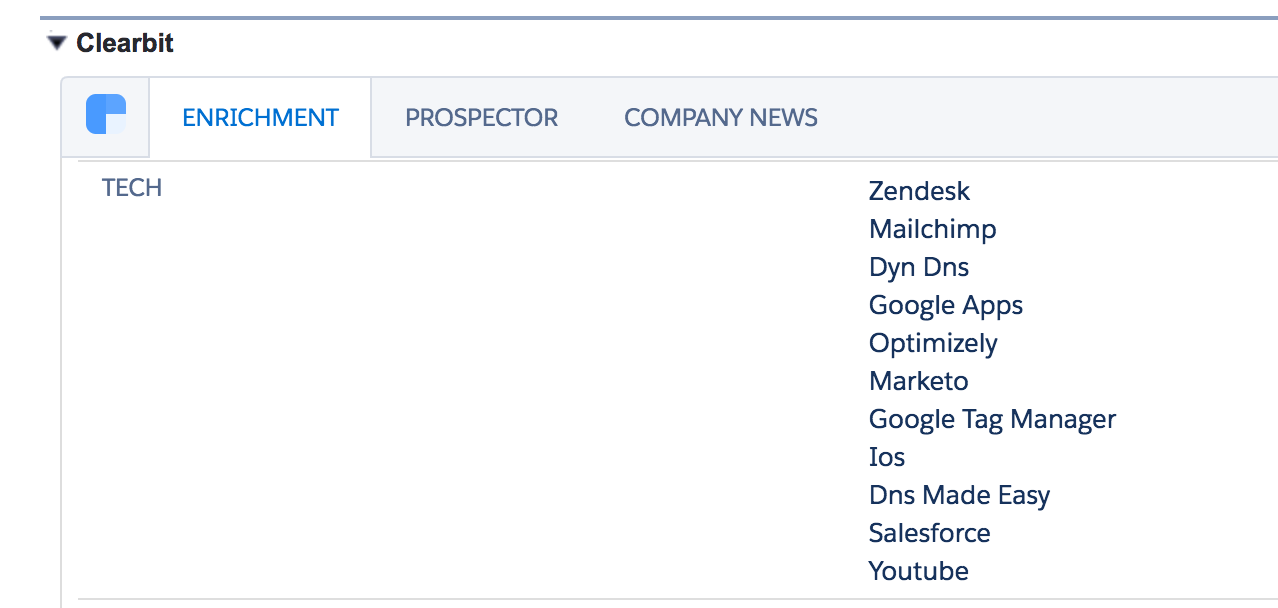 So say you're building a marketing automation product and your competition includes HubSpot, Marketo, Pardot, and Eloqua. Since it looks like Evernote is using Marketo, you can add them to the competitive audience list for your outreach campaign.
2. Find relevant contacts at those companies
Now that you've gathered your target companies, the next step is to identify relevant contacts within them with research or data enrichment. Here's Brianne on how Zendesk finds the right people: "We pass data to Clearbit for enrichment so we can identify multiple decision-makers within the target company for a multi-touch entry strategy."
While there are ultimate decision-makers on a purchase, you may want to cast a wider net to decision-influencers to distribute awareness and try to build enthusiasm on multiple levels. For our marketing automation product example, we'd take our company list and look for relevant people on the marketing team.

3. Reach out with tailored emails
Once Zendesk has their list of target recipients at target companies, they enrich those contacts with contextual data to help personalize first-touch emails. They created email templates with custom fields and plugged in personalized snippets based on that data.
They used:
tech tag data to talk about what the company was already using
industry data to show logos and relevant success stories from lookalike companies
company size to provide different calls-to-action depending on their customer tier. "The CTA for self-serve might offer an on-demand demo or free trial, whereas a sales-assisted customer gets a Calendly link to schedule a meeting with sales," describes Brianne.
You may not want to bring up the competition in your message. The recipient already knows what they're using or looking for — and you can spend that email real-estate to put the spotlight on your product's benefits and value.
Depending on your marketing and sales strategy, you can use any number of data points. For instance, you can personalize your email copy based on position. In our marketing automation example, the company could send messages along three tracks, tailored to seniority:
VPs and Directors would hear about how the product can increase ROI
Managers would learn about improved analytics and integrations
Assistants would be sent information about specific features
Each segment could get a case study relevant to both their industry and their role, as well as a customized CTA.
Bonus: consider the integrations
Your B2B product doesn't live in a vacuum. For certain categories, integrations with other tools in the companies tech stack is key. We can turn again to tech tags to find opportunity, looking for the intersection between your product's competitive integrations and a prospect's stack.
Let's take Wistia, for example. It's a video platform built specifically to help marketers host videos and learn about the viewers, so they have integrations with all the major marketing automation platforms. Meanwhile, Youtube isn't built to collect marketing information. It also doesn't have integrations with Pardot and requires extensive coding to get right with Marketo.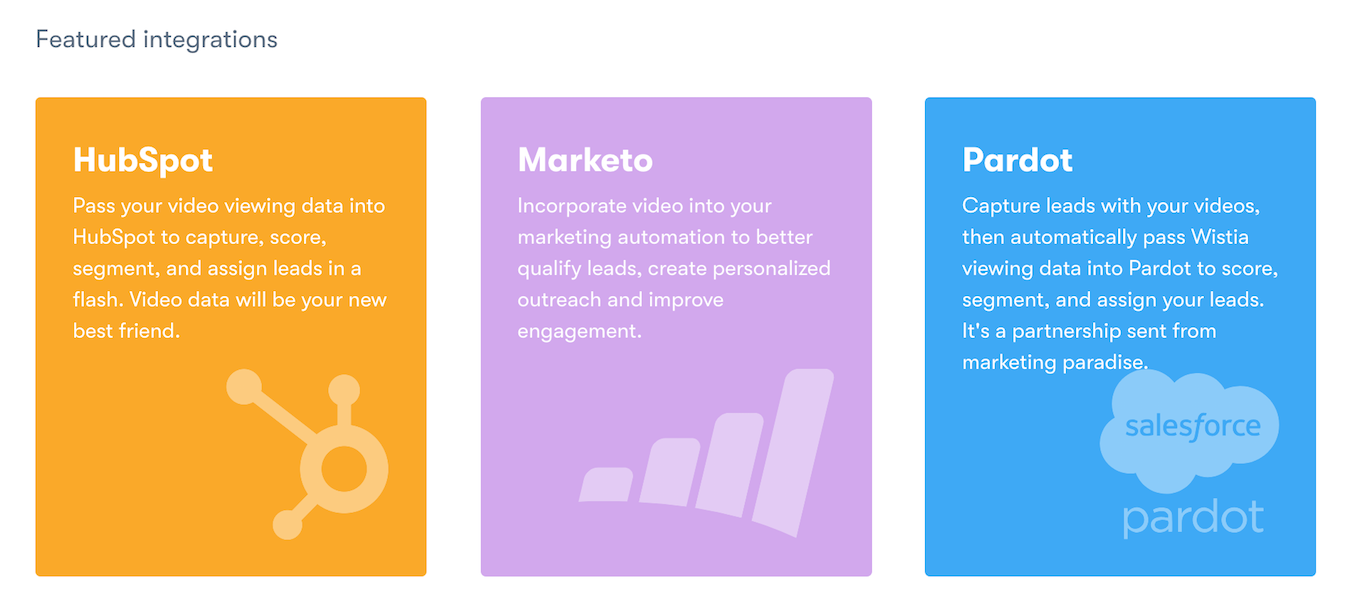 If Wistia runs a competitive analysis, they'll will see a company like Evernote using Youtube for video hosting. Wistia integrates better with their tech stack and can communicate how they offer more value than Youtube can. They should be top of the list for a Wistia competitive marketing strategy.
*
Competitive marketing doesn't have to mean going toe-to-toe with your enemies. Serving the customer in a world of competitors can be clarifying. If you can show people why you are better, you can win them over.
Personalization is key because personalization forces you to study and acknowledge your recipients' real needs and existing tech stack.
— Brianne Kimmel
And you do this the way you win any prospect over. You personalize your message to their pain points and show how you are solving their problem. Whether they are using a competitor or not, this understanding is at the core of any marketing.
---
Dive deeper into Zendesk's competitive marketing strategy, including other campaigns and goal-setting, in the ninth chapter of our free e-book, Data-Driven Marketing.