How to do intent-based prospecting with Clearbit
---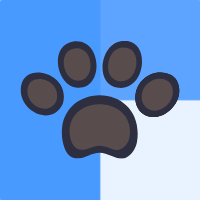 How Clearbit Uses Clearbit: This series shares how we use Clearbit products for acquisition, conversion, and operations.
As an Account Management Lead at Clearbit, I'm responsible for the success of over 200 accounts, composed of existing and new customers. With hundreds of accounts and a limited number of hours in the workday, I needed a way to prioritize my time and efforts.
Enter intent-based prospecting.
What is intent-based prospecting, and why does it matter?
First, let's define intent. Intent is a hot topic in the sales and marketing world and has many meanings. At Clearbit, we define intent as prospect or customer engagement with your website.
Intent-based prospecting is a strategy that helps you prioritize your time by crafting outreach to accounts showing engagement. With limited time in the day, you need to focus on the conversations and buyers that are most likely to generate revenue.
Would you rather try to start a conversation with someone who has never heard of your brand or talk to someone who visited your pricing page 5 minutes ago, but hasn't filled out a form? Identifying the right person at the right time with the right message is the trifecta for successful personalized outreach.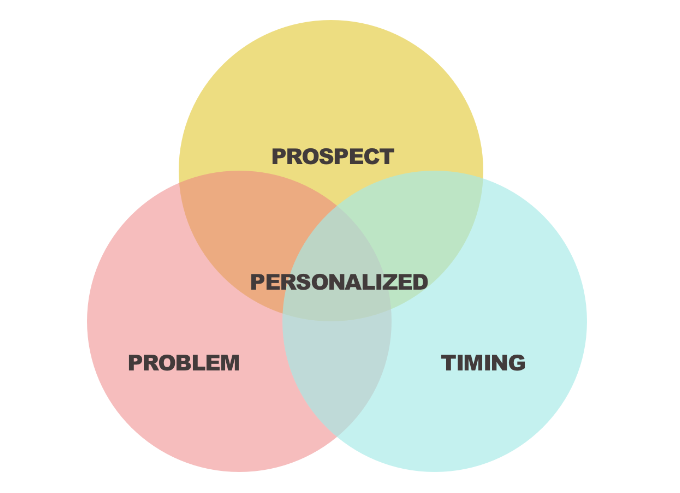 When prospects and customers visit your website (i.e., show intent), that information can be leveraged to provide tailored outreach messaging. I work with a lot of BDR and SDR managers who want to feed their reps warm prospects but aren't sure where to start. Historically, most companies start by targeting their Ideal Customer Profile (ICP). While this approach narrows the universe, targeting only cold accounts doesn't allow for truly personalized outreach, usually missing both the identification of a problem and relevant timing. For account executives and customer success professionals like myself, intent-based prospecting helps narrow account lists to focus on the highest-value opportunities.
What types of companies should do intent-based prospecting?
Do you want to craft personalized outreach that generates more revenue? If so, intent-based prospecting is for you.
Intent-based prospecting works extremely well for companies with a high volume of website traffic since they likely already have robust inbound workflows in place. Companies with lower website traffic will also benefit from intent-based prospecting because it enables them to find accounts that may not have filled out a form, thus expanding their audience.
Intent-based prospecting is also great for product-led growth (PLG) companies. By understanding engagement on your website, you can help reps prioritize their time, which is especially important for PLG companies that often have smaller sales teams.
Step-by-step guide for implementing intent-based prospecting
Now that we know how intent-based prospecting can help you prioritize your outreach efforts, let's talk about how exactly to implement an intent-based prospecting strategy in 6 steps.
1. Get the right tools to identify companies showing intent. Our Data Activation Platform combines firmographic and technographic data with website intent data to provide you with customized, real-time insights. Or, you can try this experience through our Weekly Visitor Report (one of our many free tools) that sends you a weekly update of companies on your website.
2. Add the Clearbit JS snippet to your website. This snippet captures IP addresses and our technology then converts that information into a company profile.
3. Connect your Clearbit account to other tools in your stack like Salesforce, HubSpot, and more. This enables you to utilize data from all your systems to segment website visitors and deliver a personalized buying experience.
4. Create audiences. With the Clearbit Data Activation Platform, you can use your Clearbit data plus data from other sources like your CRM or CDP to filter website visitors based on different criteria. For example, you can create an audience that targets companies with more than 100 employees in the internet software space that have visited your website more than 3 times this week.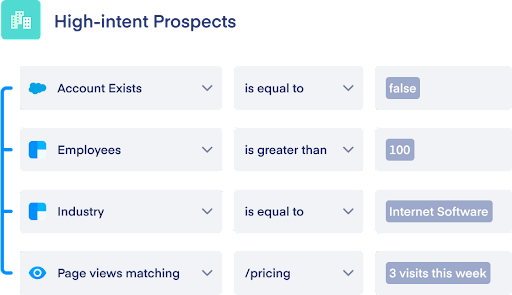 5. Set up alerts. Through the Clearbit Data Activation Platform, you can customize alerts that work best for you. When a prospect or customer meets your above audience criteria and lands on the site, you can push daily and real-time alerts through email, Slack, Salesforce, or webhook. I rely on daily email alerts to structure my day. Every day I log onto my email, get a list of prioritized accounts, and start crafting outreach. I also use real-time Slack alerts to make changes to my outreach on the go.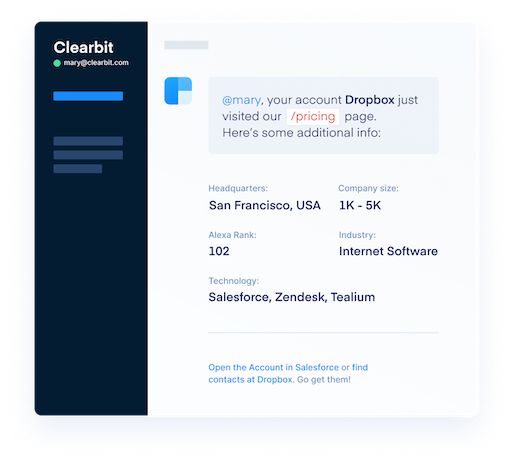 6. Craft personalized outreach. Using the intent information provided in the alerts, you can customize your outreach messaging. For example, if a company visited an ads solutions page, you can follow up with relevant content and additional resources on how customers use your ads product today.
How to use intent-based prospecting
Depending on your function or business area, there are many different ways you can use intent for prospecting. I've seen successful sales and customer success leaders use intent-based prospecting for:
New business: By identifying when new accounts are visiting the site, you can reach out with custom messages. I suggest creating sequences in a tool like Outreach.io that you can quickly access to capture intent in the moment.

Upsells: When a customer visits your website, have a templated email ready to send to your contact at that account. This is a good opportunity to offer relevant resources. I utilize real-time alerts to identify when a current customer is visiting specific pages on the website.

Renewals: In an economic downturn, identifying renewal opportunities is more important than ever. With intent-based prospecting, you can easily identify customers who haven't engaged in a long time. I also use intent-based prospecting to understand which of my customers may be trying to break up with me. I look at uninstall pages to better understand when we may be losing a customer and how to triage the situation.

Re-engaging close lost or churned customers: Using intent data is a great way to proactively start a conversation with a past opportunity. Identifying accounts re-engaging with your brand gives you an opportunity to reach out with a timely and relevant message.  

Identifying the size of a buying committee: During a sales cycle, you may be speaking with only one contact at an account. With intent-based prospecting you can understand how many people from an account are visiting your website, giving you a better idea of the true size of the buying committee.
Intent-based prospecting serves many purposes, but most importantly, it helps you drive more personalized outreach, and ultimately, revenue.
If you'd like to learn more about how we can help you on your intent-based prospecting journey, let us know here.