How to create an ideal customer profile for B2B leads (+templates)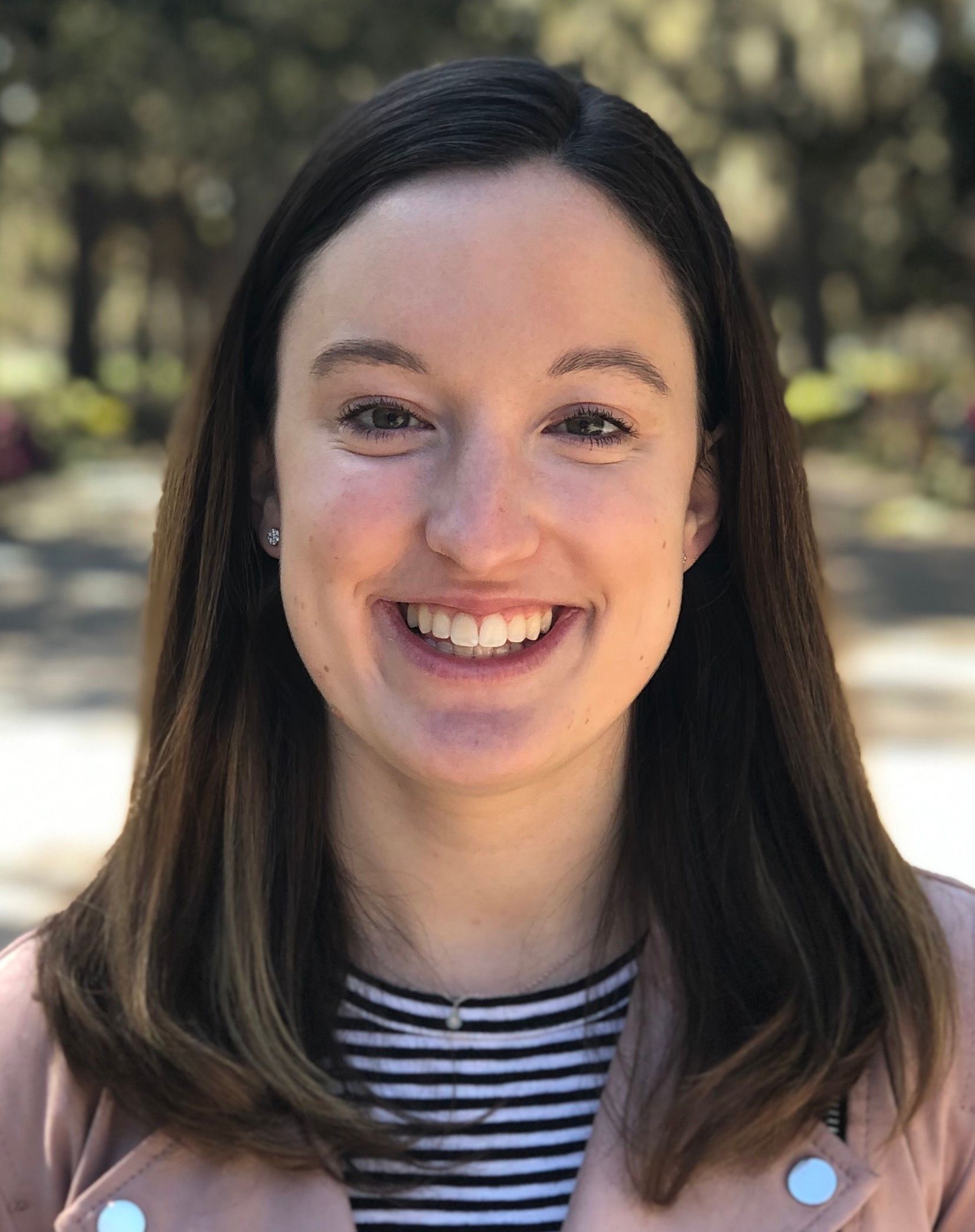 Jess Cody
March 10, 2023
---
The more personalized your company's outreach efforts, the more effective they will be—and to achieve that, you need an ideal customer profile.
An ideal customer profile (ICP) is a bio or snapshot of a company that would be a perfect fit for your product or service. This profile has variables, such as industry, business model, and company size, that combine to form a guiding basis for outreach efforts. But how do you create that profile? Without the right steps, it can be hard to develop an accurate and effective ICP.
That's where we come in.
In this article, we highlight everything ICP—from how you can create one to a collection of ideal customer profile templates you can use for your business. Learn how to optimize your outreach efforts and why advanced personalization is so important.
What is an ideal customer profile?
An ideal customer profile is a description of a company that's a perfect fit for your product or service. In other words, it's a snapshot of what the ideal company would look like—and therefore, realize the most value—for your offering.
Effective ICPs include both firmographic and technographic data that shed light on the core attributes of the potential buyer, such as:
Industry
Location
Company size
Business model (B2B, B2C, etc.)
Pain points
Technologies used
All of this information, as well as any other relevant characteristics, come together to form a profile from which your business can optimize outreach efforts and target the right prospects.
For example, a basic ideal customer profile could look like:
"B2B SaaS companies that use HubSpot, have over 100 employees, and have at least $50 million in funding."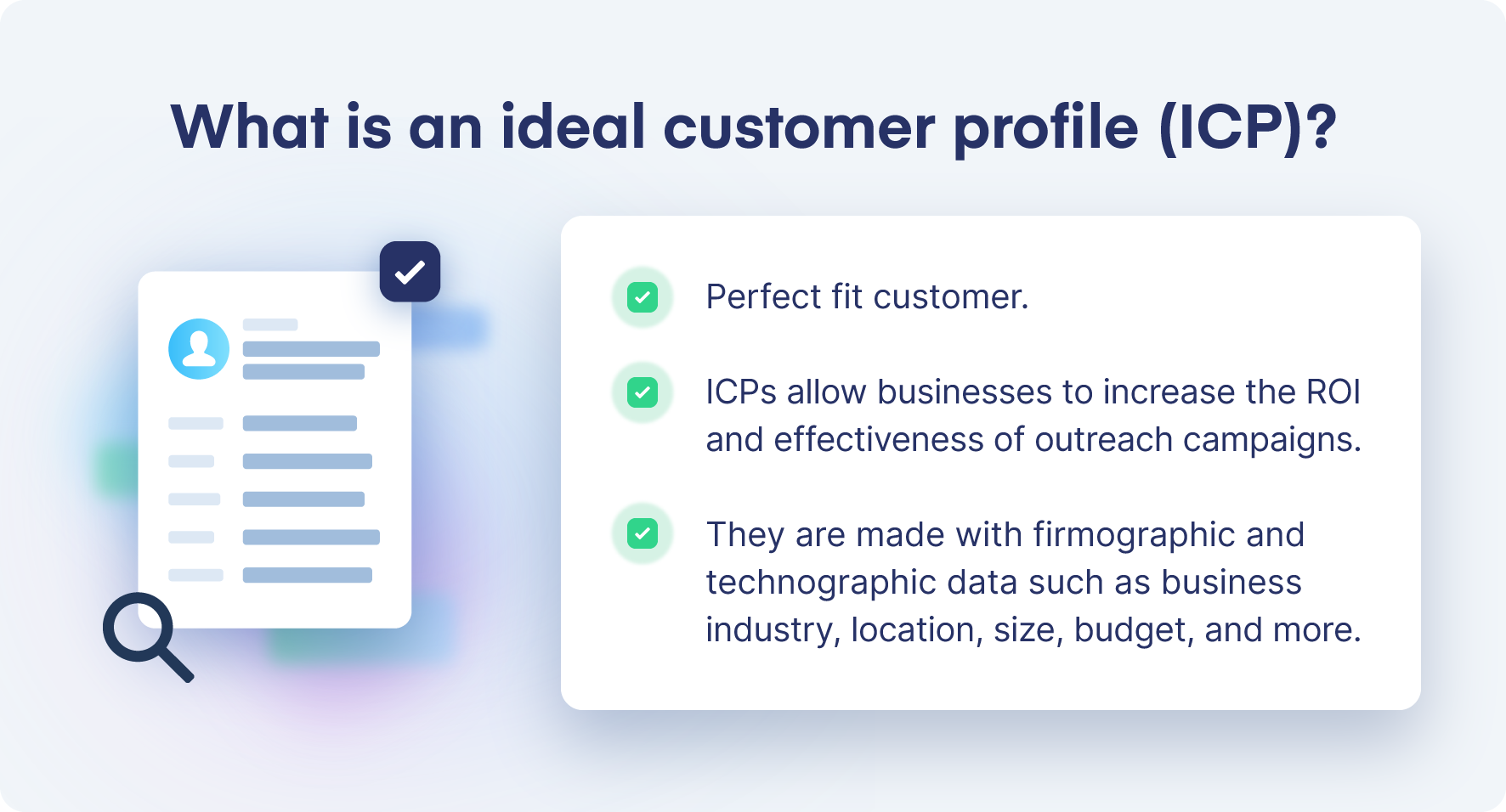 Why is an ideal customer profile important?
Ideal customer profiles are important because they represent the best prospects for your business to target, thereby increasing the ROI and effectiveness of outreach campaigns.
If a business doesn't establish an ICP, it will be performing outreach to prospects that may have no need for its product or service. Advertising budget will be wasted on prospects that never had any chance of converting. Not to mention, a missing or incorrect ICP can cause confusion between the marketing, sales, and customer success teams as to what constitutes an ideal prospect.
Comprehensive ICPs, however, act as a beacon for successful outreach efforts. Not only can a business target prospects that are more likely to convert, but it can personalize outreach efforts to optimize messaging and effectiveness.
Considering nearly three in four consumers expect some form of personalization, developing an effective ICP can be just as important for personalized marketing efforts as it is for reaching out to the right prospects.
The more personalized the outreach, the better—and your business can achieve this with an effective ICP.

What is the difference between a buyer persona and an ICP?
Ideal customer profiles and buyer personas are related terms, but differ in one key area: ICPs represent the businesses that are the best fit for your product or service, while buyer personas represent the people—or, the decision-makers—inside those businesses.
In fact, when narrowing down your effective prospect base, ICPs fall in the middle of three important marketing terms: total addressable market, ideal customer profiles, and buyer personas.
Total addressable market (TAM): TAM is the total revenue potential for your product or service, and is expressed as a best-case scenario estimate. This figure encapsulates every business or prospect that could buy from your company, without digging into potential fit or business needs.
Ideal customer profile (ICP): ICPs represent the best companies or customers to target that would generate repeatable, scalable business. These profiles include industry, company size, business model, and more.
Buyer persona: Buyer personas represent the people who are behind B2B buying decisions. This profile should have the same properties as an ICP, but identify the unique pain points, motivations, and other relevant characteristics of the individuals who are making B2B purchasing decisions.
5 steps to create an ideal customer profile for your B2B business
Now that we have detailed what an ICP is and why it's important for your business, we will cover five steps to establish an ICP for your organization. This information comes from our recent eBook with HubSpot, How to Scale Your Business with Your Ideal Customer in Mind.
1. Build the data foundation
Without a strong data foundation, your ICP will be flawed at best and useless at worst.
Whether it be a CRM software, CDP software, or anything else your business uses, establish your main source of truth with as much accurate and updated data as possible. Make special note to have complete firmographic and technographic data for the accounts in your database, such as where they work, how large or small the company is, industry, and any other relevant factors.
Building and enriching prospect data will set you up for success throughout this process.
2. Define success criteria
What does success look like for your business?
Establishing clear goals and objectives will guide your organization to develop an accurate ICP. For example, if an important goal of your business is customer retention, it would be wise to focus on companies and prospects that have a high lifetime value. Or, if revenue growth is a priority, you may want to focus on companies with a high annual contract value (ACV).
This step looks different for every business, so it's important to establish your specific priorities before proceeding.
3. Identify your best-fit customers
Using the success criteria you have just established, look at previous or current customers that fit these criteria.
What industry are they in? How large is the company both in employees and revenue? What systems do they use? What are their buying habits? The more specific you can be, the better—and it may be wise to consult with your sales, marketing, or customer support teams to get a holistic view of what metrics are most important.
4. Conduct your analysis
At this point, you have defined your success criteria and gathered data on your best-fit customers—now it's time to look at commonalities.
Factoring in both firmographic and technographic traits such as industry, company size, geographic location, and other relevant factors, analyze what these best-fit customers all have in common. You may start to see, for example, that most best-fit customers matching your criteria all use HubSpot CRM, are located in the United States, and have between 250 and 500 employees.
Take note of any patterns that are uncovered during analysis.
5. Outline your ICP
Based on the data you revealed in your analysis of best-fit customers, create a silhouette of your ICP.
The ICP you create is not set in stone, so don't get too narrow in your definition. Moving forward, you may find that you need to tweak or repeat your ICP process or that you need to create multiple ICPs for your business.
A basic example of an ICP may look something like this:
Industry type: B2B, SaaS
Employee count: 500–1,000
Technology: Uses Salesforce, HubSpot, and Segment
Funding: $10mm+
Ideal customer profile templates
To make the ICP process a bit easier, we have provided two different templates you can use to build your strategy.
ICP scoring template
This ICP template can be used as a scoring system when evaluating best-fit customers and conducting analyses. Use it to determine commonalities between customers to better aid in developing an ICP.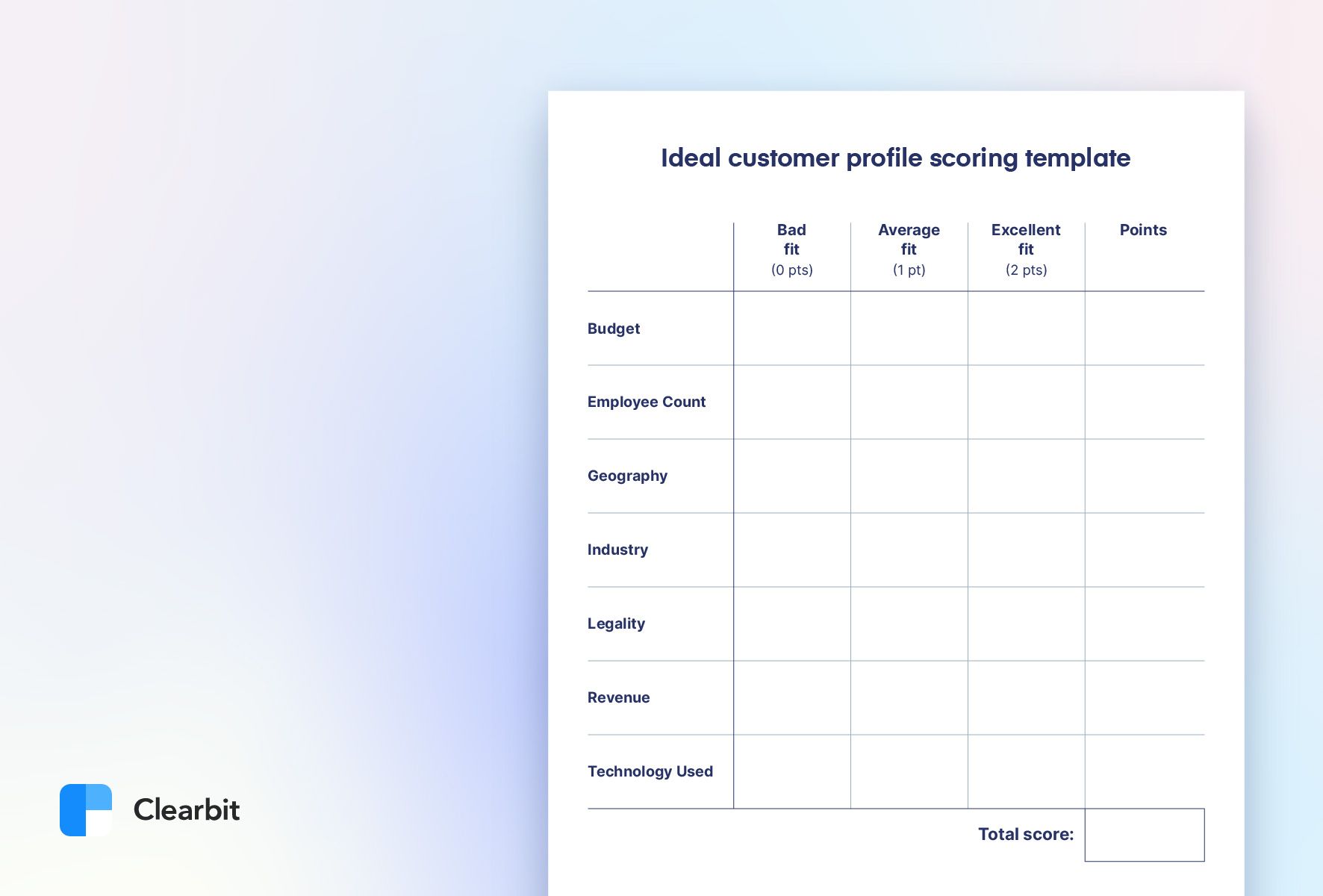 ICP bio template
This ICP template can be used as a general outline for the ICP you have determined from step five above. Use it as a road map for further ideal customer profile outreach and generation.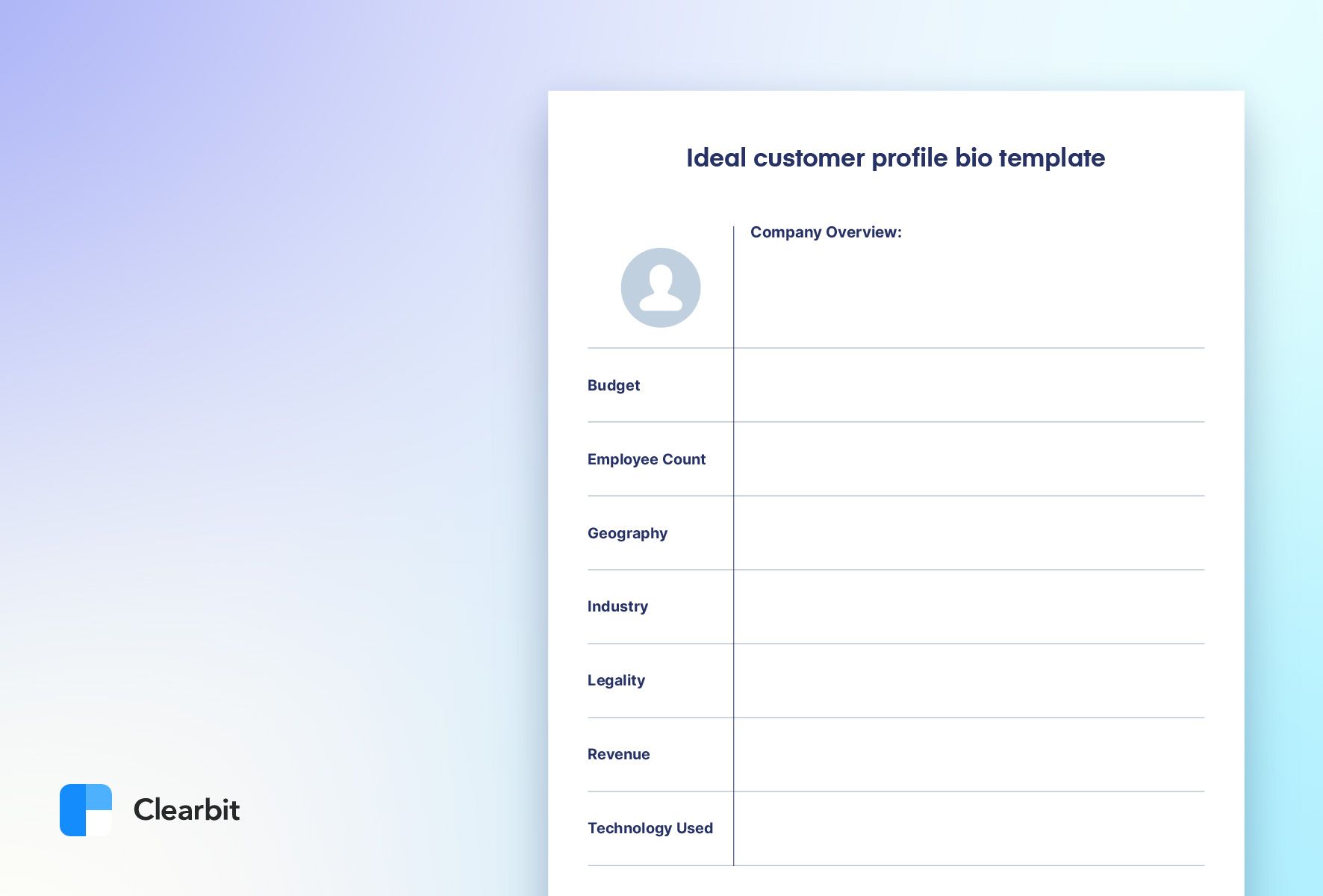 Ideal customer profile FAQ
To wrap up, here are answers to a few commonly asked questions about ideal customer profiles.
What is consumer profiling?
Consumer profiling is the act of identifying the demographics, buying patterns, pain points, and other relevant factors of the people who are most likely to benefit from your product or service. This consumer profile is similar to a buyer persona, and could even be the same depending on the relevant factors for your business.
How do you create an ideal customer profile?
Creating an ideal customer profile can be done in the five steps we outlined above:
Build your data foundation
Define your success criteria
Identify your best-fit customers
Conduct your analysis
Outline your final ICP
What is an example of an ideal customer?
For a business, this is a bio or snapshot of the perfect customer based on firmographic and technographic data. An example may look like this:
Industry type: B2B, SaaS
Employee count: Under 500
Technology: Uses Salesforce, HubSpot, and Segment
Funding: Under $1mm

Clearbit can aid in ICP generation
ICPs are profiles of ideal customers for your business based on a number of crucial data points. Establishing an ICP is important because it leads to better personalization and utilization of resources, and ensures interdepartmental alignment.
That said, it can be difficult to establish an ICP without the proper data foundation. Following our steps above and using our ideal customer profile templates will be helpful, but the basis from which you start your ICP journey is in the data.
At Clearbit, we can aid in data enrichment as well as a host of other processes to ensure you are reaching out to the right prospects at the right time.