Growth experiment #1: Does social proof work?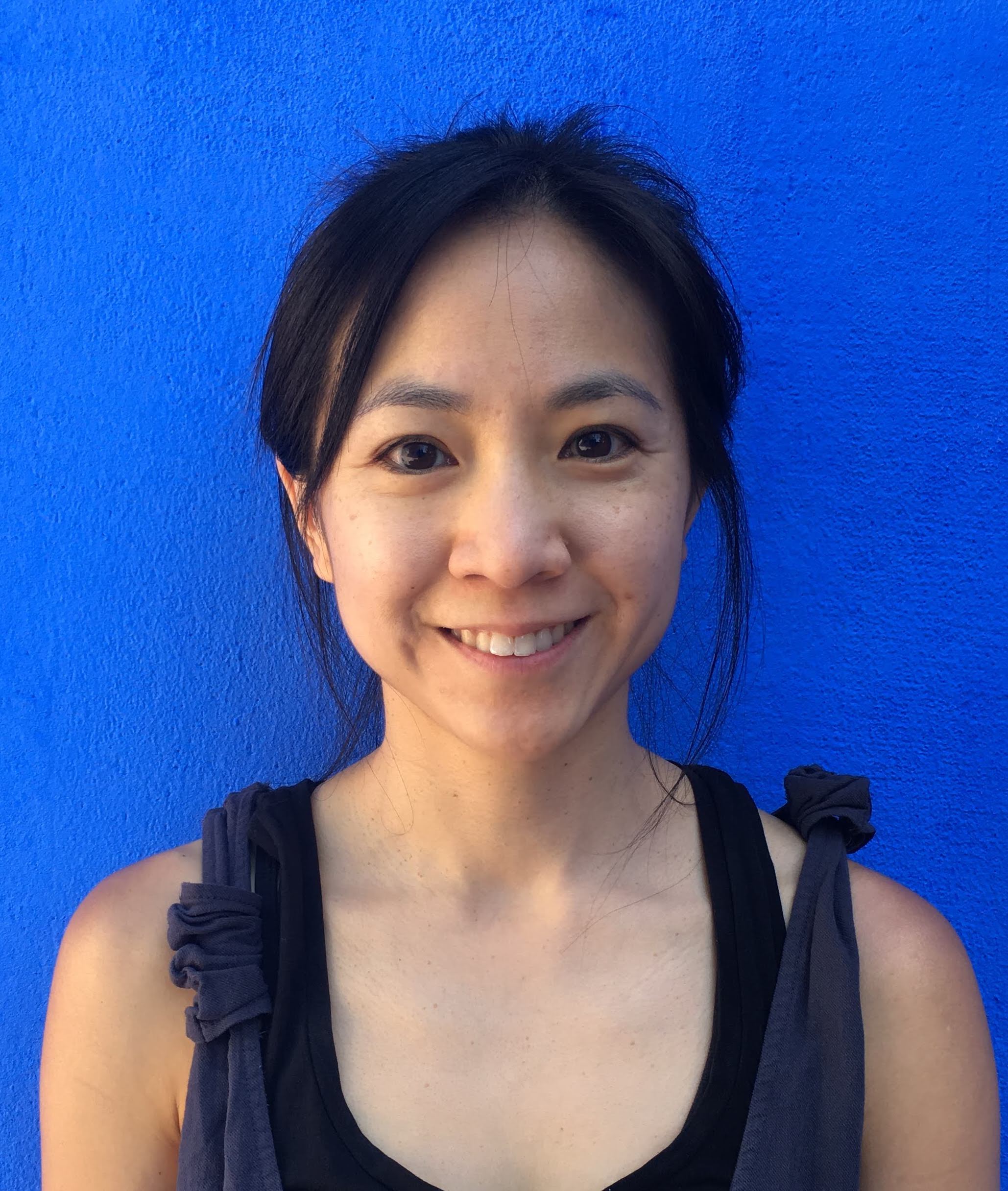 Sara Yin
July 15, 2020
---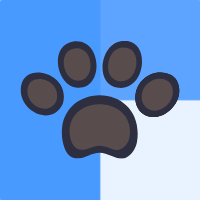 Clearbit Growth Experiments: This series shares the process and results of our growth experiments — the good, the bad, and the ugly.
As social creatures, we're influenced by what other people do – at least that's what conventional marketing wisdom tells us.
According to Robert Cialdini, the godfather of advertising influence, "We view a behavior as more correct in a given situation to the degree that we see others performing it." We're more willing to try (or buy) something new if we see social proof – even more so if that social proof comes from people or companies that "look" like us.
In a B2B setting, "lookalikes" typically mirror firmographics such as industry, vertical, and company size. If I work at a mid-size cybersecurity company and I'm looking for a new cloud computing platform, I'd want to know what vendors the McAfee's and Raytheon's of the world use, not the P&G's and Tesla's.
But conventional wisdom isn't always right, so we wanted to test whether "lookalike" social proof really works. Our growth engineering team decided to test this hypothesis on the footer across the marketing site, which houses our demo request form.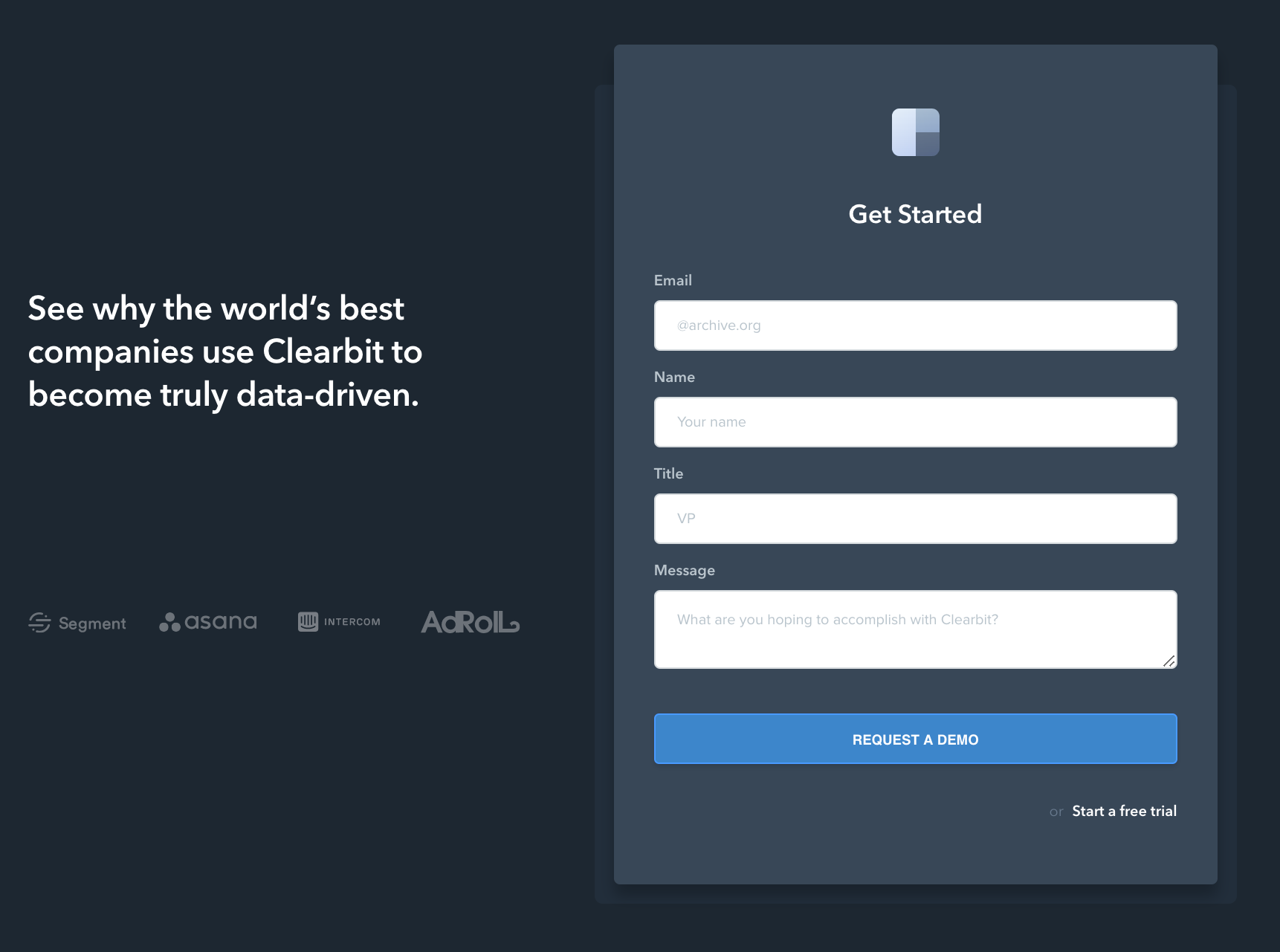 Our standard old website footer with logos from Segment, Asana, Intercom, AdRoll
As you can see, we previously posted four name-brand logos by the form and called it a day. But then we wondered, what if we could dynamically show recognizable logos with similar attributes to a site visitor's company? Are they more likely to convert?
To be honest we weren't expecting much of an impact — a minimal lift — but we were wrong...
Hypothesis
Our hypothesis: if we show personalized social proof, a prospect is more likely to convert on our demo request form.
These demo requests come in via a dynamic form in the footer across clearbit.com. We'll use Clearbit Reveal to identify companies visiting our site and then dynamically serve them customer logos and quotes from a similar type of business.
Naturally, our key performance metric is the number of visitors who submit this demo request form.
To help prioritize experiments, the growth engineers always predict effort and outcome. In this case, we expected this to be a low-effort task that would yield a minimal (< 10%) lift in conversions.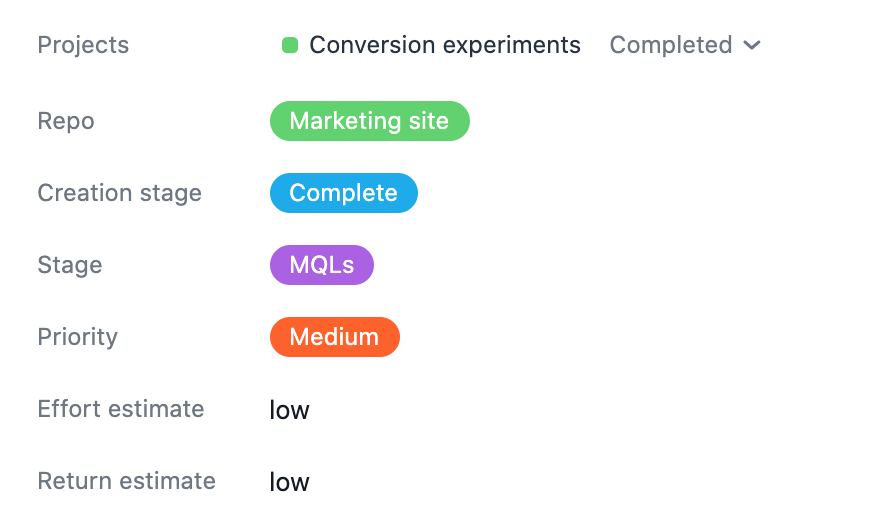 conversion experiment cards live in Asana
Growth experiment process
First, we worked with Sales to identify and confirm five ideal customer segments: funded SaaS startup, enterprise B2B, high-growth B2B, open source, and B2B media companies.
Next, conversion designer Ethan Hackett mocked up a template for the footers. We wanted a band of 4 logos and a quote for each. We received approved logos first, so in the spirit of maximizing learnings, we decided to ship with what we had already — first using 4 sets of personalized logos and 1 static quote.
Then, after identifying our most recognizable customers in these segments, we worked to collect their testimonials. Unexpectedly, this step took the longest: turns out it can take a really long time to secure customer approval! (If you're from a company that already has a vault of approved customer stories, this won't be an issue.)
We used Clearbit Reveal to de-anonymize website visitors and serve up a footer personalized with relevant logos.
For example, here's what you'd see if you fell in our SaaS versus B2B enterprise segments: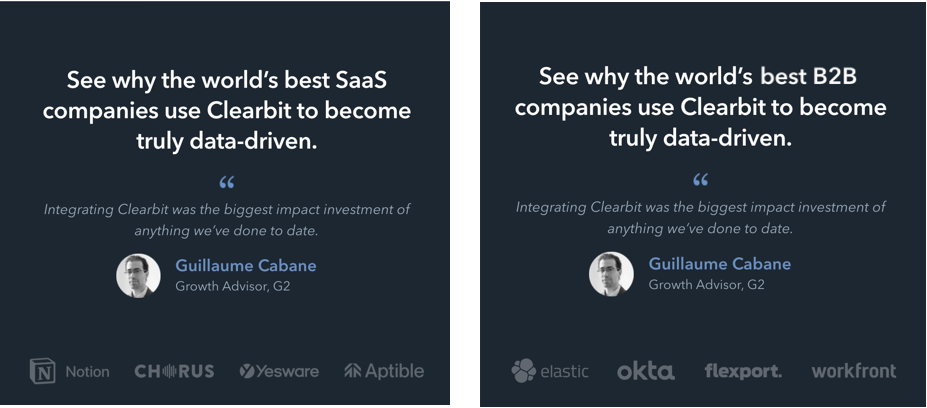 left: footer with logos for funded SaaS companies; right: footer with logos for enterprise B2B companies
Once the quotes were ready, we moved forward with the next iteration of the test. So a B2B enterprise visitor would see both a quote by Dharmesh Shah from HubSpot, and logos from companies such as Elastic and Workfront: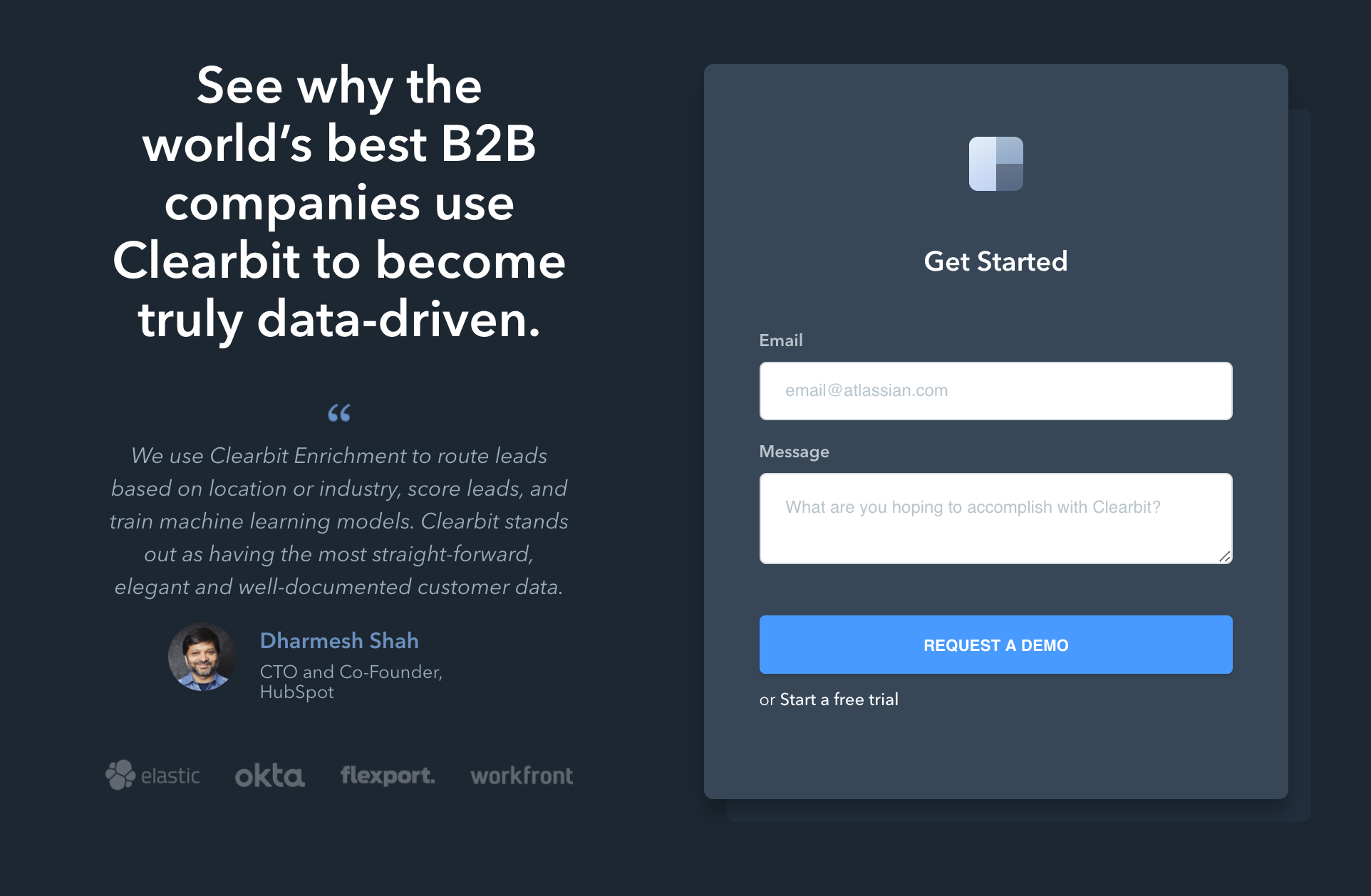 personalized for B2B enterprise visitors
Meanwhile a visitor working at an open-source company would see a quote from an engineer at Stripe and logos from companies such as Elastic and Segment: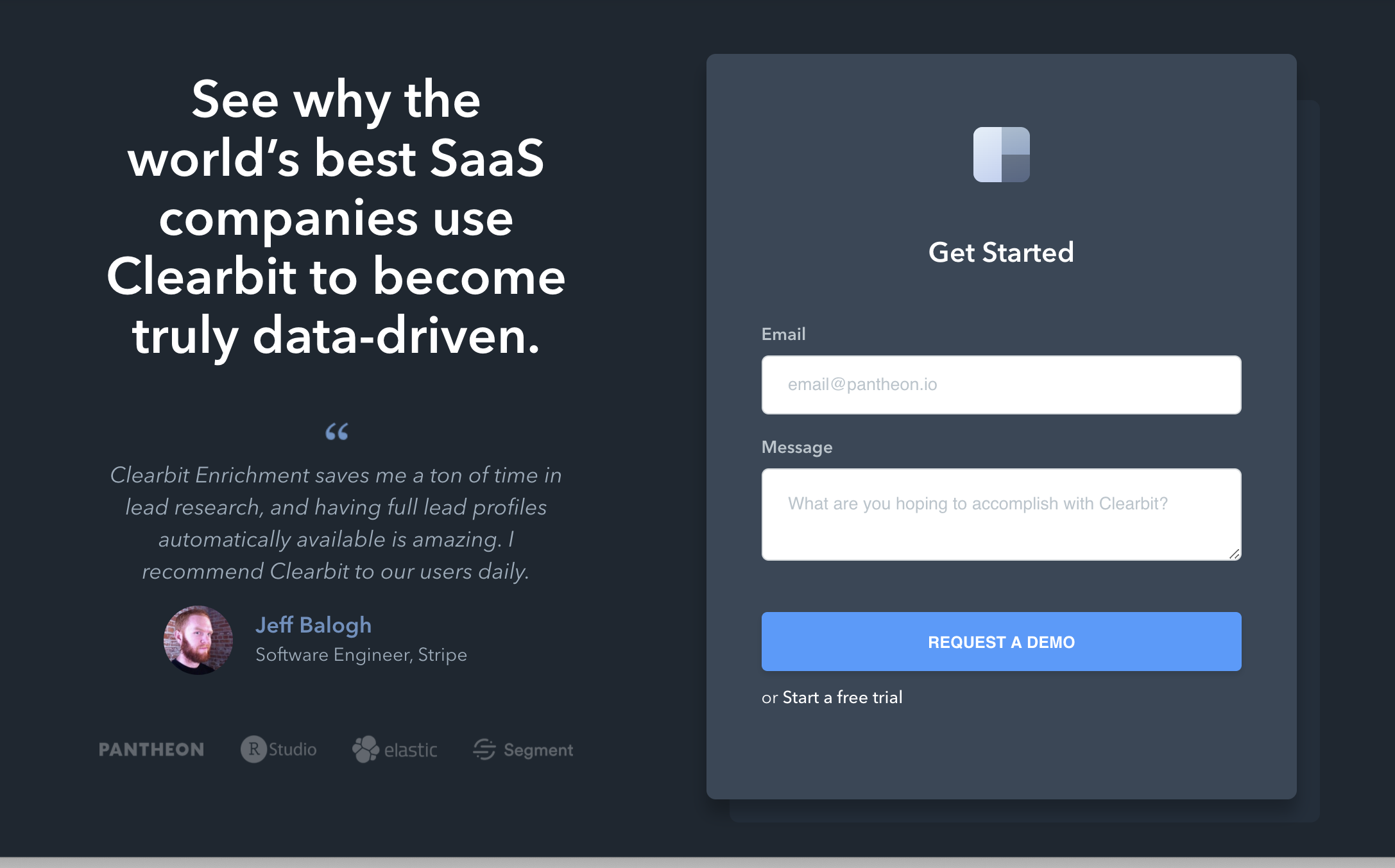 personalized for open source company visitors
Results
For the first, logos-only test, we saw a 43% lift in demo request conversions for the personalized footer experience versus the non-personalized one.
The real surprise was what happened after adding relevant quotes – an 84% lift in conversions!
This was a win-win: a relatively low-effort change to show different footer variants to five segments with a better than expected impact.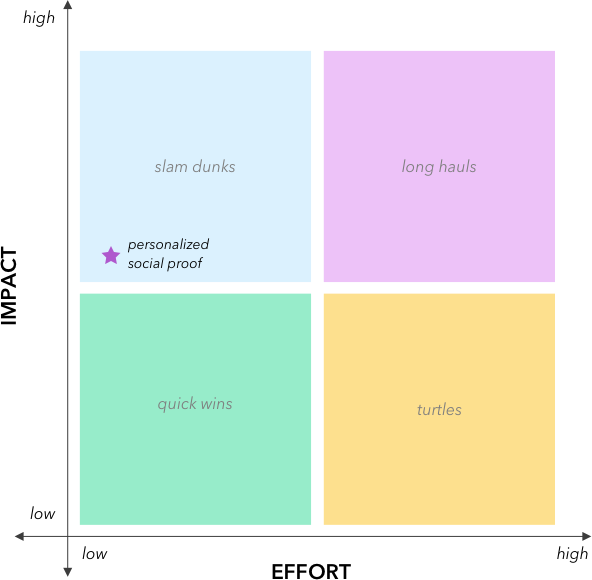 Positive score! 📈 chart adapted from Venngage
Learnings
In this case, conventional wisdom was pretty accurate after all: consumers really are more influenced by companies they relate to. And going one step beyond just customer logos to include personalized copy or quotes can create even more impact.
The power of social proof lies in its relevancy. Prospects want to see others "like them" getting value out of using your product — to believe that they can, too. And for marketers, using personalization like this helps us build that belief.
As Ethan comments, "This type of responsiveness allows us to demonstrate industry empathy. We recognize each business and industry has a unique set of needs and challenges and we're doing our best to understand, address and solve for those needs on the product level."
That's great, but what if I don't have Clearbit?
If you don't have Clearbit, you can still customize your social proof to a certain degree. Here are 5 data points and channels to try:
Landing pages: If you have static pages meant for more specific audiences — like pages for enterprise or a specific industry or set of roles — this is a great starting point for sourcing and showing the most relevant proof for those audiences.
Nurture and onboarding emails: You probably already have data on known leads and customers in your email platform, so you could also implement this into your nurture and onboarding flows.
Geography: If your website visitors come from different markets, serve up location-specific logos and quotes that are probably more recognizable.
Referrer: Do you know where your traffic comes from? What distinguishes a visitor coming from CIO.com versus Product Hunt versus a review site? Perhaps you could identify your top 3 traffic referral sources and personalize social proof that way.
Campaign source: Similar to referral source, say you're running an ad campaign driving traffic to a landing page. Using UTM parameters, you could tailor social proof (and other content) to distinct audiences for that campaign. (Here's a helpful post on using referrer and campaign to personalize.)

Shout out to Brian, Ethan, and Julie who ran and measured this experiment.