Convert 5x more B2B leads on your website with just these 2 tools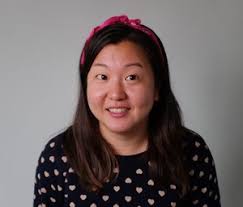 Janet Choi
February 14, 2020
---
You have just 10 seconds to capture a lead's interest when they visit your website.
Are you designing those 10 seconds, or just letting them slip away as visitors screen the page to decide whether it's worth sticking around?
If you're getting lots of site visitors but are disappointed with how few of them convert to leads, it's time to make those first few seconds really count.
One way to make this work is with segmented, personalized onsite chat. We'll walk you through how and why it works, with real examples from growth consultant Jordan Crawford. He increased his client's top-of-funnel conversion rates 6x by pairing Drift's chat tool with Clearbit Reveal — and drove $600k of additional revenue in just three months.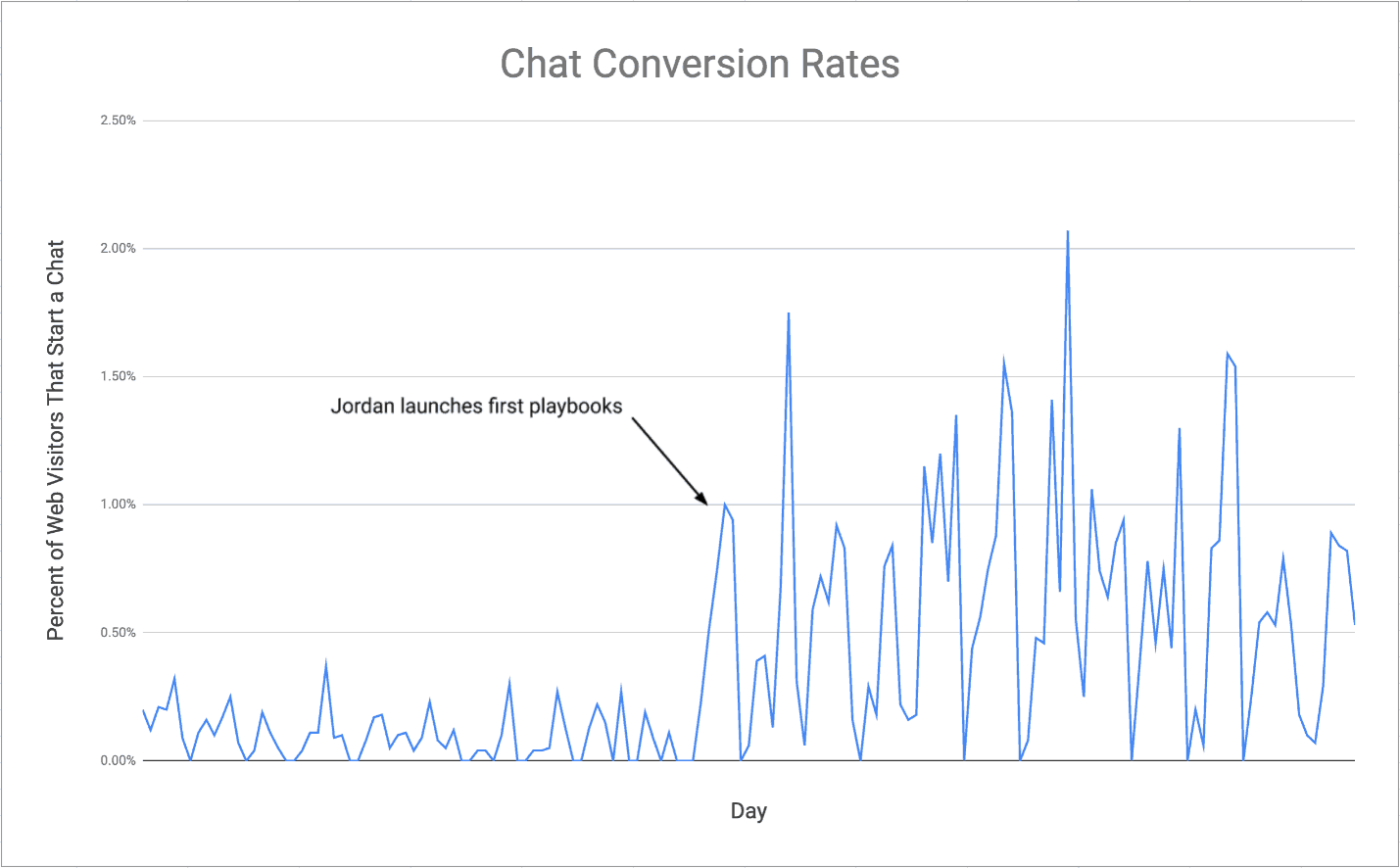 see the difference!
In a future post, we'll share the nuts and bolts of how he set up both tools so you can adapt his approach. But for now, let's concentrate on why tailoring onsite chat works … and how it can work for you.
Why you need to make your site experience stickier for your top target accounts
Marketers can't afford to be lazy when it comes to that first website impression. The old marketing approach no longer works. You know the formula: spray and-pray communication, spamming leads with ads, calls, and emails — and watered-down, vague messaging to try to appeal to the sprayed-on masses.
Meanwhile, more and more companies are competing to capture our attention and the digital world is getting noisier. Take B2B marketing tools — Scott Brinker's Martech Supergraphic counted 7,040 marketing technology companies in 2019, up from just 150 a few years ago and 2x what it was just 3 years ago.
Today, people are better at tuning out noise and scanning for relevance. You have seconds to pique interest on a webpage. 57% of consumers will mark an email as spam just because it's irrelevant or they want to reclaim their time from your 7-email drip sequence. Overall, the buyer's journey is less reliant on calls and meetings, and more reliant on online research, through resources like G2 which allows potential customers to easily look up your competitors.
Even if a visitor does stick around on your site, the lead form is the next challenge, especially since they average out to 11 fields: too many. Buyers will grumble and speed through it, or just bail — and then you've lost the lead.
Marketers are realizing that a tailored experience for leads should start right away. We're asking ourselves, "How can we talk to our 50-100 target companies differently from the way we talk to everyone else?"
Jordan Crawford refers to this as programmatic ABM — the idea that marketers can use data to automate a segmented or personalized experience for their highest-value customers.
Two tools to create the perfect first impression
Jordan uses two tools to make this happen.
The first is Clearbit Reveal, which provides the data points. Using a reverse IP lookup, Clearbit Reveal automatically figures out a visitor's company (and their firmographic and technographic profile) when they land on your site. Before they provide their email address, you know who you're dealing with — whether they're a target account or fall into a particular segment — and what pages an account is browsing.
The second is Drift (or another chat platform like Intercom or Qualified). Chat is grabby. It pops up early in that ten-second window with a friendly message. And it becomes a hookier hook if its message is segmented or well personalized.
Can you use live chat or chat bots without Reveal? Of course. But Jordan told us that he found Clearbit Reveal a necessary ingredient of effective targeting. Despite trying many approaches, he realized what made the difference was being able to triage and prioritize who you should spend time with. When you know who your VIP site visitors are and what pages they're looking at, you can use relevant fit data (like their industry, size, personas, funding, revenue, and tech stack) to start a tailored conversation.
The result = no more generic chats + the focus to bring only the accounts that are important to you deeper into your world.
No more generic chats
Let's take a second to acknowledge what the usual, generic chat message on a B2B site looks like:

"Hi there! How can we help you today?"
YAWN. This kind of blanket greeting doesn't cut it. You get better response rates when you use relevant context — like industry, employee count, revenue, rank, technology used, domain, and company name — for your conversation.
You can then personalize:
the language and stats you use in the chat
the content and case studies you share
the competitor or logo names you mention
the questions you ask visitors to qualify them or direct them to the right product
which of your products to promote and push to the forefront
whether to offer a meeting with sales or leave to email support
which sales rep's face is shown on the chat box (it should be the same rep - who is sending that company outbound email or managing their account)
whether you even show chat at all.
For example, you could show a visitor from Salesforce:

"Hey, Salesforce, want to see how we drove a 10x ROI for HubSpot?"
Ah, there we go. So much more specific.
This personalized chat line references the visitor's employer, as well as a recognizable and somewhat comparable company in its universe (HubSpot). If the visitor replies, "Yes," the chatbot can respond with a HubSpot case study showing exactly how things worked.
It's immediate relevance for the visitor. Your chats can address common questions the visitor might have, before they even ask. You can activate a playbook that shows the pitches you want to run for their segment. It's a much quicker cycle for connecting with qualified visitors, helping them find what they're looking for, and converting them faster.
And it works. When Jordan hooked up a client's Drift platform to Clearbit Reveal and built personalized chat plays, he improved his client's chat conversion rate by 6x. His combo of chat and segmentation grabbed the attention of important visitors in the first 10 seconds, which resulted in $600k additional revenue for his client in 3 months.
When chat is sticky, it captures more leads and shortens speed to lead not just for your target accounts, but also for highly-qualified visitors who aren't yet on your radar but are discovered by Clearbit Reveal.
(Incidentally, even if a visitor doesn't start a chat or fill out a lead form, Reveal will still know that someone from their company visited your site — that's extra info that would otherwise never get to sales.)
Where to start
Jordan applied this principle to his client's universe of targets by segmenting them and creating a different playbook for each one. This segmentation improved his conversion rates by 4–8x in tests.
For example, Jordan created a segment for companies with more than 1000 employees or $20M in revenue. He created others for prospects in target industries, like Oil & Gas.
One of Jordan's chats for visitors in this segment says, "Want to know how we're helping the Oil & Gas industry?"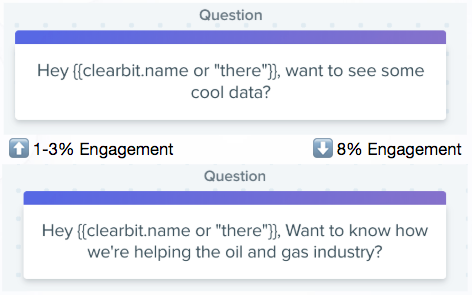 This got 8% engagement compared to 1–3% engagement in a more generic version. Simple segmented playbooks and a little acknowledgment of the visitor's company name can take you far.
More leads, faster deals
Personalizing chat for your most valuable visitor segments is a powerful way to drive top-of-funnel lead volume. In Jordan's case, a set of playbooks for simple segments improved conversions 4–8x, and all his chat implementations with Reveal led to an overall 6x increase in conversions.
And it lets you shorten the sales cycle for high-value prospects. Perfecto Mobile noticed that Drift chats helped them book meetings faster than forms—conversations that led to action that led to a meeting.
When a target account comes to your site, you want to pull out all the stops. Remember, you have just 10 seconds. And with Reveal and Drift, 10 seconds of scroll-and-bounce turns into 10 seconds of connection … which stands a real chance of leading to a longer relationship.
In our next post, we'll show you the nuts and bolts of setting up Reveal and Drift. We'll see how to design playbooks that are simple yet drive more leads. Stay tuned!