Facebook targeting for B2B companies: how to do it better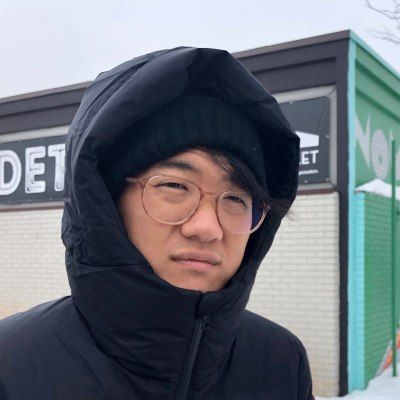 Bradley Gula
February 12, 2020
---
More than 1.5 billion people log on to Facebook every day. 1.5 billion! That's four times the entire United States population, 600,000 times the total number of Chipotles, and 1.5 billion times the reasons to stay here sought by Tracy Chapman.
From this figure alone, you'd expect B2B marketers to be jumping out of their Herman Miller Aerons to advertise on Zuck's homepage.
It might seem obvious, but whether you're selling a mattress smushed in a box or a B2B growth engine, you're looking for as many customers as possible. You want to talk to more leads and you need to find new channels as old standbys get crowded. Sure, the future might be TikTok. But while the rest of us catch up to Steve Harvey, a big chunk of your ideal customers are already logging on to Facebook every day.
Not only that, it's cheap. In fact, Facebook's median cost per click is 10 times less expensive than LinkedIn's. Still, anyone who's peeked into the Facebook Ads Manager has undoubtedly found its design more suited for peddling sneakers than pushing SaaS deals.
There's a quote in this Databox review of acquisition channels from Dale Broadhead justly praising the built-in benefits of LinkedIn:
The problem with Facebook Ads ... is that it's restrictive in terms of the targeting for B2B audiences. Advertising on LinkedIn allows you to build amazingly accurate audiences of prospects that are the ideal buyers for a product or service.
Dale's right. And there's no denying the value of LinkedIn. But what if you could bring that same level of precision to Facebook?
What's changed?
Clearbit Advertising gives you the ability to create dynamic audiences for Facebook using B2B-specific targeting options. Combine first-party data — like info about who's on your site and everything in your CRM (Salesforce) — with Clearbit-enriched data to build a powerful database for creating highly custom audiences. This transforms Facebook from a daunting, unfriendly platform into a B2B dream.
The end result is more relevant Facebook ads with a greater reach, better targeted viewers, and painless updates — introducing a previously inaccessible channel as part of your marketing toolkit.
Let's take a look at some common problems facing Facebook marketers today and how Clearbit Advertising works to solve them.
Facebook's native targeting options are limited
The truth is, you're more likely to share your love of The Mandalorian or "check in" to your Balinese infinity pool than keep your Facebook work info up to date. But even if you leave no text input unturned, there's only so much you can offer.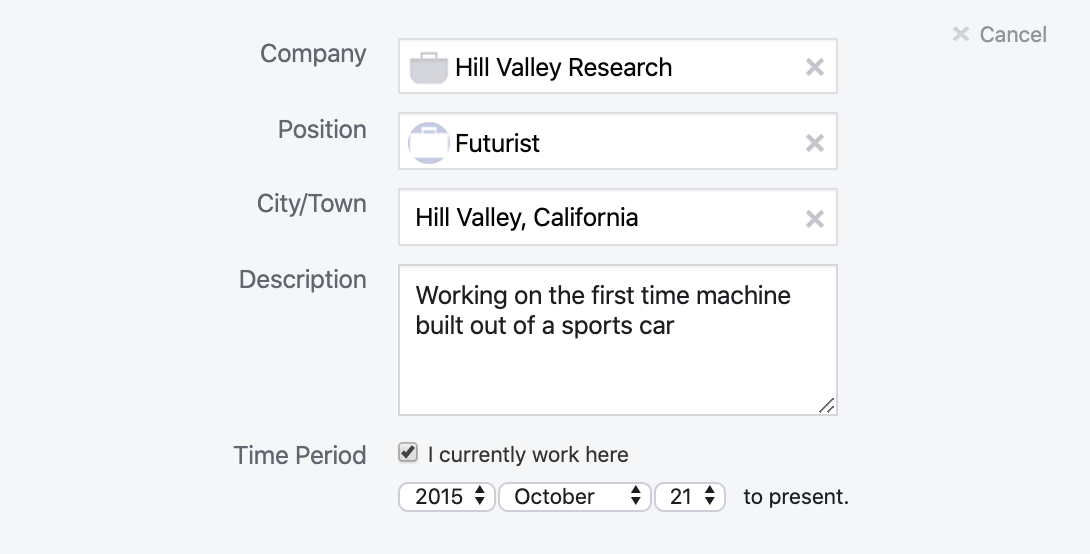 Where Facebook's company profiles are limited, Clearbit Advertising takes all of your marketing and sales data and then adds Clearbit-enriched facts to every record. This lets you broadly exclude all customers and leads already in the pipeline when driving net-new leads or, in reverse, target a subset of existing customers with a new product launch or content to support retention.
Now, Lucille isn't just the CEO of Bluth Company from 2003-Present, she's the CEO of a real estate development firm in Newport Beach with a 10-figure market cap and more than 5,000 employees. Oh, and she's clicked over to your contact form six times in the past week but still hasn't scheduled a call, even after a sales rep reached out.
Here's an example audience for promoting our new book, From IC to Leader, created in Clearbit Advertising and syncing automatically to Facebook.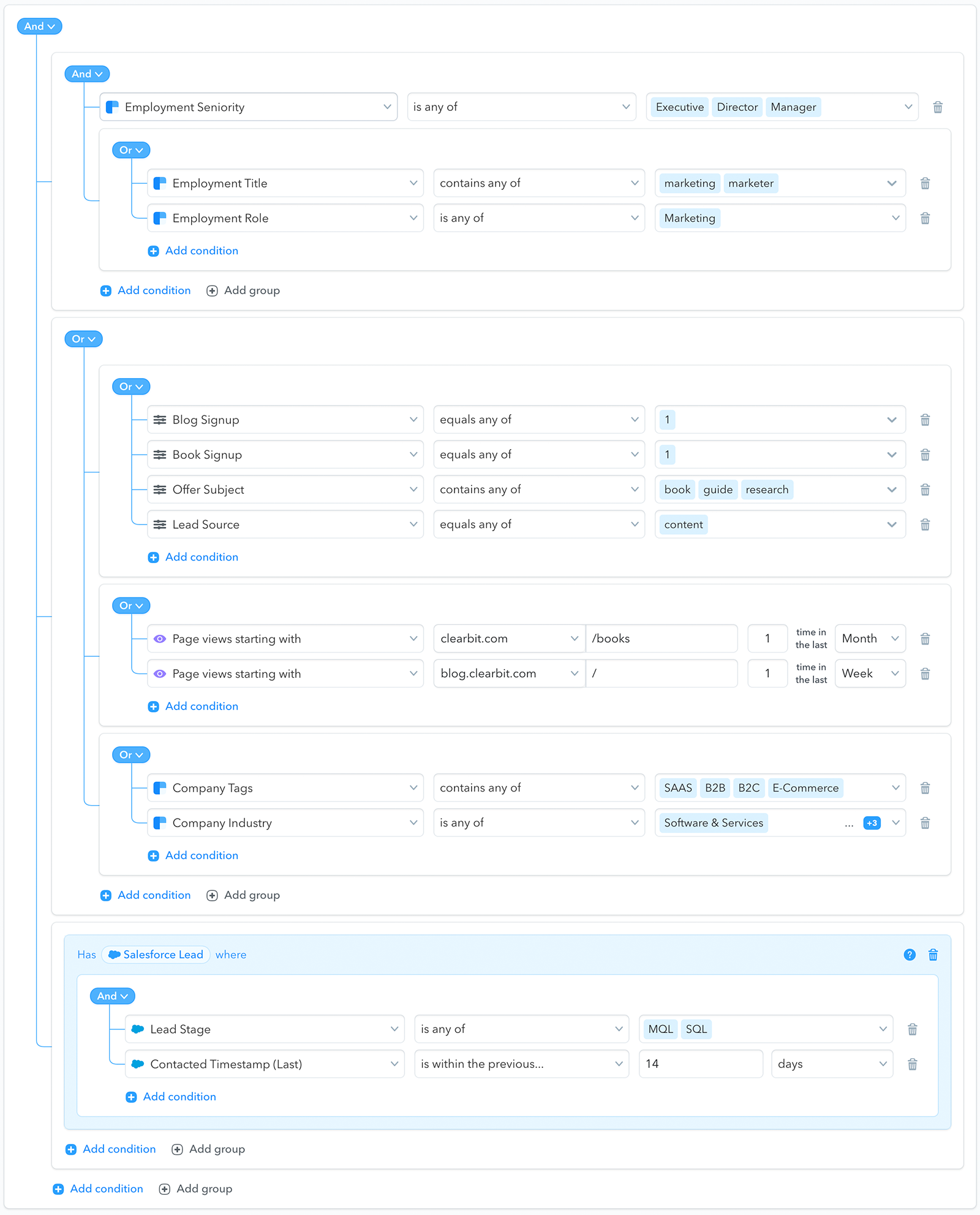 Retargeting on Facebook is overbroad
In the market for a new floor lamp, I browsed over to a home furnishing site — let's call it Zest Elm. A few minutes of sorting and scrolling, then I clicked the one I knew would best complement the rest of my "Live Laugh Love" motif. Moments later, I caught a glimpse of its price — for a lamp?! — then left immediately to see if Overstock had a knockoff. For weeks though, I kept seeing the original, prominently displayed after each Facebook login just below the latest season's LuLaRoe.
I bought the lamp.
B2B doesn't quite work the same. Especially for larger companies with a larger commitment (price), the likelihood of a single visitor to your site being a qualified buyer is slim. Even if the person holds the CVV to the company Amex, are they a good customer for you?
With Clearbit Advertising you can filter on your ideal profile, limiting spend to only those with a certain title, role, or seniority. Even better, we're able to connect visitors back to their employer, so you can isolate folks based on their company's revenue, employee count, or location.
Here's Charlie Liang, the Head of Demand Generation at Lattice, on the experience: "Even for HR personas ... we know these include people operations managers or benefits managers, and we definitely sell better to the people ops managers. So the ability to target just the people ops managers with the right type of messaging on Facebook is a capability we haven't had in any ad platform, including LinkedIn."

Don't spend money on unqualified leads or the so-so ones least likely to close. Focus your budget — and your time — on the people you know you can sell to.
CSV imports are annoying and inaccurate
There is one out-of-the-box way to get a more relevant audience for Facebook ads: import it yourself! It's true, nothing says thrill ride like uploading a CSV. Outside of the time and energy required to generate this list from the contacts you already know, it stays accurate for about as long as it takes to correct the errors. You have to re-upload constantly to keep your custom audience current, then tediously fix any details to fit Facebook's specifications.
Frame.io tried to target ads using events via Segment, but it only worked if Facebook's pixel existed on the user — which meant that they still had to deal with CSVs to keep everything up to date. "Whatever we tried, we wouldn't get good match rates, or we wouldn't even see the size of the audiences after the sync," says Kyle Gesuelli, their VP of Growth and Analytics.
Clearbit Advertising updates everything automatically. Build your custom segment directly in Clearbit, connect it to Facebook, set it and forget it. Clearbit keeps the segment accurate and in sync with Facebook, moving new contacts into the segment and, just as importantly, removing the folks who no longer qualify.

With the effort saved from not having to manually update your audience, you're able to focus more on each campaign. Use the extra time to put more effort into optimizing your content, experimenting quickly, and getting new campaigns off the ground.
There are few matches for custom audiences
People sign up to social media with their personal email address. Even after your meticulous CSV is imported, you're attempting to match only from your own contacts, those who you've likely prompted to specifically enter their business address.
The team at Frame.io tried manually pulling email addresses from their CRM to create the right target and exclusion audiences. Emily Kalen, Senior Manager of Growth Marketing, says it wasn't the best experience: "Even when I was exporting things and enriching the data as much as I could, we were still only able to get this super low match rate."
Customers like Frame.io have seen a lift in match rates for their Facebook Custom Audiences, thanks to the Clearbit database which can have multiple identifiers for the right person.
Now's the time for Facebook ads
We'd never recommend abandoning advertising on LinkedIn or Google. Those channels work for different reasons and purposes. But adding Facebook to your B2B marketing offers an additional place to reach your potential customers. Sure, they might be using it as a birthday calendar or growth chart cloud storage, but there's no denying they're there — it's just a matter of finding them.
At least for now, a good B2B ad can really stand out among the "5 years ago today!" With cost already so low, accurate targeting was the missing link in finding success.
If you're interested in learning more, fill out the form below and we'll talk soon about how Clearbit Advertising might work for you.