25 B2B lead generation tools for 2023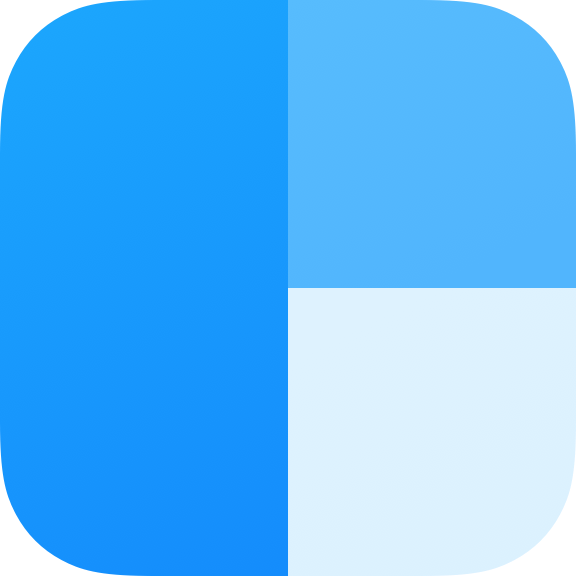 Clearbit Team
March 30, 2023
---
Are you part of the 61% of marketers that believe lead generation and conversion is your number one challenge?
Two of the key challenges that marketers face today include leveraging their CRM to its fullest potential and using high-quality data when interacting with target audiences.

However, using lead generation tools like our Data Activation Platform can help marketers combine company fit and buyer intent to focus on leads more accurately and efficiently as they go through the funnel.

From well-known freebies to leading paid add-ons, plenty of lead gen tools are available to help you generate traffic and leads in the upcoming year. Check out our list of some of the best lead generation tools to keep an eye on in 2023.
What are B2B lead generation tools?
Lead generation tools are software programs marketing and sales professionals use to capture and nurture leads. The tools are designed to automate much of the lead capturing process to improve the sales process.

Many lead generation tools have grown into robust platforms that can now help support both inbound and outbound marketing tactics. These may include on-page website developing tools, contact information gathering tools, or even email automation.

Ranging from in-depth data sources that integrate with existing CRMs to simple browser extensions that help discover lead email addresses, millions of people use lead gen technology to support sales reporting and close leads.
What are the different types of lead generation tools?
Lead generation tools come in all shapes and sizes and help make finding, nurturing, and finalizing leads simple and efficient. Some of the most common tools include:
Inbound lead gen tools: Tools that you can use to attract audiences to your brand, specifically through content
Outbound lead gen tools: Tools that get into contact with potential customers
On-page lead gen tools: Tools that capture leads on your website, such as contact forms
CRO tools to increase leads: Tools you can use to optimize conversions
Email marketing tools: Tools that compose, send, and track emails for email campaigns
Search engine marketing (SEM) tools: Tools that optimize paid search campaigns to generate leads and product visibility with campaign performance measurements, keyword research, and competitive research
Email address finders: Tools to find email addresses of potential points of contact
Prospecting and outreach: Tools used to research, contact, and nurture potential leads
Customer relationship management software (CRMs): Tools you use to build and manage customer relationships and experiences on your site and in your campaigns

Before choosing a lead gen tool, make sure you have a good understanding of what tasks you need support with. Once you identify this, finding the best tool is simple.
What should you consider when choosing lead generation tool or solution?
Not all tools are made equally. Consider the following features when choosing a lead gen tool:

User-friendliness
Accessibility for all team members
Budget constraints
Customer support quality
Audience targeting
Integration capabilities

No matter your need, there's a tool available. As you're looking for a lead generation tool that checks all the boxes, remember that many can be integrated and combined.
25 Best lead generation tools of 2023


There are several tools you can use to support lead generation efforts. Check out this list of some of the top B2B tools for lead generation.
1. Clearbit
The Clearbit Data Activation Platform helps companies create, capture, and convert demand from ideal customers using contact and company data insights.

The Data Activation Platform leverages Clearbit's best-in-class company data and IP intelligence to instantly sync 100+ B2B attributes across your entire GTM stack. Clearbit helps brands identify the companies behind anonymous website visits to get full context on every prospect in your funnel. Clearbit empowers GTM teams to reach ideal customers with the right experience at every stage of the buying journey to create, capture, and convert more pipeline.

Best for: Marketing, sales, operations

Key features:
Ad targeting
Conversion tracking
Form optimization
Intent-based outreach
Advanced personalization
Data enrichment
Lead scoring and routing

Pricing: Packaged pricing based on total ad spend, monthly web traffic, data size, and estimated growth. Reach out to learn more about flexible pricing packages.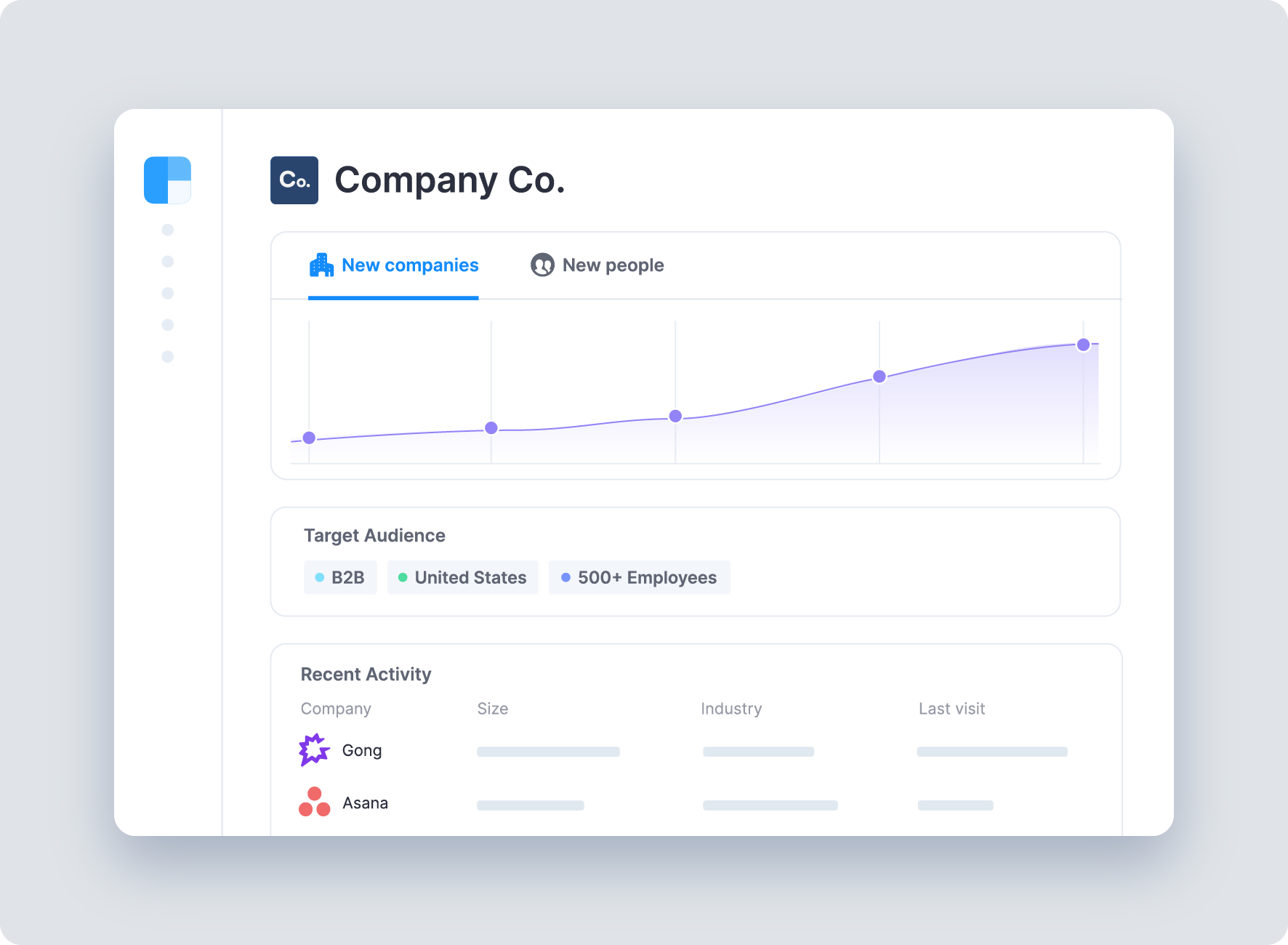 2. ActiveCampaign
ActiveCampaign is a marketing and sales automation provider for small- to mid-sized organizations that connects businesses to customers at every channel and stage of their journey. Offering extensive email marketing automation services, lead scoring, analytic capabilities, and a CRM and sales engagement solution designed to integrate with leading tools, ActiveCampaign offers a way to fully customize your marketing campaigns across every channel with ease and complete coverage.

Best for: Marketing, sales, email marketing, ecommerce

Key features:
Email automation and personalization
Online behavior tracking
Lead management
Reporting and analytics
Campaign optimization and management


Pricing:
These are month-to-month plans with no startup costs. You can try them with limited feature access for free for up to 14 days.
Lite: $29 per month (1 user)
Plus: $49 per month (3 users)
Professional: $149 per month (5 users)
Enterprise: Reach out to their sales team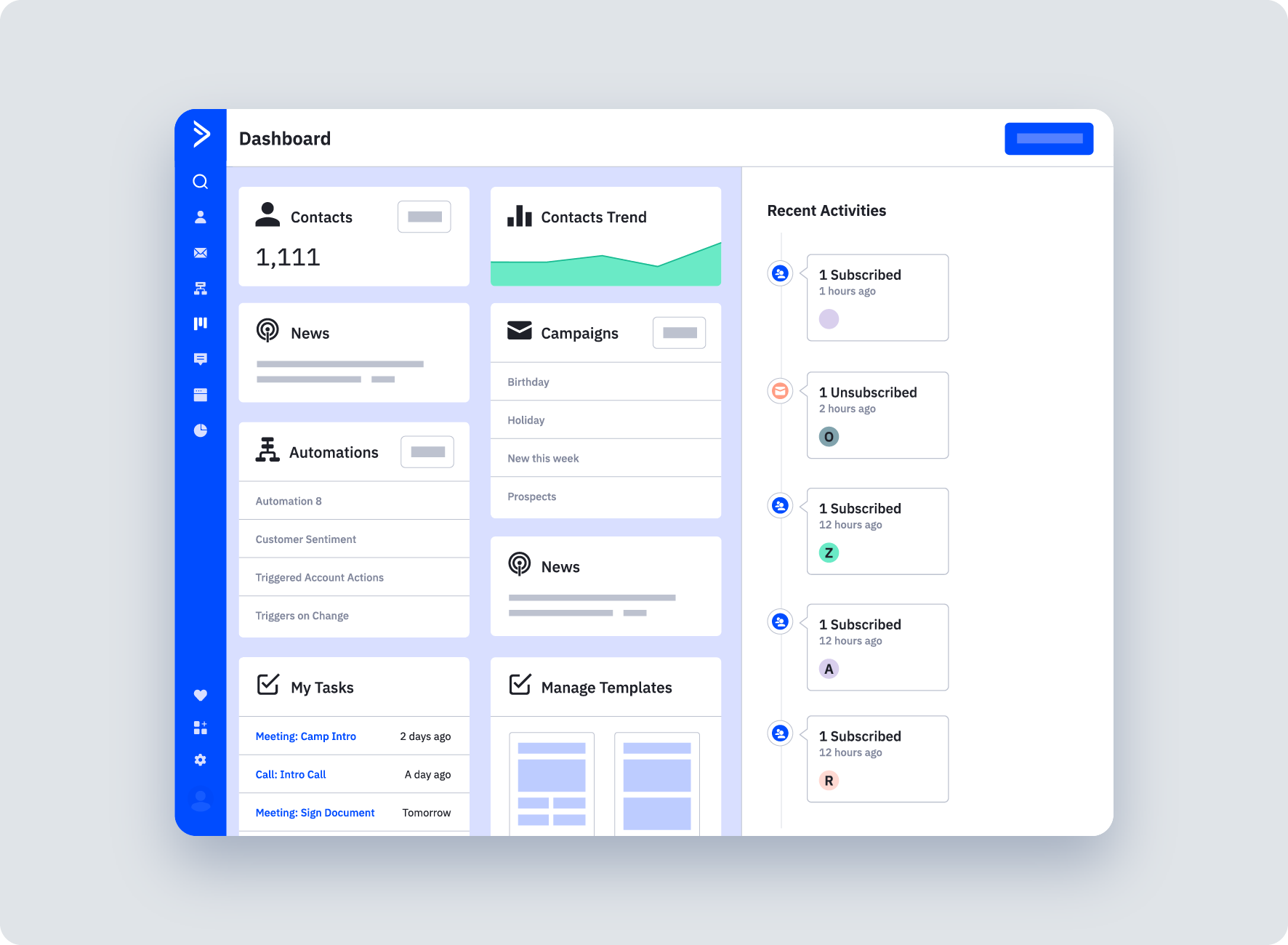 3. Adobe Marketo Engage
Known by users as Marketo, Adobe Marketo Engage is a marketing automation software. Using real-time analytics and segmentation, Marketo is a CRM that connects qualified audiences with funnels that keep them engaged and in the know of your offerings.

Best for: Marketing, sales, and email marketing

Key features:
Email marketing
Lead nurturing
Form Creation
A/B testing
Online behavior tracking

Pricing: Tiered subscription packages starting at ten users, pricing available upon request.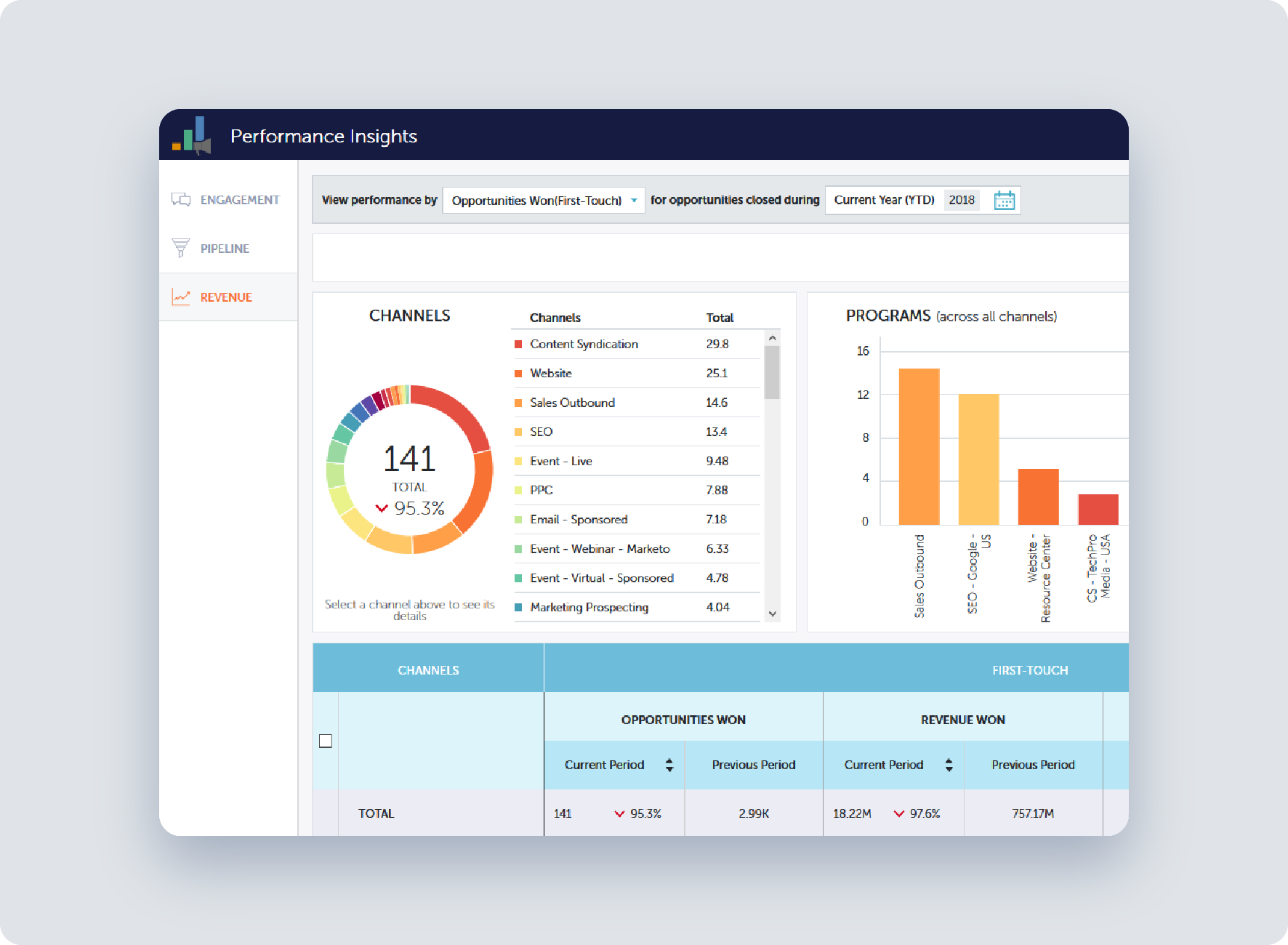 4. Calendly
Calendly is a scheduling automation platform marketers use to connect with audiences and book meetings easily and efficiently. With more than 10,000,000 users worldwide, Calendy offers easy integration with existing tech stacks and a smooth user experience.

Prepare for prospect meetings by combining Calendly with Clearbit. Learn more about the Clearbit, Calendly, and Zapier pre-bult template integration today.

Best for: Marketing, sales, IT, customer service, education

Key features:
Meeting scheduling
Availability preferences
Team scheduling
Appointment scheduling
Form routing

Pricing:
Basic: Free with limited features
Essentials: $8 per seat/month
Professional: $12 per seat/month
Teams: $16 per seat/month
Enterprise: Contact their sales team. For teams with more than 30 people.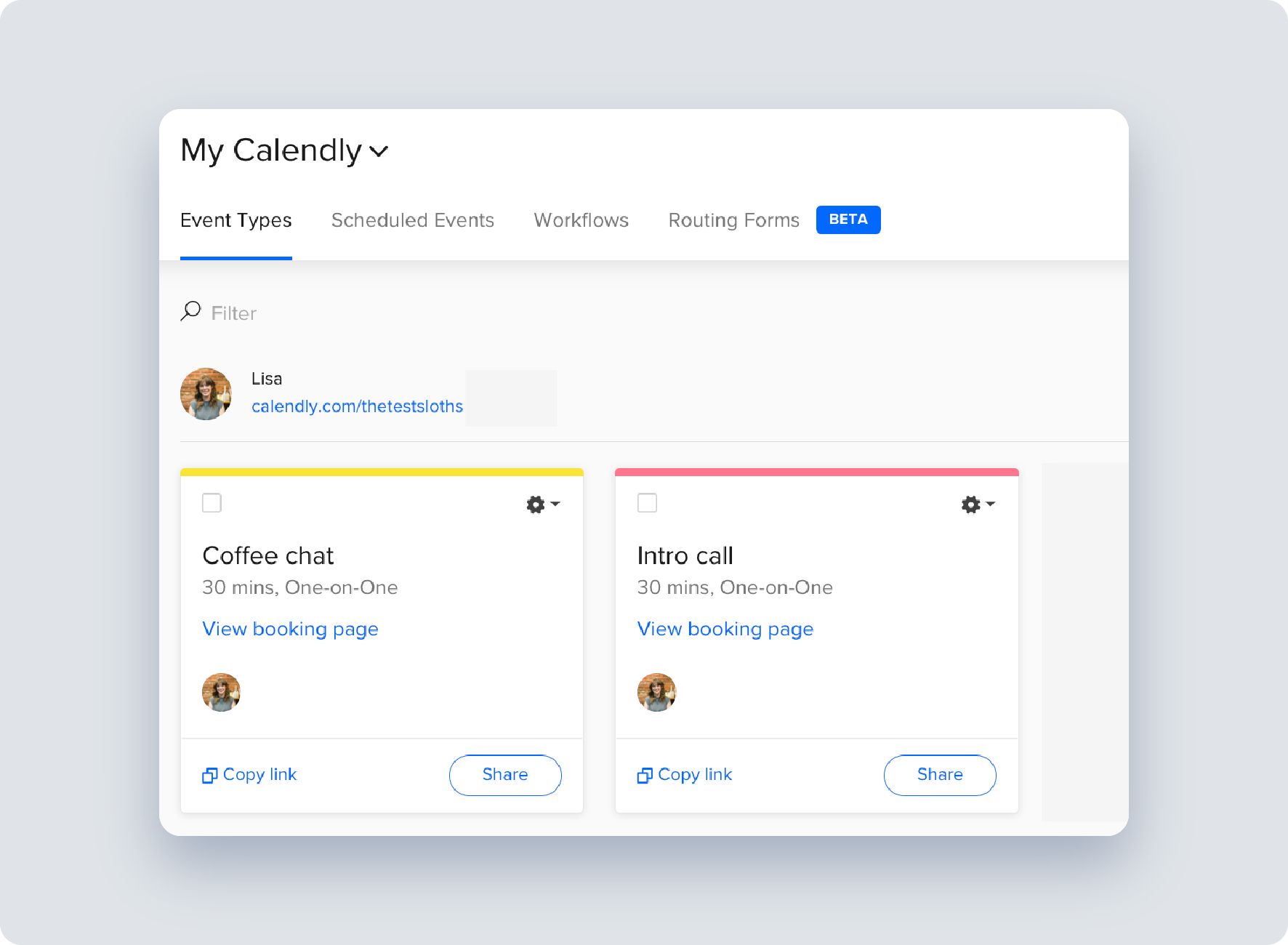 5. Chili Piper
Chili Piper is an instant booking tool used by B2B teams that makes scheduling requests as easy as one click, right from a form fill. Their Form Concierge, Distro, and Handoff services make it easy to qualify, route, schedule, and assign inbound leads faster than the industry average, increasing conversion and boosting revenue faster than ever.

Take your conversions to the next level by combining the power of Chili Piper's Form Concierge with Clearbit's form enrichment capabilities to qualify leads automatically and route them quickly to the best rep for their needs.

Best for: Sales, revenue operations, customer success

Key features
Lead qualification and routing
Instant booking
Personalization
Automation

Pricing: Chili Piper offers their products a la carte by month and by user or combined in bundles:
Instant Booker: For sales and CS reps. $15 per user/month.
Handoff: For booking meetings and advanced routing. $25 per user/month.
Form Concierge: For booking meetings with web forms. $30 per user/month.
Distro: For automated CRM routing and assignment. $20 per user/month.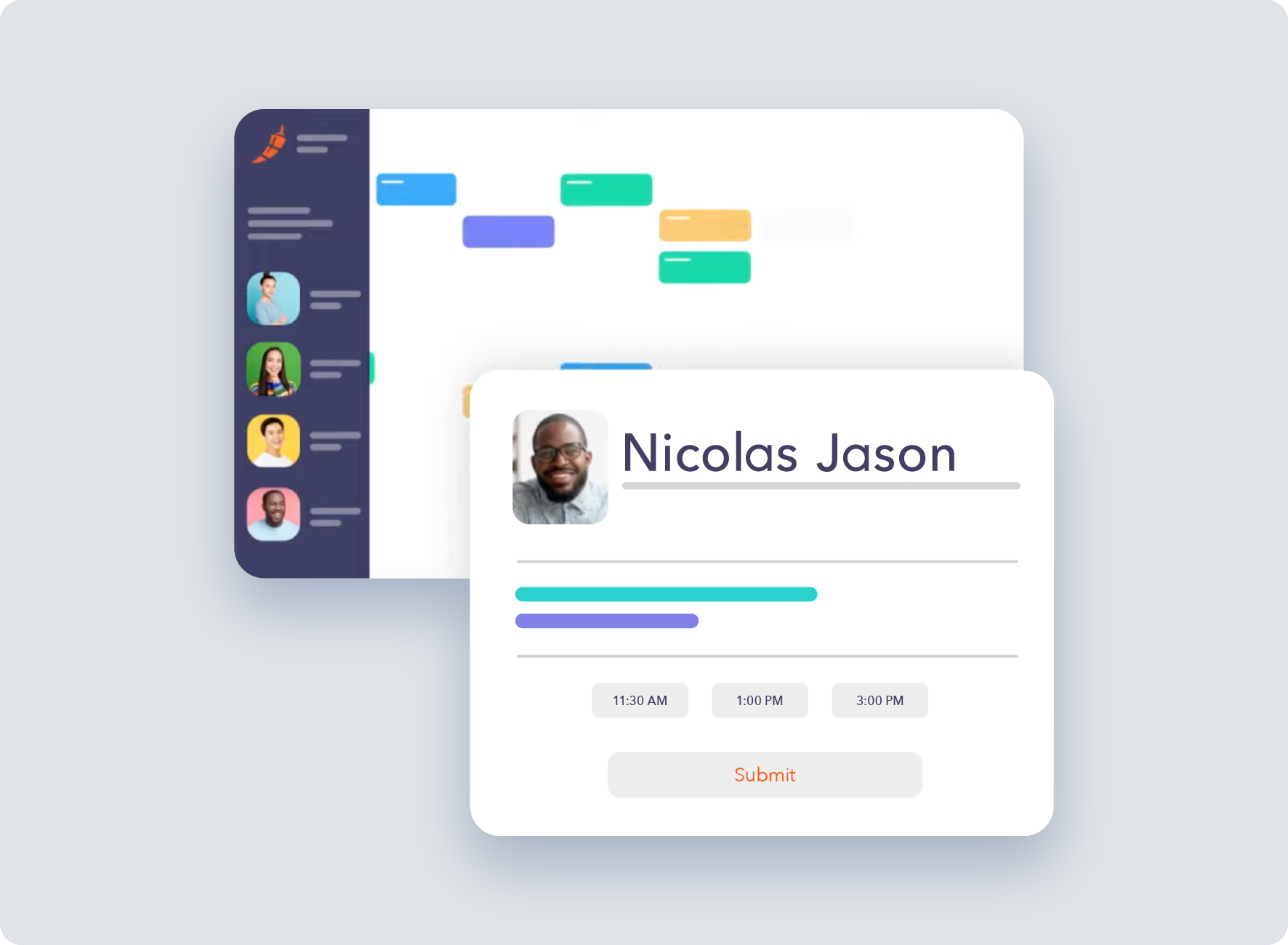 6. Clari
Clari is a revenue operations platform that helps B2B businesses forecast sales, identify leads, evaluate business opportunities, and use buyer, seller, and revenue data to grow their businesses. Their Revenue Intelligence solution focuses on fusing disparate revenue data—including your team's prospect and customer relationship activity and management—into a single point of clarity to drive actionable insights into workflows and processes.

Put that activity data to even further use with Clearbit for Clari, that combines Clari's Autocapture of customer information with Clearbit's data enrichment capabilities to keep teams fully informed on their prospects and customer base.

Best for: Sales, marketing, finance, customer success, and revenue operations

Key Features:
Data sourcing
Lead scoring
Predictive analytics
Data segmentation, reporting
Sales forecasting, pipeline management

Pricing: To learn more about pricing, contact Clari.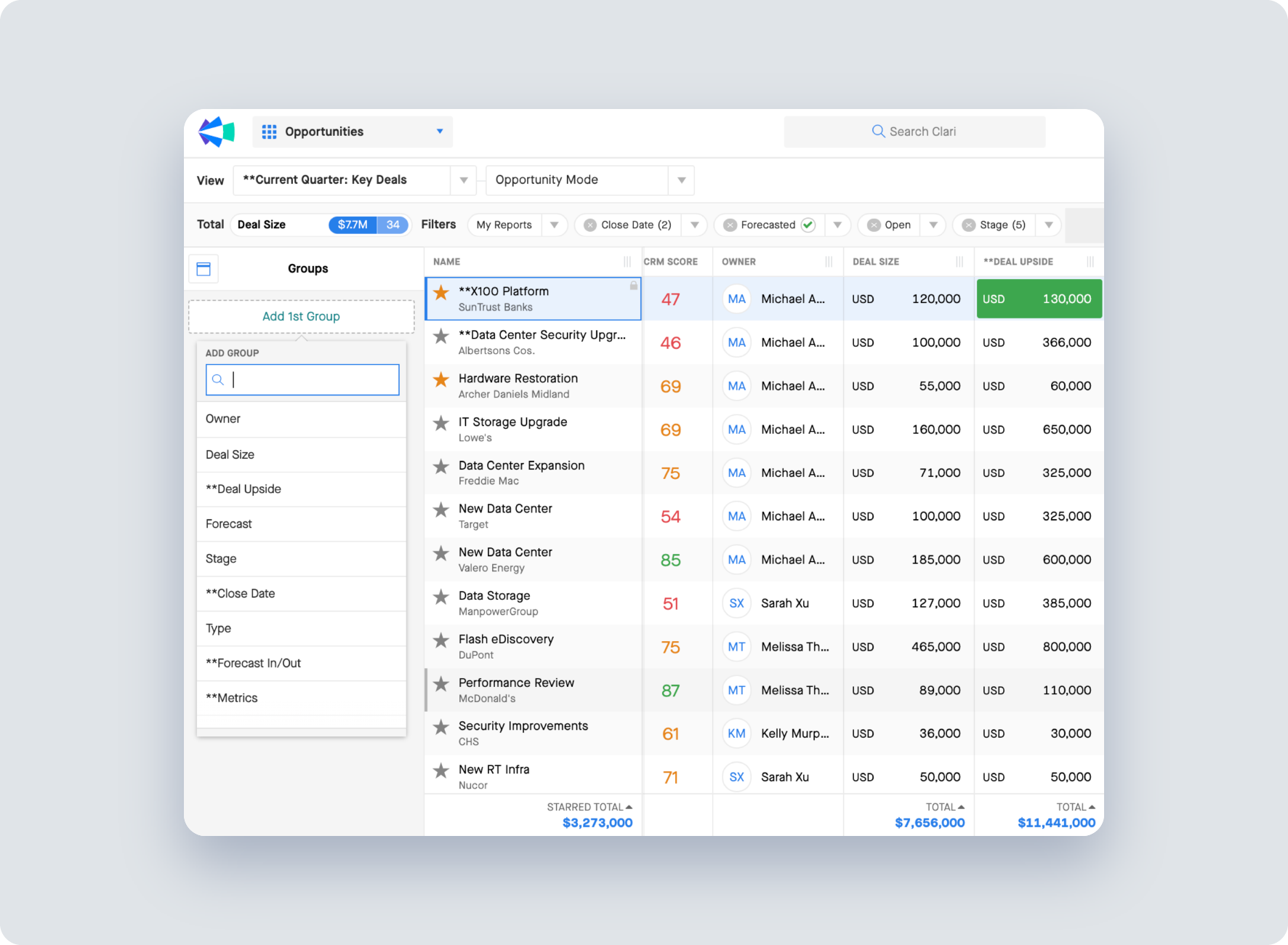 7. CustomFit.ai
CustomFit.ai is a no-code website personalization tool created to give professionals of all backgrounds the ability to create custom, personalized websites. Ideal for B2B marketers looking to share custom value propositions with customers at every appropriate stage of their journey, users simply have to type, drag, and drop every piece into place.

Best for: Marketing, sales, and web development

Key features:
Analytics
Custom web design
Advanced visual editor
Personalization
Segmentation

Pricing: CustomFit.ai offers custom pricing plans based on monthly traffic. Reach out to learn more about what plan works best for your business.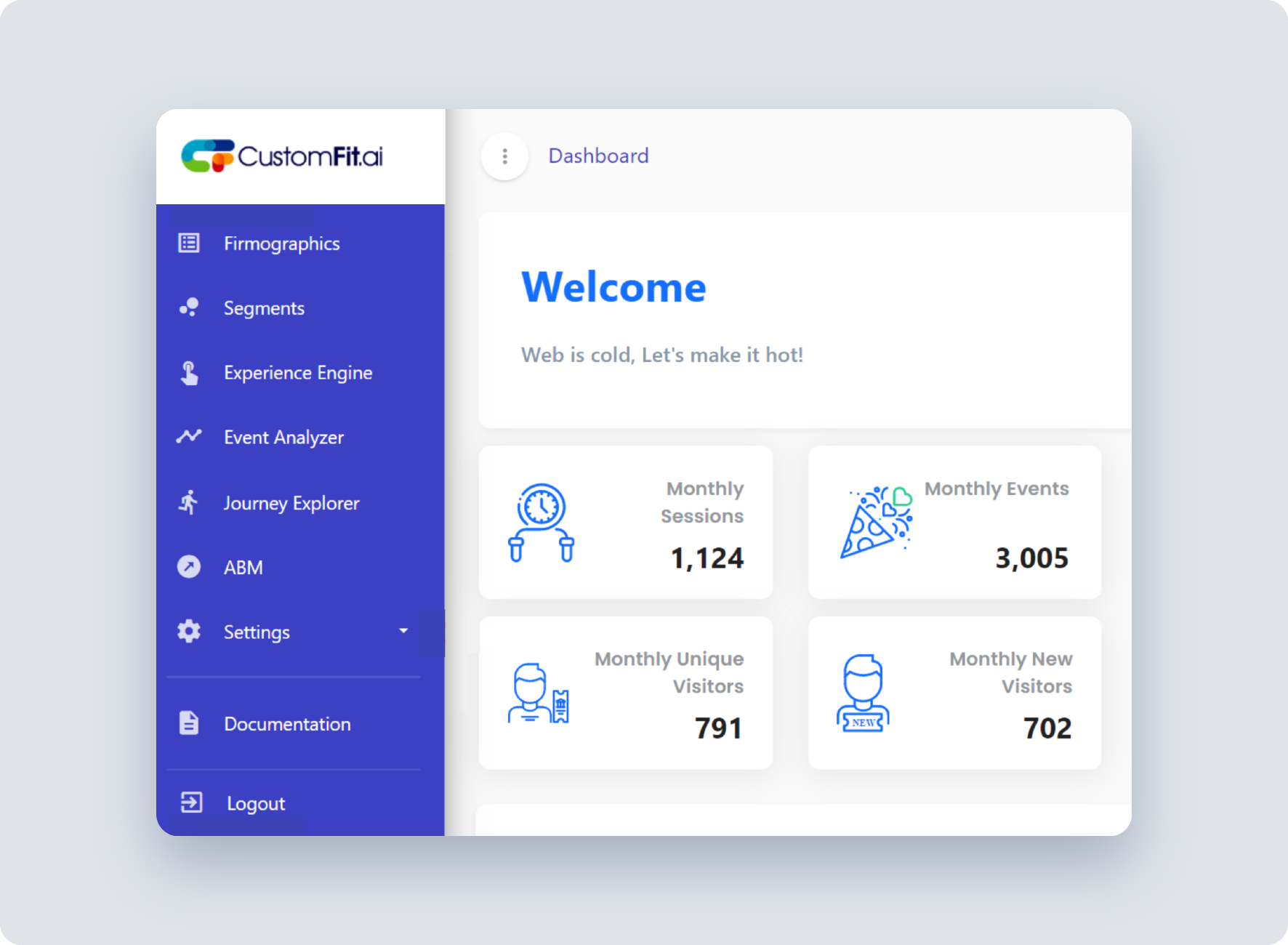 8. LeanData
LeanData is a revenue orchestration platform that allows businesses to transform buyer signals into revenue by identifying qualified, high-intent accounts. Combining automation, user-friendly interfaces, and captured buyer-signals for every customer, LeadData offers a way for all revenue teams to identify and focus on the highest-valued accounts.

Discover how integrating LeanData with Clearbit can help you to improve your speed-to-lead.

Best for: Marketing, Sales, Operations

Key features:
Lead intelligence
Lead management
Lead routing
Platform operations
Analytics

Pricing:
Standard: $39 per user/month
Advanced: $49 per user/month
Premium: $59 per user/month
Enterprise: Contact LeanData's sales team

Additional platform add-ons such as the BookIt, Cloudingo, and Engagement can also be added at a monthly or annual cost.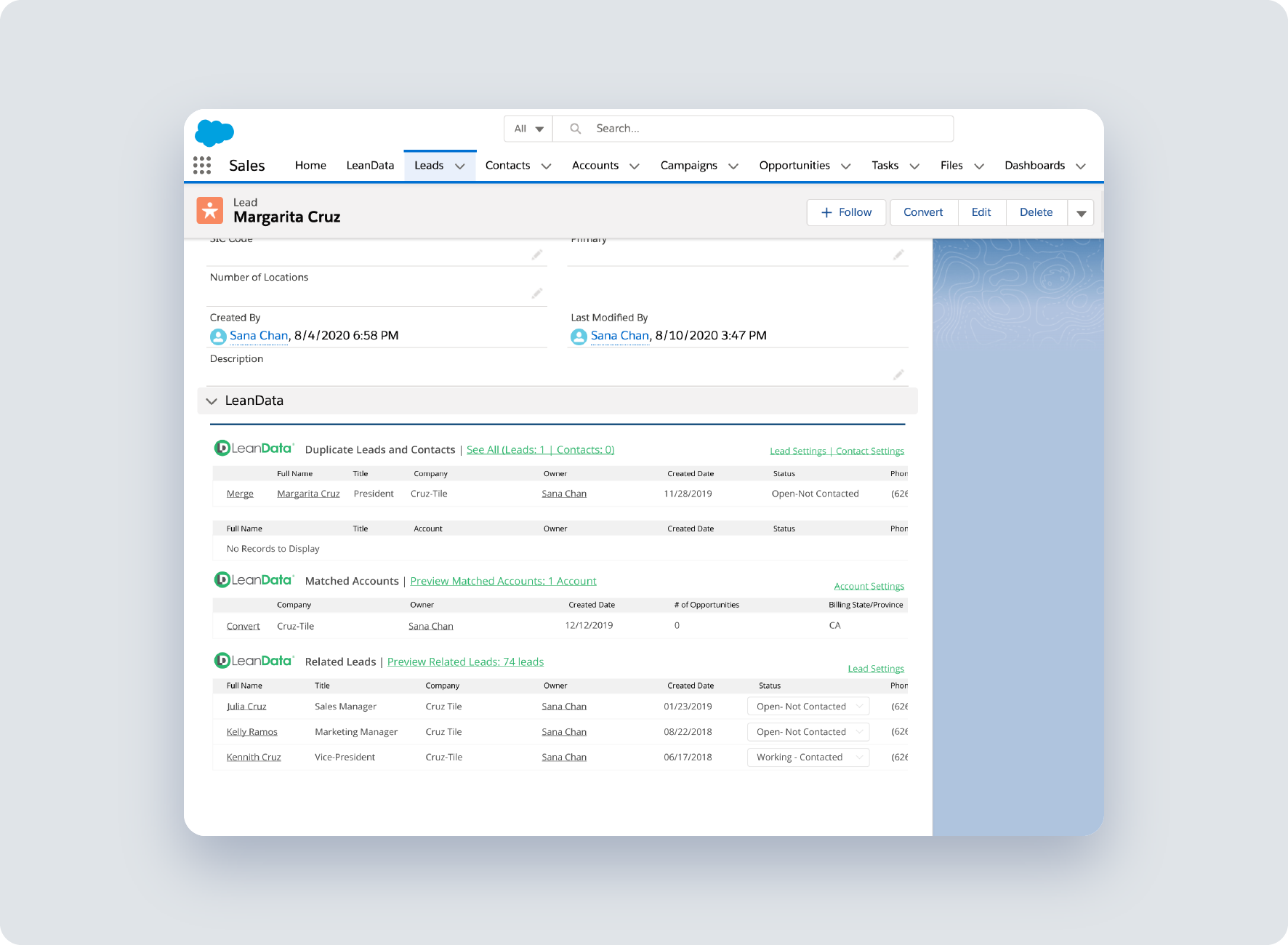 9. Mutiny
Mutiny is an AI web conversion platform designed to help B2B businesses optimize their websites into revenue-driving machines. Mutiny takes the guesswork out of optimizing and personalizing your site to focus on attracting traffic that converts.

Increase website conversions by connecting Clearbit to Mutiny to deliver customized experiences to target audiences.

Best for: Sales, marketing, web development, analytics, paid media, artificial intelligence

Key features:
Audience building
Advanced visual editor
AI content suggestions
Revenue attribution tracking

Pricing: Reach out to Mutiny for a free demo and learn more about pricing.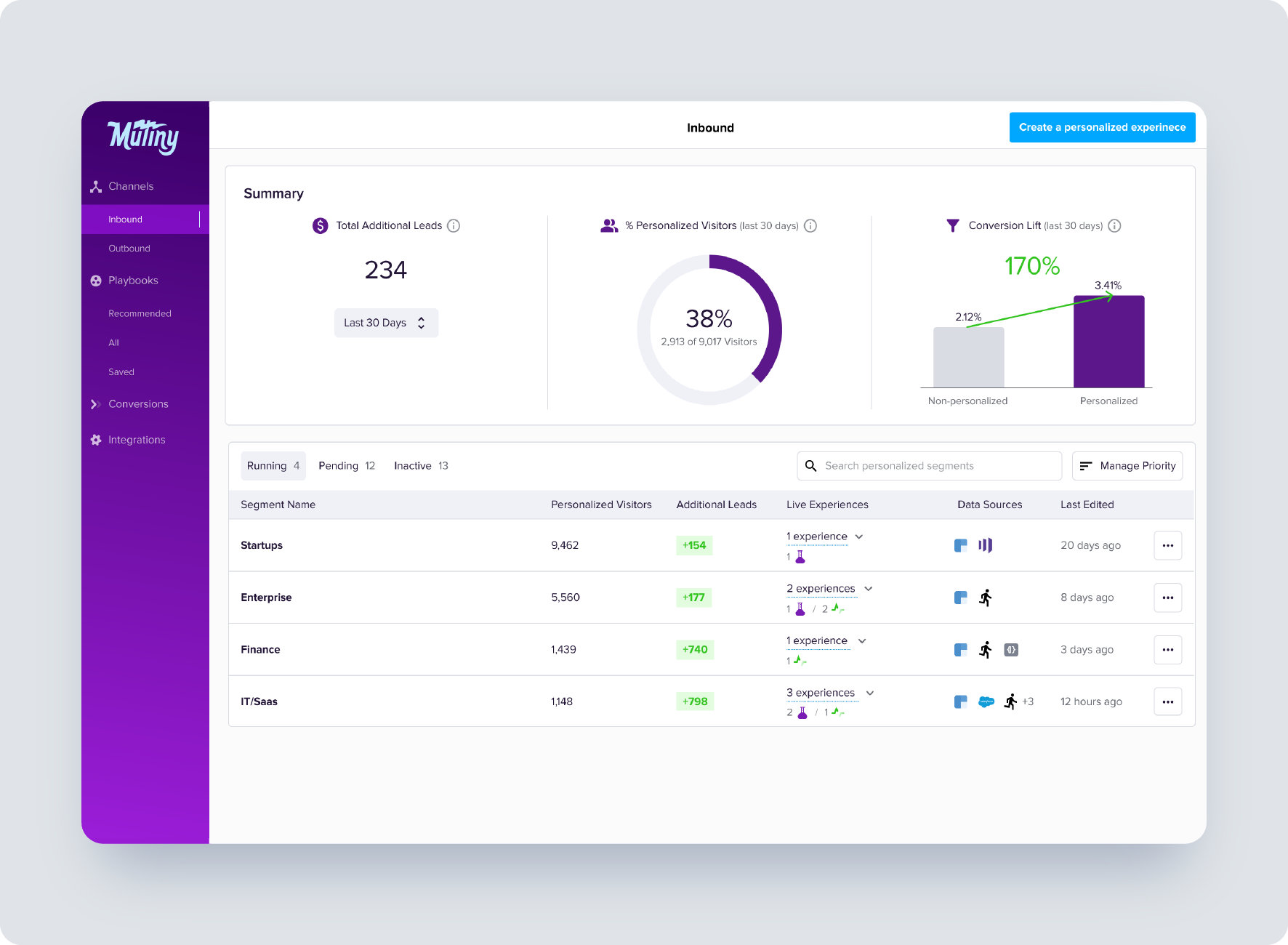 10. Outgrow
Outgrow is a content marketing service that specializes in calculators, forms, and quizzes to aid the modern marketer in lead generation. Featuring code-free integrations, you can choose from one of the 1,000+ templates to create not only the content listed above, but also surveys, chatbots, and more. Easily integrate onto desktop, mobile, tablet, or apps to acquire qualified leads and increase the ROI of your outreach.

Best for: Marketing, sales, web development

Key features:
1,000+ content templates
Data reporting and analytics
Personalization
Lead monitoring
Native integrations

Pricing: Outgrow offers monthly and annual subscription tiers based on features, users, and asset types:
Freelancer (limited): $14 per month
Freelancer: $25 per month
Essentials: $95 per month
Business: $600 per month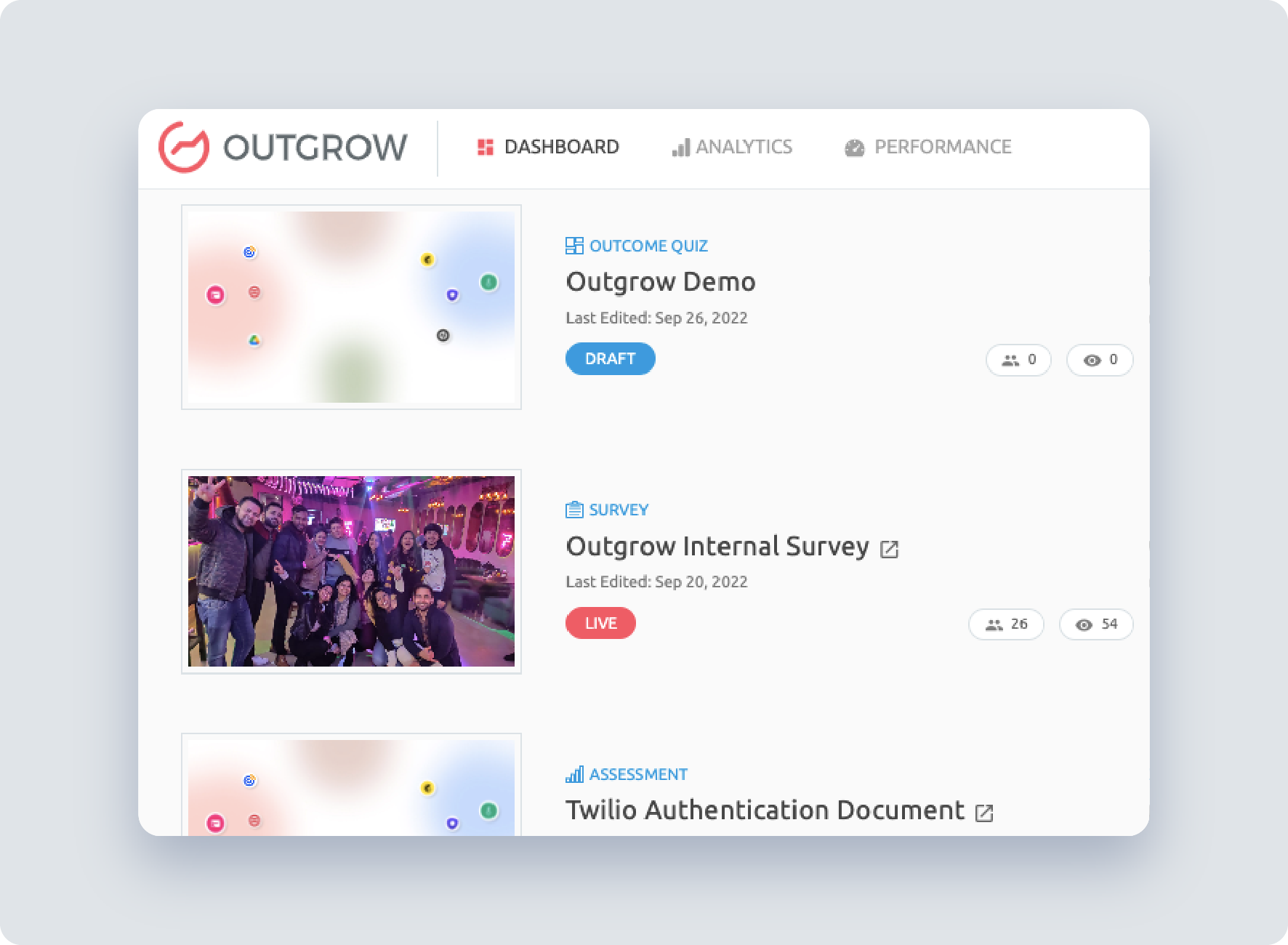 11. Qualified Pipeline Cloud
Qualified Pipeline Cloud helps companies identify and target their most valuable website visitors through data enrichment. With this software, businesses can start sales conversations instantly by reaching out to prospects that are actively showing high buyer intent — whether that be through a chatbot, personalized advertisement, or email.

Connect Qualified for Clearbit with Clearbit Enrichment and Clearbit Reveal to hone in on buyers who matter quicker than ever before.

Best for: Marketing and sales

Key features:
Personalization capabilities
Live chat with VIP prospects
Lead routing
Campaign analytics
Buyer intent data collection

Pricing: Qualified includes three tiers of subscriptions billed annually based on team size and included features:
Growth: $3,500 per month, billed annually
Premier: $6,000 per month, billed annually
Enterprise: Contact their sales team to learn more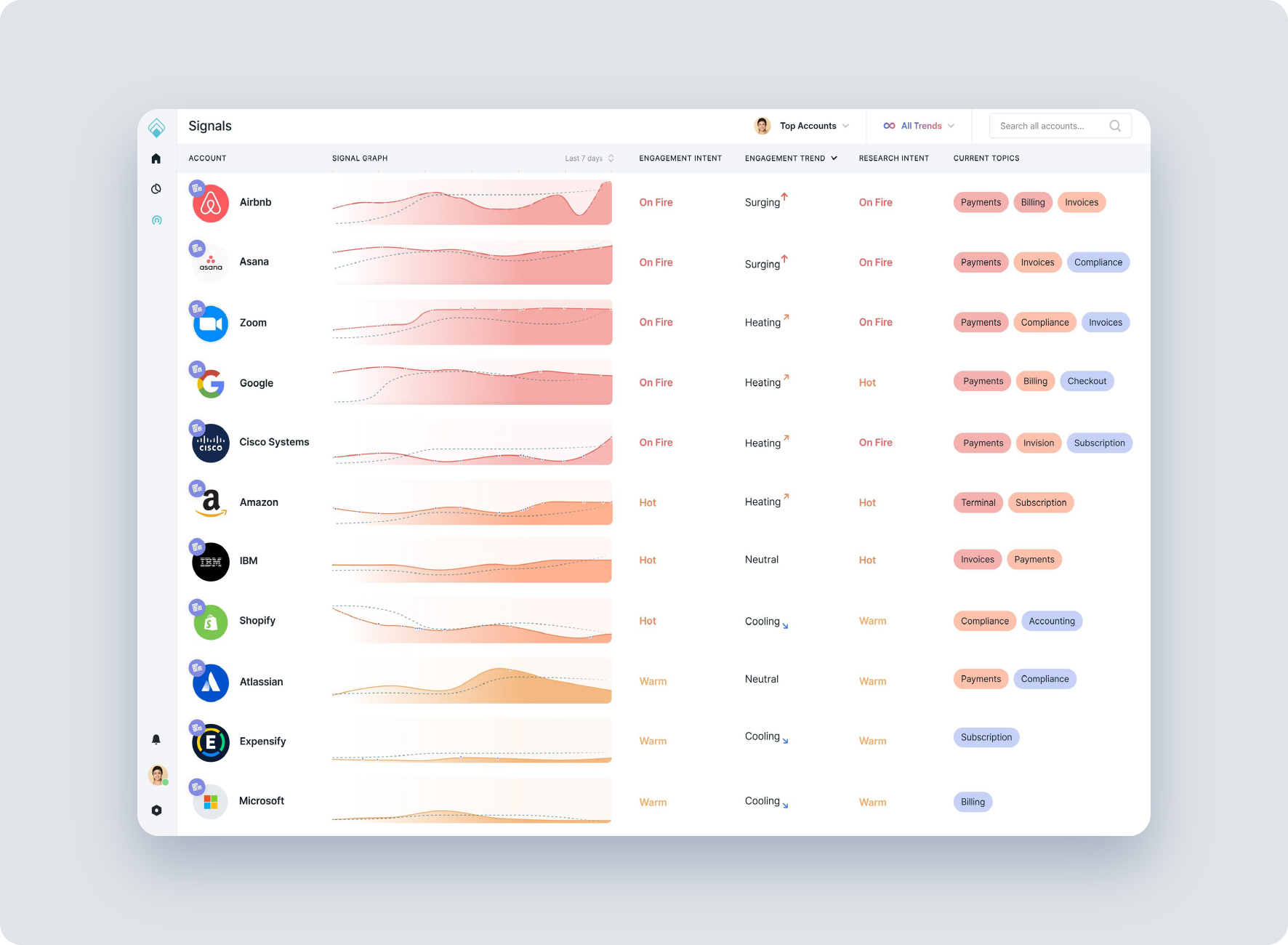 12. Segment by Twilio
Segment by Twilio is a leading customer data platform used by over 25,000 businesses to collect, clean, and activate their data. Gathering consumer events from web and mobile apps, this tool creates the ultimate data pipeline, which can be used by a business to unify their prospect's touch points and create a holistic view of their ideal customer. Reduce customer acquisition costs, increase ROI, and bring together relevant touchpoints with Segment.

Best for: Marketing, product development, and engineering

Key features:
One API for cleaner code
View and reach out to real-time customers
Integrations with over 400 platforms
Create prospect profiles
Standardize data quality

Pricing: Segment comes in three tiers based on the number of features you need:
Free limited plan
Team: Starts at $120 per month and includes a 13-day free trial
Business: Custom pricing based on your needs
13. UberFlip
Uberflip is a platform that specializes in creating personalized content experiences. With this tool, marketers can customize consumer destinations such as landing pages, blog post structure, and more to provide relevant and targeted content to the right prospects at the right time. By harnessing user data, analytics, and AI insights, businesses can produce more relevant messaging, leading to higher conversions while empowering their sales and marketing teams.

Best for: Marketing, sales, customer engagement, and enterprise needs

Key features:
Create personalized customer experiences
Analytics and reporting
SEO optimization
Consistent brand management and messaging
Content organization

Pricing: To learn more about UberFlip's pricing and subscription plans, reach out to their team today.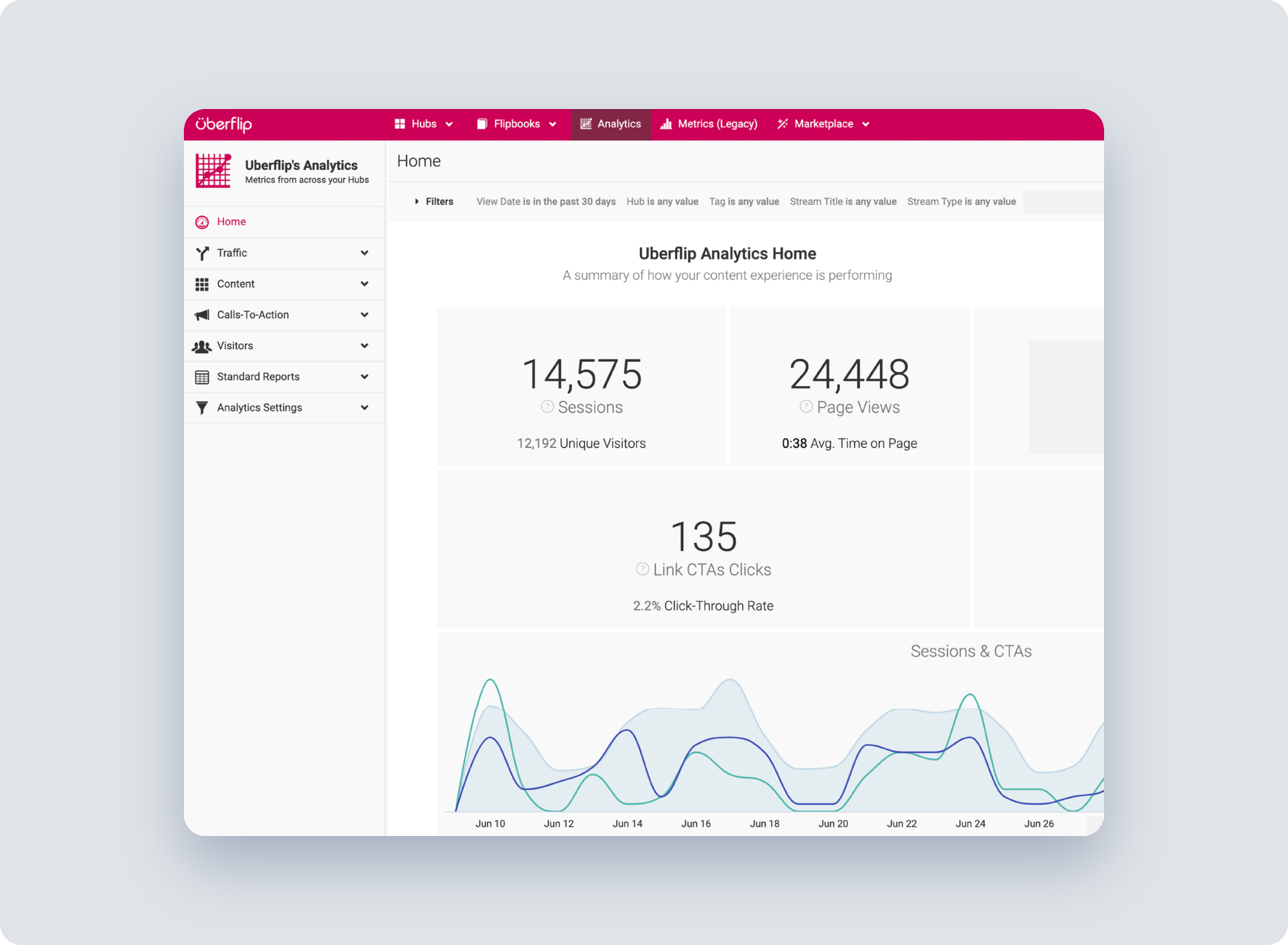 14. Hello Bar
Hello Bar is an easy-to-use, code-free website pop-up widget used to capture leads and customer information through targeted calls to action. Able to integrate with almost any platform or tool, businesses can increase prospect engagement, reduce cart abandonment, and collect high-quality leads through customizable forms, sliders, and more. Hello Bar's performance tracking and reporting make it easy to test and optimize strategies over time, and businesses can leverage personalization capabilities to deliver the right messages to the right prospects.

Best for: Marketing, web development, sales, ecommerce

Key features:
Easy-to-use templates
Personalization capabilities
Analytics and custom reports
Pre-built integrations
Design assistant for branding consistency

Pricing: Hello Bar offers multiple monthly and annually pricing tiers based on the number of sessions a site sees per month and features included in plan.
Starter: Free
Growth: $29 per month
Premium: $49 per month
Elite: $99 per month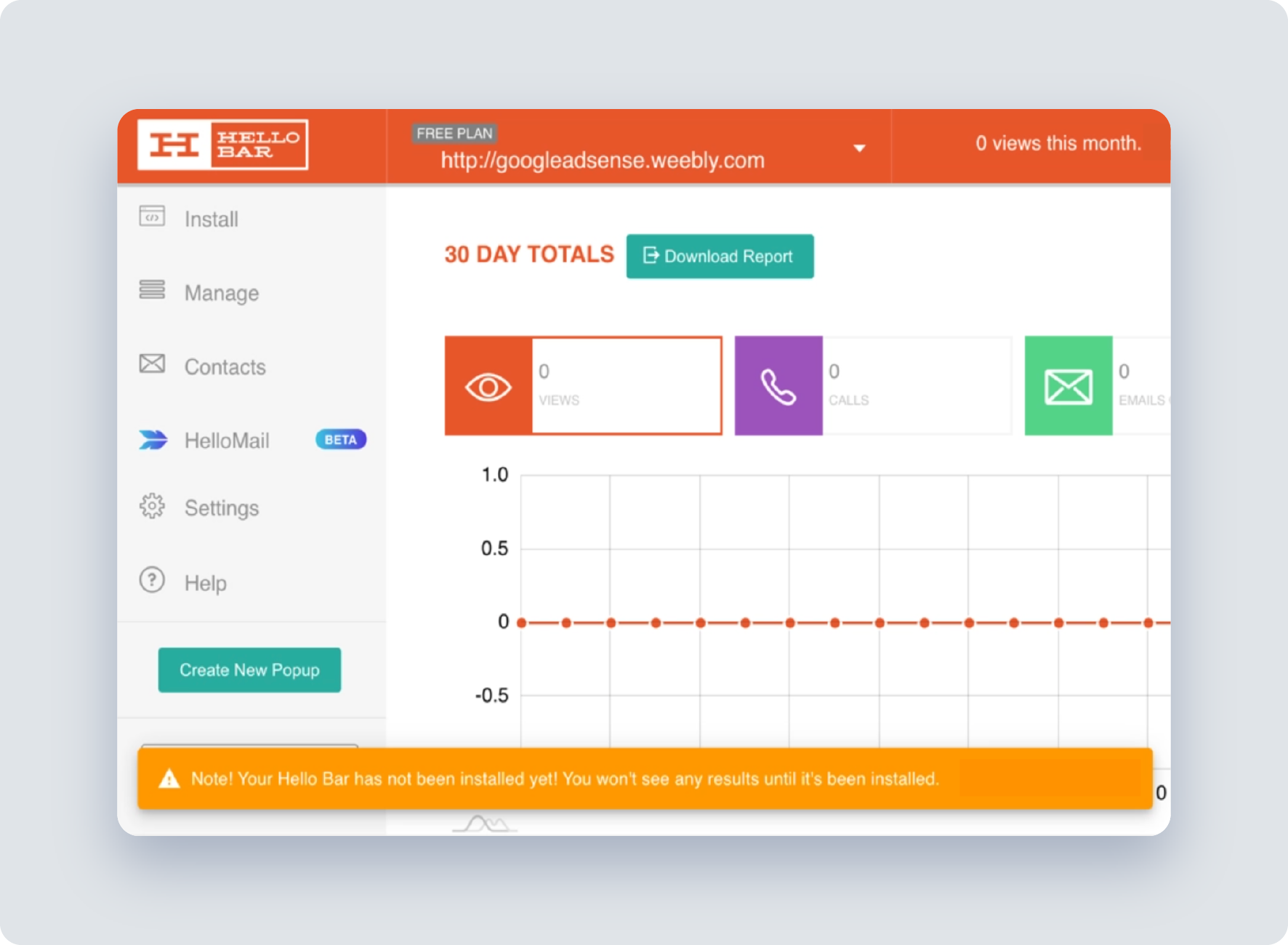 15. Hotjar
Hotjar is a UX tool that provides intuitive, visual ways to understand user behaviors. Primarily relying on heatmaps, this software can help a business find problems with its website layout or overall customer experience, leading to an improved prospect journey. Overall, Hotjar offers an empirical way to analyze how visitors feel about your site or product and allows businesses to improve user engagement and conversion rates across the board.

Best for: Marketers, research, product development, sales, and UX designers

Key features:
Heatmaps to track prospect activity on your website
Reporting and analytics
Live consumer feedback
Uncover UX problems quickly

Pricing: Hotjar offers four tiers of their three solution models billed monthly or annually based on engagement size
Observe: Free - $99 per month
Ask: Free - $79 per month
Engage: Free - $139 per month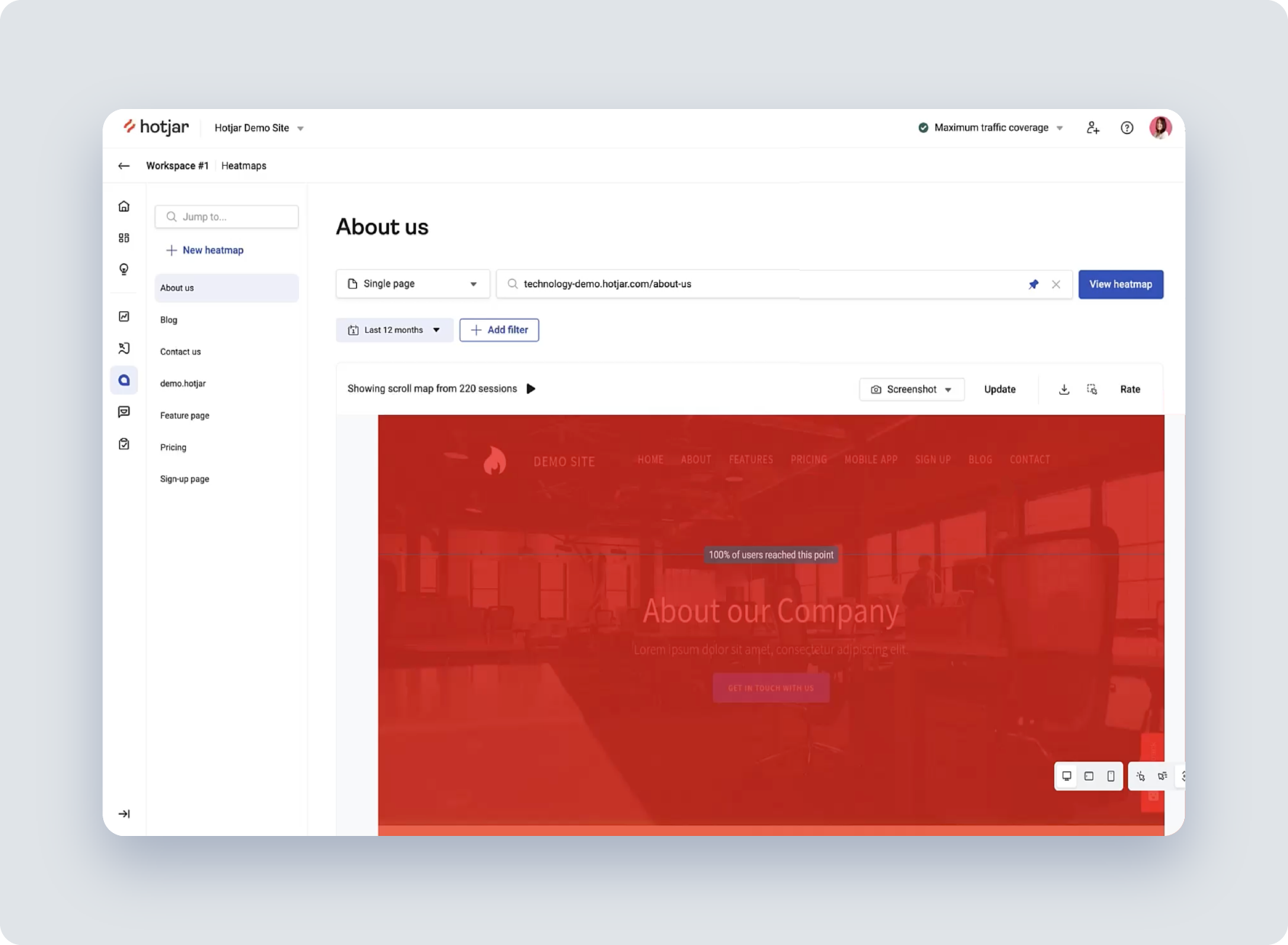 16. HubSpot
HubSpot is a leading CRM lead generation tool that boasts a multitude of capabilities to improve a business' outreach. In addition to being a powerful content management tool, email marketing platform, and lead nurturing program, this CRM is known for its capability to integrate with a wide variety of tools, software, and APIs to attract, nurture, and guide prospects to conversion.

Save time uploading up-to-date prospect information into HubSpot with Clearbit integration.

Best for: Marketing, sales, customer support, and web development

Key features:
Landing page creation
Consolidation of marketing tools
Capabilities for both demand and lead generation
Lead routing, tracking, and management
Marketing analytics and performance tracking

Pricing: Hubspot Marketing offers four tiers of monthly subscriptions based on marketing contact amounts and included features, and a limited Starter plan offering a suite of free marketing tools for individuals.
For businesses & enterprises
Professional: $800 per month annually, $890 per month
Enterprise: $3,600 per month
For individuals & small teams
Free tools
Starter CRM Suite: $55 per month annually, $29.97 per month
Professional: $800 per month annually, $890 per month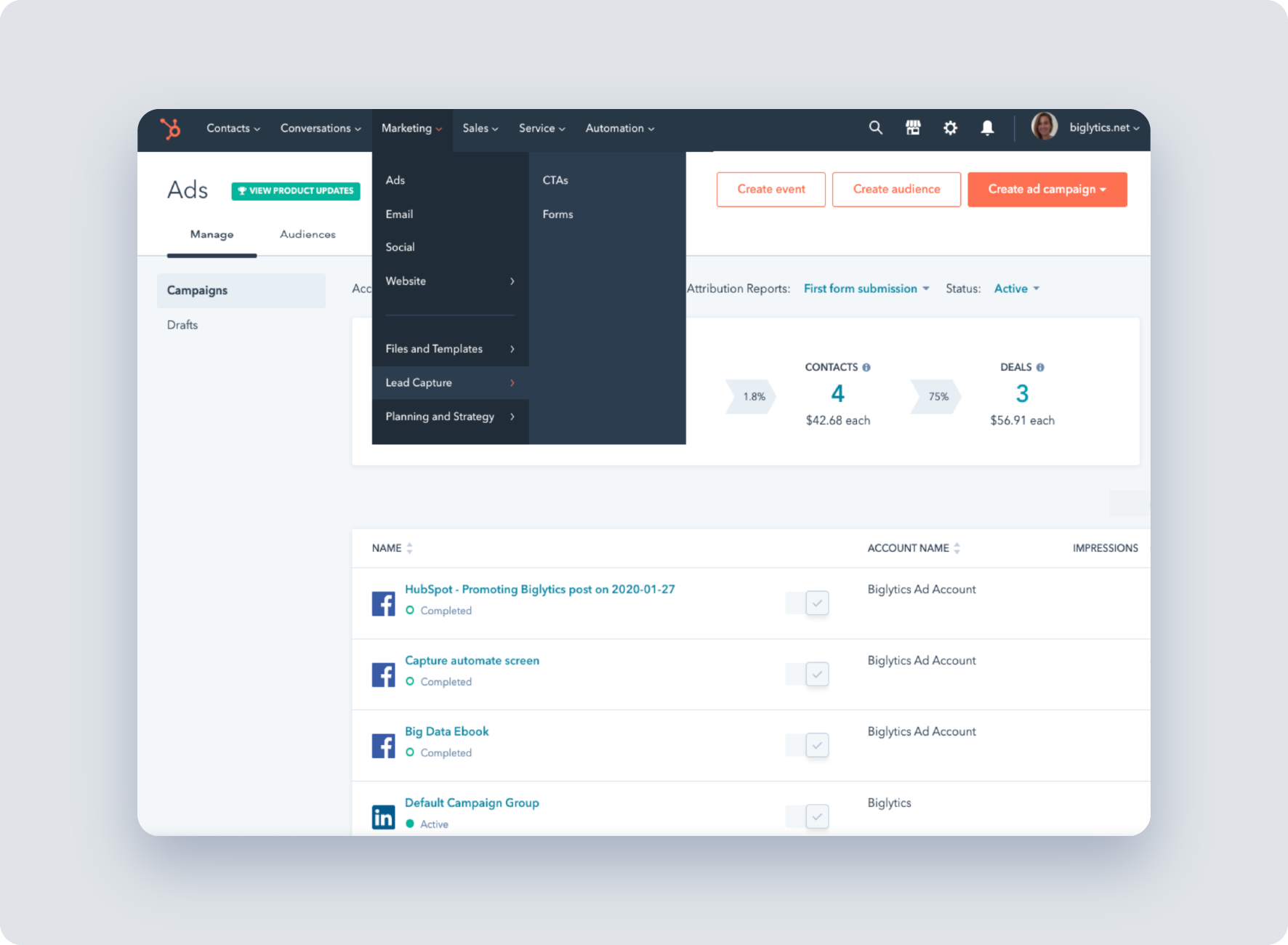 17. Intercom
Intercom is an AI communication platform that connects businesses with prospects through personalized chat and messaging campaigns. Utilizing intent data and other behavior-driven insights, Intercom gathers prospect information through automated chat, providing a helpful resource for website visitors. From there, the software shares this prospect information with sales teams, tracks prospects through the sales funnel, and provides valuable optimization insights over time.

Combined with custom data from the Clearbit Reveal app, Intercom can efficiently address customer needs. Learn more about this integration in the webinar Turn traffic into results: demand gen strategies from Intercom.

Best for: Marketing, sales, ecommerce, and customer support

Key features:
Customizable chat bots
AI conversation flow
Automated workflows
Email targeting
Comprehensive prospect profiles

Pricing: Intercom's four solution-based plans include the based on seats needed and the number of people reached included in each solution. Try out a starter plan for 14 days for free before paying the monthly fee, and contact for pricing for the Support, Engage, and Convert Plans.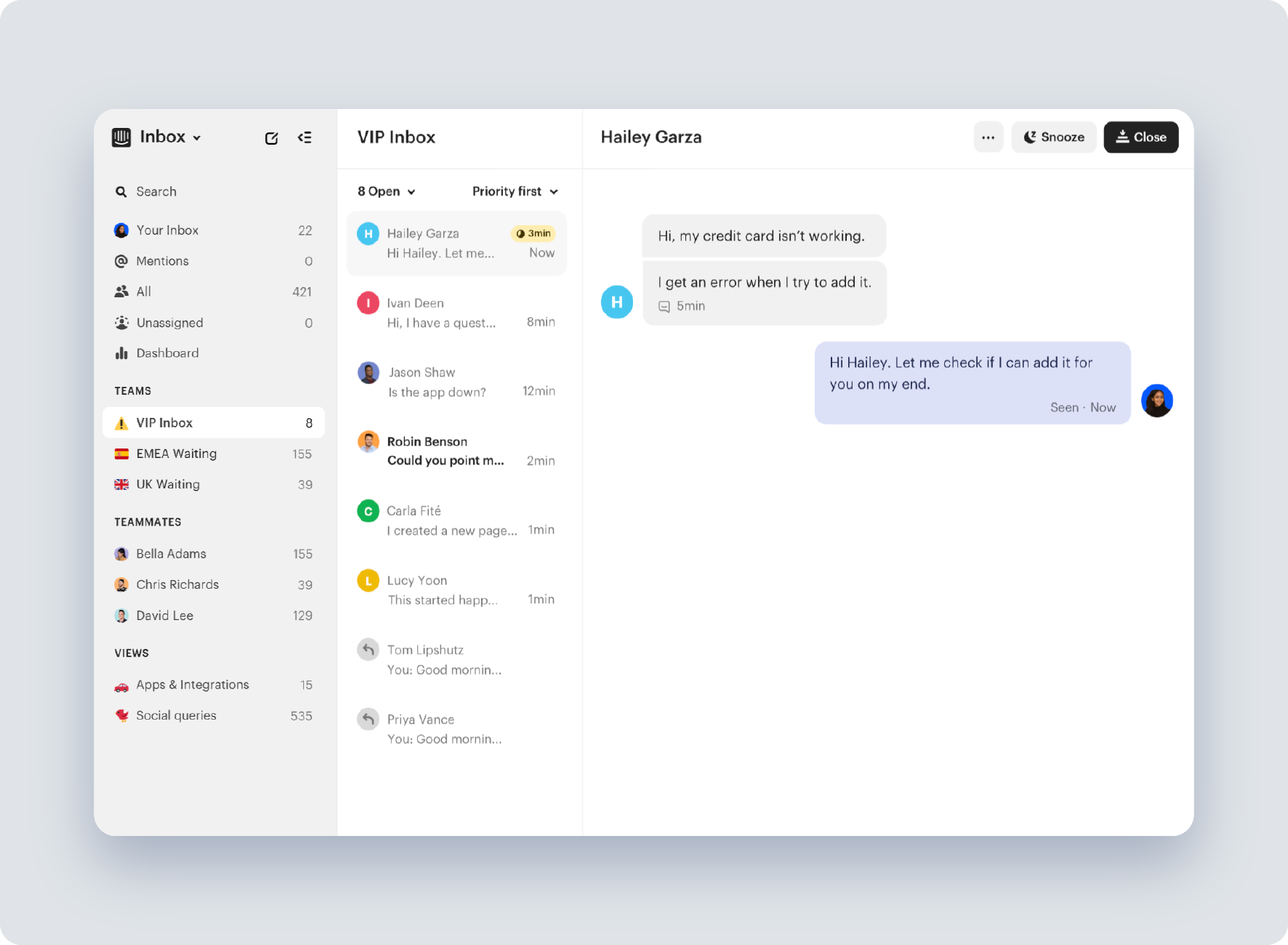 18. Overloop (formerly Prospect.io)
Overloop is a multi-channel sales automation platform designed to help teams manage lead nurturing from beginning to end. This tool allows businesses to build prospect lists, manage pipeline, track outreach performance, and improve processes all within one platform — making Overloop one of the leading modern sales support tools on the market.

Best for: Sales, Recruiting, Marketing

Key features:
Prospect management and segmentation
Multi-channel outbound campaigns
Manage sales productivity
Analytics and reporting
Data enrichment capabilities

Pricing: Try Overloop for 14 days for free before signing up for their all-inclusive No-Brainer monthly subscription for $99 per user/month.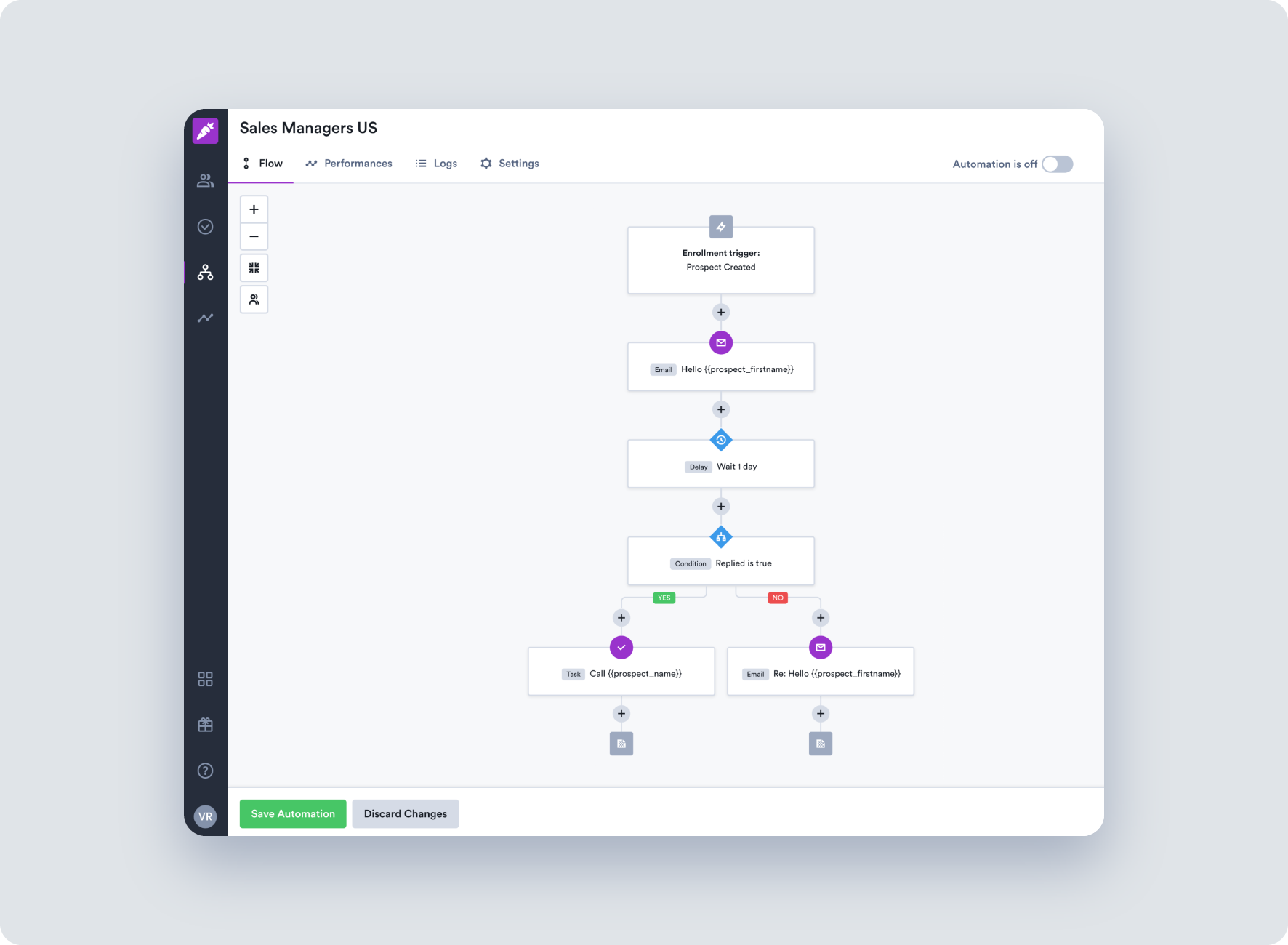 19. OptinMonster
OptinMonster is a lead generation tool designed to build prospect lists and increase sales. This no-code opt-in builder allows businesses to quickly and easily build forms such as pop-ups, floating bars, slide-ins, and more to their site.
By using intent data to personalize and target high-value leads, you can place these add-ons strategically throughout your site to target the right visitors at the right time.

Best for: Marketers, ecommerce, and media publishers

Key features:
Convert any link to an opt-in form
Location targeting
Exit intent technology
Drag & drop opt-in builder
Campaign customization

Pricing: Optinmonster offers multiple pricing subscription tiers based on the number of sites being using the tool, total pageviews, and number of features included and is billed annually.
Basic: $9 per month
Plus: $19 per month
Pro: $ 29 per month
Growth: $49 per month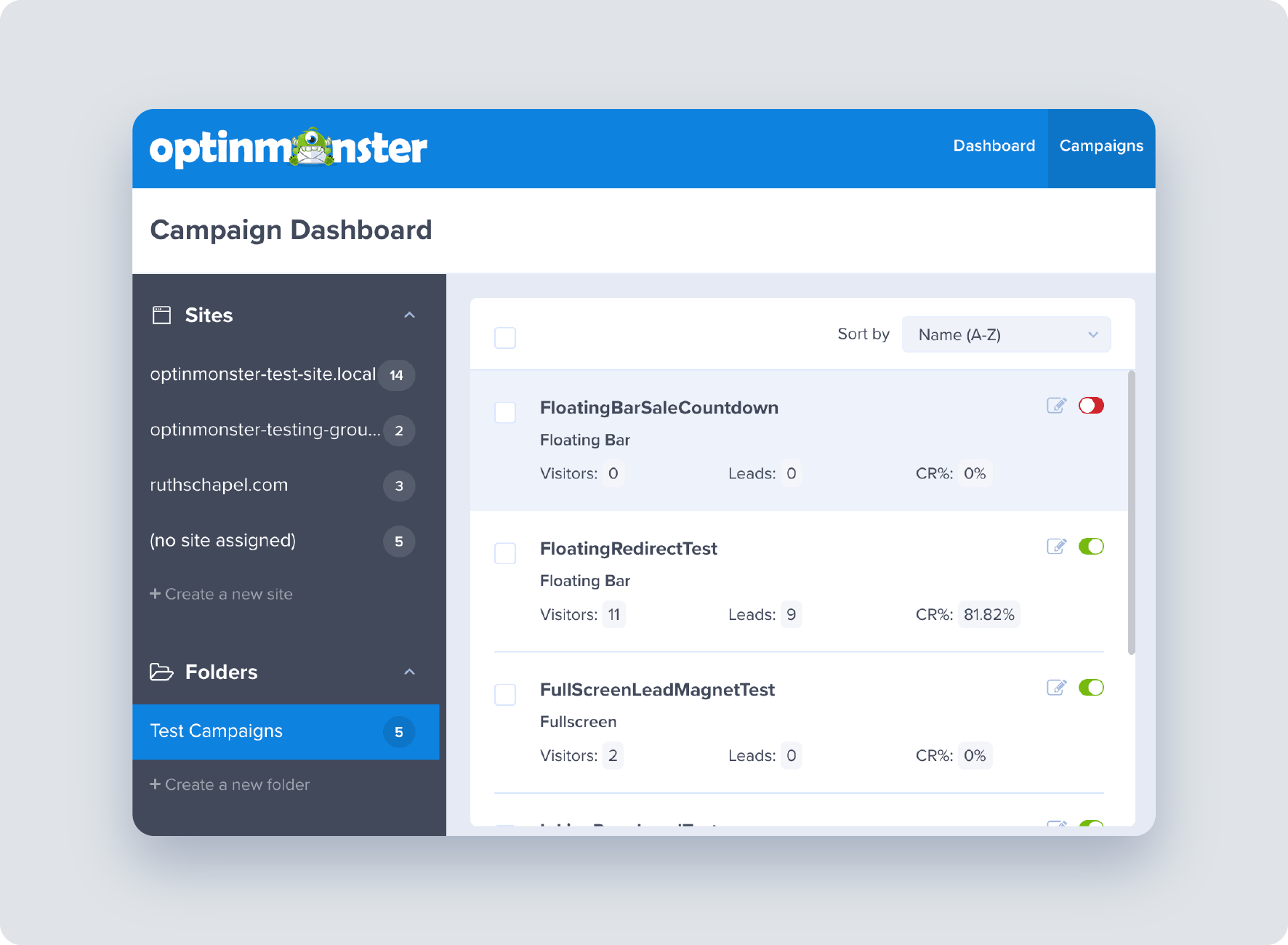 20. Salesforce Marketing Cloud Account Engagement (Formerly Pardot)
Salesforce Marketing Cloud Account Engagement (formerly known as Pardot) is a B2B marketing automation platform that allows businesses to execute personalized outreach at scale. Driven by intent data, businesses can take the guesswork out of lead scoring by guiding prospects through the sales funnel thanks to a united platform that acts as a single source of truth.

Businesses can get more out of the Salesforce Marketing Cloud Account Engagement with Clearbit by integrating seamlessly into the Salesforce platform.

Best for: Marketing, sales, and web development

Key features:
Lead management, development, and nurturing
Prospect tracking and segmentation
Real-time integration
Prospect journey orchestration
Reporting dashboard

Pricing: Salesforce offers four subscription tiers of their marketing automation platform charged annually based on the amount of features required.
Growth: $1,250 per month
Plus: $2,500 per month
Advanced: $4,000 per month
Premium: $15,000 per month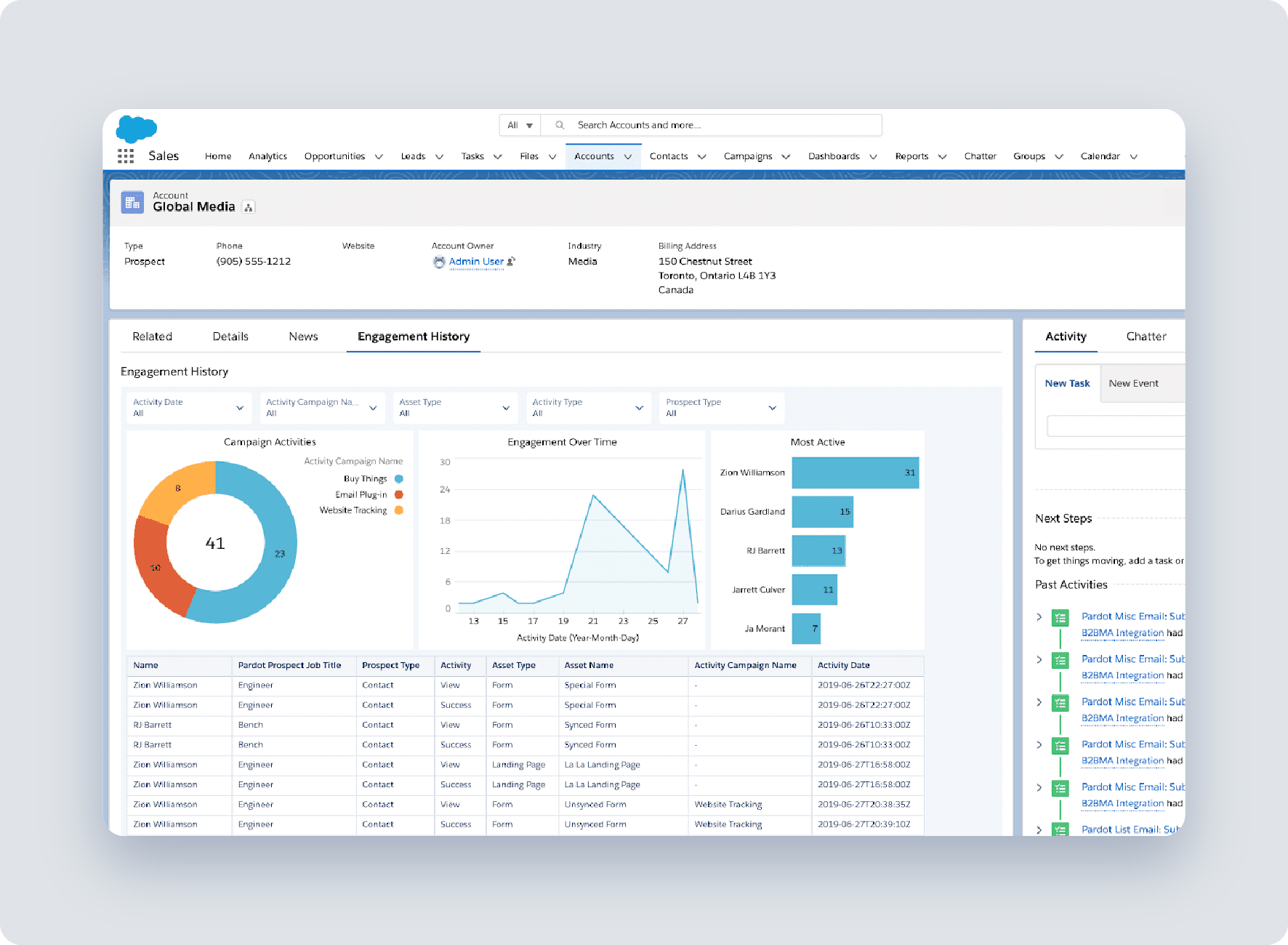 21. Constant Contact
Constant Contact is a digital marketing platform designed for businesses of all sizes. Complete with custom templates and performance tracking, this software provides businesses with the support they need to execute email, SMS, and social media marketing campaigns.

Additionally, their CRM platform makes it easy to score leads, target high-intent prospects, and nurture them with personalized content experiences.

Best for: Sales, marketing, ecommerce, and email marketing

Key features:
Lead nurturing
Social media, SMS and email marketing
Landing page creation
Full sales funnel analytics
A/B performance testing

Pricing: Constant Contact offers five tiers of monthly subscription options for two solutions.
Email and digital marketing plans (based on number of contacts)
Core: $9.99 per month
Plus: $45 per month

Lead gen & CRM plans (based on number of contacts)
Essential: $199 per month
Advanced: $599 per month
Ultimate: $899 per month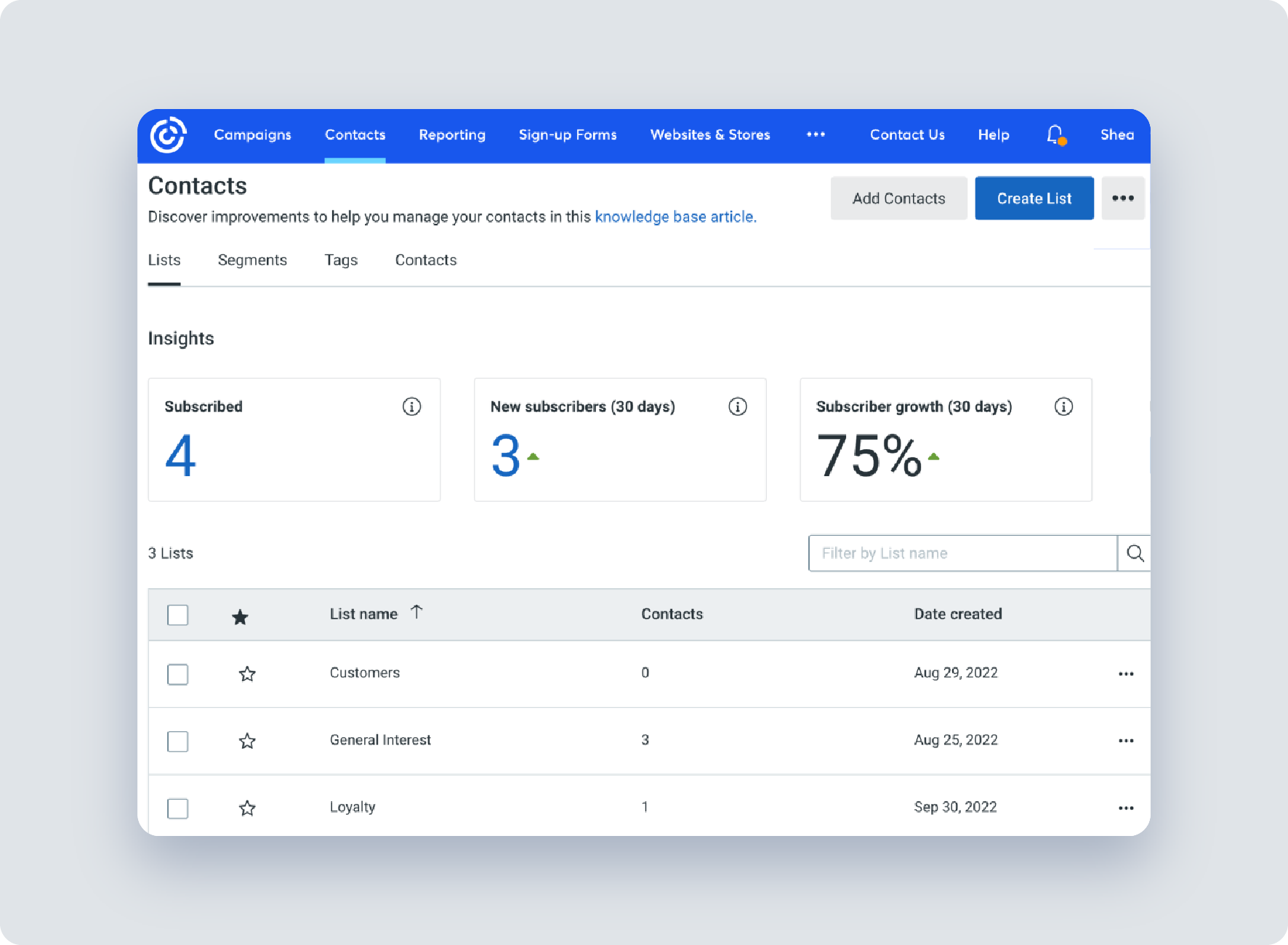 22. LinkedIn Sales Navigator and Sales Insights
LinkedIn Sales Navigator and Sales Insights are two programs sales professionals can use to find, track, and engage with potential clients on LinkedIn's 800M+ member network.

Navigator allows users to search for prospect opportunities, keep track of leads with activity updates, and manage their relationships through interaction tracking — all leading to shorter sales cycles and faster lead generation. Meanwhile, the Insights portion provides market information that will help narrow your team's focus and improve your go-to-market strategy.

Best for: Sales and marketing

Key features:
Up-to-date data enrichment
Advanced filters to target the right prospects
Seamless collaboration with InMail
High-quality firmographic data
Integrate reports into CRM tools

Pricing: LinkedIn Sales offers three tiers of monthly or annual pricing based on features and scope.
Core: $79.99 per month annually, $99.99 per month
Advanced: $131.25 per month annually, $169.99 per month
Advance Plus: Contact for more information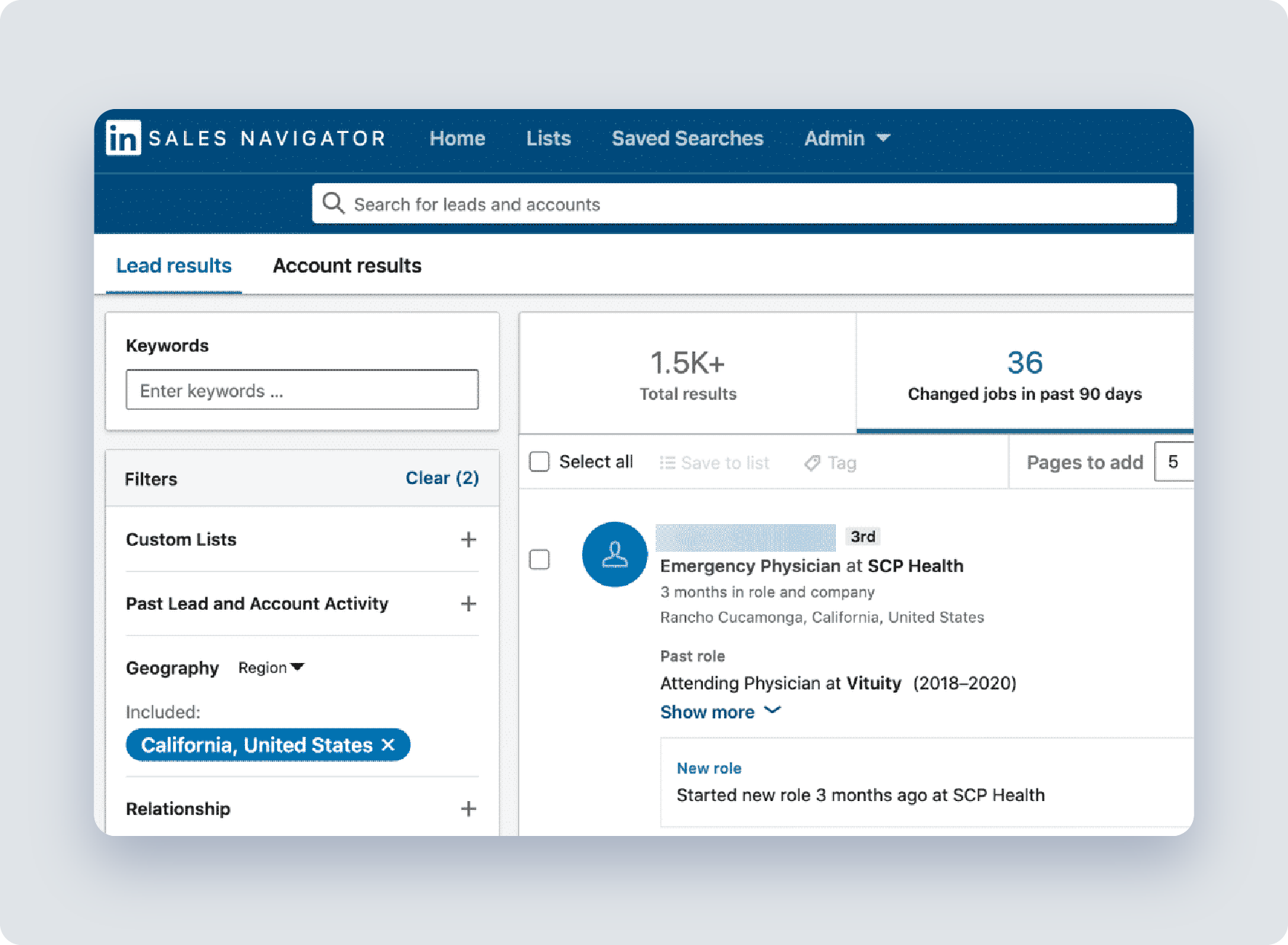 23. Qualaroo
Qualaroo is a platform designed to gather prospect information through feedback about products, services, and brands. With capabilities for surveys, reviews, analytics, and more, businesses can use this research tool to guide personalized outreach and capture customer information for lead nurturing campaigns.

Best for: Marketing and sales

Key features:
Survey templates
AI-powered analytics and reports
Exit intent surveys
A/B testing
Question branching

Pricing: Qualaroo offers three tiers of subscription pricing for two solution plans and a bundle based on features included.
Contextual Survey
Essentials: $19 per month annually, $99 per month
Premium $49 per month annually, $199 per month
Business: $99 per month annually, $299 per month
Email Survey
Essentials: $69 per month annually, $25 per month
Premium $149 per month annually, $59 per month
Business: $299 per month annually, $129 per month
Contextual Survey + Email Survey bundle
Essentials: $79 per month annually, $110 per month
Premium $169 per month annually, $249 per month
Business: $299+ per month annually, $299+ per month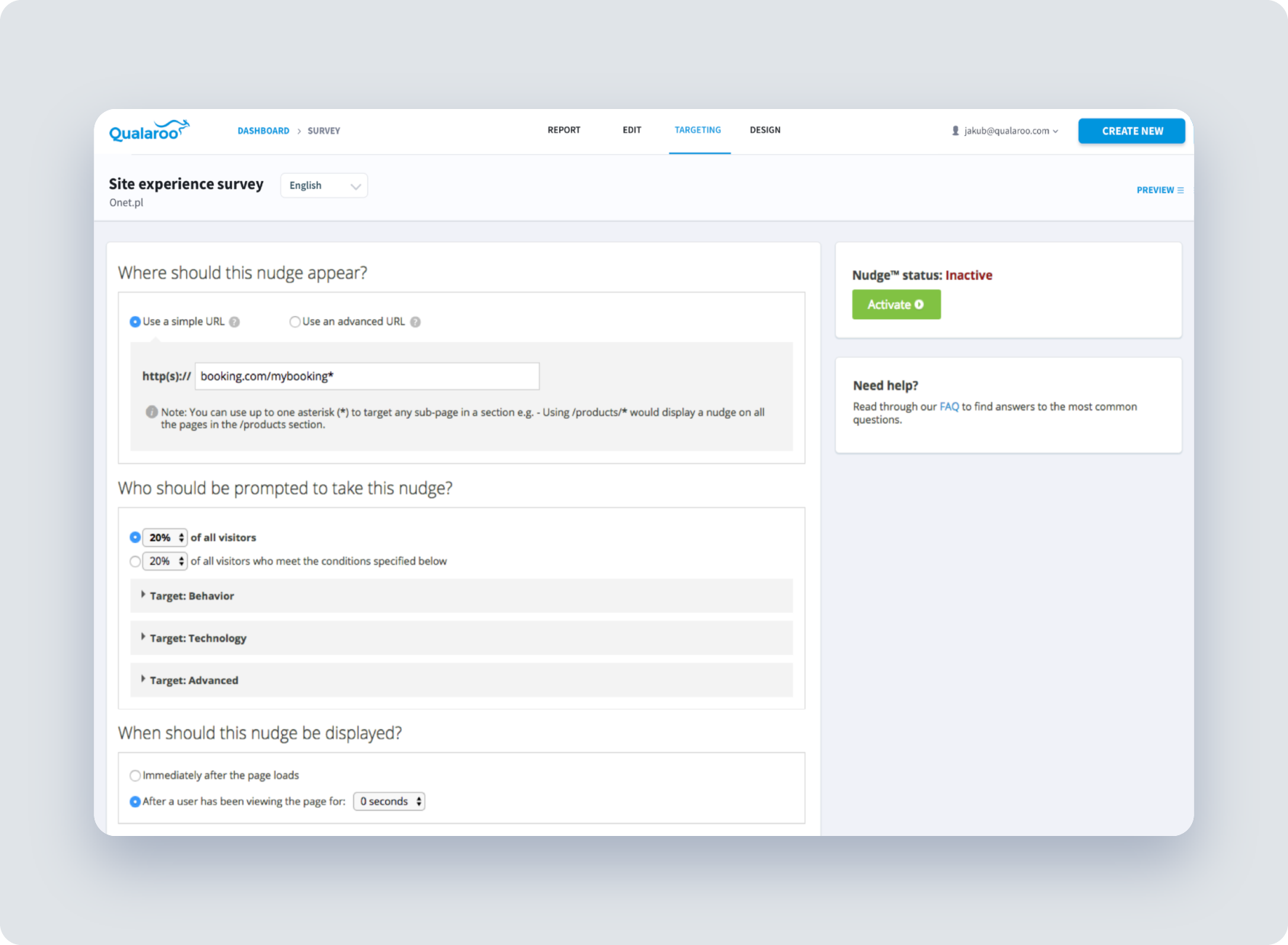 24. CallPage
CallPage is a widget-based SaaS B2B lead generation tool that allows businesses to connect with prospects faster than ever.

Using intent data, the tool works to connect interested prospects to the first available sales rep through automation, custom scripts, and predestined routing. The software also provides a range of tools for tracking, measuring, and analyzing, giving businesses the chance to optimize their outreach to best reflect their ideal customers.

Best for: Sales, marketing, and customer support

Key features:
Automated callbacks
Easy meeting scheduling
Lead qualification and routing
Phone recording
Analytical performance

Pricing: CallPage's offers tiered monthly pricing based on the number of generated leads and covered domains. Try it free for 7 days.
Basic: Free
Basic Plus: $19 per month annually, $25 per month
Professional: $97 per month annually, $129 per month
Premium: $247 per month annually, $329 per month
Custom: Contact for pricing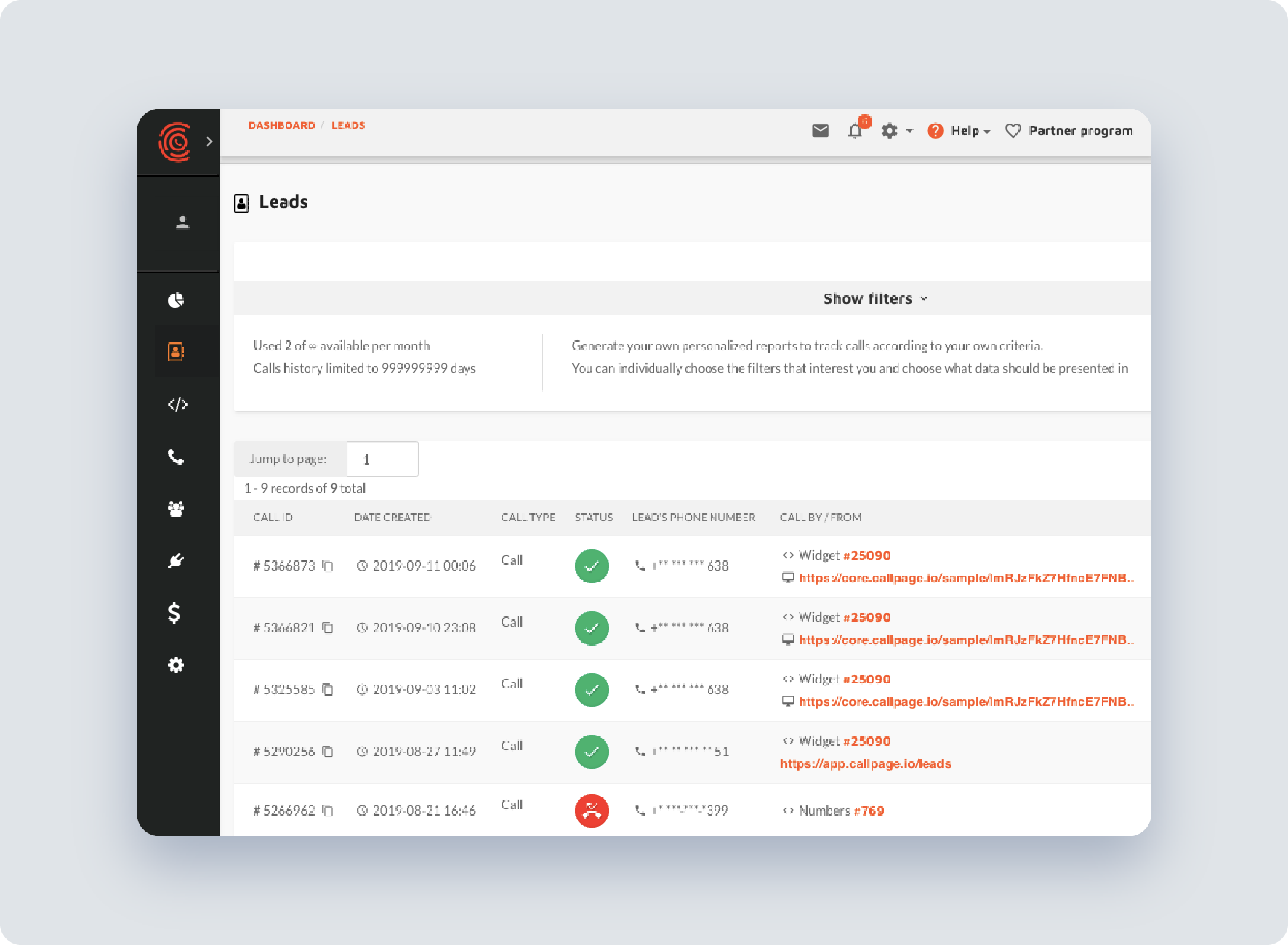 25. Wistia Turnstile
Wistia Turnstile is a tool on the Wistia video hosting platform that allows businesses to capture leads through video content.

Through the software, businesses can gather information such as names, email addresses, and other relevant information from prospects before allowing them to view video content. Easy to use, this add-on is an effective tool to pair with lead magnets and other outreach methods to optimize lead generation.

Best for: Marketing and sales

Key features:
Advanced integrations with HubSpot, Marketo, Mailchimp, and more
Video creation and hosting
Email capture
Customizable forms

Pricing: Wistia offers lead capture forms such as Turnstile with all of their paid subscription plans and have tiers based on user seats and the number of videos billed monthly and annually.
Plus: $19 per month annually, $24 per month
Pro: $79 per month annually, $99 per month
Advanced: $319 per month annually, $399 per month
Premium: Custom pricing upon request
Choosing the right tools for your business
Ensuring that your team has a system to attract prospects and move them down the sales funnel is key to optimal ROI and revenue growth — but without the proper tools, that can be a difficult task.
From on-site email capturing tools to outbound nurturing through email automation, there are endless ways to use digital platforms, software, and add-ons to support your sales and marketing teams.