7 lessons on revenue-driven marketing from top B2B experts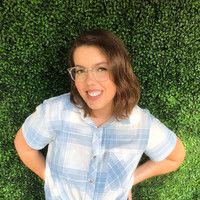 Alex Ross
December 20, 2022
---
All modern marketing leaders have two goals: optimize spend and reduce customer acquisition costs.

So, it's no surprise that marketers are moving beyond vanity metrics in favor of what actually matters — revenue. In fact, 88% of marketing organizations track revenue as their primary metric in 2022, a 12% increase from 2021.
The good news? Marketing and sales finally share goals.

The not-so-good news? While much has been said about using revenue-driven marketing to align marketing and sales, the tactics are still in the works.
At Clearbit, we understand the importance of effective revenue-driven marketing, so we decided to feature some of the best minds in B2B SaaS in our limited series, Marketing Sells. Here we've summed up the top tips from the webinars in seven key takeaways.
You can employ these marketing tactics to better align with sales, activate your ICP, and drive pipeline and revenue.
Get everyone on the same team
In revenue-driven marketing, marketing and sales share the same success criteria, so many companies are shifting their structure to ensure marketing and sales are under the same umbrella of leadership.

Kyle Coleman, Senior VP of Marketing at Clari, explains that this marriage is important for creating a world-class experience for prospects. If you've been a buyer, you know how frustrating it is to have the same conversation eight different times and still feel like you're no closer to understanding the product.

"We don't often think about the prospect experience, and the breakdown in our processes is a result of that."
For instance, if a prospect clicks on an ad about forecasting, all of those details are sent to the SDR. The SDR focuses the conversation on forecasting and sets up a demo for the customer with an account executive (AE) to see how it works in action.
That is why Kyle recommends teams work together and communicate closely to better handle hand-offs, outreach strategy, or account planning.  
"I know it sounds so basic, but so many companies get it wrong. So, having these teams together under the same umbrella is a really useful way to ensure they develop relationships, and they're ensuring that their processes are coalescing so they're creating a world-class prospect experience."
Focus on one key metric: Pipeline
While revenue is the end goal for sales and marketing, the best way to evaluate success is to focus on one key metric — qualified opportunities or pipeline.
Kyle explains that this is where marketing and sales intersect. Marketing is responsible for bringing in qualified leads, while sales takes those leads to the finish line.

At Clearbit, qualified opportunities are known as "sales accepted opportunities." The focus on this metric helps teams accelerate pipeline growth and orient themselves with revenue KPIs.

Marketers measure themselves against this metric to ensure their messaging and positioning are attracting their ICP and handing them off to sales with timely information. On the other hand, sales takes those warm opportunities and focuses on turning that pipeline into revenue.
Get your TAM, ICP, and personas right
HubSpot's 2022 data indicates that 42% of salespeople want higher-quality leads from marketing, but marketing and sales are often at loggerheads when it comes to defining a qualified lead. At Clearbit, 18% of leads drove 86% of the revenue in the last three years. This isn't an uncommon finding. Many organizations find that a small percentage of leads drive most of the revenue.
Kevin Tate, Chief Marketing Officer at Clearbit, recommends clarifying which people will make up your qualified leads by collaborating with sales to define your TAM, ICP, and buyer personas.
Total addressable market (TAM)
"If you think about the overall market as a pond, and all the fish in the pond are the companies you're going after, TAM is the total size of the pond," says Kevin.
TAM = Total # of potential customers * Annual contract value (ACV)
Ideal customer profile (ICP)
Your ICP represents the type of companies you're going after within your TAM. Or, as Kevin puts it, the "ICP is the best way of describing the best fish in the pond."
Here's a quick example of what an ICP could look like:
Type: B2B, SaaS
Employee count: 50-1,000
Technology: Uses Salesforce/Marketo/HubSpot
Funding: $10M+ raised
Kevin suggests reverse-engineering your ICP by coming up with a success criteria, looking at your data to identify the best-fit customers and talking to sales and CS to dig deeper to find shared traits.
Once you have a clear picture of your ICP companies, you'll need to dig deeper to find the people that are potentially going to benefit from your product. And for that, you need buyer personas.
Buyer personas
"A persona is a single type of person or a single role at one of the ICP companies," says Kevin.
While personas get a bad rap in some circles for being too hollow or complicated, Kevin finds personas extremely useful when you want to ensure marketing and sales are aligned.

"If marketing is putting a fish on the line, then we want to make sure that sales agrees that it's a fish worth catching."
Typically, marketing doesn't have enough objective data to build buyer personas. So, you'll need to rely on what you've learned about the companies you sell to, the people who made the purchasing decision, and how the product fits into their stack.
Put your ICP to work
With your basic definitions in place, Kevin recommends marketers operationalize the ICP.
He suggests that as soon as you get leads in, filter and tag them in your CRM so you can market to the high-intent leads and trigger alerts for sales so they can start engaging target accounts.
Set up analytics and marketing operations to prioritize ICP leads and high-fit accounts
Measure goals and success against your ICP
Analyze your ICP on an ongoing basis
"Make ICP not just a lens through which to understand your business but actually change the way your business operates," he says.
But here's the thing: Your ICP isn't an exclusionary criterion.
Most of your marketing resources should be allocated to your ICP, but don't entirely ignore companies outside of it. Make sure you can entertain conversations with leads outside your ICP without de-prioritizing high-fit, high-intent accounts.
Improve your speed to lead
Even though speed to lead has been a topic of interest for over a decade, Tara Robertson, Senior Manager of Demand Generation at Chili Piper, believes it's still an area that needs more focus.
For one, there's a lot of turnover in sales teams. So, if a lead comes in but the account's tagged with a salesperson who no longer works there, no one gets notified. Or sometimes, technical issues pop up within automated workflows. Let's say a new landing page goes up, and something breaks along the way. Any leads that find their way to that page are lost, ruining your speed to lead.
Apart from automation failures, buyer expectations have changed. Our need for instant gratification has made B2B buying more like the B2C world.
When you look at the data Chili Piper collected on speed to lead, you begin to see the true nature of this problem.
60% of leads are lost due to slow follow-up
78% of deals are closed by companies that respond first
Web leads are 9x more likely to convert if they hear from you in five minutes

But when looking at B2B companies, Chili Piper found that no one was beating the five-minute mark. In fact, 80% of companies took more than five minutes to respond. And 55% of those companies took more than an hour to respond. But the real shocker was that 30% of companies never responded at all.
The answer to this problem lies in automating the qualification processes and routing leads instantly. Tara recommends making your criteria for these automations very black and white. For instance, Chili Piper customers are also Salesforce and HubSpot users, so the workflow uses the technology tags to qualify them.
But even if leads don't meet your qualification criteria, make sure you send them an email. You may just find some deals that were incorrectly disqualified.
Leverage covert intent-based outreach
Historically, marketers have relied on overt intent signals — i.e., downloading an eBook, attending a webinar, or filling out a form — to know where buyers are in their customer journey.
But covert signals like looking at product pages, reading product reviews, or researching solutions have flown under the radar.
One way to get around it is to invest in a platform like Bombora, which offers third-party intent data. Matthew Ferriss, Senior Director of Enterprise Sales at Bombora, explains how it works:
"At Bombora, we have our own scoring methodology. We do a scoring of 0-100 and take some things like the relevancy of the page, how long was someone on a page, and how many clicks they did. A lead who scores over 60 is categorized as a high-intent prospect. Bombora's customers then marry this data with their first-party intent data."

Enter Clearbit Reveal. Reveal helps you get that first-party intent data by de-anonymizing your website visitors. For instance, you can learn when your ICP is browsing your site and their location.
So how does this intent data help?

If you market to different audiences, analyze which pieces of content appeal to them. Once you've done that, you can personalize your website for these different segments so you can improve your conversion rates.
You can also alert sales so that when target accounts visit your website, reps can reach out to prospects instantly with timely information.
Harness gifting to accelerate enterprise pipeline
Gifting isn't just a strategy you can use to book meetings. You can also use it to accelerate your enterprise pipeline.

Nick Bennett, Director of Evangelism & Customer Marketing at Alyce, explains how gifting can take "outbound touches" into "outbound moments": "You should be leveraging it [gifting] across the buyer's journey. One of the best ways to do it is [to use it] as mid-deal accelerators."

Nick has achieved a 37% close rate by offering swag boxes to champions in the buying committees.

But Nick says if you're thinking of sending a gift to prospects after a demo, don't just send them a gift card. Send highly personalized gifts instead.

For instance, if you learn your lead likes football, a T-shirt of their favorite team is far better than a cookie-cutter Amazon gift card. You can also offer prospects the opportunity to exchange gifts or donate money to the charity of their choice.
Sell to people, not businesses
"There's no such thing as a B2B audience. There's no such thing as a B2C audience. There are B2B and B2C buying journeys, and they look different because of stakeholders and time to purchase. Your audience is H2H [human to human]," says Lauren Lang, Senior Content Marketing Manager at Constructor.
Marketing and sales are about building relationships with buyers at scale. And your processes should reflect that. You can't talk about yourselves and what your product does in the hope you cut through the noise.
You have to help buyers do their job better, make them feel smarter, and entertain them.

💡 Want to learn more about these marketing tactics? Check out our entire Marketing Sells series for more power-packed actionable tips!