Announcing our Salesforce summer release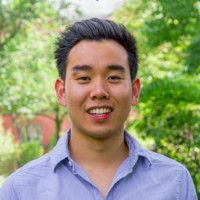 Alex Yamamoto
August 21, 2019
---
Our new Salesforce release is now live! We're excited to share improvements that allow you to have more control and customize Clearbit to work best for your team. With updates to Prospector, Enrichment, and a new debugging tool called Clearbit Workbench — you can create new workflows to prospect faster, use the new ultimate parent attribute to route lead more effectively, and easily test and troubleshoot common issues right from Salesforce.
Check out what we've built to see how you can leverage Clearbit to get more out of Salesforce.
Jump ahead to updates for:
Clearbit Prospector
More data to hone in on the right prospect
We've added new data attributes that make it easier to quickly identify the right prospect at your target accounts including:
Subrole: 83 new subroles allow for more granular targeting. (e.g., for a Marketing role, you'll find subroles such as: Content Marketing, Digital Marketing, Product Marketing, etc.)
Person location: For companies with multiple offices, you can now specify location at a person level to identify people that don't work at a company's HQ
41 new technology tags to prospect against competitive or complementary technologies to your business
Prospector now searches email domains for both alias and canonical domains — leading to a 30% increase in coverage for large company prospects (e.g., example.io, example.com, and example.co)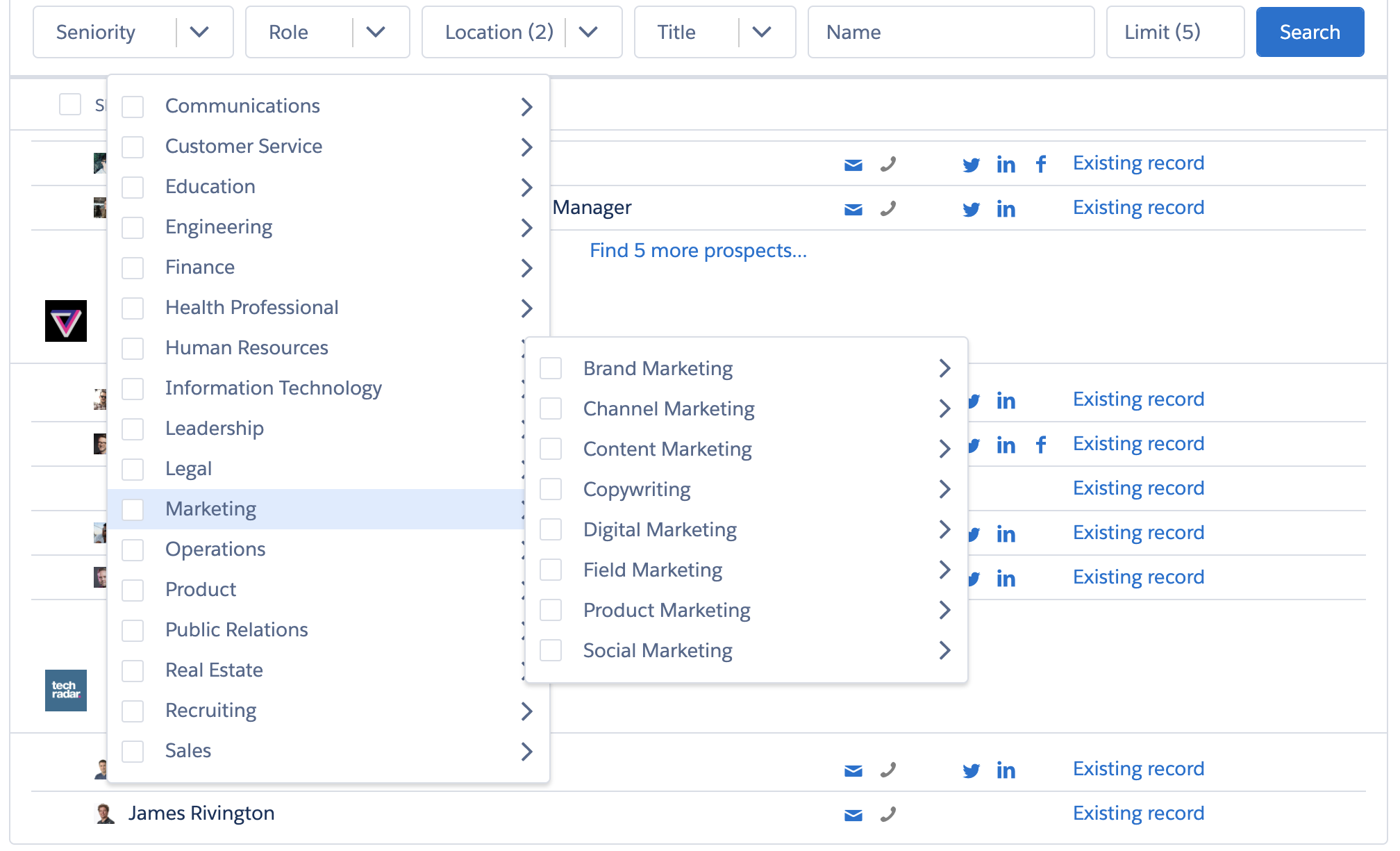 Search improvements to help identify leads faster
Search improvements make prospecting that much faster for your team:
Search multiple titles: When searching for prospects, save time by searching for all relevant titles at once, instead of having to do a new search for each title every time.
Saved searches (for company search only): Now you can save multiple search permutations so you can reuse them at any time. For example, just enter attributes for your ideal customer profile and save that search for ongoing prospecting across the entire team. Or set up quick searches for sales teams segmented by territory.

Saved searches will appear in a dropdown at the top of the Company Search.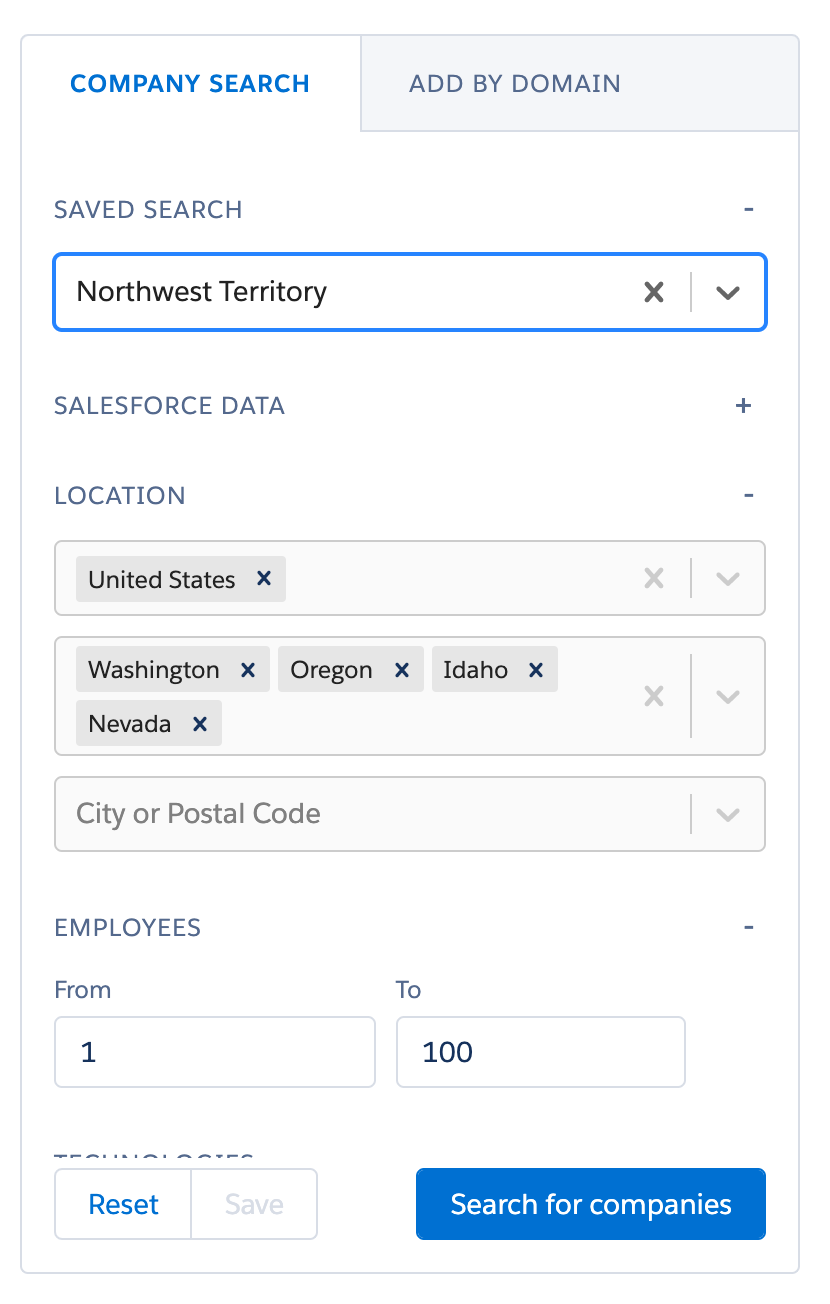 Manage how reps use Clearbit with Prospector credit allocation
Prospector credit allocation allows you to manage Prospector credits at the individual user level so you can optimize Prospector usage to your sales strategy. For example, you could allocate more credits to your SDRs than AE team so they always have enough credits to prospect new accounts.
If you would like to take advantage of Prospector credit allocation, chat with our Customer Success team who can help walk you through how to set this up.
Clearbit Enrichment
Route leads more intelligently with the Ultimate Parent attribute
Understanding a company's hierarchy and structure is crucial during sales cycles and for lead assignment. Often, if a rep is already working a deal with a particular company, they want to be assigned any new leads from related subsidiaries. We will now enrich the Ultimate parent from companies owned by larger conglomerates so you can set up and ensure leads are correctly routed to the right rep.
To get started, create a new custom field for ultimate parent for accounts, contacts, and leads. Then use Field Mapping to pass the "Company Ultimate Parent Domain" through to the parent records.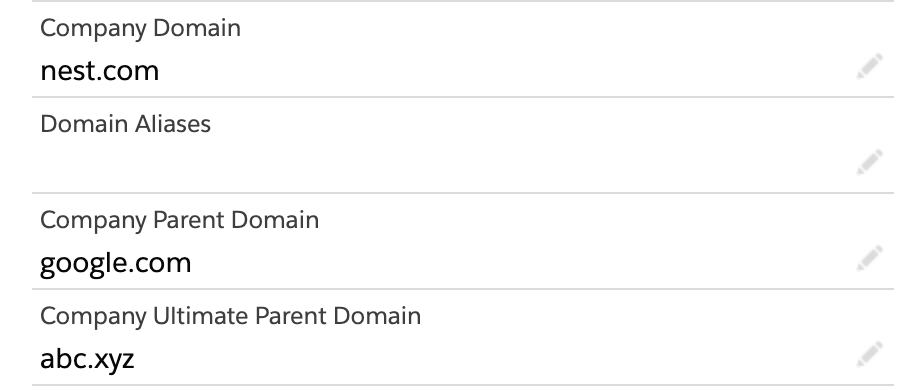 Clearbit Workbench
Easily troubleshoot common integration issues with our Clearbit Workbench tool
We're introducing the Clearbit Workbench so you can quickly troubleshoot the most common integration issues. From here, you'll be able to:
Get an overview of your organization's Clearbit for Salesforce
Look up Salesforce users and records to see their statuses
Run tests (like creating a test account, contact, lead, or backfill)
View Clearbit Logs
To access Clearbit Workbench, first head to the + at the top right corner in the tab bar (in Classic) or the top left 9-dot square menu (in Lightning). Note that Clearbit Workbench performs best in Lightning.
We're excited for you to try these new features!