How to set up Reveal with GA4 to maintain GDPR and CCPA compliance
---
On July 1st, 2023, Google will make the switch from Universal Analytics to Google Analytics 4 (GA4). GA4 is "designed for the future of measurement" and resolves some privacy concerns. In GA4, IP anonymization is enabled by default and can't be switched off. This means GA4 will not store the IP addresses of users and that users will not be tracked. From a GDPR perspective, this is considered the most important change in GA4, helping users to comply with regulations.
Clearbit customers who use Clearbit Reveal with GA4 are able to leverage both technologies in a powerful way. They can analyze and optimize their digital marketing to ensure that they are driving traffic and engagement from the right buyers.
It is important to set up GA4 and Clearbit Reveal correctly to ensure you're abiding by GDPR and CCPA laws. To stay compliant, businesses must manually make updates to their privacy policies, cookie policies, and more.
How to make sure your GA4 instance is compliant with GDPR and CCPA regulations
To ensure compliance with GDPR and CCPA regulations, you'll want to start by considering the following four areas: privacy policy, cookie policy, cookie banner, and IP anonymization.
Privacy policy: Ensure that your privacy policy is updated to clearly state what data you are collecting from GA4 and why. By default, GA4 collects user dimensions like age, browser, and city and events like page views and link clicks.

Cookie policy: Similar to the above section, you should also have an easily accessible cookie policy that explains what cookies are used and how visitors can opt into and out of them.

Cookie banner: Implement a cookie banner on your website to collect user consent. Then, communicate that consent to Google and ensure that Google and Clearbit tags comply with the user's choice. Under GDPR regulation, cookies cannot be used until the user has given consent.

IP anonymization: Google prohibits customers from sending Personally Identifiable Information (PII) to GA4, helping users to comply with GDPR regulations. Clearbit does not send any PII data, including IP addresses, to Google Analytics. Clearbit uses the IP addresses to provide only company-level data.
While this is not an exhaustive list, it is a starting point in ensuring you appropriately collect user consent to set your business up for compliance success.
How does Clearbit Reveal work with GA4?

Once GA4 and Clearbit are integrated, you can define custom dimensions to include Clearbit attributes in your reports.
For example, you can create custom dimensions for company-level fields like "Clearbit Company Sector" or "Company HQ State." As a reminder, only company-level attributes are available as Clearbit does not send any PII data to Google Analytics. In GA4, you're able to create up to 25 custom dimensions, so we recommend choosing the attributes that you find most valuable in your reporting.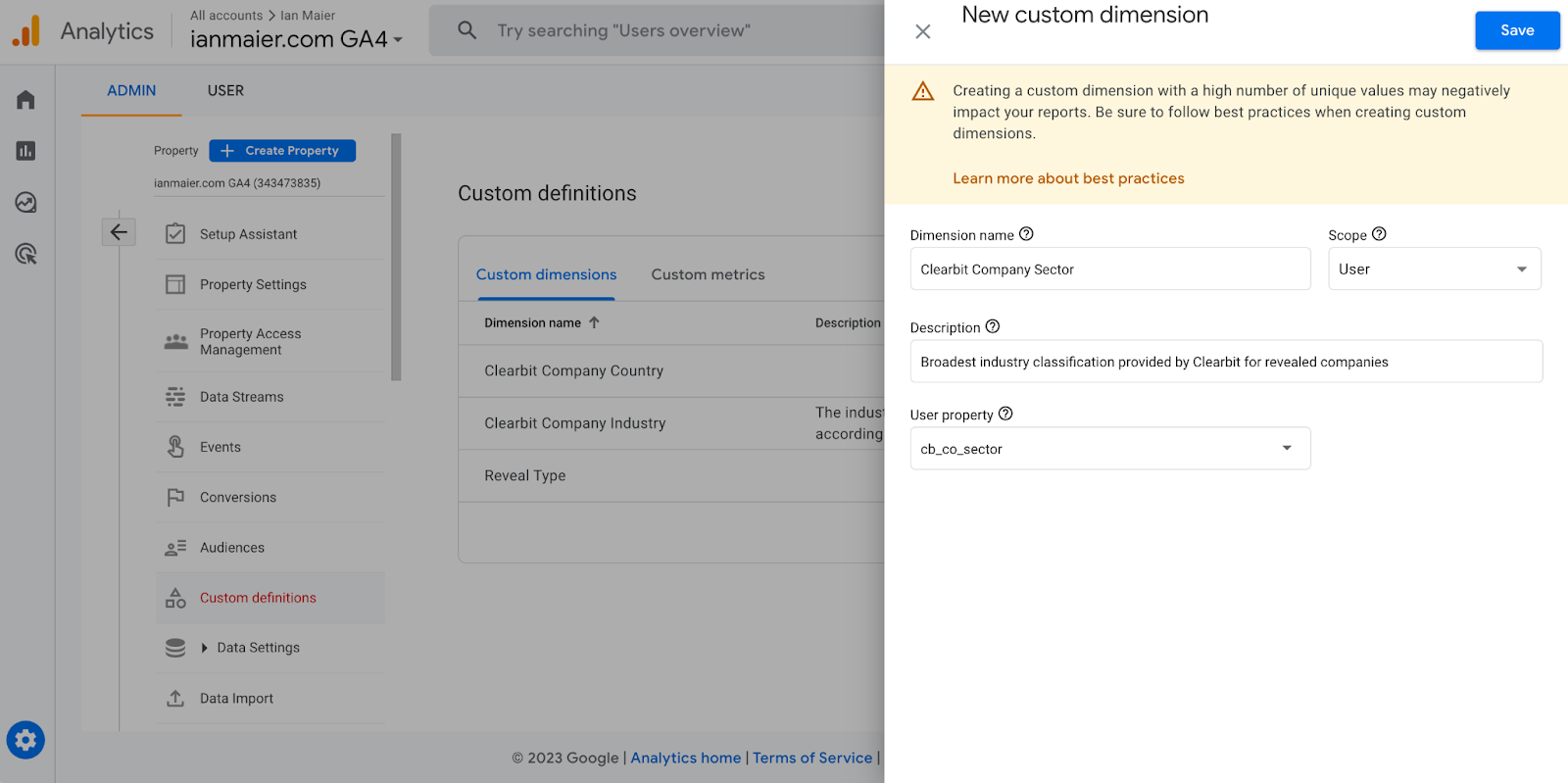 With these custom dimensions in place, you'll be able to:
Understand which channels are driving traffic from your ideal customers. Double down on high-performing channels and improve or cut low-performing ones. Identify whether ads, social media, or emails are most effective in bringing ICP visitors to your website.
Identify what pages and content are resonating with visitors in your ICP. Use the insights to test and improve your website experience, increase engagement and drive more conversions.
Uncover new segments showing intent. Create reports to identify new industries, company sizes, and more that are frequently visiting high-value pages on your website. Use this information to find new opportunities for growth for your business.
With Clearbit and GA4 working together, you're able to make smarter and more informed decisions about your buyer journey.
Uncover deeper insights
The clock is ticking. Now is the time to make sure you are ready for Google Analytics 4, and to combine it with Clearbit Reveal, in a privacy-compliant way, to get powerful data-backed insights on your website visitors.