Your target audience deserves a targeted experience
Reveal turns website visitors' IP addresses into company datasets that power smarter marketing and sales interactions.
Filter the noise of your web traffic to speak to your best prospects instead of every faceless impression. Identify and qualify leads automatically to open your window of conversion opportunity on the first visit.
Request a Demo
Improve your aim with Clearbit Reveal
We've detected tools that your company uses (through our own Reveal setup) and deduced what use-cases of Reveal might be of most interest.
Understand who's actually visiting your site
Diagnose how well your marketing campaigns are driving qualified traffic, even without form fills. See which companies visited your site and uncover valuable attribution data.
Convert with custom content
Tailor your website experience for your most important visitors. Personalize based on company data so they see the most relevant headlines, CTAs, logos, case studies, logo, and more.
Send your best visitors down the best path
Customize the journey for prospects based on their level of qualification. Show "Contact Sales" to companies matching your SQL criteria — and a self-serve call-to-action to everyone else.

Products
Pricing
About
Contact
Talk to Sales

Welcome to Segment!
Talk to our sales team to get started
Talk to Sales
IP: 1.2.3.12
100+ employees
Uses Marketo
Based in USA
Show talk to sales CTA
vs

Products
Pricing
About
Contact
Sign up

Welcome to Segment!
Get started for free by clicking below
Sign up
IP: 7.8.11.45
100+ employees
Uses Marketo
Based in USA
Show sign up CTA
Pick up more productive conversations with proactive chat
Cut the chat chaos with more strategic chat interactions. Personalize your welcome message with over 45 company data points, only show your chatbot to qualified visitors — or both!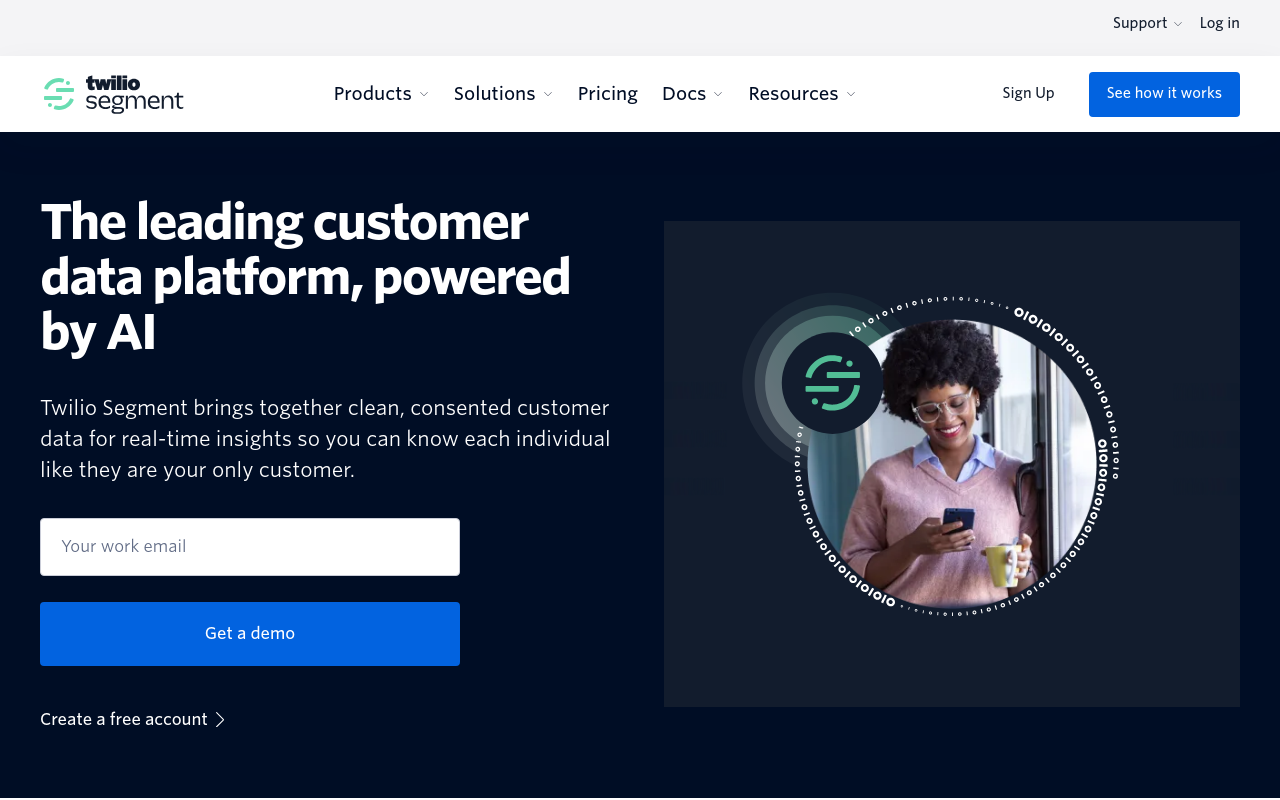 Mike Heller
Welcome Segment! Let me know if you have any questions on our products 🙂 Hi Segment, I'm Mike. Based on segment.com, you seem like a perfect fit for us 😉 Welcome! Companies in the Internet Software & Services industry find our products really useful! Let me know if you have any questions 😎 👋 Segment! Did you know we integrate with technology like HubSpot, Salesforce and Google Analytics?
Supercharge your chat targeting with attributes like...
Company size
Only show chat to companies with 51-250 employees or more.
Technologies used
Target companies that use a technology you integrate with.
Business type
Send proactive chat messages to target companies that fit your ICP.
Add precision to your retargeting
Blasting your retargeting to all your visitors doesn't make sense. Optimize your campaigns (and ad budget) by only retargeting qualified traffic with highly tailored ads. Quality of views beats out quantity.

Edit your Custom Audience
Include people who meet ALL of the following criteria:
1) Visited segment.com in the past 30 days.
2) Company technology (via Clearbit Reveal) contains:
3) Company size (via Clearbit Reveal): 50+x
4) Company industry (via Clearbit Reveal): Internet Software & Servicesx

There's a better way to grow.
Schedule a demo!

Get started for free with us.
Signup now!
Fast-track the best leads to sales
Notify account executives as soon as qualified prospects and named accounts visit the website in real-time.

Segment
251-1000 employees
CA, United States
12:34 pm
Starting sales conversations, earlier
See how Outreach uses Reveal to boost marketing and sales efficiency and generate 2x as many qualified leads than generic retargeting.
Your customers, both anonymous and known, are talking to you through their interactions on your website. So don't treat them just as a cookie or an impression. Understanding people and how they want to be treated will always prevail.
Elena Hill
Digital Programs Manager, Tealium
© Clearbit 2019