Customer Story
How Tealium humanizes their website experience
Use Case
Website Personalization
Tealium's Universal Data Hub empowers organizations to collect, enrich, and take action on customer data across web, mobile, IoT and more.
Industry
Marketing · Analytics · Data
Objective
Serve relevant, human-oriented experiences on Tealium's website and in sales interactions.
Result
Website personalization for visitors in different industries and cities.
Tealium shows different content on their website to visitors from different industries—even if web traffic is anonymous
"Your customers are talking to you, so don't treat them like a cookie or an impression," says Elena Hill, Digital Programs Manager at Tealium.
Elena has made it her mission to truly understand and empathize with Tealium's customers—who span many industries including healthcare, finance, retail, and media—to make sure their sales and marketing efforts aren't one-size-fits-all.
"Tealium builds technology that helps us humanize business, listen to people, and make sense of their wants and needs," she says. She uses that very same technology to understand their own audiences, and tailors Tealium's website based on a visitor's industry, home city, and more.

Data is your company's biggest competitive advantage.
Elena Hill - Digital Programs Manager, Tealium
Marketing to many industries
Tealium's website is often the first touchpoint in its sales and marketing process, so it needs to show visitors how Tealium can solve common pain points in their industry. It's also a great place to highlight events in their city and surface relevant, helpful content.
The challenge was to discover who the website visitors were.
For many companies, over 90% of their web traffic is anonymous. Tealium was only familiar with a portion of their prospect universe, and Elena wanted to find out more about the rest. This would help them customize the website with the right messages, and the additional knowledge about the prospect's needs would enable more productive conversations with Tealium's sales team.
And with the right tools, this is not as difficult as you might think.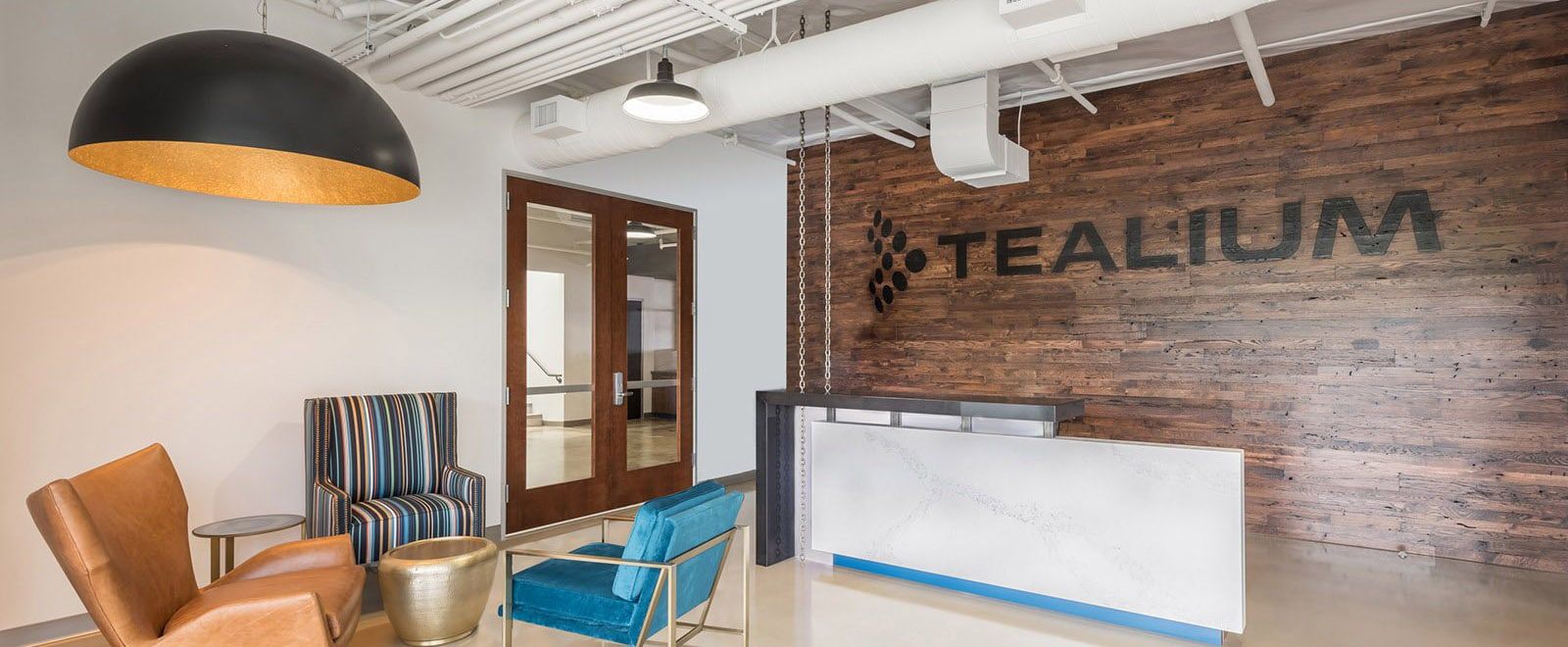 Revealing the identity of website visitors
Tealium implemented Clearbit Reveal to help de-anonymize website traffic.
When a prospect visits the Tealium website, Clearbit uses their IP address to detect their company, its industry, its location, what technology the company already uses, and more. "With Clearbit data, we are given more information about anonymous visitors, which helps me understand how I can better serve them," says Elena.
Clearbit data is an important component of enriching Tealium's existing customer profiles, which they create and manage through their customer data platform, Tealium AudienceStream. It's the combination of this data and AudienceStream that truly allows Elena to enrich their analytics and marketing campaigns while taking real-time action on the visitor.
One way in which Elena puts this powerful combination to work is by using Clearbit's industry tags to personalize the hero messaging on the homepage. As the visitor hits the homepage, they are assigned to a specific audience segment and shown relevant industry messaging. Like a magician's sleight of hand, the visitor doesn't even notice—and when the rabbit's pulled from the hat, this is what it looks like.
Website personalization and relevant sales conversations
When someone from an e-commerce company—for example—visits Tealium.com, they'll see copy on the homepage that speaks directly to the retail industry.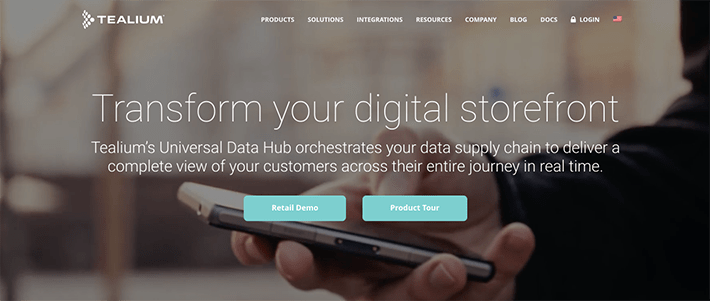 If the visitor is in, say, San Francisco, they'll see a highlighted event that Tealium is organizing in their city.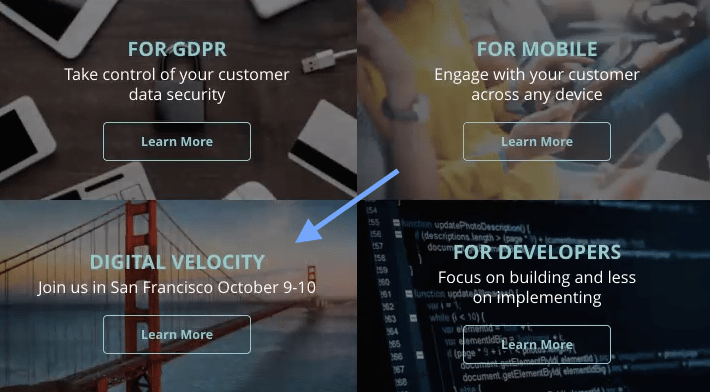 Similarly, if they're from a financial company, they'll see copy for financial businesses. The subheading has changed to reflect the visitor's interests.
Clicking the demo button ("Financial Demo") takes them to another landing page with bullets that touch on common pain points for financial companies.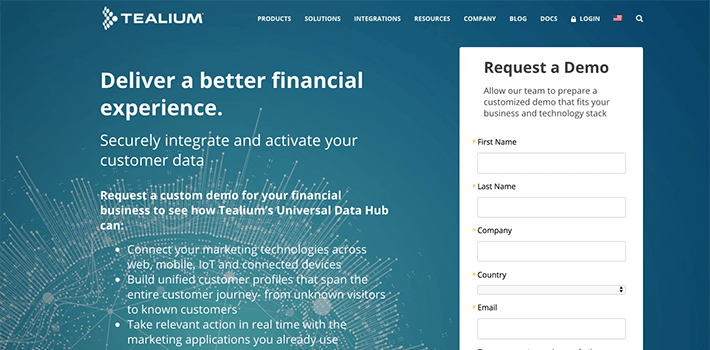 If a visitor requests a demo and connects with a sales representative, the personalized experience continues. Elena has set up communication channels via Slack, in which this valuable data is passed in real-time to the Tealium sales team. Sales can continuously see which accounts in their territories are on the site. In the industry-demo case, they can better understand what the user needs before the conversation happens, getting a head start.
Great website personalization makes Tealium's marketing and sales interactions smarter—and data is at the heart. "Make sure data is readily available as a tool to improve your marketing efforts," says Elena. "There's something we say at Tealium all the time: data is your company's biggest competitive advantage."

Your customers, both anonymous and known, are talking to you through their interactions on your website. So don't treat them just as a cookie or an impression. Understanding people and how they want to be treated will always prevail.
Elena Hill - Digital Programs Manager, Tealium